Ring Video Doorbell 2 review
This smart doorbell is a bit of a ding-dong affair...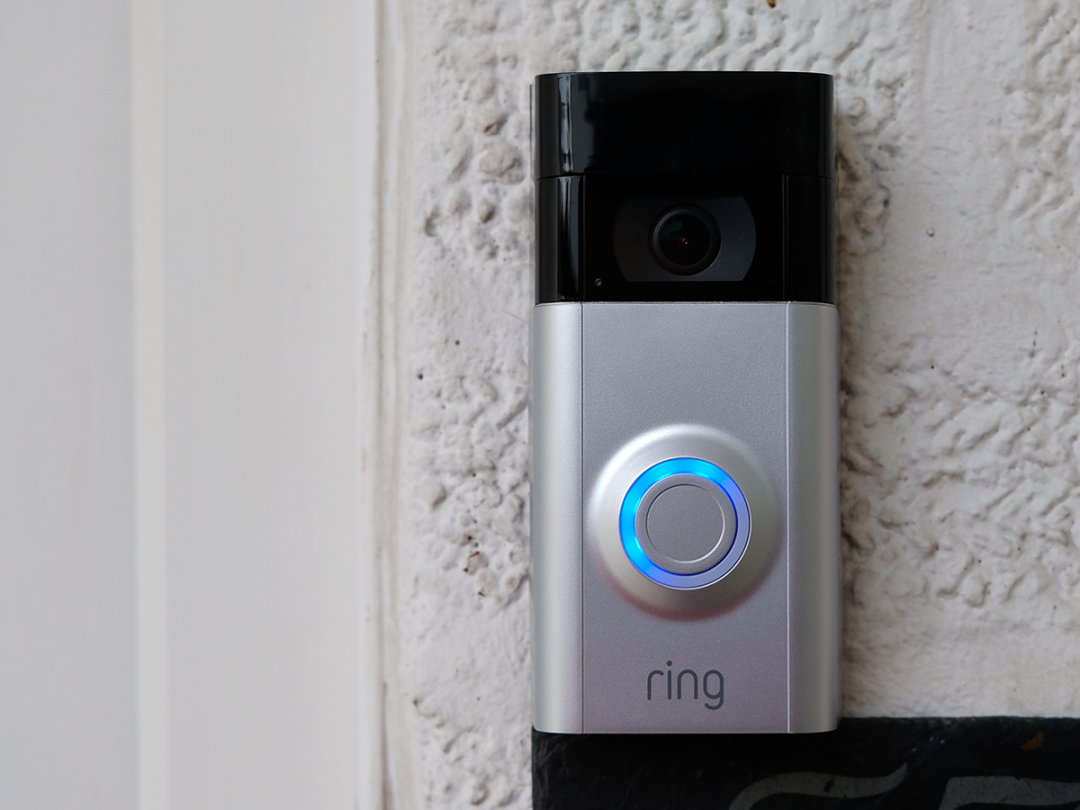 It's quite hard to escape a camera lens these days. Between security cams, smart speakers and even alarm clocks, your house can soon make The Truman Show feel like a paragon of privacy.
But if there's one place that most people would be happy to mount a web-connected snooper it's outside their front door.
Enter smart doorbells. Thanks to built-in Wi-Fi, two-way audio and fisheye cameras, they promise to let you see and talk to visitors on your smartphone, whether you're around the corner or on the other side of the world.
Not many techy doorbells have made it to the UK, but Ring's range is now the most widely available. There are four models in its range, with the Video Doorbell 2 sitting just above its entry-level original.
The Video Doorbell 2 has one big claim over most of its rivals, including the forthcoming Nest Hello – it has a rechargeable battery, which gives you the option of mounting it to your wall without hardwiring it. Handy if, like me, you don't have an existing doorbell to replace.
But does this make it a useful addition to your front door? That depends on a few things…
Design and installation: keeping it simple
Chiming in
The Video Doorbell 2 will work on its own, but I tested it with a Chime Pro extender (£49, see photo above) – and in my experience, this is an essential addition. A smart doorbell does unavoidably have to sit outside your front door, which means there'll likely be lots of barriers between it and your router. The Chime Pro, which plugs into a standard power socket, acts as Wi-Fi extender and can make the difference between a poor signal and a decent one. It also comes with the added benefit of playing your chosen doorbell chime indoors, which makes it much easier to hear, and gives you the option of 20 different sounds, including the ones I went for – barking dogs.
Features: alarming behaviour
Thanks to its 1080p video recording and motion detection, the Video Doorbell 2 has security camera aspirations – though it falls a little way short of our favourite dedicated ones.
You can just stick with normal 'ring alerts', which sees the Ring app 'call' you when someone presses the button, giving you the option of receiving it or hanging up while it shows a live video feed.
Turn on the motion alerts, though, and you'll also get prodded when Ring spots any movement in its 160-degree field of view. A particularly nice addition is the option of setting 'motion zones', which lets you choose areas for it to ignore and adjust its sensitivity.
After a bit of tweaking, this helps prevent it from recording a neat little video of every car that passes outside your house. The fact that I live on the ground floor flat with a shared walkway ahead of my front door, though, meant that no amount of adjusting could prevent false alarms.
The 1080p video might only record at 15fps, but you do get night vision (which often switches to black-and-white mode) and a 'live view' option for tuning into front door thrills whenever YouTube lets you down.
And what happens to all of your lovely videos? The bad news is that after your 30-day Ring Protect Plus trial ends, you then have to pay a monthly fee to store them or rewatch clips of any missed visitors.
Still, the better news is that, compared to dedicated security cam subscriptions, this is a pretty reasonable £25 p/year (or £2.50 p/month) to keep them for 60 days. Or £80 p/year for Protect Plus, which covers recordings for multiple Ring cameras.
While it's a shame there's no free basic plan for storing clips, Ring's cloud storage is a fair bit cheaper than something like Nest Aware, which starts at £8 p/month.
Performance: a bit ring rusty
All smart home gadgets rely on the strength of your broadband and Wi-Fi connections, but that seems particularly true for the Video Doorbell 2. My home setup is pretty standard: fibre broadband with over 20Mbps download speeds outside my front door, and a router that's sat only six feet away from the doorbell (albeit with a hallway wall in the way). Despite this, I've found the doorbell's video and overall responsiveness to be a little patchy. Sometimes, the video quality is fine and I'll get near instant alerts, but others the feed will degrade into a blocky mess or will simply be too slow to let me see or talk to the person who's pressed the button. This certainly improved when I moved the Chime Pro into a different location nearer the front door. But even then with a supposedly 'good' signal strength according to the Ring app, I've found its live connection to be a tad hit and miss, and the video playback to be somewhat staccato. Of course, this is sometimes unavoidable when you're relying on a good live connection at both ends (at home, and also on your smartphone). But indoor and outdoor security cameras I've tried, including the Nest Cam IQ and Canary Flex, haven't been quite as temperamental. And if security gadgets are to be daily essentials rather than just occasionally useful, they need to have rock solid reliability. This doesn't mean the Video Doorbell 2 isn't a handy bit of smart home kit or wouldn't potentially fair better in your house. I've mostly used it as a way to catch up on missed visitors and also as a front door deterrent (this is where its slightly intimidating look comes in useful). But it's certainly worth bearing your house's layout, router location and general Wi-Fi performance in mind before shelling out the combined £228 for the Video Doorbell 2 and a Chime Pro.
Ring Video Doorbell 2 verdict
If you regularly miss visitors or courier deliveries and want to add an extra layer of security to your home, then the Video Doorbell 2 is a potentially worthy buy – particularly if you want to avoid hardwiring it into your wall. But its performance and ultimate usefulness is very dependant on your Wi-Fi and the layout of your house. It's also not quite as pretty or as capable as forthcoming options like the Nest Hello or Blink Video Doorbell, which are both due to arrive in 2018. If you like the idea of adding a video-recording doorbell to your smart home army, we'd be inclined to wait to see how those compare. But if you desperately want one now or particularly like the simplicity of Ring's rechargeable battery, it's well worth an audition.
Stuff Says…
The best of today's smart doorbell bunch, but it's not for everyone
Good Stuff
Very easy to install
Rechargeable battery is a useful alternative to hardwiring
Shoots pretty crisp 1080p video (if at low frame-rate)
Works nicely with Alexa and the Echo Show
Bad Stuff
Video can be quite blocky and jerky
Needs a strong Wi-Fi signal (or the additional Chime Pro)
No free video storage option