ReMarkable Tablet review
The digital paper tab that you'd happily scrap your sketchbook for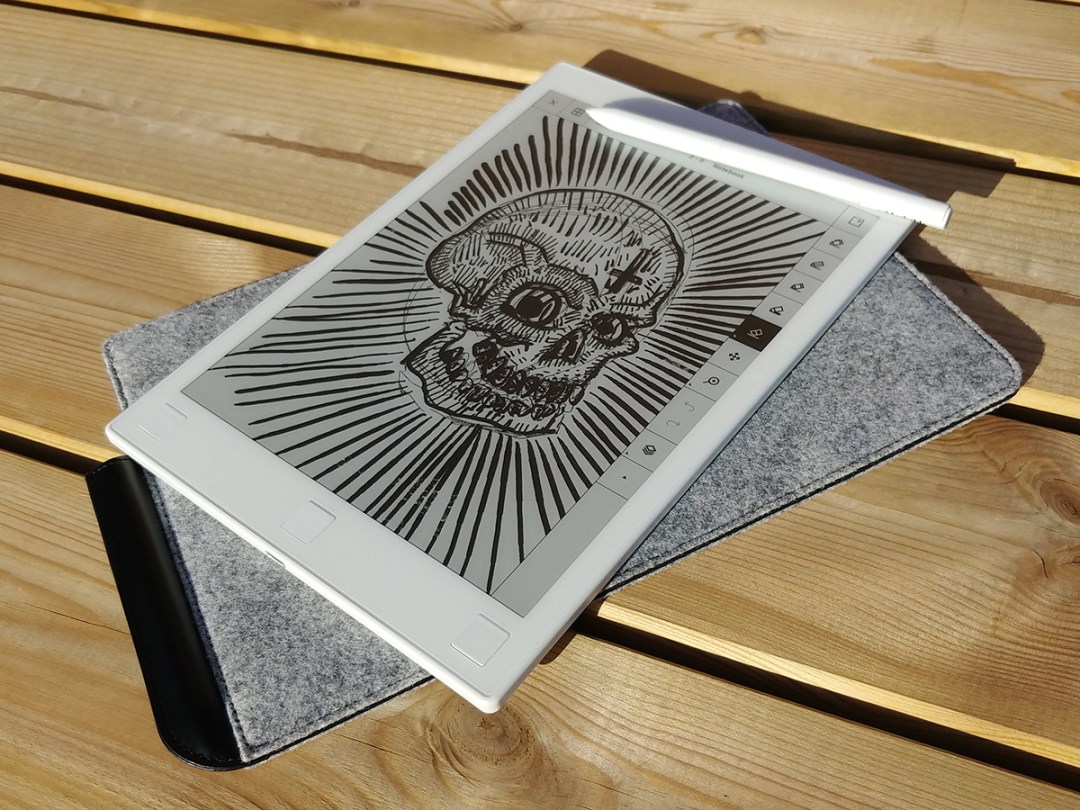 Are you a paper person?
If you've always thought digital doodling never quite felt like the real thing, that the Apple Pencil, Microsoft Surface Pen and Samsung's S Pen couldn't quite hold up to a humble piece of HB graphite, then this might be the tablet you've been waiting for.
The ReMarkable tablet ditches the common-or-garden LCD for a digital paper screen, which has a coarse texture that gets much closer to the feel of writing on an actual piece of paper. That means no more tapping away on glass, and (hopefully) no obvious delay between each scribble of your pen tip, too. Oh, and it pulls double duty as an eBook reader too.
It's a unique idea, and after numerous prototypes has finally made it to retail, but is it different enough to replace your old fashioned sketch book – or too niche to take on the more modern iPad Pro?
PAPER PUSHER
Digital paper screens are nothing new – Amazon's Kindle has been rocking one for years, after all. The problem is latency.
E Ink touchscreens have about 100ms of lag, but anything above 60ms and you can tell things aren't quite instant when pen hits screen. ReMarkable uses a custom-built 10.3in panel, which can manage 55ms response times – not quite as rapid as a Microsoft Surface Pen, but faster than any other digital paper device out there, and good enough for serious sketchers.
In practice, that means you can sketch onscreen with the optional stylus without seeing any noticeable lag. Incredibly quick note-takers might still spot a little latency, but only barely.
It helps that the surface itself is rough and coarse, just like a sheet of paper. It's not slippery like an LCD tablet, and so creates friction when you're writing – just like a real pen. There's even a tiny, almost inaudible scratching sound as you write.
That friction means the stylus nib will eventually wear away over time, which is why there's a spare stashed helpfully in the pen lid, and a pack of extras included in the box. It's easy enough to pop one in and out – but just as easy to lose the tiny nibs.
Pen and surface work together to detect 200 levels of pressure sensitivity, and there's no battery or Bluetooth required. It's perfectly legible outdoors and in bright sunlight, of course – it looks just like the real thing.
STEEL-BOUND SKETCHBOOK
The tablet itself is built from hard-wearing magnesium, so it'll stay sturdy even when you sling it into a bag. It's super-light, too, so you might even forget it's in there.
Because the screen isn't glass, it won't crack like a traditional tablet might, although the optional soft cover should still come in handy if your backpack is jam-packed with a load of other tech too. It also gives you somewhere to store the pen, because the tablet itself doesn't have a slot to store it in.
The screen sits completely flush to the tablet frame, and the white colour scheme really does look like a stack of paper. It's minimal, but I love it.
I'm not convinced by the hardware buttons that sit beneath the display, though. They rattle ever so slightly, which feels a bit cheap, and aren't labelled, so it can be guesswork for the first few hours until you learn what they do.
Because the screen only needs power when it redraws, and sketching only updates pixels instead of entire pages, the tablet should last for at least an entire week between charges. And that's if you're sketching constantly – use it for reading ebooks and it should last significantly longer. Like a real piece of paper though, there's no backlight or front light for night-time working or reading.
It's a shame the tablet recharges over microUSB, too – reversible USB-C would have been a very welcome inclusion.
YOUR VIRTUAL PENCIL CASE
Turn on the tablet and the minimal UI springs to life. And when I say minimal, I really mean it.
There's no social media. No email client. No web browser. ReMarkable has built a tablet focused purely on reading and writing. It shows wherever you look, throughout the operating system.
The UI is simple, making it easy to find your way around with a tap here and a swipe there, or with the physical buttons just below the display. All your files are saved and synced to the cloud automatically, with a bit of desktop software letting you fling folders full of PDFs across without any cables. It can even handle live view presentations, beamed in real time from tablet to PC.
Want to read? Just tap on a book, then start swiping to turn the pages. You don't get all the reading-specific extra you might find on a Kobo or Kindle, and there's no store to buy new books from, so you've got to supply you're own, but it's still a useful inclusion if you've got any EPUB files to hand.
TAKE NOTE
It's drawing where everything begins to make sense, though. The toolbar running along the side of the screen holds all your brushes, rulers, selection tools and settings, as well as the all-important layers palette. This means you can sketch, then outline, and instantly remove your trace lines when you're ready to export your creation.
Templates can help stop your notes from looking like a pre-schooler's scribbles, with lines, grids and musical scores for note-takers, and isometric and perspective options for artists.
Everything is saved using vectors, meaning you can zoom in, add fine lines and zoom back out again, with no loss of detail or pixellation. When you export your drawings, you can print them as large as you like without degrading the quality.
It responds accurately and instantly to pen inputs, but familiar digital paper issues like ghosting remain. It's most noticeable when switching between the dark menu screen and the lighter files view, but we spotted it when sketching too.
Occasionally, going back over an area that had been previously erased would result in detection errors, where the pen didn't fill in everything you'd expect it to. It's not something you'll encounter when writing, but it might crop up in very detailed sketches and drawings.
For the most part it stayed accurate and responsive, though.
ReMarkable tablet verdict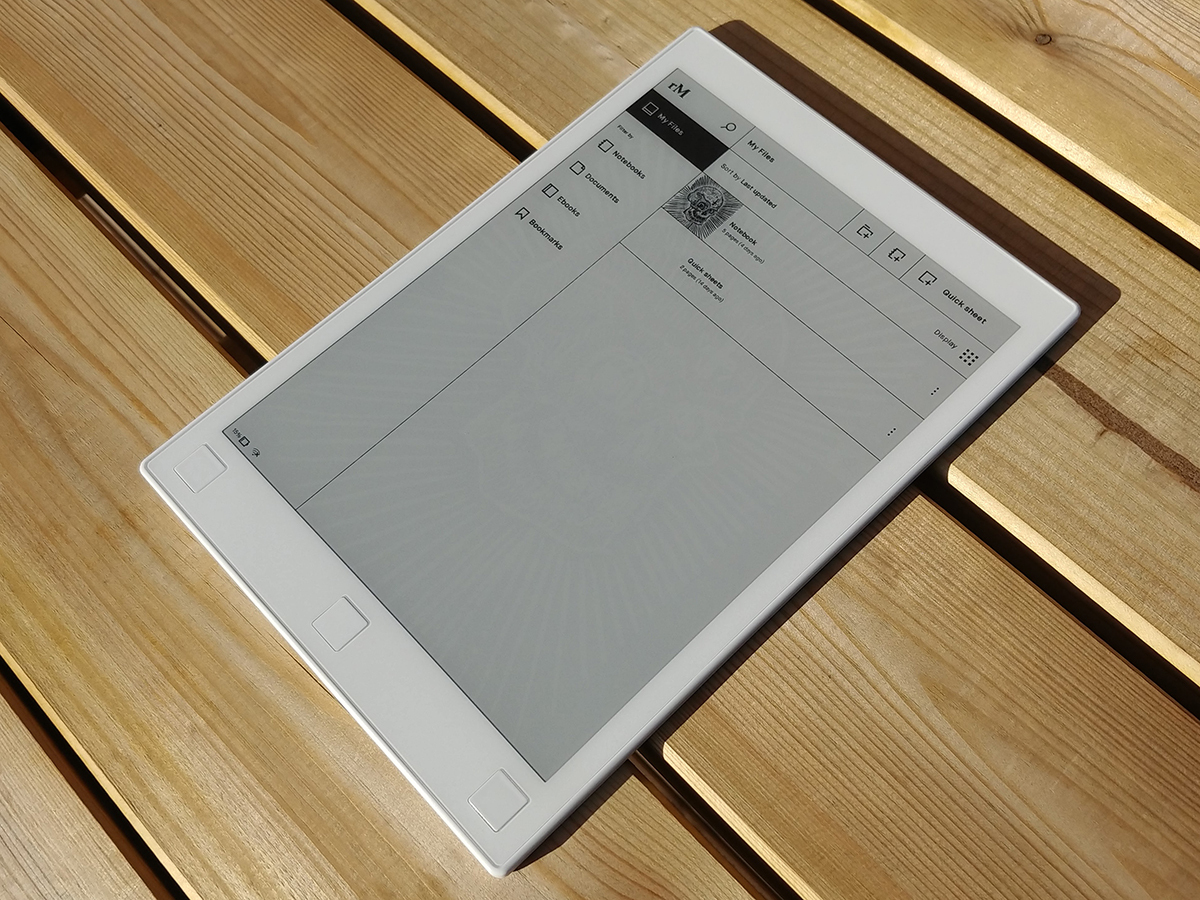 Is this really going to make the traditional paper notepad obsolete? Nah, I doubt it.
At £529 just for the tablet, with the pen sold separately, this is a seriously expensive device. It's fantastic at what it does, and the crowdfunding campaign that got it off the ground has been a resounding success, but prioritising the writing experience above all else has forced some compromises.
With no backlight or frontlight, a Kindle is still probably your best bet if you're mainly after an eBook reader. Digital artists that aren't interested in working purely in greyscale will be better served by an iPad Pro or Microsoft Surface, even if their respective styli can't match ReMarkable for convincing feel.
Stuff's resident artist Ross Presly liked it for quick freehand doodles, even if there were times where the way the stylus emulates a real pen left unfinished or messy lines.
For people that just can't say no to a notepad, though, there's an awful lot to like. I'm no artist, and I had a blast just doodling, drawing and sketching nonsense during my time with the tab.
Just keep in mind you'd have to be filling Moleskine notebooks up at a mighty rate before you'd spend the same amount as one of these.
Tech specs
| | |
| --- | --- |
| SCREEN | 10.3in, 1872×1404 digital paper |
| PROCESSOR | ARM A9 1GHz |
| MEMORY | 512MB RAM |
| STORAGE | 8GB on-board |
| BATTTERY | 3000mAh non-removable |
| DIMENSIONS | 177x256x6.7m, 350g |
Stuff Says…
A unique concept that's fantastic to sketch on, but the ReMarkable is undeniably expensive. An iPad Pro might not feel much like paper, but it's a whole lot more flexible.
Good Stuff
Fantastic feel for fans of paper
Straightforward UI
doubles as a (basic) eBook reader
Bad Stuff
LCD-based rivals are just as quick, and more flexible
Crikey, it's costly
No backlight