Apple iPad Pro 10.5 (2017) review
Tablets just don't get better than this - the latest iPad is phenomenal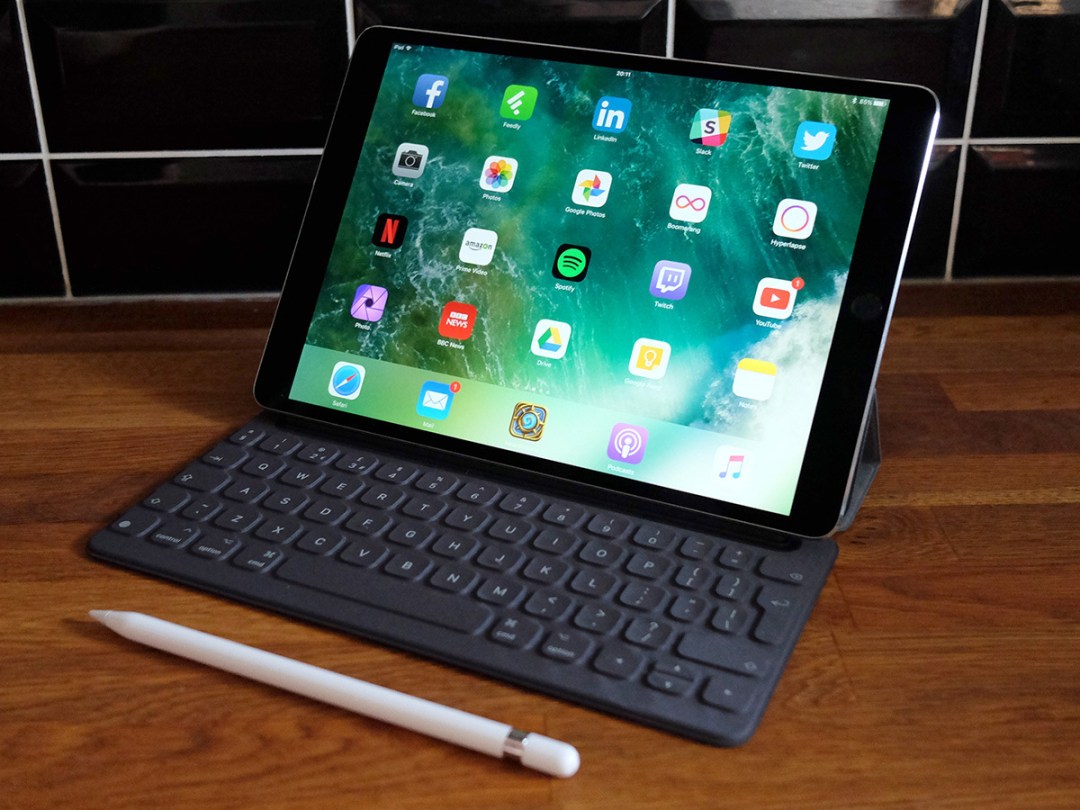 The iPad Pro 10.5 is absurdly powerful. Almost to irresponsible levels.
If Tony Stark built tablets instead of mechanised suits of armour, I think he'd struggle to come up with something better. This is an iPad that's truly deserving of that "Pro" moniker.
It has a fantastic screen, a battery that will genuinely last you all day, and CPU grunt that'll outpace a laptop. It is, hands down, the best tablet you can buy today. Add the Apple Smart Keyboard and Apple Pencil into the mix and it becomes a productivity powerhouse, too.
But Apple hasn't built this iPad for today – it has built it for tomorrow. When iOS 11 rolls around later this year, with its iPad-specific upgrades, this could be the only device you'll need, for both work and play.
Here's why.
APPLE IPAD PRO 10.5-INCH DESIGN & BUILD: ICONIC. AGAIN
This new iPad Pro doesn't stray far from the iconic looks of the previous model. It's built into a similar unibody aluminium shell, and you can pick one up in the same four colours: gold, silver, Rose Gold or Space Grey.
It's bigger than the outgoing 9.7in model, sure, and weighs about 30g more, but by continuing the 2017 trend of shaving down screen bezels, it crams in a 20% bigger screen without massively expanding the dimensions.
You'll hardly notice the increase when you pick it up – even if there's enough of a difference that any iPad Pro 9.7 owners considering an upgrade will need to buy all-new accessories.
The familiar Home button still sits up front. It's packing the faster, second-gen version of TouchID – the first time Apple has added the tech to a tablet. The slightest press skips straight past the lockscreen, it's just that quick.
Those oh-so-handy Smart Connector pins sit on the side, ready for hooking up the official Smart Keyboard, and twin speaker grilles still flank the top and bottom edges.
The whole thing is built to an impeccable standard, naturally – there's no bend or flex here, thank you very much. Just a smooth slice of metal and glass that's an absolute pleasure to hold and use.
APPLE IPAD PRO 10.5-INCH SCREEN & SOUND: HOW REFRESHING
There's a lot more going on behind that gorgeous glass face than a slightly bigger panel and skinnier bezels, of course. This new iPad Pro has the best screen Apple has ever squeezed into a tablet.
Resolution and brightness were hardly lacking before, but both have been boosted anyway: up to 2224×1668 and 600 nits respectively. Want to work outside? Well, you won't have to worry about light reflections or poor visibility with one of these.
That's partly because the LCD itself is bonded to the glass, so the pixels sit directly under your fingertips, and also because there's an anti-reflective coating.
A wide colour gamut really makes photos and videos pop off the screen, with phenomenal contrast, vivid hues and subtle gradation. Pixel density matches last year's model, so everything looks just as sharp on the bigger display.
A lot of existing tech returns, too. True Tone automatically tweaks colours on the fly to better suit the ambient light in the room, and it's as useful/intrusive as ever. Cinephiles will still be diving into the Settings menu to turn it off before settling in for a boxset binge, but desk-bound workers will be grateful for how it eases eye strain.
The real game-changer, though? ProMotion. Basically, this latest iPad has a 120Hz panel, whereas every other mobile device thus far has run at 60Hz. What that means is that it can refresh each pixel at twice the speed of a regular tablet – when it needs to. A dedicated timing chip can drop the refresh rate down when you're reading an eBook or watching a movie, then push it up to the max when you're scrolling through websites or flipping between home screens.
It makes everything feel super-smooth and responsive, especially when you're using the Apple Pencil. A faster refresh rate lowers input latency to 20 milliseconds – that's so quick it feels like you're writing on paper instead of a screen. Creative types are going to love it, but it'll make games feel smoother for the rest of us untalented plebs.
There's fantastic sound to compliment the screen, too. The four stereo speakers can really crank up the volume, so you won't need to hook up a Bluetooth speaker to catch up on catch-up while you're cooking.
The EQ is automatically tweaked depending on how you're holding the iPad, too: highs and mid-tones are always piped to the top two speakers, giving vocal tracks real presence. Want some personal listening time? There's still a good ol' 3.5mm headphone port on the top edge.
APPLE IPAD PRO 10.5-INCH CAMERA: 7TH HEAVEN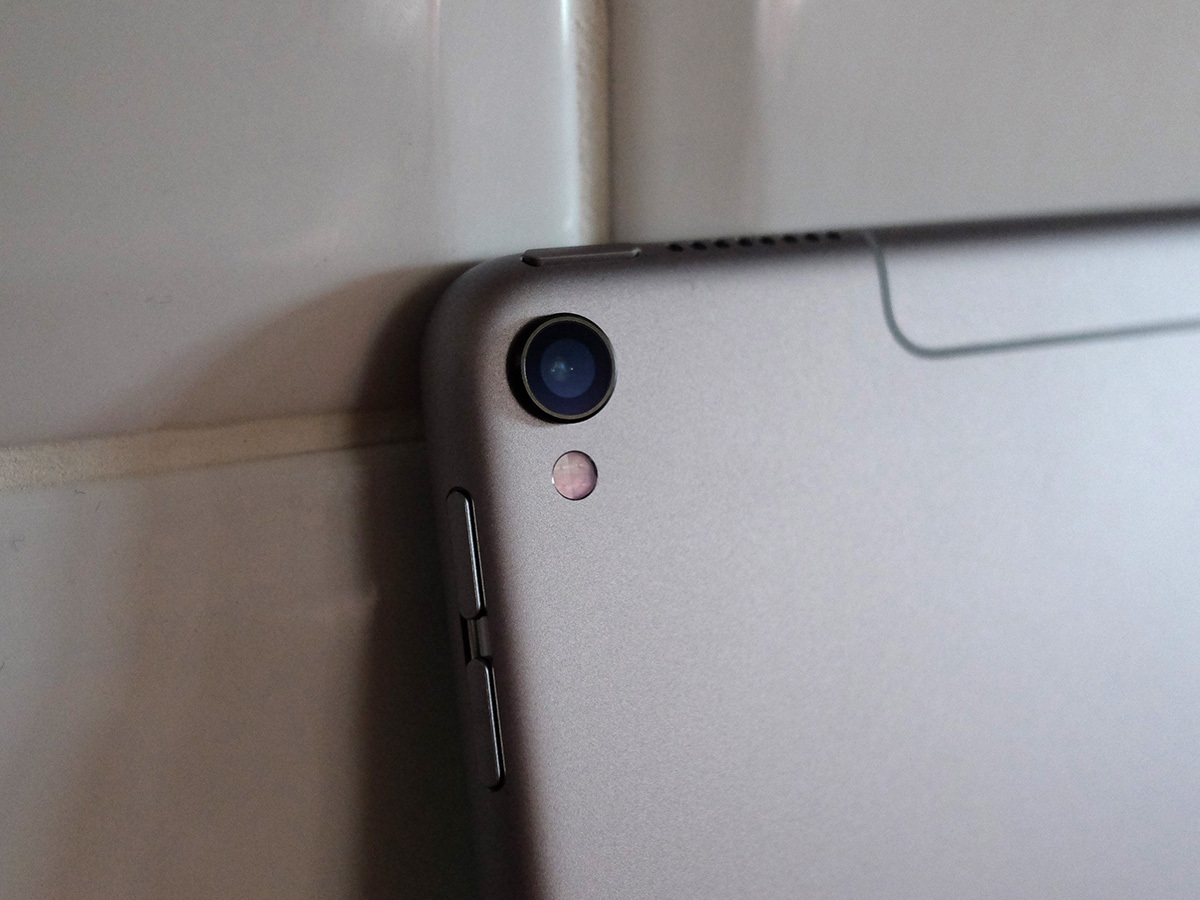 Last year's iPad Pro 9.7 had a great camera – and not just a great camera for a tablet, either. But this one is even better.
Apple has essentially transplanted the 12MP snapper from the iPhone 7 directly over to the iPad Pro 10.5, complete with f/1.8 aperture lens, optical image stabilisation, and quad-LED flash.
Yes, it still pokes out from the tablet body, but you won't mind when you see the results. It'll come as no surprise that it takes photos that are on par with the iPhone 7.
Everything looks sharp, naturally lit and coloured, and bursting with detail. That improved flash helps balance out low-light shots so they look more lifelike, too.
Now I'm not a big fan of taking photos on a tablet, at least in public, but if you decide that capturing the moment is more important than your street cred, the resulting snaps will be top quality.
With no 3D Touch, you've got to long-press to view your Live Photos, but otherwise the Camera app has everything you'll find on the iPhone – including 4K video recording.
APPLE IPAD PRO 10.5-INCH PERFORMANCE & BATTERY LIFE: UNPARALLELED
Calling the iPad Pro fast just isn't doing it justice. Apple's own A10X Fusion is an absolute beast of a chip, providing enough grunt to run even the most demanding apps.
It's a modified version of the CPU you'll find in the iPhone 7, with three high-performance cores and three efficient low-power cores to help extend battery life.
Stick one alongside a similarly-priced laptop and it's the iPad that'll come out on top in benchmarks – it's that damn powerful.
All that matters is how slick, responsive and instant everything feels while you're using it. I could be editing an image with multiple layers, then jump into a CAD design app and it won't even need to re-draw the screen.
Even the most demanding games are no match for this, with silky smooth frame rates no matter what I was playing. The higher screen refresh rate only adds to the sense of smoothness.
There's plenty of storage space for these demanding apps and games, of course. The entry-level iPad Pro has 64GB, but you can step up to 256GB or even 512GB if you want, so there's no danger of running out of room.
All this extra power doesn't come at the expense of battery life, either, with Apple matching last year's "up to 10 hours" claim with this new model. If anything, that's a conservative estimate – I regularly squeeze a full day out of each charge, with change to spare.
Games and 3D apps will drain the battery faster, but 8 or 9 hours of heavy use isn't out of the question.
APPLE IPAD PRO 10.5-INCH PRODUCTIVITY: WORKS ANYWHERE
The reason this new iPad carries the Pro name? Because it's much better suited to creativity than consumption. And not just because it's got more power than a PC.
Put that Smart Connector to good use with the £159 Smart Keyboard, and you'll be able to get to work just about anywhere. It protects the screen when folded shut, but unfurls elegantly into a kickstand whenever you need to type something longer than a quick email.
This larger version has full-size keys that feel much closer to typing on a desktop or laptop keyboard, which makes it easier to switch between the two. You still get that rewarding clacky feel when you press each key, even with such little space to work with.
You won't miss a touchpad when the touchscreen is right there in front of you, and while it's still not quite rigid enough for truly satisfying typing on your lap, it's about as good as it gets for a tablet.
The £79 Apple Pencil is the perfect partner for any arty types, too. There haven't been any changes for 2017, so it still feels perfectly balanced in your hand. It responds convincingly to pressure and angle, just like before, only now without any discernible lag.
The excellent palm-rejection tech is even more crucial now the screen bezels are that much thinner, so it's great to see it working flawlessly.
Combine it with Affinity Photo, Serif's iOS alternative to Photoshop, and you'll be able to create mobile masterpieces. When we reviewed the iPad Pro 9.7 last year, Pencil-compatible apps were only just starting to appear, but now, a little digging through the App Store will uncover apps that truly give their desktop counterparts a run for their money.
APPLE IPAD PRO 10.5-INCH SOFTWARE: FUTURE-PROOF
There's no doubt the iPad Pro is a killer tablet today – iOS 10 already lets you run multiple apps in Split View, has handy multi-finger gestures for quickly jumping in and out of apps, and the best selection of tablet-optimised apps you'll find on a mobile OS.
The thing is, it's going to be even better in a few short months. Once iOS 11 arrives, the iPad Pro 10.5 will be transformed into a multitasking monster that could genuinely replace your laptop.
A macOS-like dock will be accessible from anywhere, not just on the home screen, and will be even better for multitasking. Recent apps will be organised in a grid, with any Split View settings maintained so you can jump straight back in where you left off.
A dedicated Files app, and proper drag-and-drop support are huge new additions, which might even be better than the ones you'll find on a desktop PC right now. Those are just a few of the highlights, too – we've got a more in-depth look at iOS 11 right here.
Until iOS 11 is officially released, this is essentially the best iPad money can buy. When it finally does appear, though? I'm not sure you'll need your laptop any more – this will do just fine.
APPLE IPAD PRO 10.5-INCH VERDICT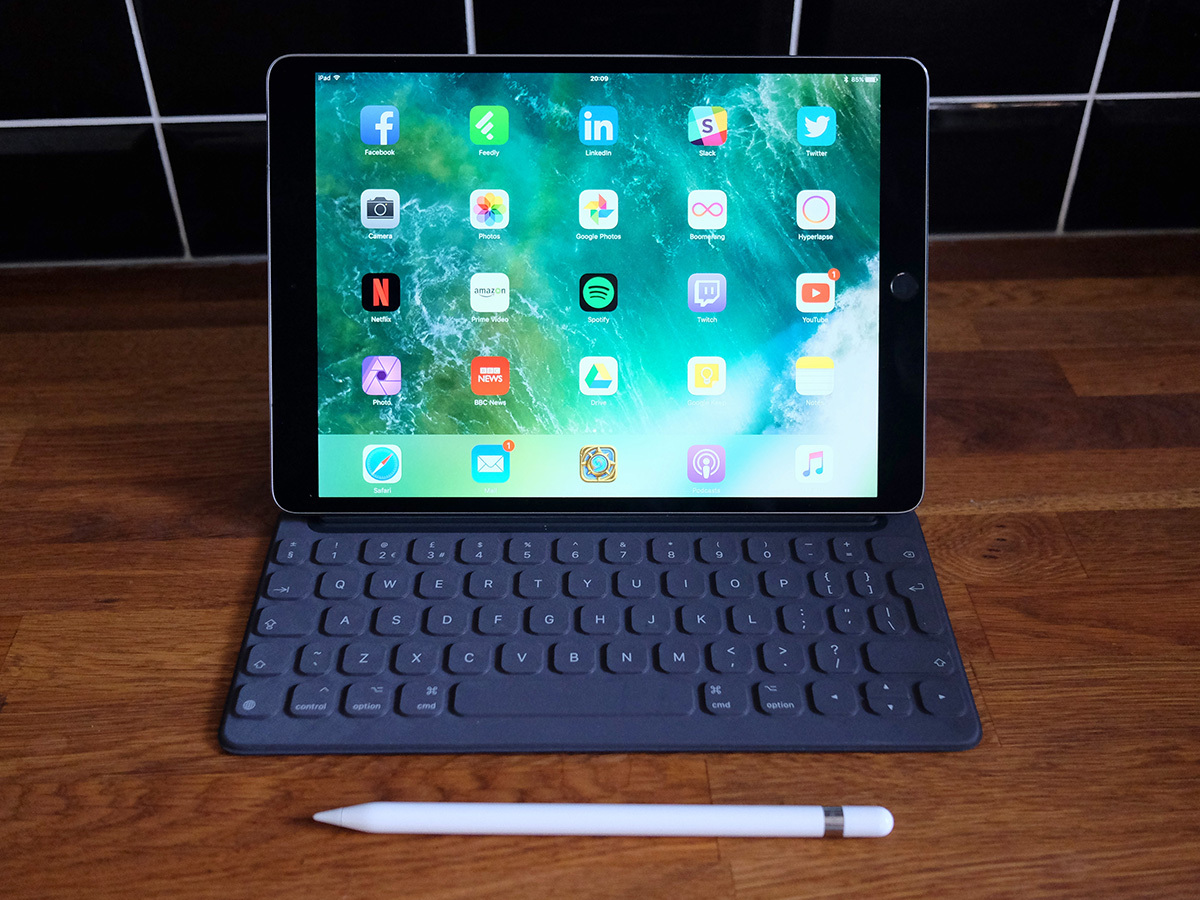 Last year's iPad Pro 9.7 was already the best tablet you could buy. Apple could have slapped on a few minor upgrades and called it a day – but this new model is so much more than that.
The iPad Pro 10.5 is immensely powerful, with a stunning screen and focus on productivity you simply won't find in any other tablet.
I'll admit it: for watching movies, scrolling through social media or general web browsing, this is beyond overkill – anyone after a multimedia machine should stick with the standard iPad, and save themselves some cash.
For those more interested in creation than consumption, though, this is the iPad to buy – even if the price can hit eye-watering levels. Stepping up to the 256GB model will set you back £709, but add in the Smart Keyboard and Apple Pencil and your total spend will creep north of £900.
That might seem like a lot to ask for a tablet, but then this isn't just a tablet. Not really. Once iOS 11 arrives, I don't doubt that people will be ditching their laptops and picking up one of these instead.
Buy the Apple iPad Pro 10.5in here from Apple (UK) | Apple (USA)
Tech specs
| | |
| --- | --- |
| SCREEN | 10.5in 2224×1668 LCD with ProMotion & Wide Colour |
| CPU | A10X Fusion 6-core |
| MEMORY | 4GB RAM |
| STORAGE | 64GB / 256GB / 512GB |
| CAMERA | 12MP, f/1.8 rear with OIS & quad-LED flash, 7MP, f/2.2 front |
| OPERATING SYSTEM | Apple iOS 10 |
| BATTERY | 30.4Wh non-removable |
| DIMENSIONS | 250x174x6.1mm, 469g |
Stuff Says…
The iPad Pro puts all other tablets to shame. It's unbeatable as a multimedia machine or creative tool, and will only get better once iOS 11 shows up
Good Stuff
Fantastic display that's perfect for productivity
Performance that beats full-size laptops
Superb battery life
Bad Stuff
Pricey – For most people it's either this or a laptop
The best is still yet to come with iOS 11