Ray Ban Meta Smart Glasses hands-on review: a clearer picture
Second-gen smart specs bring better camera quality and boosted battery life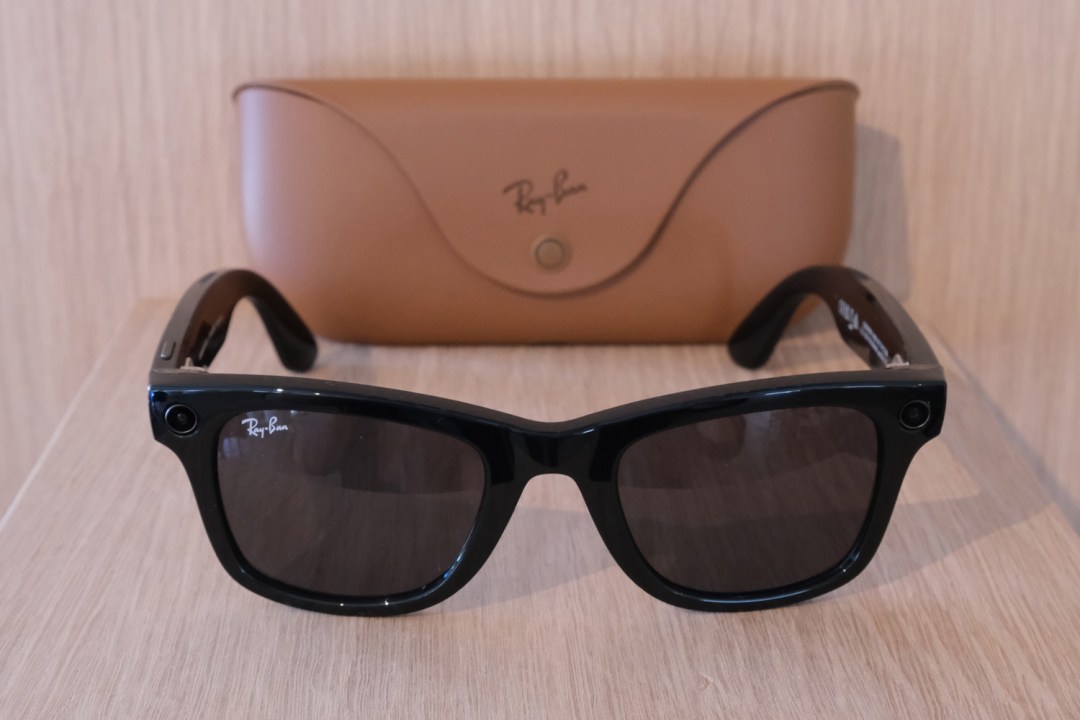 Initial Stuff Verdict
A major upgrade on Meta's first attempt. On first impression, these latest Smart Glasses look effortlessly entertaining.
Pros
Now in multiple styles and colours
Hands-free photos, videos and music
Streamlined app
Cons
Still can't do stronger prescriptions
Introduction
The tech world has largely cracked the smartwatch concept, but the next phase of wearable tech is still very much a work in progress. You wouldn't wander down the street with any of today's virtual, augmented or mixed reality headsets on your bonce – but you'll fit right in wearing a pair of clever specs such as the Ray Ban Meta Smart Glasses.
They're a streamlined, upgraded take on the original Ray Ban Stories, which crammed a camera and speakers into a pair of familiar-looking frames. Meta hasn't added any AR or mixed reality features, leaving those for the Meta Quest 3 headset revealed at the same time. Instead they concentrate on better picture quality, clearer sound and longer battery life. Has the tech progressed enough in the two years since the Ray Ban Stories first arrived that you'll want to ditch dumb sunglasses forever? We donned a pair ahead of Meta's annual Connect event to find out.
Design & build: lookin' good
If the name wasn't already a big enough clue, the Ray Ban Meta Smart Glasses do, in fact, look just like a pair of Ray Ban glasses. The iconic Wayfarer style is sure to be the most popular, with regular and large variants to choose from; the regular fit us just fine, but the large was a little less constrictive around the ears.
A new Headliner style mixes things up with a more rounded appearance than the squircle-shaped Wayfarer. With no word on the Meteor or Round styles seen on the last-gen model, think of it like a middle ground between those two.
Whichever you go for, there's a choice of shiny and matte black finishes, plus a new transparent option in Jeans, Rebel Black and Caramel colours. Before trying them on we'd have told you black should always be first choice for a pair of Wayfarers, but we rather liked the subtle blue of the Jeans option. You can mix and match frames and lenses through Ray Ban's Remix web store, with over 150 different combinations on offer.
Because the frames contain a lot of circuitry, they're limited with how thick a lens they can accommodate. That means anyone beyond -6 or +4 is out of luck, and will have to stick to contacts and the regular tinted lenses.
There's some seriously clever packaging going on to squeeze all the electronics into frames that are barely any larger or thicker than a regular pair of Ray Bans, including a camera, two speakers, batteries and a mix of physical and touch-sensitive controls. The Smart Glasses are only a little heavier than the folding Wayfarer sunglasses we usually wear, and while the arms were much stiffer, that'll likely change as their hinges see greater use over time.
Inside, Qualcomm's Snapdragon AR1 Gen1 CPU is in charge of camera image and video processing, audio playback, recognising your voice commands and staying paired to your smartphone.
Charging case: classically trained
The charging case that shipped with the Ray Ban Stories sort of did its own thing, but this time around there's more of a classic connection. It's a lot slimmer and lighter now, with the same snap-fit lid as the case that comes with a pair of traditional Ray Ban shades.
It felt perfectly sturdy for tossing in a backpack or handbag, with enough rigidity to keep the frames safe, but without a whole lot of heft to go with it. The soft material inner lining will keep the lenses protected too.
We like the light-up clasp on the front, which shows at a glance how charged your Smart Glasses are: green means you're good to go, yellow is when you're not quite fully charged, and red is when you're really in need of juice. The case has a big enough battery of its own to supply the Smart Glasses with up to eight extra full charges, which works out to around 48 hours of total use before you'll need to hunt down a plug socket. Wireless charging doesn't make the grade, but an hour or so of wired charging over USB-C will be enough to reach full capacity.
We hope you like tan, though – it's the only colour due at launch.
Speakers: keep it to yourself
Meta has developed new custom speakers for this year's Smart Glasses. They promise a 50% volume increase and double the bass of the old model, while also reducing sound leakage – and all without relying on bone conduction tech, which has never impressed when it comes to low end oomph.
The drivers are angled directly at your ears, letting you listen in relative privacy: from a few feet away we couldn't tell what tunes the other assembled journalists were jamming out to, but it's still pretty obvious when the volume is fully cranked. Not that you'll want to, mind: we found 60% was a comfortable level for listening in a fairly quiet area.
Sound quality was rather impressive, with all parts of the frequency range well represented. You won't get the same bass boom as a proper pair of earphones, but tracks didn't sound at all thin or treble-heavy. And because they aren't blocking your ears, you're able to stay perfectly aware of your surroundings, or hold a conversation.
Playback controls were seamless, reacting to taps on the Glasses arm for skipping and pausing tracks. We didn't get to test how clear the five microphone array sounded when making voice calls, but it detected our voice commands accurately. We're still not going to be yelling "meta, take a photo" in public, though.
Cameras: all seeing eyes
While the Ray Ban Stories made do with 5MP camera sensors, the new Meta Smart Glasses get a 12MP unit, paired to an ultra-wide sensor that should give a decent approximation of what your eyes can take in. It's set up for vertical capture (3024×4032 stills and 1330×1920 videos) so you can share straight to social media without any cropping. From what we could see, picture quality is up there with a decent mid-range smartphone.
You can use the capture button built into the frame: press once to snap a photo, press and hold to record a video. Or you can use your voice for hands-free shutter control. The bright white capture LED pulses white now, instead of red, which Meta says makes it easier to spot in a range of lighting conditions. A sensor checks nothing is blocking it from view, too, refusing to take a picture until you uncover it.
Each still image is made up of multiple frames, with HDR processing to expose light and dark areas simultaneously. It was mighty effective in our well-lit demo area, capturing the building interior as well as what we could see outside the window.
Meta reckons it has improved the image stabilisation for video footage, and the few short clips we recorded certainly seemed impressively smooth, given we were wandering around and deliberately not trying to give the Smart Glasses an easy ride. The five-mic array also helps capture spatial sound.
32GB of on-board storage should be enough for over 500 photos or 100 videos, which is eight times as much as you got with the old Ray Ban Stories.
Software experience: made for sharing
We only had a brief play with the Meta View companion app, which has been given a major visual overhaul from the old Facebook View app used for the Ray Ban Stories glasses. It puts your pics front-and-centre, and seemed very quick to sync over Bluetooth – something the old Stories specs struggled with.
Links to all of Meta's apps are baked right in, without having to pull up your phone's sharing sheet. But if you don't spend your life glued to Facebook, Whatsapp, Instagram, Messenger and Threads, it's easy enough to export your files to other apps.
The Instagram integration is especially cool, letting you start a live stream using your phone then swap to first person perspective using the Smart Glasses. A double-tap on the Glasses' capture button can swap back again. Streaming is new for 2023, with the outgoing pair only able to snap and record video; it will take a dent out of your remaining battery life though, with Meta estimating four hours max per charge.
Ray Ban Meta smart glasses initial verdict
It's still early days, but Ray ban and Meta's latest collab might be the most refined and usable smart glasses we've ever worn. They give a unique first person, hands-free perspective to your photos and videos, do a surprisingly good job on sound, and look barely any different from a traditional pair of Ray Bans. They're nowhere near as intrusive as smart specs from rival firms, such as the divisive Snapchat Spectacles V3.
That was largely true of the outgoing Ray Ban Stories, though. It'll be image quality improvements, a boost to battery life and live streaming that set this new pair apart – but how much exactly will have to wait until a full review. Right now we're just glad to see the more conspicuous capture LED addressing privacy concerns, and the price staying at the same £299/€329 as before for the standard lens.
The Meta Smart Glasses will be going on sale on the 17th of October, and are available to pre-order now through the Ray Ban and Meta websites.
Ray Ban Meta smart glasses technical specifications
Styles
Wayfarer, Headliner (regular and large)
CPU
Qualcomm Snapdragon AR1 Gen 1
Camera
12MP ultra-wide
Speakers
2x custom drivers
Storage
32GB
Battery
6hrs (average use), 4hrs (live streaming)
8x charges from case
Weight
48.6-50.8g