MWC 2015: Lenovo Vibe Shot hands-on review
Is the Vibe Shot more camera or smartphone? Wonder no more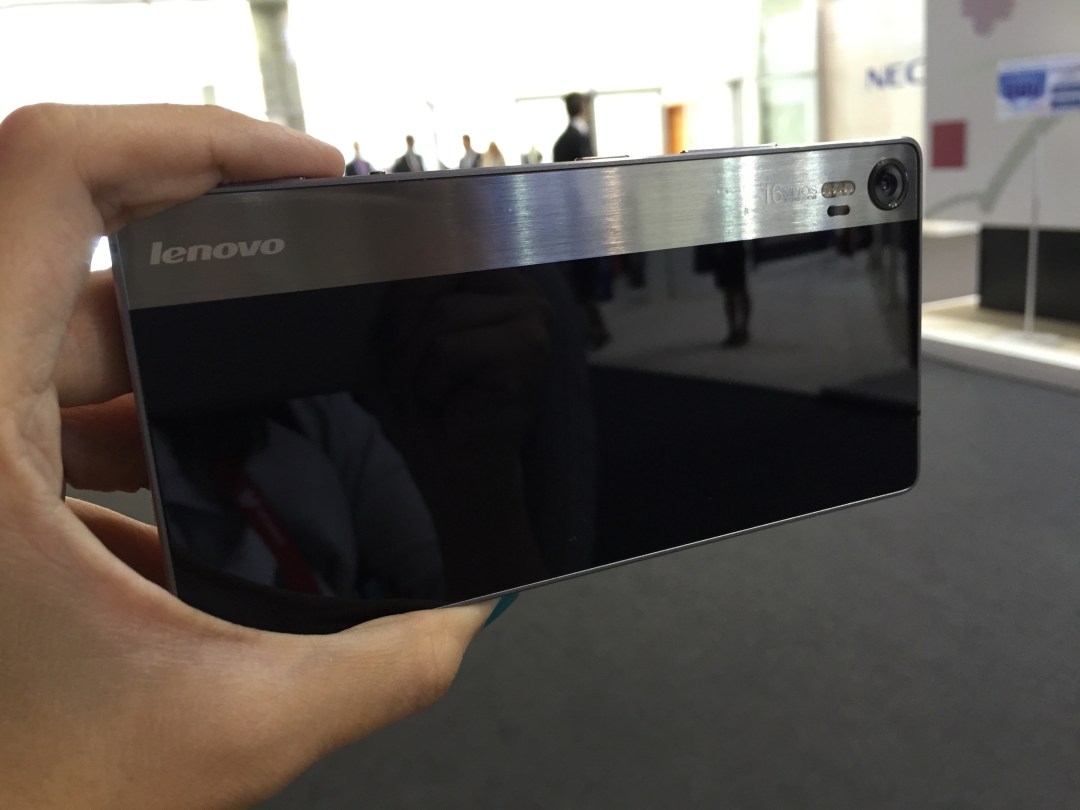 The Vibe Shot is quite the looker, which is saying a lot in a world of boring-looking slabs of screens.
When you see it from the front, it's decidedly smartphone. But if you were to look at it from the back, it's a whole other story. The design is reminiscent of old school snappers.
And that's exactly what Lenovo is going for, given the standout photographic capabilities of this truly compact snapper.
Phone things first
The Vibe Shot runs on a 1.7 GHz octa-core Qualcomm Snapdragon 615 processor. A mouthful, but what's really important is that multitasking was smooth and everything ran without a hitch on the demo model. Notice we said demo model – we'd have to burn it through our daily hellfire of simultaneous app-running.
Its 5in screen has a grand pixel density of 441ppi, which showed up sharp and clear even under the unforgiving show lights.
Sleek modern lines contrasted with the nostalgic element of a classic compact unexpectedly makes the Vibe Shot quite the good-looking phone. Shiny without being showy, we're big fans of how classy the silver bar on its back looks. But doesn't the speaker grill remind you of a certain phone? In case you're struggling to place it, the name of its maker rhymes with snapple.
The phone might feel a little blocky in the hand, but thanks to its light weight, it's not difficult to keep a hold on it. Although due to its length, you might want to use both hands to take a photo to keep a completely steady grip on it when hitting the physical shutter button.
Wide-eyed and lightning quck
For a fast shot, hit the dedicated camera button on the side to bring up the camera app when the phone is awake. Hit the button again, and the 16MP-packing Vibe Shot registers your shot almost instantaneously. Photos taken were crisp, vibrantly coloured, and had the perennial favourite bokeh. The only thing that would make it better is if hitting that camera button would wake the phone up and take you straight into the camera app to ensure you never miss a shot.
Next to the camera button is a switch to toggle between Pro and Smart mode. The former gives you the manual settings you've come to expect in DSLRs and compact cameras like ISO, white balance, and exposure to name a few. Tapping on a particular setting brings up that wheel that should remind you of another smartphone maker (coughMScough).
But if you want the camera to do all the work for you, toggle over to Smart and it intelligently changes its settings to capture the scene as it should be – from portraits to food. You'll be taking a lot of photos considering how natural this feels in your hands, like a real compact, so its 32GB of internal storage, expandable up to 128GB, is a real good thing.
But first, let me take a
This phone was made for selfies with its 8MP front-facing camera. It has an interesting feature which is honestly more gimmicky than truly good. When you hold the camera up to your face, it tells you your age and happiness index – essentially how wide you're smiling. It apparently pulls the data from Lenovo's user database. We can't imagine how useful that could be, aside from trying to find out if someone is lying to you about his age. But then again, in the time spent with the phone, it pegged this writer as 24-29 when she's actually a ripe old 28.
Aside from the useless but nonetheless interesting feature, the Vibe Shot has a host of narcissist-friendly features for every selfie situation you can possibly think of. Not feeling your best? There's a skin beautification mode that automatically irons out your wrinkles. Can't reach the shutter button? There's the ever helpful timer. Want to mix things up? There are gesture controls like waving to take a photo or throwing up a peace sign. While the first two worked perfectly, gesture controls were a bit of a hit and miss. If they don't work, you can always go with voice commands, which the Vibe Shot is capable of, too.
All flashed out
The Vibe Shot comes with a tricolour flash to perfectly replicate whatever light temperature you're trying to capture. While the constantly switching show floor lights were a challenge to capture, the Vibe Shot did its best, turning out photos that accurately the same lights and colours we were seeing with our own eyes.
There's also a mini ring light attachment to cast a flattering glow on your face. Called the Vibe Xtension Selfie Flash (US$29), it plugs into the headphone jack of your phone to be instantly triggered for the best selfies. Just hit the button at the back to trigger a 10-second diffused flash. It was too bright on the showfloor to see if it made a noticeable difference to our forced selfies. But we imagine that it's be pretty helpful in places like dimly lit restaurants when you don't want to wash your shot out with the default harsher flash.
Initial verdict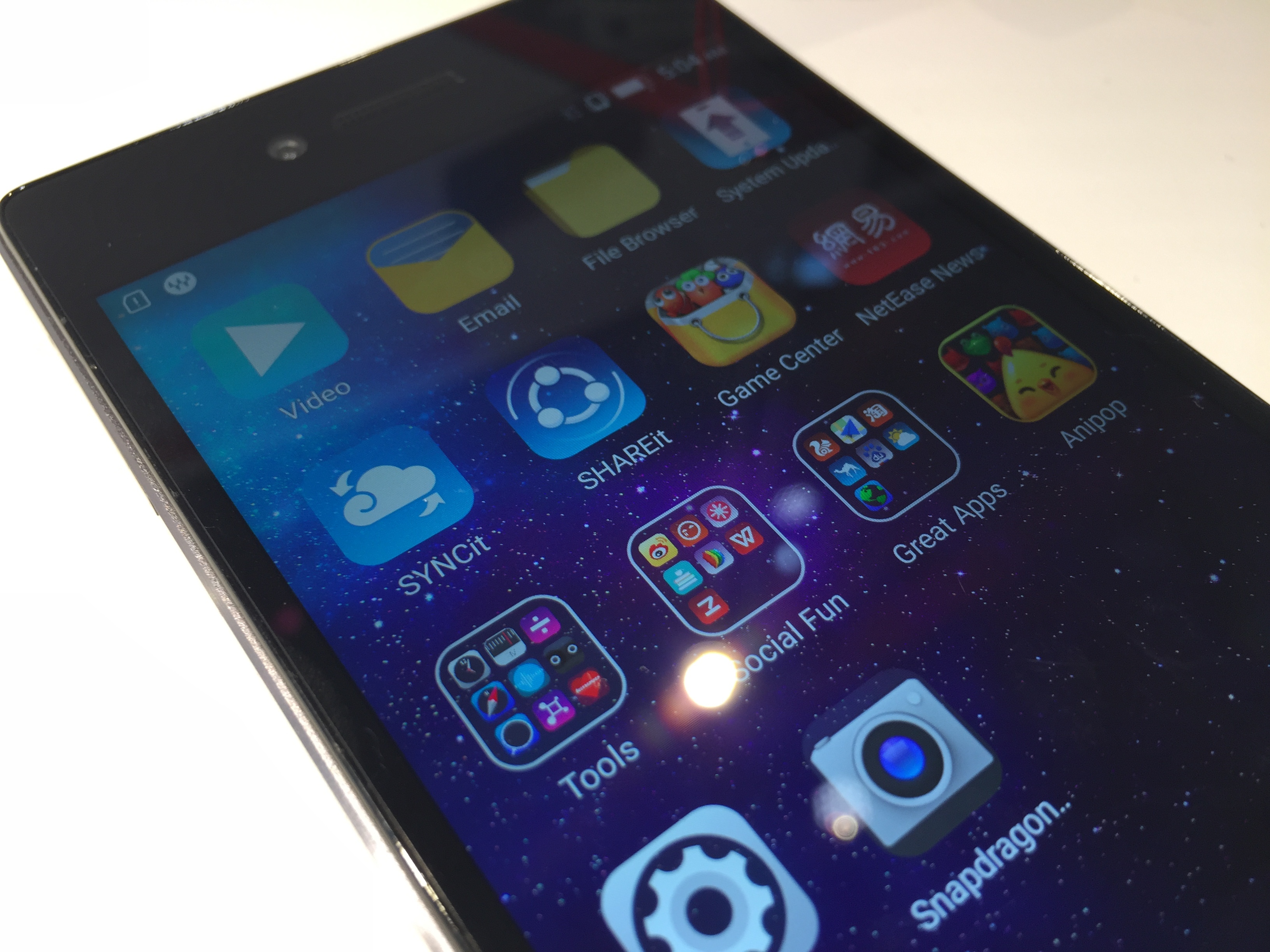 The Vibe Shot's tech specs might be not much to crow about and at times its features seem a little copycat, but the snappy phone still has a pretty good shot at being one of the better camera-focused smartphones available. The Lenovo Vibe Shot will be available from May onwards for US$349 (~£230). From the looks of this phone, you'd have expected it to cost more.