Mont Blanc Summit hands-on review
Big name, big watch, big price - but a bizarre lack of features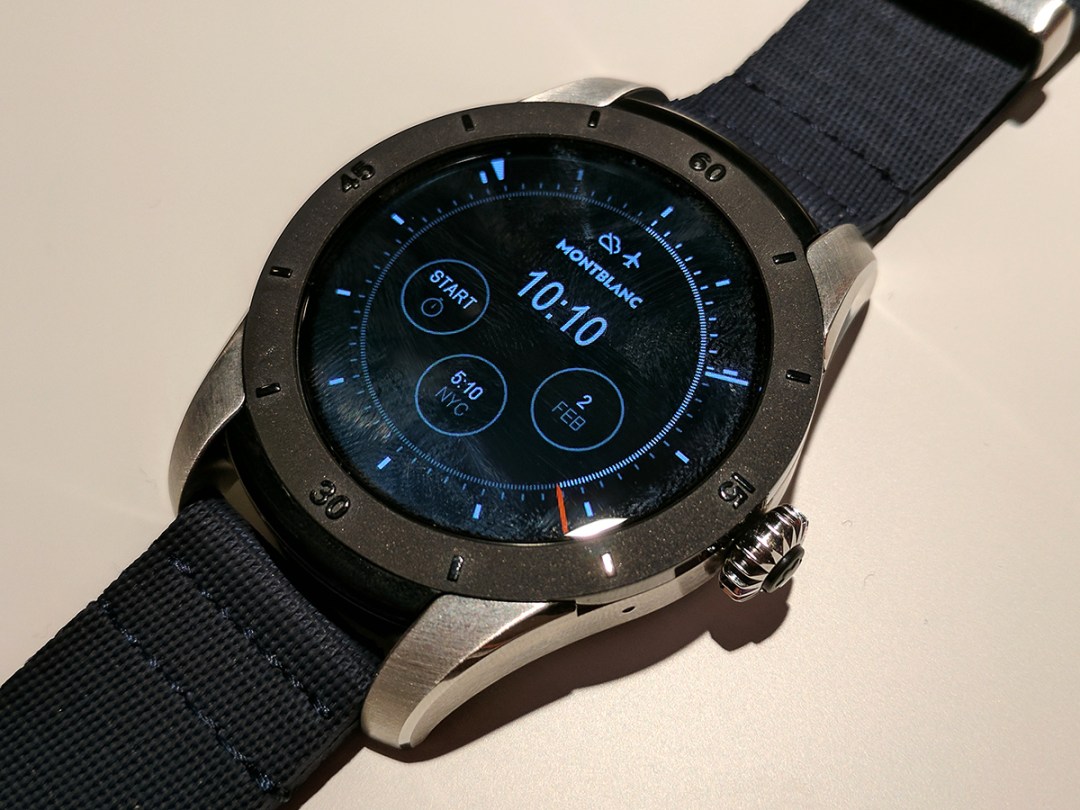 I hope you like your smartwatches big, bulky and expensive – because that's exactly what you get with the Mont Blanc Summit.
The Swiss watch-maker's first Android Wear device takes everything its customers love about the 1858 analogue watch collection, but swaps the mechanical innards for something decidedly more modern.
It might walk the walk, but underneath the flashy exterior it's missing many of the features we've come to expect from watches costing a third of the price.
This is all about style – which in the watch world, means metal. And lots of it.
Mont Blanc Summit design: Subtle styling
The Summit is a big, bulky watch. They've been in fashion for what feels like forever at the luxury end of the spectrum – so much so that tech brands are doing their best to copy the style for their latest wearables. Just look at the Huawei Watch 2.
The 46mm diameter doesn't look too big on the wrist, even if the 12.5mm height makes each watch look decidedly chunky. It isn't so rotund that you won't squeeze one under a shirt cuff, though.
Everything is made from top-grade stainless steel and titanium, with four distinct styles to choose from in silver, black, or a mixture of the two. The base model comes with a leather strap, but you can choose rubber or alligator leather if you want something a bit more unique.
The huge crown on the side stood out to me right away – it should have been the perfect way to interact with Android Wear 2.0, but disappointingly it doesn't spin at all. It's just a button, meaning you've got to swipe through screens and risk smudging the display with fingerprints.
It might feel high-end once you've got one on your wrist, but to be honest the design didn't exactly wow me – it all felt rather generic, no matter which straps or design was on show. I'm sure that subtlety will go down a treat with Mont Blanc fans, but I know I'd want my high-end watch to make more of a statement than the Summit does.
Mont Blanc Summit features: nothing to see here
Back to the underlying hardware, though, because what's the point in a smartwatch that isn't smart?
A Qualcomm Snapdragon Wear 2100 chip, 512MB of RAM and 4GB of storage are pretty much par for the course in a 2017 smartwatch, so it's good to see Mont Blanc ticking all the right boxes.
Elsewhere, though, there are disappointing omissions. You get a microphone, but not a speaker, so you can't use it to take calls or interact with Google Assistant. There's a heart-rate sensor, and the whole thing is IP68 water-resistant, but there's no GPS for phone-free exercise tracking.
There's no NFC for Android Pay, either.
Admittedly that 1.39in, 400×400 AMOLED display is gorgeous, and it's protected by sapphire glass too – meaning it shouldn't end up scuffed and scratched, even after spending months on your wrist.
Not that you'll be able to do that much wearing in one sitting, though – there's only a 350mAh battery inside, which is good for a day and a half of juice between charges at best.
The Huawei Watch 2 has all of these features and more, yet costs half the price. Mont Blanc is really hoping you dig the Summit's style, as it certainly won't win admirers from the spec sheet alone.
Mont Blanc Summit initial verdict
The Summit feels two years too late. If it had arrived in 2015, alongside Tag Heuer's first attempt at a smartwatch, the gorgeously sculpted body, expansive design customisation and clear screen would have given it a real edge. At £765 for the base model, it would have been cheaper, too.
It's 2017, though, and Tag only recently revealed a modular successor smartwatch that actually makes sense to the luxury market. By comparison, the Summit looks old hat.
Things don't make any sense when you look at the specs, either. With no NFC or GPS, it has fewer features than LG and Huawei watches costing a third of the price. Even that fancy-looking crown is as dumb as they come, failing to take advantage of Android Wear's redesigned 2.0 interface.
I'm sure there are Mont Blanc watch owners that will lap this up – but from what I've seen, I doubt it'll do enough to draw in anyone else.