Microsoft Surface Book 2 (13in) review
A hybrid heavyweight that's all about getting the job done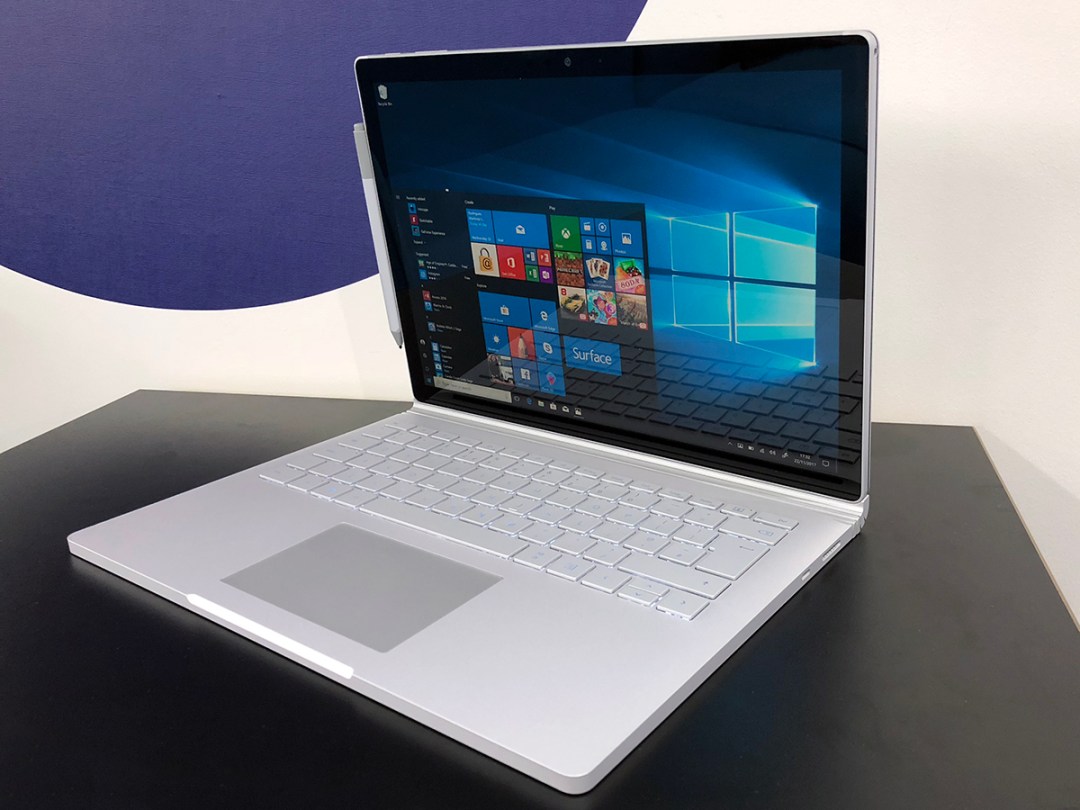 Microsoft has been slowly but steadily converting artists, audio pros and digital workers away from their precious MacBooks for a few years now.
The Surface Pro might have done a lot of that heavy lifting, but it was the Surface Book that delivered performance as well as portability – and now there's a second-gen version with even more grunt.
Don't think of it as a mere spec bump, though: the addition of some arty accessories make the combination of tablet ease-of-use and laptop power even more potent than last year's model.
Simply put: the Surface Book is an absolute productivity powerhouse – although that means it might be overkill for everyone else.
DESIGN & BUILD: THAT HINGE TWINGE
With sharp lines and industrial looks, the Surface Book 2 is an enviably slick machine. The angular approach contrasts well with Apple's more shapely curves, meaning there's no mistaking this for a MacBook.
Just like before, the Book is actually two separate parts: a 13.5in tablet and accompanying keyboard base, which holds the more power-hungry bits like the Nvidia graphics card.
Both tablet and base are machined from magnesium alloy, with a tank tred-style hinge connecting the two. It's gorgeous, and a lot sturdier than last year's version so the tablet doesn't wobble alarmingly whenever you tap the touchscreen.
The unique shape still leaves a big gap when it's closed, though – enough to swallow the loose contents of your laptop bag.
OK, so it's not as thin as an iPad Pro, but the tablet is still thin and light enough to kick back on the sofa with once the work day is over. Combined, the pair only weigh 1.5kg, which is perfect for working on the move.
It might not be overflowing with ports, but the Surface Book 2 fares far better than the latest MacBook Pro with two full-size USB3 ports, an SD card reader and a single USB-C in the base, in addition to the headphone jack on the tablet.
Microsoft's proprietary charging port is still here, but if you've got a powerful enough USB-C adapter, you'll also be able to top up the Book 2 with the same cable you use for your smartphone.
SCREEN & SOUND: BIG AND BOLD
Microsoft's older Surface machines all shipped with gorgeous screens, and the Surface Book 2 is no different. It's rocking a 13.5in panel with a 3:2 aspect ratio, which is ideal for working on two things side-by-side.
It doesn't overreach with a 4K resolution, settling for 3000×2000 instead, but that is more than enough for image editing and video production, as well as web browsing and writing. You've got no chance of spotting the individual pixels unless you jam your nose against the screen.
Text is of course pin-sharp, and both images and video look stunning, with excellent contrast and vibrant colours. Colour accuracy is up for debate, though – to our eyes, a MacBook Pro delivers more true-to-life images, especially when working with photos.
You don't get fancy extras like HDR video support, either, even though you can crank the brightness up to eye-searing levels.
Viewing angles are great, which is handy for something that will spend half its life in tablet mode. For anything that doesn't require absolute colour precision, we'd happily plonk down in front of this for a day of word-wrestling.
The Surface Book 2 can make itself heard, too, with a decent set of speakers that pump out surprisingly loud audio for a tablet. It's hardly a surprise that bass is a weak point, but they get the job done for anything other than critical listening.
IN USE: TOP TYPIST
Just like the first Surface Book, the sequel is all about that base. With the screen clipped into place, it acts like a regular ol' laptop, but hold down a keyboard button and the magic happens.
Software switches from the base's dedicated graphics card to the built-in GPU behind the screen. Magnetic latches are released, and the display pops off into tablet mode. You can then dock the screen backwards for some impromptu presentations, or return to laptop mode when you need to type something longer than a Facebook post.
In laptop mode, the Surface Book 2's excellent keyboard is a joy to type on. Each backlit key has a reassuring amount of depth, and feels pleasingly chunky to hit. There's a lot more feedback here than you get from the butterfly keys on Apple's latest MacBooks, and in our minds is the best typing experience you'll find on a laptop right now.
The multi-touch trackpad works brilliantly too, recognising gestures and working out right clicks from left clicks with great accuracy. Windows touchpads aren't usually this slick, but Microsoft has done a great job keeping the software in check.
ACCESSORIES: ART ATTACK
That's only half the story, of course: The Surface Book also comes with the Surface Pen, and plays nicely with the Surface Dial too.
The Surface Pen remains mostly unchanged from last year, with many thousands of levels of pressure detection and a magnetic dock that lets you hang it off the side of the machine when you're not using it.
As always, latency between pen and screen is some of the best in the business, helping you to concentrate on your lines rather than waiting for the digital ink to start flowing.
The Dial is more exciting, letting you rotate and click to change Photoshop brushes, screen brightness and volume, or zoom and scroll in any application.
With Pen in one hand and Dial pressed on the screen with the other, it's an artist's drafting table updated for 2017. We like it. A lot.
PERFORMANCE & BATTERY LIFE: EFFORTLESS POWER
While the original Surface Book was no slouch, this second-gen model steps things up with the latest Intel CPUs and Nvidia graphics chips.
The fully loaded review model seen here has an eighth-gen Intel Core i7 quad-core CPU, 16GB of RAM and 1TB of SSD storage. 4.2GHz from a tablet? That's enough to put a lot of desktop PCs to shame.
So yeah, this thing is fast. It happily chews up complex CAD programs, renders videos and runs Photoshop batch processing without batting an eye. Microsoft Word or Google Chrome? They'll barely make this thing sweat.
We're just talking about the tablet here, too. Connect it to the base and Intel's integrated graphics are disabled, in favour of a much more powerful Nvidia GTX 1050 graphics card with 2GB of dedicated memory.
It's a competent mid-range card, that will handle a lot of games at medium or high detail settings, as long as you're realistic with resolutions. Overwatch wasn't a problem, but Destiny 2 at 3000×2000 was asking a little too much.
Away from the mains, Microsoft reckons you'll get up to 17 hours of battery life from a single charge, which is seven more than you'll squeeze out of a MacBook Pro, although in our testing we usually came in a few hours under that amount.
For day-to-day working that doesn't tax the GPU, though, you shouldn't need to stay tethered to a plug socket.
MICROSOFT SURFACE BOOK 2 VERDICT
Let's be honest: the Surface Book Pro absolutely isn't for everyone. It's crazy expensive, and overkill if you spend most of your tech time staring at Facebook or your email.
It's not a true gaming machine, either – even with that dedicated graphics card. You can get other laptops with a top-spec GTX 1080 for this kind of cash.
For developers, designers and geeks that like to live on the cutting edge, though? Microsoft's MacBook Pro alternative is a tantalising prospect.
The Surface Pen and Surface Dial accessories make it much more practical for digital artists and graphics pros, and the souped-up hardware can easily cope with CAD. It'll even manage a bit of gaming in your lunch break.
Throw in the gorgeous design and fantastic build quality, and this could very well be the device that gets people switching from macOS.
Tech specs
| | |
| --- | --- |
| SCREEN | 15in, 3:2 aspect, 3240 x 2160 LCD |
| CPU | Intel Core i7 8th gen |
| MEMORY | 16GB RAM |
| GPU | Nvidia GeForce GTX 1060 |
| STORAGE | 1TB SSD |
| OPERATING SYSTEM | Microsoft Windows 10 |
| BATTERY | Up to 17 hours |
| DIMENSIONS | 343x251x15-23mm, 1.9kg |
Stuff Says…
A productivity powerhouse that's flexible and portable, but the Surface Book 2 carries a hefty price premium
Good Stuff
Massive power & performance
Gorgeous screen
Seriously flexible device for work and play
Bad Stuff
Majorly expensive
Overkill for a lot of people