Microsoft Surface 3 review
The latest affordable Surface loses its shallow vibe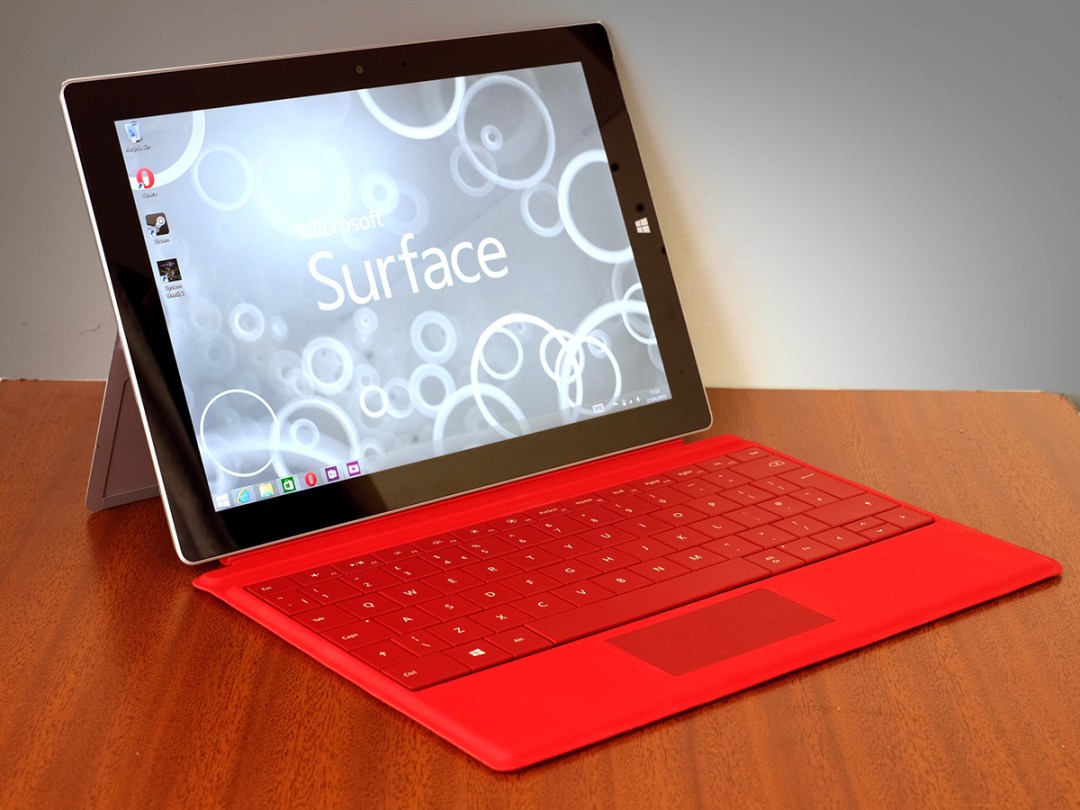 Microsoft is far from the ill-fitting suit-wearing office geek it was once perceived as.
Apple has even had digs at its lack of style in the past. Where Steve Jobs was painted as some sort of Leonardo da Vinci figure, rightly or wrongly there's seemed something a bit "uncool dad" about some of his Microsoft contemporaries.
The Surface hybrids (among other things) have helped to change that perception. Not only are they elegantly designed and stacked with innovation, but they perform rather well, too, making the tablet form factor a genuinely viable alternative to the laptop. The Surface 3 is the latest in the slick series, and it's the cheaper alternative to the Surface Pro 3, our favourite gadget of 2014.
Starting from £420, you get a swish metal Windows tablet that hooks into a bright keyboard dock and provides a laptop-like experience. And unlike previous non-Pro Surface computers, this one can run more than just Angry Birds. In fact, it can have a crack at just about anything that runs on Windows 8.1.
So are the days of good old 'normal' laptops over? Not quite, but this is definitely the best lower-cost Surface yet. Just don't get too excited about the alluring £420 starting price…
Slim, up to a point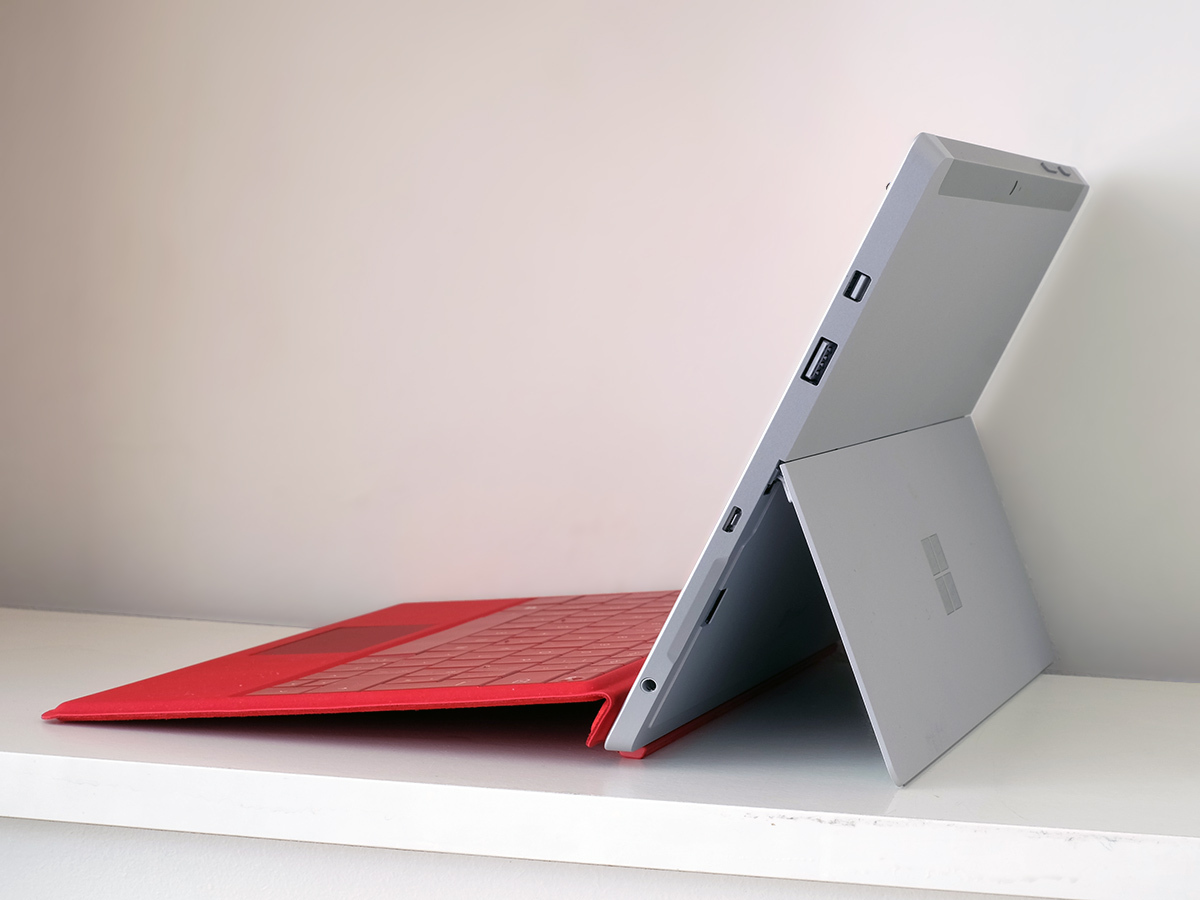 What does the Surface 3 look like? Well, if you took a Surface Pro 3 and shrunk it a bit: like that.
For the non Microsoft obsessives out there, it's a sharp and severe slab of metal and glass. That sounds like a bad thing for a tablet, and it would be, but this is no normal tablet.
It's the most hybrid-y of all hybrids, a tablet that almost never wants to be held. You see, it has a kickstand on the back that lets it prop itself up without needing a base. It's a good job too, as the main tablet part is really pretty sharp, and a little heavy.
You may hear that the Microsoft Surface 3 is the 'lightest and thinnest' tablet Microsoft has made yet. And it is. You can hear them patting themselves on the back from here. But it still doesn't stand up to iPads or Androids when you want to hold the thing to read an article on the train on the way to work.
The Surface 3 is 8.7.mm thick and weighs 622g. And, sure, Microsoft deserves some props for getting a 'proper' computer down to this size. But it's still closer to an iPad 2 in size than an iPad Air 2. Make sure you don't down too much of that Microsoft sauce before getting your debit card out.
The key is the keyboard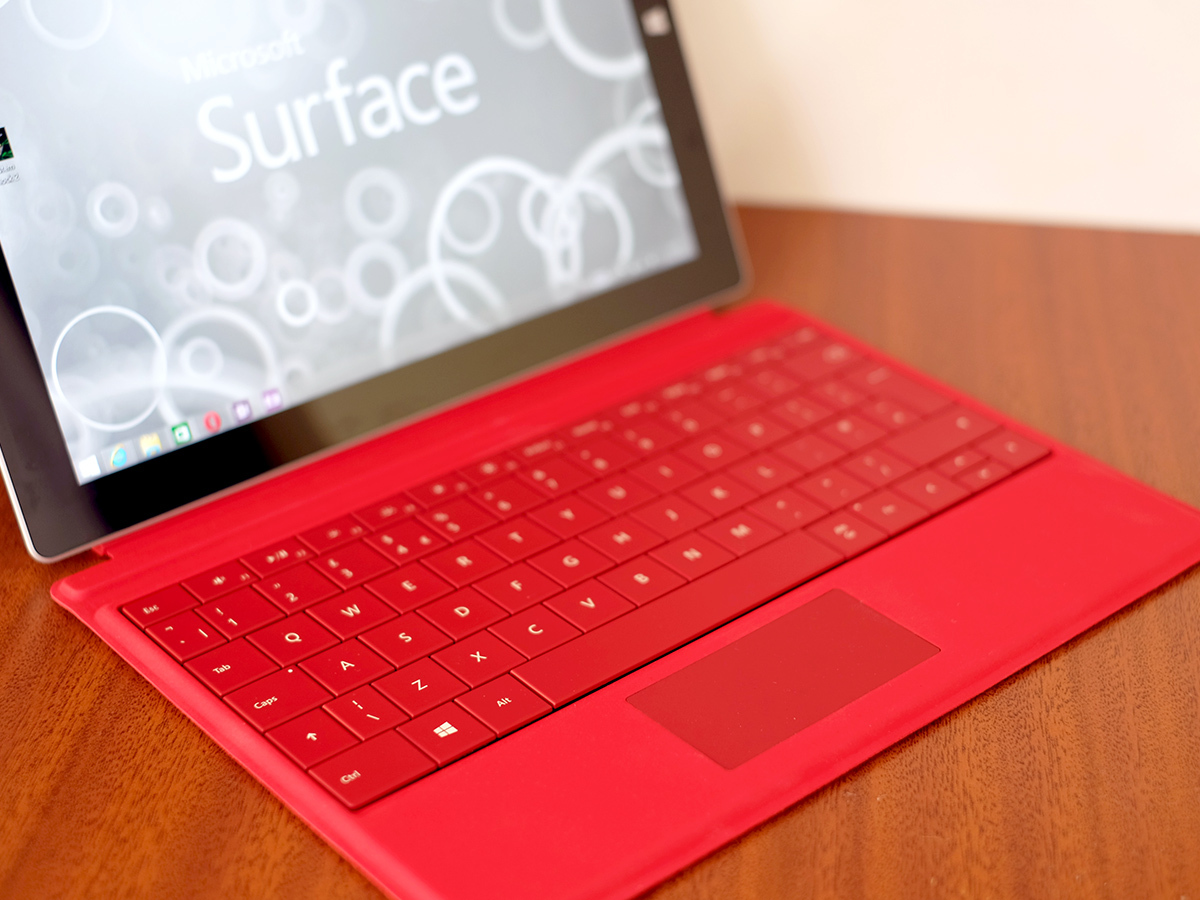 This is pretty much why I wouldn't recommend buying a Microsoft Surface 3 without a keyboard. It feels incredibly well made, but is too chunky to be thought of as a tablet on its lonesome, and without a keyboard and trackpad you're not going to unleash much of this thing's potential.
And, boy, there's a lot of potential here.
Plug in the keyboard dock, which hooks in using an extremely elegant, zero-fuss magnetic mechanism, and you more-or-less have an ultraportable laptop on your hands. As with the Surface Pro 3, the Type Cover does a cracking job of cramming the feel of a real laptop keyboard into an accessory just a few millimetres thick.
The key travel really is comparable to an Ultrabook's and the keys themselves are full-size. It's only the strange hollow feel when typing that tells you you're using something other than a proper keyboard.
The keyboard base even has a backlight. So while paying £100 extra just for a keyboard seems like an awful lot when you're on a budget, you can't help but admire the engineering that has gone into it.
Sure, this sort of experience is nothing new. Microsoft has had this sort of keyboard base for while now. But it still impresses.
Big to be small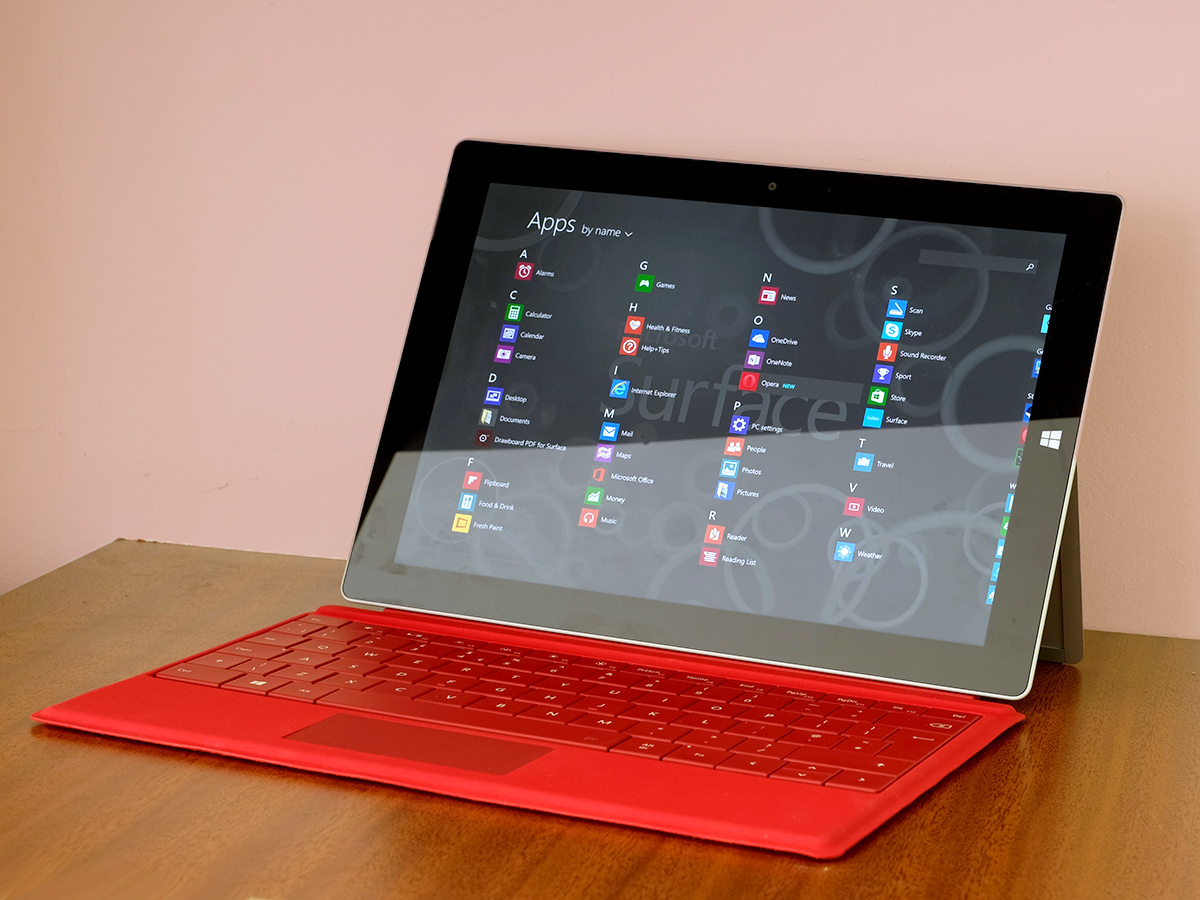 There is the question of size, though. Is it big enough? The Microsoft Surface 3 is a fair bit smaller than the Surface Pro 3, and it's enough to make you want to use it as a portable-only machine, rather than a full, main computer.
The trackpad is pretty cramped, for one, and in the flesh the 10.8-inch screen seems pretty obviously a lot smaller than even a 12-inch Surface Pro 3 or a MacBook Air 13. Just remember: this isn't just less powerful than the Pro model, but dinkier too.
It's also not always perfect for using out and about, much as it seems like that's the whole point. Like every Surface, the Microsoft Surface 3's kickstand means its not great for using on your lap. It just doesn't have the stability of a normal laptop when there isn't a flat surface to rest on. You can do it, but it takes some getting used to, and some manoeuvring at times.
Still, for every negative there are good bits to even things out. Want to watch a film while lazing in bed? Or use the thing on an ultra-cramped train table? The Microsoft Surface 3 is a bit of a star, as the stand sits in three positions, giving you five different 'on its side' positions when the tablet is flipped either way. Why not six? The tablet collapses the stand in the last one, but it's a position you're unlikely to need to use anyway.
I should note, though, that the stand isn't quite as smart as the Pro version's, which can be held at just about any angle.
Full HD dream screen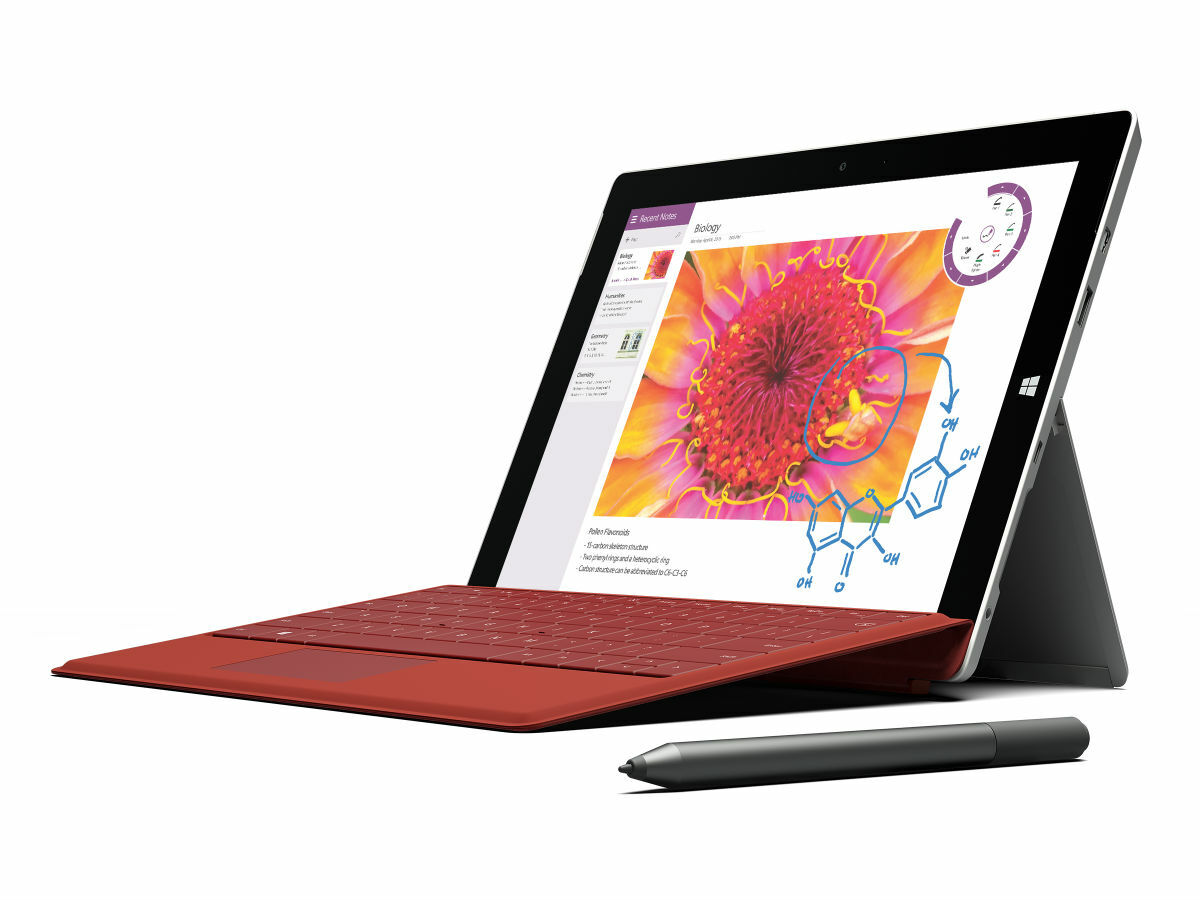 Another big win for the Surface 3 is the screen. It flattens what you'd get to this day in most £500 laptops.
It has a 10.8-inch IPS LCD touchscreen of 1,920 x 1,280 resolution, which is 'Full HD' with a bit extra on the top and bottom to give the Surface 3 a squatter 3:2 aspect. What this does is to give the tablet dimensions not too far off an A4 pad of paper.
Even with the Type cover attached, which doubles as a screen protector when the thing's not being used, it's no thicker than such a pad. The ergonomics of the thing make more sense with the keyboard there too, as it softens-out the Surface 3's hard edges. Walking around with a Surface 3 under your arm just feels right.
Microsoft sells the thing without the keyboard, but in no way is it meant to really be used entirely without one.
Back to the screen, though. Its colours and viewing angles are great, telling you that Microsoft takes the new standards set by tablet screens seriously.
Is it up there with the best? No, not quite. First, the resolution is a good deal lower than an iPad Air 2 or something like the Samsung Tab S 10.5. They have far sharper screens.
It's still sharp enough and 1080p-ish resolutions cause zero problems with Windows while much higher ones can make parts of the interface of some apps look crazy-tiny. Microsoft has addressed this a bit with more recent Windows updates, but with a 1080p-ish screen like this there's nothing to worry about.
Well, for the most part. As it has a '1080p plus a bit' screen, you do need to put up with some black bars in apps/games that are only designed to run at standard resolutions. However, they're pretty small when running at 1080p.
But there is a bit of a black issue. They're just not quite as deep as they are in the best LCD screens, with black areas appearing really quite grey even in the daytime when you whack the brightness up a bit. It's only really an issue when trying to get a cinematic feeling from a movie or game, but it's there.
Splitting the Atom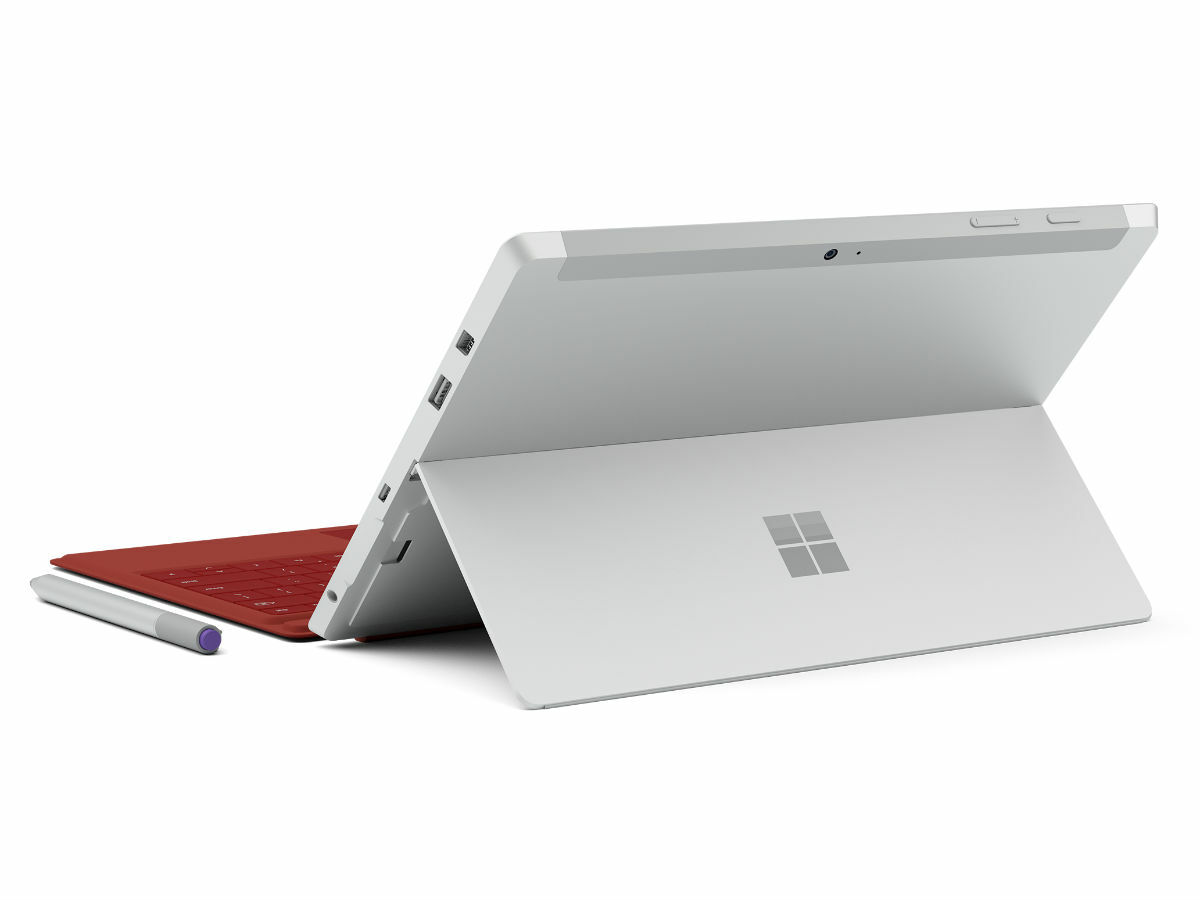 Talking of games, what can the Surface 3 actually handle? It uses an Intel Atom processor, a series that has been routinely ridiculed by the hardcore PC crowd as being as weak as a leaf of wilted spinach. This latest generation is better, but this is in no way intended to be a performance PC.
It uses a 1.6 GHz Intel Atom x7, which is basically a cheaper, less advanced alternative to the Intel Core M series processors we're starting to see in laptops like the 12-inch MacBook and Asus ZenBook UX305. General performance is perfectly fine, with little of the annoying lag we've seen in older, slower Intel Atom tablets.
Is it perfect? Not quite. There have been some momentary pauses when I've had a few apps going at once. RAM is probably just as much to blame in these situations, even though my review sample has 4GB of it, rather than the 2GB of the cheapest version that we'd recommend staying away from. Having not-quite-enough RAM is like having a chronic, nagging headache that just won't go away.
That relative lack of power is by no mean crippling, but it joins the small form factor and imperfect stand as a reason not to consider the Surface 3 as a hard-working laptop-alternative. Of course if you're after a more casual, fun, occasional-use device the Atom here is more than up to it.
There's an optional stylus pen, too. It looks like you may have to buy this separately (£35), but as it's a proper digitiser jobbie it'll turn the Surface into a notepad, via the OneNote software, as well as a decent sketching pad.
Swords and sorcery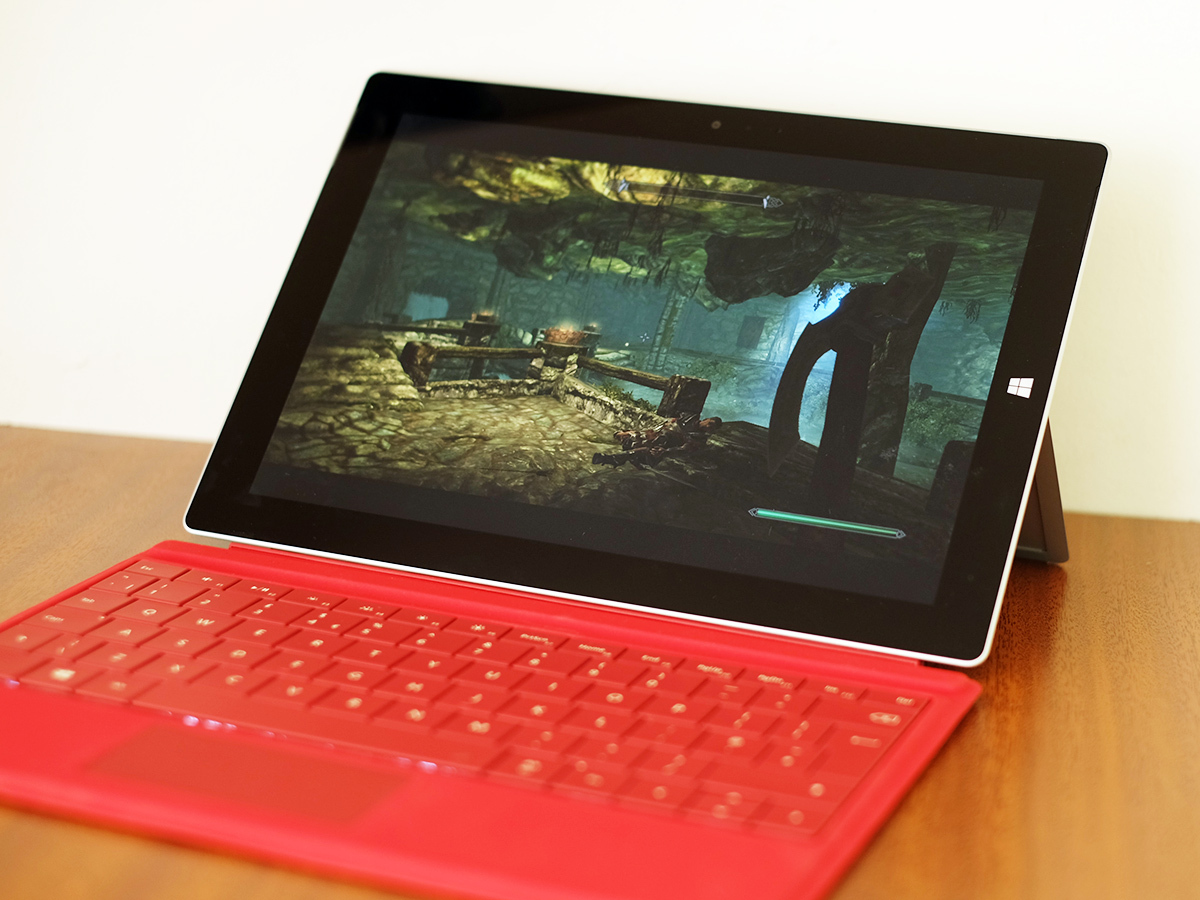 It can even handle some gaming. To really test what the fan-free Surface 3 can handle I fired up beardy sword-flinger Skyrim to see what would happen. I expected a car crash, but what I got was… alarmingly ok.
That's right, Skyrim is playable on the Surface 3. Just about. The frame rate isn't amazing and for some reason there's strange lag if you use the keyboard's trackpad rather than a mouse, but stick to low visual quality and 1080p resolution and you can slink off to Tamriel on the train journey home from work if you fancy.
Being fan-less, it never makes any noise even under strain, and doesn't seem to get all that hot either.
For a less anecdotal take on the Surface 3's powers, I ran it through the usual benchmarks. It scores 3031 points in Geekbench, putting it on-par with a MacBook Pro from 2009. Low-end processors have beefed-up since those days, but don't kid yourself you're getting a performance machine here.
Tablet DNA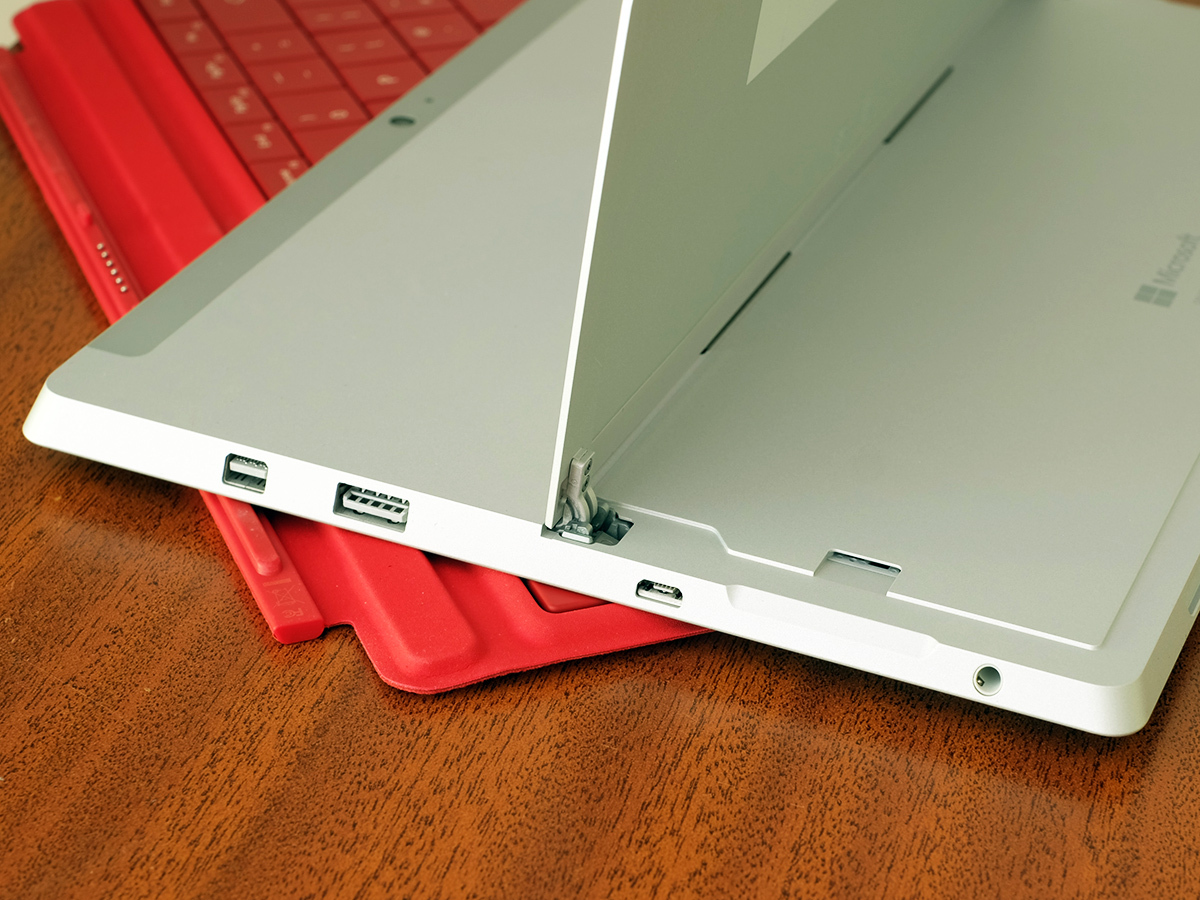 It'll handle the basics, and gives you a bit more scope for serious work than a tablet, while clinging onto some of that tablet fun.
You still get tablet-style cameras, for example: one on the front, one on the back. The rear one has an 8-megapixel sensor while the front has a 3.5-megapixel one.
Neither really puts quite as much effort into processing as the top phones, so your indoor shots will be a bit noisy, but then why would you want to use something the size and shape of an A4 pad of paper as your main camera anyway?
When you take a photo with either camera, the Surface 3 takes a whole bunch of shots, which you can then pick from. It's a clear sign it wants to take pictures of sensible family get-togethers rather than Instragram-able shots of your adventures out and about.
It certainly doesn't want to stay at home either, though. The Surface 3, like the Pro, offers great battery life. With normal, light use (i.e. no gaming) I've been getting a solid eight and a half hours of use from a charge – enough to sail through a day's work. This time around it uses a microUSB charging port, too, meaning you can top it up with a phone charger or external battery.
You'll want to stick with the official charger when you can, though, as its 5.2V/2.5A output it's more powerful than most phone plugs. It'll take aeons to charge with some mobile chargers.
Anything else to consider? Well, there are quite a few versions to choose between. There are Wi-Fi-only and 4G models, and ones with either 64GB or 128GB of storage, plus the aforementioned RAM options.
Given how easy tethering from a phone is and how often we're all in range of a Wi-Fi network these days, I'm inclined to think the £500 128GB Wi-Fi version is the sweet spot. And if even 128GB is too little for you, Microsoft has sneaked a microSD card slot under the hinge of the stand. Crafty devils.
Other ports are on the side, and you get one USB port and one Mini DisplayPort. This'll make hooking up the Surface 3 to a monitor easy, although if you want to plug in a keyboard and mouse, you'll want to snag a USB hub. But hey, they only cost a few quid.
Microsoft Surface 3 verdict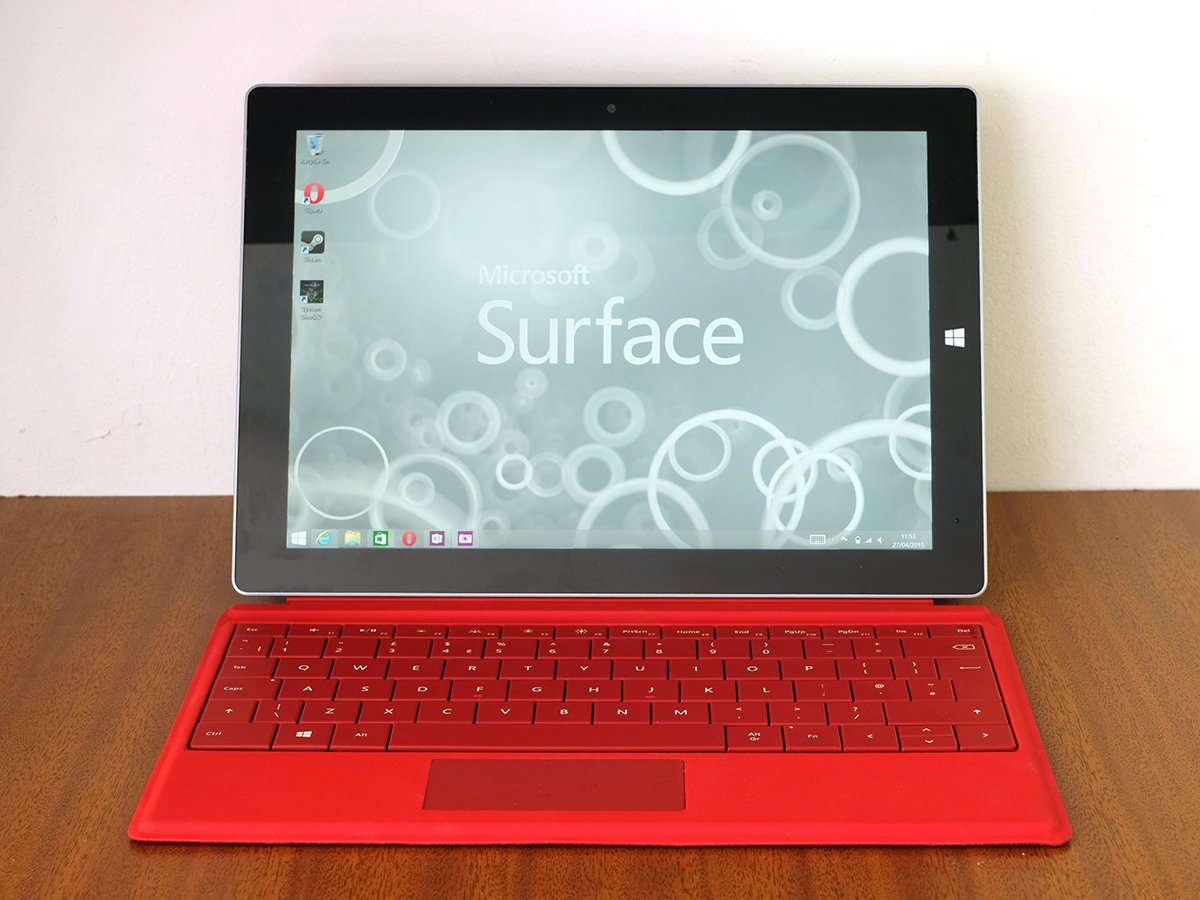 With each year, the impact of the Surface tablets' design has lessened. But the actual devices have become far more useful.
Last year's Surface Pro 3 was something you could really imagine replacing a full laptop, and while I probably wouldn't say the same of the Surface 3, that's not really the idea of a device this size. At £250 less than the Surface Pro 3, it's a much easier sell as something you won't necessarily use every single day.
The design has its ups and downs, but they even out. The end results is a device that's flexible in quite an unusual way. Now that it has shed all the tablet-taming problems with the old Windows RT devices, namely not being able to run full Windows apps, it has become something more usable, flexible and covetable.
My top tip is to completely forget the £420 Surface 3 entry level model. When for just £110 extra (£530) you can get the upgrade to 4GB RAM, 128GB storage and get a Type Cover, going for the cheaper option is like buying a car without a windscreen. Don't do it, folks.
Tech specs
| | |
| --- | --- |
| Operating system | Windows 8.1 |
| Screen | 10.8in LCD with 1920 x 1280 resolution (3:2 ratio) |
| CPU | Intel Atom Z8700 1.6GHz Quad-core |
| GPU | Intel HD |
| RAM | 2/4GB |
| Storage | 64/128GB |
| Optical drive | None |
| Connectivity | 802.11ac, Bluetooth 4.0, USB 3.0, microSD, Mini DisplayPort |
| Cameras | 8MP front, 3.5MP rear |
| Dimensions | 267.1 x 187 x 8.7 mm |
| Weight | 622g |
Stuff Says…
Full-fat Windows makes the affordable version of the Surface a far more tempting proposition
Good Stuff
Intel Atom CPUs have stepped up
Very good screen
Top-notch build quality
Strong keyboard cover
Bad Stuff
Processor has its limits
Screen black level could be better
Small size makes it less flexible
Kickstand simpler and therefore less useful than the Pro's