LG Stylus 2 hands-on review
With the Galaxy note a no-show in the UK, LG's Stylus 2 is stepping up to fill the void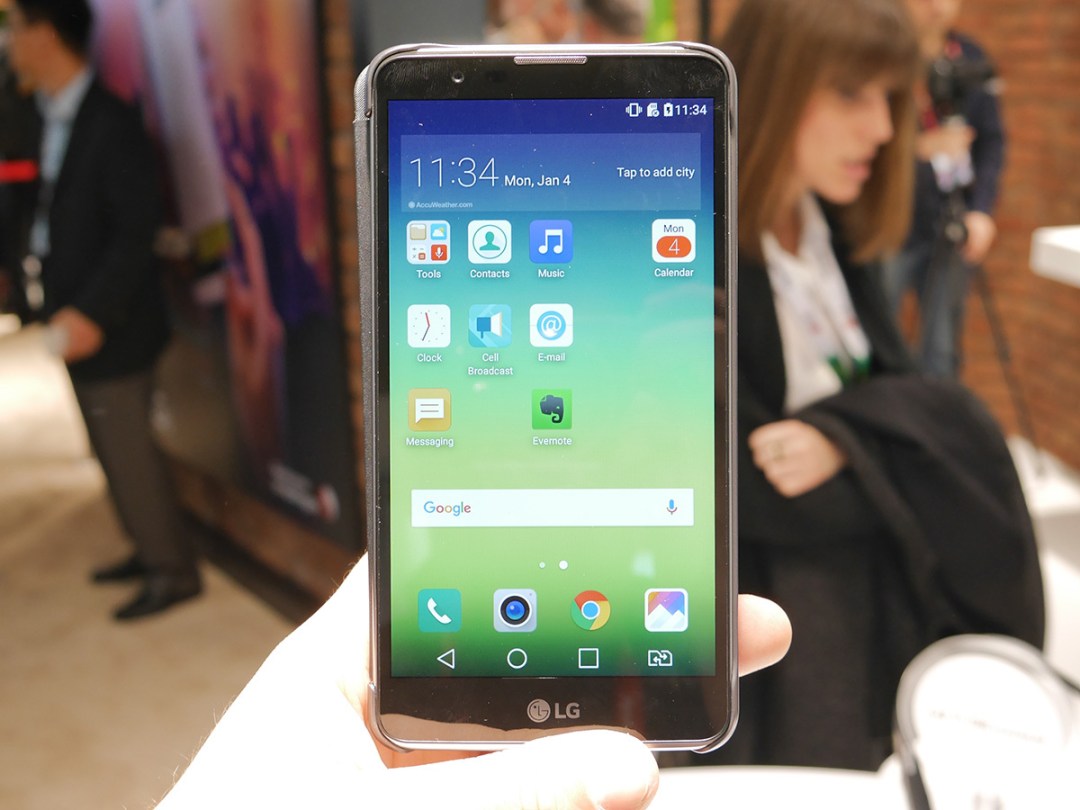 While all eyes were on the G5 launch on Sunday, LG quietly wheeled out a few more mid-range mobiles for Mobile World Congress.
The Stylus 2 is, surprisingly, the most mainstream of the three – despite packing a stylus and a fun flip-case that pulls double-duty as an always-on screen.
With no Galaxy Note 5 in the UK (at least not officially) we're always on the look out for an alternative to take it's place, and the 5.7in Stylus 2 could be just the thing.
We gave it a try today on the MWC show floor, so we can bring you some early first impressions.
Open and shut case
Even before you power up the Stylus 2, the optional flip cover looks like it means business. LG reckons phones with a stylus tend to be picked up by office workers (at least in Europe and the US), so it's given the accessories a real professional vibe.
LG wouldn't confirm it, and wouldn't let us prise off the cover to check, but it seems to clip onto the chassis rather than replace the entire back panel. The cover protects the screen with a tight mesh and matches the design on the back too, with cutouts for the rear-facing power and volume buttons.
It's the thin strip along the edge of the front that's most interesting though. It'll let a part of the screen underneath shine through, even when the phone isn't in a powered up state. You can pop the time and date up there, or write your own personal message instead.
Notification icons should pop up whenever you get a message or missed call, so you don't need to open the cover all the time to make sure you're up to date.
The cover doesn't add too much bulk to the phone, and as it'll keep the screen free from scratches it could be sound investment for anyone wanting to keep their phone in pristine condition.
Pencil pusher
This isn't the first LG phone with a stylus, but that doesn't mean it hasn't pinched a few ideas from Samsung's Galaxy Note range. The pop-up menu that appears whenever you unsheath the stylus from its holster feels a lot like the Note, with shortcuts to memos and screen capturing tools.
There's even a warning system that detects when you pick up the phone without the stylus docked, to make sure you don't forget it – something the Galaxy Note has had for a while.
LG has made some improvements of its own, though. The G4 Stylus had a rubber-tipped pen, which didn't exactly feel natural to write or sketch with, but the nano-coated stylus used here is far better. I had no trouble sketching or writing quick notes that were still legible, despite my chicken scratch handwriting.
I had to steer clear of the caligraphy pen though; I barely write anything down any more (my gear bag has a dictaphone and laptop, but no pen or notepad) and all my attempts at cursive just ended up illegible.
The 5.7in screen has plenty of space for drawing or making notes, so it's a shame that the resolution isn't the right match for the size. 720p looks more than a little grainy when stretched to fill the panel, and it's not a patch on the Note 4's QHD display.
It's bright enough, and colours look as natural as you'd expect from an LCD panel, but in a phone this big you expect the display to grab you as soon as you start using it. That's not really the case here.
Spec showdown
If you were hoping for a powerhouse, the Stylus 2 is going to leave you disappointed. It's got a quad-core CPU, but the 1.2GHz clock speed and 1.5GB RAM pairing isn't going to break any performance records. 16GB of storage feels low, too, although at least you've got a microSD slot to fall back on if you fill up the phone.
I'd really expect more than a 3000mAh battery in a 5.7in phone, especially one with an energy-sapping LCD screen rather than an efficient OLED one. LG hasn't said how long you can expect it to last on a full charge, although at least you've got Android's Doze mode to get you through the night without a top-up.
Android 6.0 Marshmallow makes a welcome appearance, although I'm not convinced by the new-look skin for 2016. Ditching the app drawer for iPhone-style multiple home screens will definitely not go down well with the Android die-hards, and the long list of custom icons can be a little confusing if you're more familiar with the default look.
At least it all runs fairly smoothly, with no sign of lag or stutter when swiping between apps or popping out the stylus for making a quick note.
The 13MP camera should be another highlight; it might not have the G5's super-quick laser focus, but the LED flash, HDR photos and 1080p video recording means it's still pretty capable. I couldn't really give it a proper test on the show floor, but most of my quick test snaps looked detailed enough – or as much as they could on the 720p screen.
LG Stylus 2 early verdict
Any phone with a stylus is going to have a hard time competing with the Galaxy Note 4, which is mainly why LG's gone for the mid-range rather than a whiz-bang flagship. The Stylus 2 gets most things right; the pen input works well, the flip cover looks mean enough that Miranda Priestly would use one, and there's enough power to comfortably run Android 6.
The display is the only real disappointment. A phablet like this deserves a 1080p screen at least, and I don't think adding one would have kicked the price up too dramatically.
That means getting the price right is crucial. LG hasn't announced anything yet, or which countries will be getting one, but it'll need to undercut other phablets in order to justify the simplified specs. Fingers crossed it can, because that funky flip cover is just fierce.