Insta360 Ace Pro review: a flipping low light legend
Going for GoPro's guts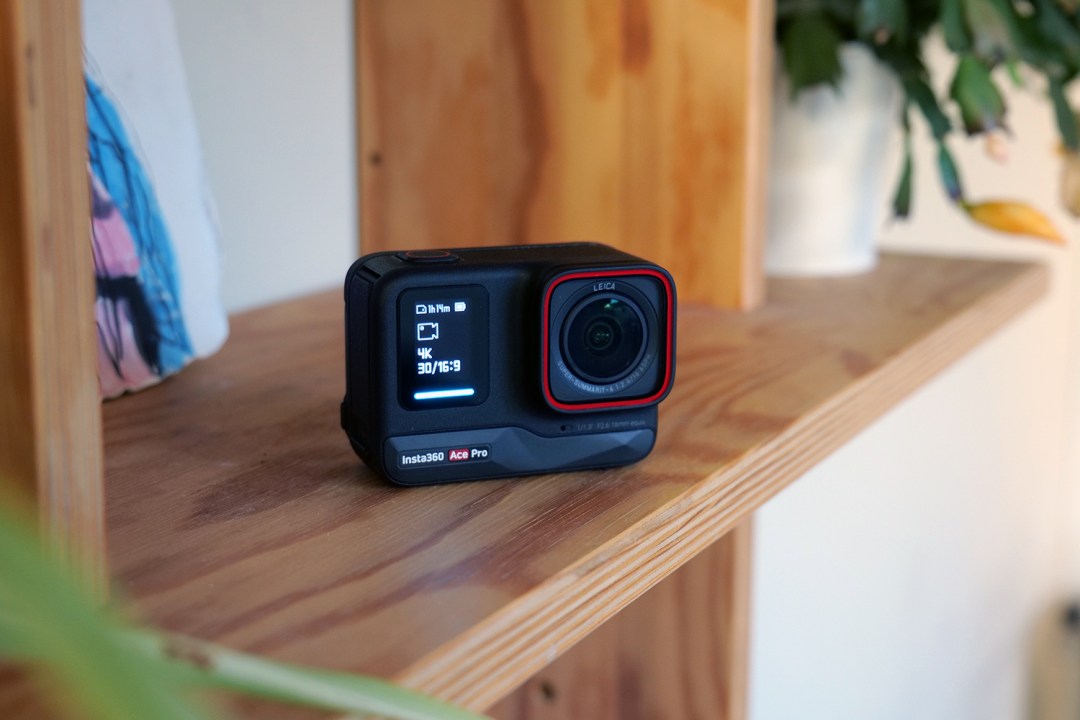 Stuff Verdict
Great low light performance and a flexible flip screen help set the Insta360 Ace Pro action cam aside from its peers
Pros
Impressive low light video
Intuitive UI and companion app
Versatile tilting touchscreen
Cons
No 10-bit video
Mounting clip requires some care
Introduction
Insta360 has been one of the most consistent specialist camera manufacturers of the past few years, serving up hit after hit when it comes to 360-degree cameras, tiny cameras and slightly bigger cameras you put on top of your monitor. The one missing piece in its line-up was a GoPro-style action cam – and that's now been rectified by the arrival of the Insta360 Ace Pro.
The Ace Pro may share the familiar blocky rectangle shape of GoPro's long-running Hero series (and costs a similar amount to the current Hero 12 Black model) but has some cards to play in an effort to forge its own unique appeal: Leica co-branding, the ability to capture 8K footage and a nifty-looking flip-up touchscreen. Is that enough to muscle in on GoPro's market share?
How we test cameras
Every camera reviewed on Stuff is tested in a range of lighting conditions, with a variety of subjects and scenes. We use our years of experience to compare with rivals and assess ergonomics, features and general usability. Manufacturers have no visibility on reviews before they appear online, and we never accept payment to feature products.
Find out more about how we test and rate products.
Design & screens: full tilt
If you've used a GoPro, the Ace Pro feels very similar, from its rugged boxy body (waterproof to 10m, just like the Hero 12 Black) to its offset wide-angle lens and large power and record buttons (located on the side and top respectively). I certainly had no issues getting to grips with it, inserting the microSD card and battery and fully charging the latter via the USB-C port.
Where it differs most dramatically is its touchscreen: Insta360 has fitted the Ace Pro with a large 2.4in rear display that's mounted on a hinge, allowing it to tilt upwards up to 180º. That means it can face fully forward, of course, making it perfect for shooting vlogs and selfies, but also that it can be tilted slightly to aid with tricky angles – such as if it's mounted on your bike's handlebars. I found it an extremely useful feature, although I suspect it does increase the camera's likelihood of getting damaged in the event of it being dropped or involved in some type of collision – a frequent occupational hazard for an action cam.
There's a handy small secondary display on the front too, displaying current settings and shooting data so you can quickly check you're using the right frame rate and resolution before you hit the record button.
In terms of mounting options, the Ace Pro is compatible with the same 'mounting fingers' universal system as used by GoPros, which allows it to be fixed to all manner of things. It doesn't have the fingers built-in, however: instead a magnet-assisted adapter clips to the bottom. The idea, I suppose, is that it's faster to mount and dismount than a GoPro, and that's true – but however I did find the clip a little fussy, requiring some checking and pushing to make sure it had actually clicked securely into place. Users will need to take care when using this – an unsecure mount could see the camera falling off its perch and getting damaged or lost.
Interface & performance: swipy and stable
The Ace Pro uses a touch-based interface: you tap on-screen icons to bring up various menus and tooltips, and swipe from the 'home' screen left, right, up and down to access recorded content and settings. I found it simple and quite intuitive once I'd played around with it a bit, and for those who don't want to prod and poke the screen, the camera includes a range of voice and gesture controls too.
You can also control the camera wirelessly through the Insta360 mobile app, which is a very solid effort all round, including good editing features, background downloading of clips and options for sharing content easily or uploading to social media.
There's a fun feature in the form of the AI Highlights Assistant, which analyses whichever videos you select (although it doesn't work with videos created using the PureVideo mode) and builds a highlight reel out of them. You can manually edit parts of the reel if you like too. It's not going to appeal to everyone, but I think it's great for rapidly creating clips to share with friends and family.
Any action cam worth its salt needs decent image stabilisation, and I found the Ace Pro's FlowState to be more than sufficient. Available in three 'strengths' plus a Horizon Lock mode (which works to 45º during regular video capture and 360º in the FreeFrame video mode), it offers a welcome range of options that allow the user to achieve the best balance between stabilisation and image cropping.
In terms of battery life, I think the Ace Pro just pips the GoPro Hero 12 Black. I left it recording at 4K/30fps to see how long the 1650mAh battery would last, but the 64GB microSD card actually filled up first. That was after 75 minutes, and there was still a good chunk of power left. The battery is fast charging too, going from 0 to 80% in 22 minutes and 0 to 100% in 46 minutes.
Photo and video quality: Dancing in the dark
I'll start with the bad news: the Ace Pro's 8K/24fps capture mode hasn't been available in the camera's pre-release firmware, so I've not been able to test out a feature that could give it the edge over the GoPro in terms of detail. Insta360's PR team promise it'll be in the launch firmware, however.
That's a shame, but even so I've been impressed with the camera's video performance – particularly in low light. I took the Ace Pro out walking on a couple of very dark November nights to test its PureShot video mode, which restricts the frame rate to 30fps but allows 4K capture with image stabilisation, then sprinkles on some AI fairy dust to bring more detail out of the shadows. Action cams have always struggled at night due to their small image sensors, but the DJI Osmo Action 4 did a decent job and the Ace Pro, I think, goes slightly further. Both these cameras use a 1/1.3in sensor, but the Ace Pro's footage has a bit more crispness to it. It's still not the sort of pristine footage that'll get pixel peepers rejoicing the streets, mind you: I noticed some strange artefacts caused by movement and it's much softer than daytime footage. But it's a good effort, and I think the best I've seen from a standard action camera to date.
Regular video capture offers quality up to 4K/120fps, with automatic HDR if the frame rate is kept at 30fps or below. The footage is sharp with a good balance of colours, but I couldn't call it better than anything I've seen from the Hero 12 Black or DJI Osmo Action 4. The Ace Pro doesn't offer a 10-bit option for those seeking better colour detail and dynamic range through post-production grading (a missed opportunity, given the Osmo Action 4 and Hero 12 Black do) but there is at least a 'flat' colour profile for anyone who prefers to do so.
Sound, meanwhile, is pretty standard. The built-in mics capture stereo AAC audio that suffers quite badly in the wind but serves its purpose well enough; users looking for something special should invest in an external mic setup of some kind.
I don't think anybody is going to be let down by the footage they get out of the Ace Pro – unless they were expecting it do blow its competitors out of the water, of course. In practice, its video quality is exactly what you'd expect from a flagship action cam. We'll have to wait and see if the 8K mode turns it into something special.
Photos, meanwhile, are also par for the course. The Quad Bayer sensor offers a choice between 48MP and 12MP (although HDR shots only get the latter) and with the dewarp setting turned the resulting wide-angle images can look quite nice – even dramatic and striking with some clever composition. If you've got a decent smartphone in your pocket, though, it'll probably do a better job for still images than any action cam.
Insta360 Ace Pro verdict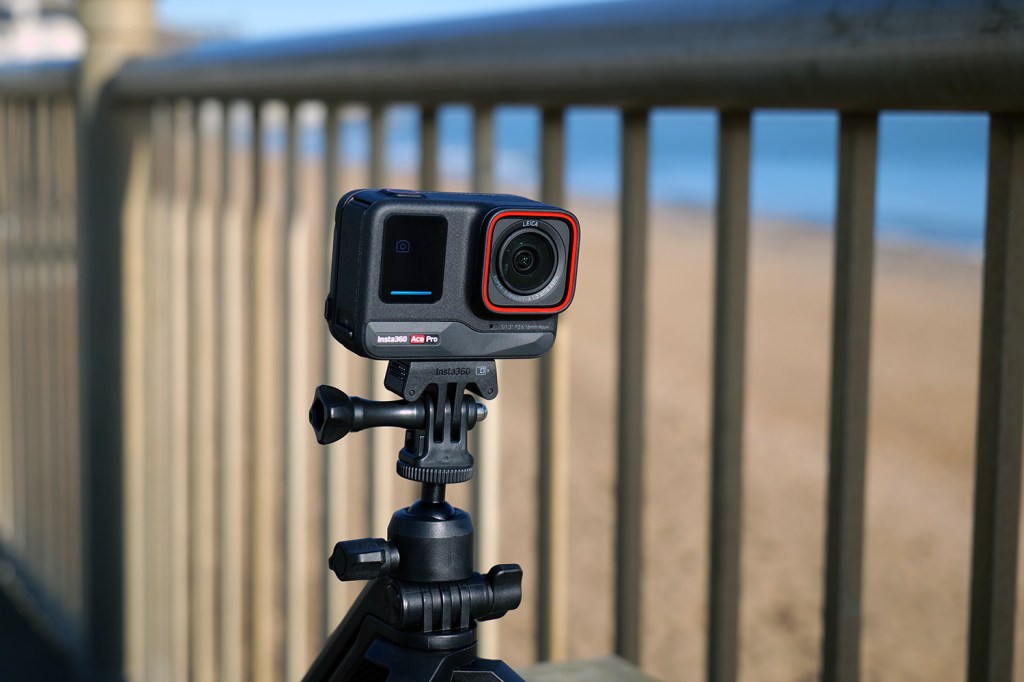 While the Insta360 Ace Pro may not give its closest rivals the image quality pasting its makers might claim, I'm left in little doubt as to its all-round quality. GoPro won't be losing much sleep over its arrival on the scene, with the Hero 12 Black still offering the best daytime image quality of any action cam, but the Ace Pro's strong points such as its flip screen and low light video performance do help differentiate it from the competition – and I can't say it really lets itself down in any other important areas either.
Overall, the Ace Pro represents another thoroughly dependable addition to the range of action cameras on the market, and provides a solid platform for Insta360 to build on with future iterations.
Stuff Says…
Great low light performance and a flexible flip screen help set this action cam aside from its peers
Pros
Impressive low light video
Intuitive UI and companion app
Versatile tilting touchscreen
Cons
No 10-bit video
Mounting clip requires some care
Insta360 Ace Pro technical specifications
| | |
| --- | --- |
| Sensor | 1/1.3in CMOS |
| Resolution | 48MP |
| ISO range | ISO100-6400 |
| Stabilisation | FlowState, 360º horizon levelling |
| Storage | MicroSD (up to 1TB) |
| Connectivity | Dual-band Wi-Fi, Bluetooth 5.2, USB-C |
| Battery | 1650mAh |
| Durability | IPX8, 10m waterproof |
| Weight | 179.8g |