Insta360 One RS 1-Inch 360 Edition review: a leap forward
Co-engineered with Leica, this camera aims to bring premium image quality to the small 360 camera market
There's no shortage of 360 camera options out there nowadays, from the GoPro Max to the KanDao QooCam 8K, but very few of the simpler options could be considered 'good' in terms of image quality. Sure, a 360-degree photo or video is impressive in and of itself, but close inspection usually turns up dodgy stitching, chromatic aberration, lens flare and fuzzy detail, particularly with shots taken in low light.
Step forth the (ridiculously named) Insta360 One RS 1-Inch 360 Edition, the company's first 360 camera to come equipped with 1-inch image sensors (physically much larger than the sensors used in previous Insta360 360 cameras). Co-engineered with Leica, this camera aims to bring premium image quality to the small 360 camera market, and it's priced accordingly, though there is a cheaper upgrade bundle (for owners of the Insta360 One RS or One R). That's a sizeable wad of cash for any compact camera, so does it really represent value for money?
Design and build quality
Let's get something out of the way immediately: this isn't an ultra-rugged action camera in the vein of a GoPro Hero or even Insta360's own One RS (which comes with a waterproof case and GoPro-style mounting bracket). The One RS 1-Inch feels sturdy and weighty enough, but you'll want to keep its twin Leica lenses away from sharp surfaces and the whole thing out of water. It's IPX3 rated when fully assembled, but that only guarantees protection against light rain and snow; don't go a-dunking this in the drink, or even use it in heavy rain.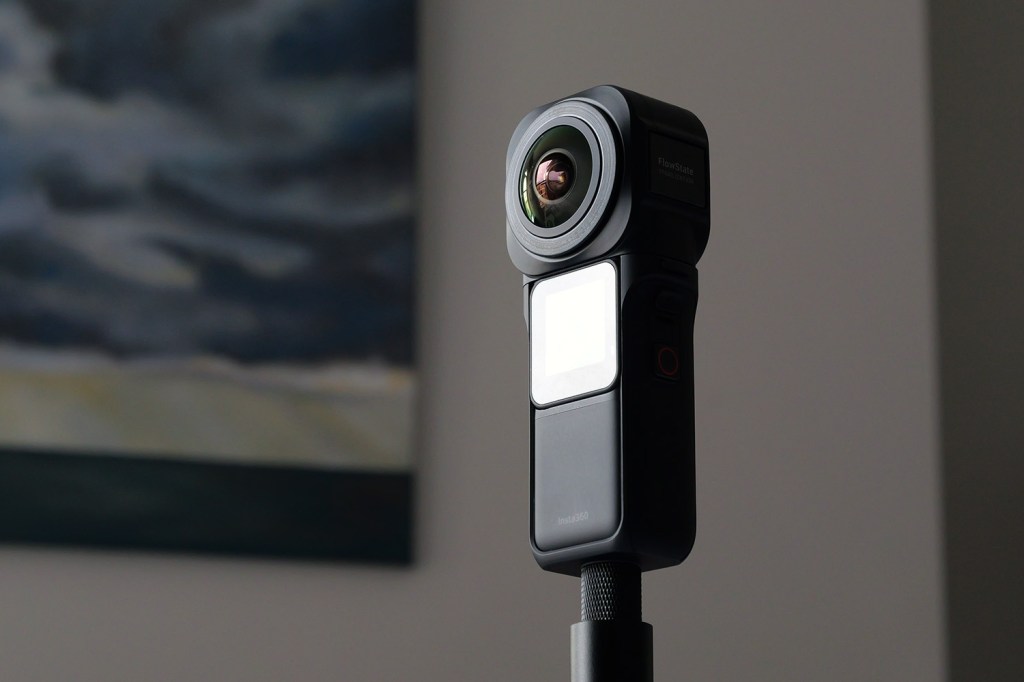 What it is is ergonomically designed. When fully built (it comes in four parts: lens, core, battery and case) it fits snugly in the hand with your thumb resting on the power and record buttons. There's also a standard tripod mount at the base, though, and we think the camera is at its best when mounted on a selfie stick rather than in the user's hand (keep reading to find out why). It doesn't come with any kind of GoPro mount, unlike the standard One R/RS models – further evidence that this, unlike its cousins, is not an action cam.
The camera looks like a serious piece of gear, with an all-black colour finish and carbon fibre-style accents on the casing. It's large for a 360 camera, but still just about pocket-sized and lightweight enough to carry around all day. There's a rubber lens cap in the box, and this sits on top to protect both lenses when the camera is in your pocket or a bag.
In terms of controls and connectivity, things are very simple indeed. There are two physical buttons – one for power, one to stop/start video or take a photo – and a tiny touchscreen for previewing/reviewing shots and adjusting settings (which you can, and should, do using the companion mobile app where possible). There's a single USB-C port that fulfils charging and transfer duties, with a microSD slot hidden between the core and the battery units. Bluetooth 5.0 and Wi-Fi handle the link between your phone and the camera, and they do so well – we had no issues connecting and re-connecting when using the app.
Features
The main attraction here is the lens module. It's equipped with twin Leica-branded Super-Summicrons, each with a 1-inch CMOS sensor, ultra-wide focal length (equivalent to 6.52mm on a 35mm camera), f/2.2 aperture and ISO range of 100-3200.
Together, they're capable of capturing auto-stitched 360 videos at 6K and 4K resolution (at 24/25/30fps) or 3K resolution (50fps), and 360 photos at a resolution of 6528 x 3264 (21MP). Photos can be shot in RAW. Like other recent Insta360 cameras, the lens module comes with FlowState digital image stabilisation and 360 horizon lock built in, as well as the ability to digitally hide any selfie stick the user is holding, making the camera appear to be floating in mid-air.
It offers a wide range of shooting modes and options. For still photos, you can shoot in standard, HDR, interval and burst modes, as well as two unusual ones: Starlapse (which shoots a long time-lapse of the night sky to create a photo detailing star trails) and PureShot, an AI-assisted HDR mode which shoots a burst of bracketed shots to create a detail-rich image with a wider dynamic range. PureShot isn't a separate shooting mode as such, but kicks in automatically when you take an HDR photo.
Video-wise, you can shoot regular clips, loops, time-lapses, TimeShifts (a way to shoot and speed-ramp right away – although you can apply speed-ramping to regular videos after shooting too) and live-streams. Videos can be shot in a choice of pictures profiles: standard, vivid and log (the latter being a 'flat' profile providing the best base for post-production colour grading and correction).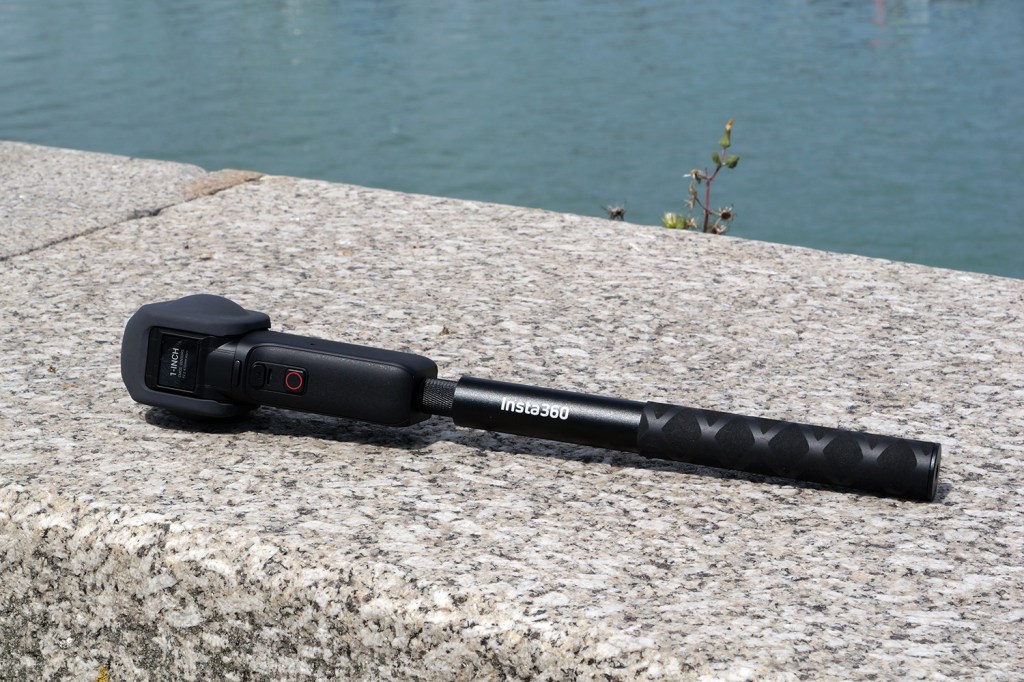 Of course, the 360 clips and photos are often just the starting points for your content, and we edited all of ours using Insta360s Windows desktop app (you can also do this on your phone using the mobile app). It was a joy to use, fairly simple to grasp and just all-round better than the Insta360 app of old.
Image quality
So how does the much-vaunted 1-inch sensor fare? Well, the good news is that it's a major improvement over what's come before in consumer 360 cameras, while still retaining the core Insta360 strengths of superb stabilisation, auto-levelling and the invisible selfie stick. You can now shoot in lower light conditions that would have foxed the likes of the Insta360 One X2 and 'normal' One RS, and detail overall looks richer and less prone to compression artefacts and noise. That means you can zoom in a little more than before when reframing videos without the quality becoming noticeably mushy and low in detail.
That said, some issues remain. The stitching doesn't always work quite as well as we'd like (you can adjust and readjust it during the editing process however), and when viewed next to footage captured by even an entry-level mirrorless camera or a decent mobile phone, videos still have a slightly soft 'digital' look to them which does limit your ability to seamlessly insert shots taken with this into longer videos captured with more powerful imaging products. These are huge hurdles to clear for any consumer 360 camera, however, and it'd be too much to expect Insta360 to have solved them, even with its flagship 360 cam.
It would also be nicer if the 1-Inch 360 Edition could record in higher frame rates. You have to knock it down to 4K quality to even get 50fps, with 100fps (and therefore smooth slow motion) totally unavailable. That further reinforces the fact that this is not an action cam, as Insta360's cheaper 360 models do support higher frame rates.
We should also mention video sound quality, which isn't great at all when using the built-in microphone. Wind noise rendered the audio of most of outdoor videos pretty much unusable, so investing in an external mic and the Insta360 mic bracket accessory is probably wise (if not particularly good for your bank balance).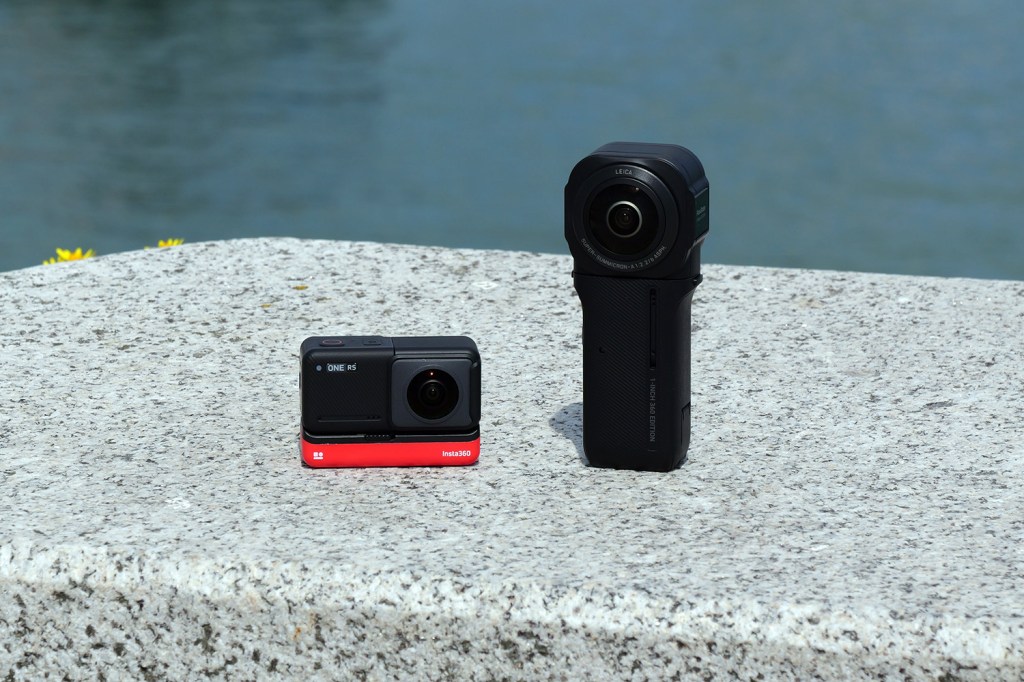 Verdict
This camera's 1-inch sensors represent a sizeable leap forward for 360 video quality, but the price and lack of slow motion means that if you're just looking for a fun and rugged 360 action cam you'd be better off with one of Insta360's own cheaper alternatives. If you're serious about creating the best 360 videos you can make with a consumer camera, however, we think the One RS 1-Inch 360 Edition is the tool you need. It doesn't quite deliver the all-round knockout video and audio performance we were hoping for, but it's highly user-friendly and its pocketable, easy-to-hold size means you can use it anywhere.
Stuff Says…
The best consumer 360 cam for image quality; just don't mistake it for an action cam
Good Stuff
Best consumer 360 camera image quality
Excellent image stabilisation and levelling
Bad Stuff
No high frame rate recording
Disappointing internal mic
Quite expensive
Tech specs
| | |
| --- | --- |
| Video modes | 6K at 24/25/30fps; 4K at 50fps |
| Still resolution | 21MP |
| Connectivity | Bluetooth LE 5.0, 802.11ac 5GHz Wi-Fi, USB-C |
| Storage | microSD card (up to 1TB) |
| Battery capacity | 1350mAh |
| Battery life | 60 minutes |
| Waterproof | IPX3 (protection against light rain/snow) |
| Dimensions | 53.2 x 49.5 x 129.3mm |
| Weight | 239g |