Huawei Watch GT Runner review: a great alternative for runners
Born to run?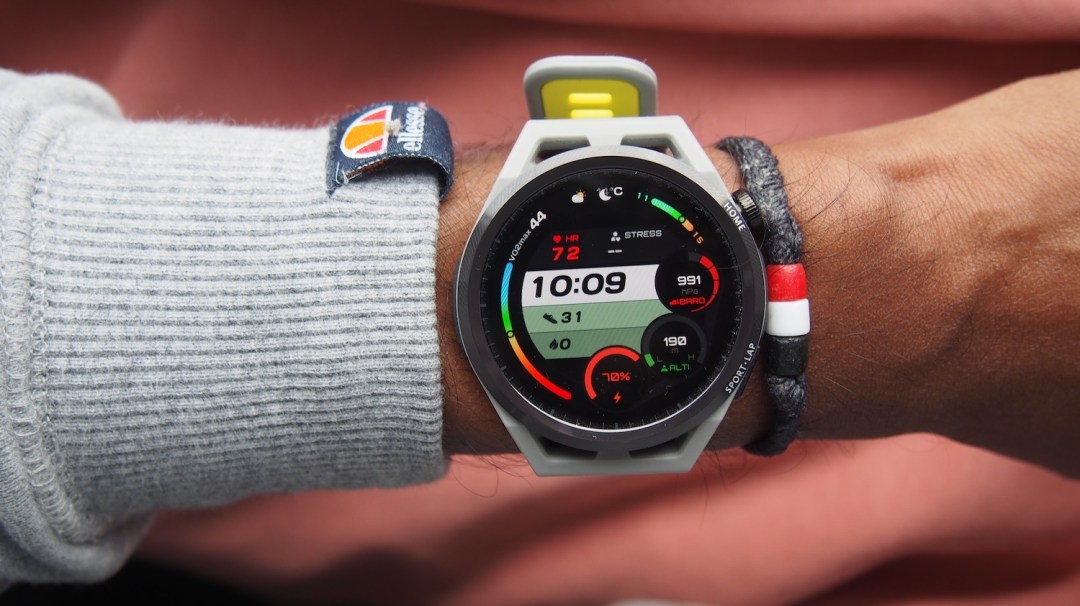 While Huawei tries to keep pace with the smartphone pack without Google in its life, it's quietly become very good at making fitness-focussed smartwatches. In the Huawei Watch GT Runner, it's added a wearable to its GT Series that clearly wants a piece of the running watch market.
By targeting the wrists of sprinters, the Watch GT Runner is taking on a legion of established players. But unlike the Apple Watch, the GT Runner doesn't have to be charged every day. And with a sporty design and heaps of software features for runners, Huawei is hoping it might find a place among the Garmins and Polars of this world.
There's still no UK pricing, but at €299 it's competing with mid-range options like the Garmin Forerunner 245 – rather than top-dog tickers like the Garmin Forerunner 945 and Polar Vantage V2. So has Huawei's move to make a smartwatch for runners paid off?
Huawei Watch GT Runner design and display: running light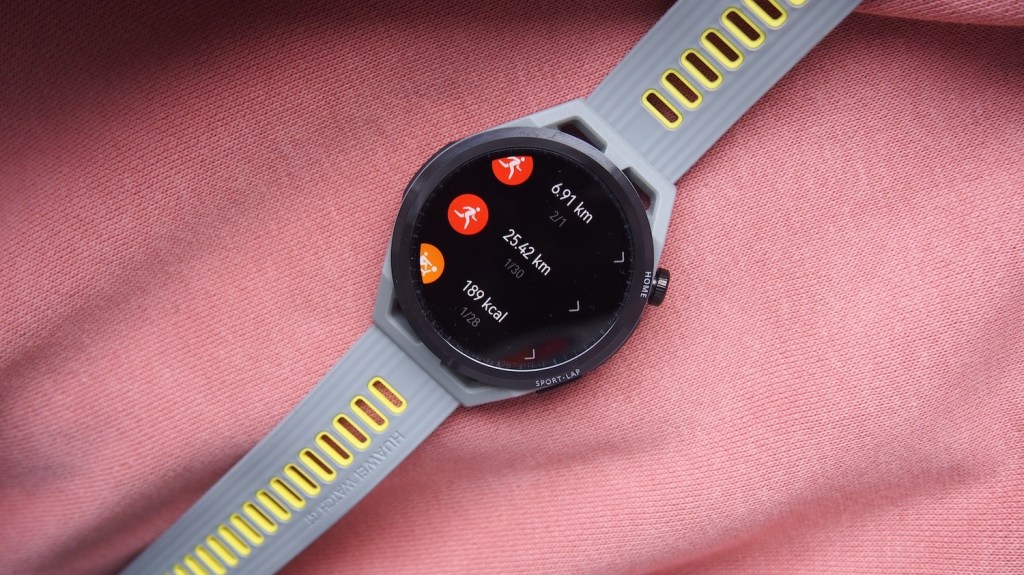 With the Huawei Watch GT Runner, you're getting a 46mm polymer case that measures in at 11mm thick and comes matched up with a silicone strap. That's pretty much the case and strap combo most running watches opt for these days, to keep things light and comfortable on the move. There are just the two looks: grey or black.
It's fair to say that Huawei has done a very good job of creating a wearable that feels like a running watch. It's lightweight, the strap has a good flex to it and it doesn't budge once it's on. If you were hoping for a Huawei Watch with a look, weight and design that make it a better fit for exercise, that's absolutely what you get with the Runner.
Huawei uses the same button and crown setup as the GT 3 and the Watch 3. You can twist the crown to scroll through menu screens, while the lower button primarily acts as a shortcut to the workout screen – though you can configure it to launch something else instead.
Front and centre is a 1.43in, 466×466 pixel AMOLED display – the same as the one planted on the Huawei Watch GT 3. We said that display quality was excellent on the GT 3, and it's the same story with the Runner. It's sharp, responsive to touch and easy to see, both indoors and outdoors. You can also switch it to always-on if you want to see the time, all of the time.
Around the back you'll find Huawei's latest TruSeen 5.0 biometric sensor, which takes care of heart rate and blood oxygen readings. As for the antennae used to capture satellite signals, Huawei has cleverly hidden these inside the Runner's lugs. The aim is to reduce interference and deliver more accurate location logging when you jog outdoors.
Huawei Watch GT Runner performance & tracking: well-equipped
Pretty much everything the Huawei Watch GT 3 can do, so can the Watch GT Runner. It runs on Huawei's HarmonyOS operating system, which makes it fit to work with iPhones, Android devices and – of course – Huawei's own phones. The software also gives you access to Huawei's AppGallery app store, although this isn't on the same level its rivals.
You also get access to training plans that are shaped around running experience, as well as new running-centric training insights. These aim to give you a better understanding of whether you're making progress with your training – and tell you how fast you'll be able to finish a marathon.
As far as performing like a full-fat running watch, the GT Runner does a pretty solid job. It promises superior outdoor tracking with its dual-band GNSS support, which means it can receive multiple signals from satellite systems to improve accuracy in patchy locations. It wasn't always 100% on the money in terms of accuracy, though it wasn't a disaster either. There are also simple navigation features to help you find your way around, plus the ability to upload routes to the watch.
Heart rate monitoring performance didn't shine. While it met Huawei's promise of being within 10 bpm of a chest strap monitor, it was definitely at the extreme end of that promise. Thankfully, Huawei lets you pair the Watch GT Runner with an external heart rate sensor to improve results.
In terms of battery life, Huawei promises the same 14 days in typical use as the Huawei Watch GT 3. Put its outdoor tracking features to regular use and that can drop to seven days. If you're turning to the GT Runner for a solid week's worth of training, running regularly throughout, seven days feels accurate. If you're not training every other day, then it's absolutely capable of hitting that two week mark.
Huawei Watch GT Runner data & feedback: insightful stuff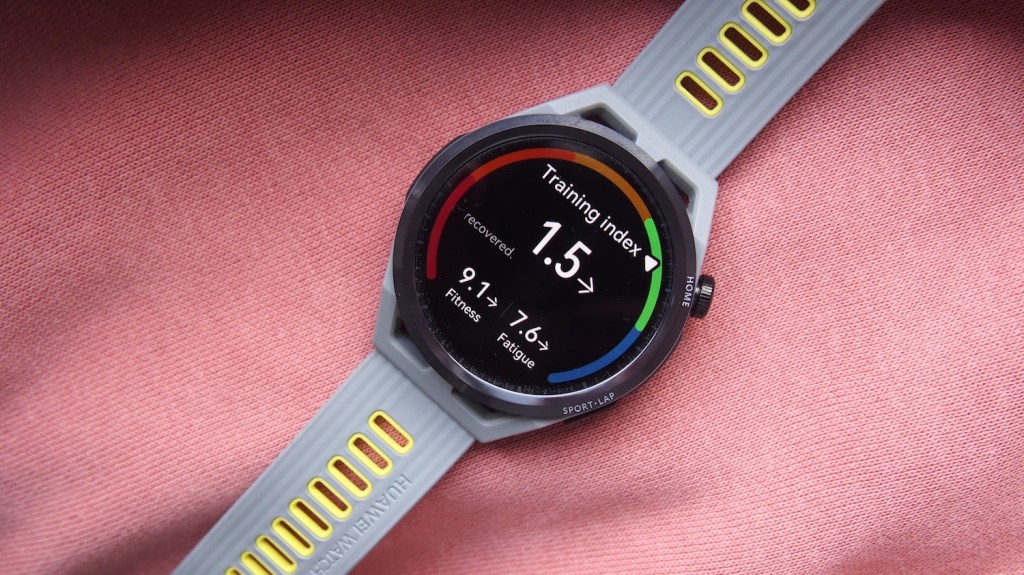 The Huawei Watch GT Runner promises to deliver a host of running insights, including Garmin and Polar staples such as Training Load, VO2 Max, recovery time and predicted race times, plus Huawei's own Running Ability Index.
The latter will score you based on previous training, heart rate information and distance covered in training. It wasn't far off telling us what running shape we were in compared to a Garmin watch, but you'll want to feed it with more reliable heart rate data from an external sensor to get the most accurate feedback.
If you're not sure where to start with your running, Huawei includes AI coaching plans, which begin by asking you questions about your running experience. It uses your answers to build a plan that you can follow on the Health smartphone app or on the watch itself. It does a nice job of prompting you when you have a training session for the day and breaking down exactly what those sessions are comprised of.
All of that data lives primarily in Huawei's Health app. That said, there is some small support for third party apps like Adidas Running. There's also an app solution which offers a workaround for Android users to sync data to Strava. But if you're an iPhone user and you love Strava, you've got no such luck.
Huawei Watch GT Runner smart features:
When you're not thinking about running or exercise, the GT Runner can play the smartwatch game without abandoning its fitness skills.
It can track steps and sleep (although it definitely performed more reliably for the latter, offering rich sleep data). Huawei also includes the Healthy Living Clover that debuted on the Watch GT 3, which is there to remind you to drink more water and smile more throughout the day.
As a smartwatch, you get the ability to view notifications and to respond to them via Android smartphones. You can also view the weather, change watch faces and play music – although you can only transfer your own music over from your Android device.
There's access to Huawei's Celia smart assistant too, but only if you have a Huawei phone connected to the watch. There's no sign of payment support or LTE connectivity, which is currently reserved for the more expensive Huawei Watch 3.
So it's a smartwatch experience that will be fine for some, but doesn't quite match what you can get from an Apple Watch Series 7 or a Samsung Galaxy Watch 4 right now.
Huawei Watch GT Runner verdict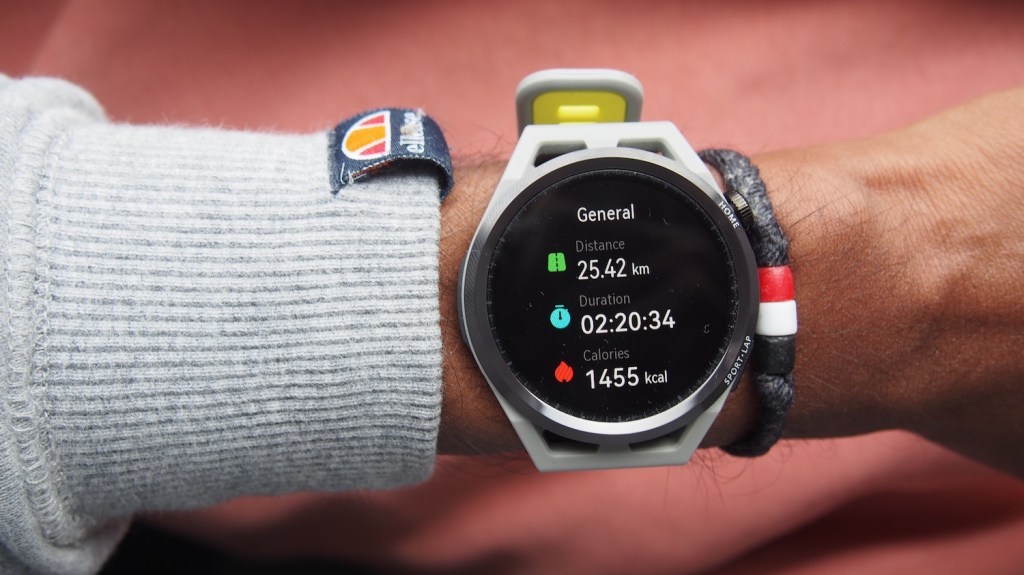 While the Watch GT Runner is pitched as Huawei's first proper smartwatch for sprinters, Huawei's been serving joggers pretty well since its GT 2 series. What the Runner does is package those existing features up in a design that makes it a far more suitable running companion – and adds a few useful extras.
The features that it shares with the Huawei Watch GT 3 are well-executed, plus it performs well on the tracking and accuracy front. But it's still let down by certain aspects on the software side: it lacks official support for several major third-party apps, and there's inconsistency in the features available to Android and iPhone users.
These niggles mean rival devices like the Garmin Forerunner 245 will be a better option for most runners. But if you can look past the software frustrations, the Watch GT Runner is a smart, lightweight watch with no shortage of features for those of a sprinting disposition.
Stuff Says…
It's hard to judge without a confirmed UK price – but if you've been hoping for a Huawei wearable that offers pretty much everything you need to track serious runs, you'll have time for the Huawei Watch GT Runner.
Good Stuff
Lovely light design for active use
Useful running software features
Works with external heart rate monitors
Bad Stuff
Few great running apps available
Promised GPS improvements not quite there
Smartwatch experience favours Android users
Tech specs
| | |
| --- | --- |
| Display | 1.43in, 466×466 AMOLED touchscreen |
| Dimensions | 46.4×46.4x11mm |
| Weight | 38.5g |
| Battery | 14 days |
| Waterproof | 50m |
| Connectivity | GPS, Bluetooth, NFC |
| Sensors | Accelerometer, gyroscope, geomagnetic, optical heart rate, air pressure |