Huawei Mate 10 review
A halfway-house between a traditional phone and a slim-screen stunner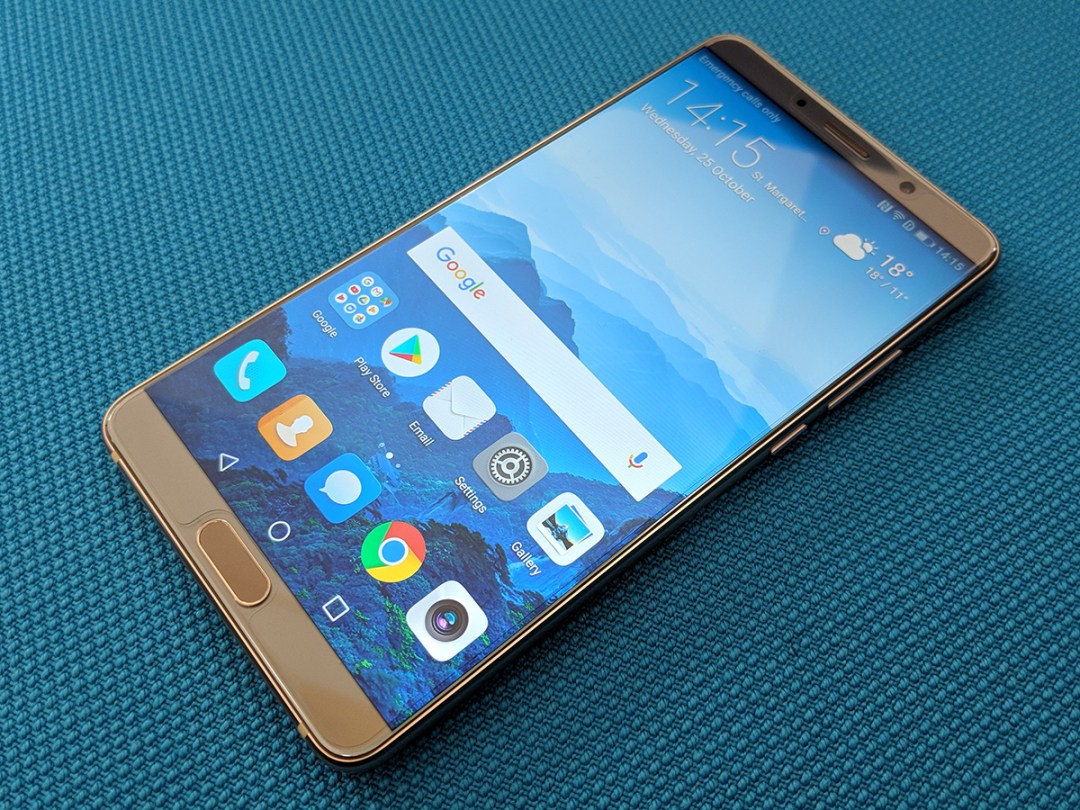 Billy Baldwin. Bristol Rovers. That other Chuckle Brother who isn't Barry. It can't be easy living in the shadow of a more famous brother.
And yet that's exactly where the Huawei Mate 10 finds itself.
By all accounts it should be a flagship phone: it has all the right hardware, a killer design, the latest version of Android. But then so does the Mate 10 Pro – and that has a superior screen, more storage, and a little extra design panache that makes it the more desirable of the two.
Don't think this is a write-off, though: the Mate 10 is still one of the smartest phones Huawei has ever released, quite literally, thanks to its increasingly brilliant AI brain.
Here's why it can still turn a head or two.
DESIG & BUILD: Skinny 16:9
From the back, there's not much to separate the Mate 10 from its Pro variant – they both have glass rear panels, which are bonded to an aluminium frame.
So pretty much like every other big-name phone doing the rounds right now.
Huawei has at least picked curved glass, which better fits the curve of your palm – although you won't be able to sit the phone on a sofa or other uneven surface without it slowly sliding off.
At the right angle, the whole rear glints with colour and depth, with multiple layers of glass reflecting light in different ways. On our mocha brown review unit, the copper hues create a classy look, if not quite as dramatic as HTC's Solar Red U11.
A small strip of darker colour highlights the twin Leica-branded cameras, but otherwise the panel is uninterrupted. Just watch out for fingerprints – this thing is a magnet for 'em.
Oddly, the Mate 10 misses out on the IP67 water- and dust-resistance of the Mate 10 Pro – if you take your phone to the beach, pool or even just near the kitchen sink, you'd better be careful. a bit of butterfingers could result in a dead handset. It leaves the Mate 10 lagging behind Samsung's Galaxy S8, which has had waterproofing for a year or two now.
It's from the front that you'll spot the differences between this and the Mate 10 Pro: here you get a 16:9 aspect ratio screen, and a fingerprint sensor just below it. The Pro version opts for the on-trend combination of 18:9 screen and rear fingerprint sensor instead.
Even with ultra-skinny side bezels, this makes the Mate 10 noticeably more chunky to hold than the Pro. It does find room at the top for a headphone jack, though – something you don't get on the more expensive Pro.
DISPLAY & SOUND: That familiar feeling
Its bigger brother might have made the leap to OLED and 18:9, but the vanilla Mate 10 sticks to a tried-and-tested 5.9in LCD panel and 16:9 aspect ratio – only with some seriously skinny screen bezels to match.
Huawei calls it Fullview. It is indeed an accurate description.
You get a higher resolution here than you do on the Mate 10 Pro, topping out at 2560×1440. That gives this phone an edge for detail in photos and video, although you'd have to have your nose pressed up against the screen to notice the difference. It's on par with the rest of 2017's flagship handsets, too.
As you'd expect from an LCD screen, bright whites are where the Mate 10 excels. Crank it all the way up and you'll hit 700nits peak brightness, which is enough to do some serious eye damage in the dark – and more than enough to see clearly outside on sunny days.
Colours are otherwise vibrant and punchy, especially when you play HDR content, although at the time of writing, Netflix, Amazon Prime video and YouTube all had yet to add HDR support. Samsung wins out here, with its wide-ranging support.
The Mate 10 also loses ground to the OLED-based competition when it comes to blacks and dark scenes, leaving things looking slightly washed out and grey – but no more so than the HTC U11 or any other phone with an LCD panel.
Overall, it's a pretty decent screen – just not quite as flashy or exciting as Samsung's curved Galaxy S8.
Audio is a similar story. It might lack the front-firing stereo speakers of Google's Pixel 2 XL, but the Mate 10 still does a great job. The main driver at the bottom of the phone works in tandem with the earpiece speaker, and gets plenty loud enough for podcasts and YouTube videos.
CAMERA: HOW YOU LEICA ME NOW
The P10 and P10 Plus arrived earlier in the year with some great camera hardware, so it makes sense that the Mate 10 has more of the same.
You get a 12MP RGB sensor, paired with a 20MP monochrome cam, only here the lenses have been upgraded with f/1.6 apertures.
Only LG's V30 can match that for wide-open, let-in-as-much-life-as-possible glass, and even then only on its main sensor, with the wide-angle lens lagging behind.
Huawei has upgraded the autofocus system with a four-in-one setup that combines contrast detection, depth detection, phase detection and a laser, making it incredibly quick at locking onto your subject.
Speed really is the name of the game here. Everything is lightning-fast – including the new AI-assisted scene detection. Machine learning algorithms are constantly running in the background, recognising whatever you're pointing the camera at and adjusting the automatic preset accordingly.
See some flowers? It'll recognise them and boost greens, yellows and reds to make the petals really pop. It recognises faces and knows when not to blur the background, so group shots don't leave the people at the back with smeared faces. The differences are minor, admittedly, but it's a clever use of AI.
Most of the time it picks up the 13 supported scenes very quickly – although other times the angle or lighting conditions made it difficult to get a lock.
Unfortunately, Huawei hasn't dialled back its aggressive image sharpening. The effect was really noticeable on the P10 and P10 Plus, making some scenes just look unnatural rather than adding detail and definition, and it's just as prominent here.
Compared to the excellent Pixel 2 XL, things look just a little bit washed out on the default settings, while the dedicated HDR mode tends to go a little too far with vibrant colours and excessive contrast. The edge detail is there, but zoom in and you'll see the Mate 10's limitations.
Only the 12MP snapper has optical image stabilisation, but seeing how the monochrome sensor is mainly used for depth calculations, it doesn't make a massive difference when the light gets low. Results are very good, if not quite on par with the best smartphone cameras.
PERFORMANCE & BATTERY LIFE: ENDURANCE CHAMP
Huawei might be bigging up the AI smarts of its latest silicon, but the Kirin 970 is no slouch at regular tasks, either.
It's a multi-core monster, absolutely flying through apps and games. The Android home screen always feels responsive, so you're never left waiting for an app to open, even when multi-tasking.
We don't put much stock in artificial benchmarks, but for general use it easily feels as quick as a Galaxy S8 or LG V30 – if not quite as slick as the Google Pixel 2 XL's vanilla Android Oreo.
The graphics chip has to work slightly harder here than in the Mate 10 Pro, on account of the higher screen resolution, but not to the point that you'd notice – games are still perfectly smooth. Huawei reckons the Mali G72 GPU is 20% quicker than last year's version, and twice as efficient, so playing more intensive 3D games shouldn't drain your battery quite as dramatically.
Mobile data speeds should be equally impressive – if you're on a compatible network, that is. The Mate 10 can handle category 18 LTE, which means potential speeds of 1.2GBps; that's enough to download a movie in under ten seconds. Not that there are any UK networks that can go that high, of course – but future you will be very happy with your quick-as-lightning smartphone.
The 4000mAh battery doesn't disappoint, either. It's significantly bigger than anything you'll find in an Apple, Google or Samsung phone this year, and comfortably lasts a day and a half between charges.
When it is time to top up, Huawei's Supercharge tech gets you back up above 50% in under half an hour. There's no wireless charging, though, so it's not quite the complete package.
SOFTWARE & OS: AI OF THE TIGER
The new EMUI interface might not look all that different to last year's iteration, but Huawei has added a whole lot of AI smarts to the 2017 version of its custom Android UI.
You won't see in action when you're swiping through the Mate 10's home screens or menus, but it's there, working in the background ready to make suggestions that help you get the most out of the phone.
Say you're using the phone in the dark – all that blue light might make it harder to sleep when you finally turn in. The AI knows the time, your rough location, and the readings from the ambient light sensor, so suggests you activate the low light mode.
That's just small fry, too. Huawei teamed up with Microsoft for a dedicated version of Microsoft's Translator app, which uses the Kirin's neural processing brain to its full potential. You can use it for live language translation, with next to no delay – and it really works, too, translating whole web pages or restaurant menus with a tap.
Other new additions for 2017 include a Samsung DEX-inspired Desktop mode, which doesn't require a dock to get started – just a USB-C to HDMI cable and a Bluetooth keyboard. Only certain Huawei apps work with it right now, appearing on a big screen just like a Windows machine with a task bar, icons and full-screen views. Third party support is lacking at launch, with apps restricted to a smartphone-shaped window instead of full-screen.
I did like the smart split screen mode, though: when you're in presentation mode, incoming notifications only show up on your phone, and only appear as a tiny red dot in the Desktop view taskbar. Handy if you don't want the office reading your WhatsApps.
Otherwise, EMUI hasn't really changed, with the familiar icons, notification tray and settings screen that you'll either love if you've used a Huawei phone before, or hate if you're coming from a different manufacturer's take on Android. It's different enough to be unfamiliar, but nowhere near as awkward as it used to be.
Certain apps get a new multi-column landscape view to take advantage of the extra space, with Huawei's email app getting one column for your inbox and a second for message previews, but I'm not expecting much third-party support to appear any time soon.
The floating navigation dock is more useful, though – or at least it is if you've got dainty hands. It replaces the onscreen home buttons at the bottom of the screen, so you don't have to keep adjusting your grip to get around the UI. Just drag the dot where you need it – no more finger yoga necessary.
HUAWEI MATE 10 VERDICT
There's a lot to like about the Mate 10 – but it doesn't really do enough to justify its existence, when the Mate 10 Pro is the superior phone in almost every way.
The Pro has a bigger OLED screen, and underneath, the specs are almost identical. OK, the Mate 10 might find room for a microSD card, but the Pro has more storage to begin with.
Beyond a lower price, the Mate 10's only real advantage is its 3.5mm headphone socket.
In the end, though, none of that matters unless you live in a place where both phones are on sale. Here in the UK, we only get the Mate 10 Pro. And a fine phone it is too.
The Mate 10 is a curiosity, then. It's sort of a middle ground between last year's flagships and 2017's skinnier, screen-ier smartphones, with no real drawbacks – other than the fact its bigger brother does things ever-so-slightly better.
Tech specs
| | |
| --- | --- |
| SCREEN | 5.9in, 2560×1440 LCD |
| CPU | HiSilicon Kirin 970 octa-core |
| MEMORY | 4GB RAM |
| CAMERA | 12MP+20MP rear w/ f/1.6 lenses, 4-in-1 autofocus, OIS, dual-LED flash. 8MP front |
| STORAGE | 64GB on-board, microSD expansion |
| OPERATING SYSTEM | Android 8.0 Oreo w/ EMUI 8 |
| BATTERY | 4000mAh non-removable |
| DIMENSIONS | 151x78x8.2mm, 186 g |
Stuff Says…
A more traditional alternative to the modern Mate 10 Pro, with a slightly easier-to-swallow price – if you live somewhere it's on sale, anyway
Good Stuff
Modern design with familiar screen size
Brilliant battery life
Plenty of power
Bad Stuff
Camera can't keep up with the Pixel 2
EMUI still has quirks
Mate 10 Pro actually available here in the UK