Google Nexus Player review
Android TV has landed, but this is far from the smoothest of arrivals
Google's been making plays for the living room for ages now.
Back in 2012 there was the Nexus Q, which was discontinued before it even hit shops, then last year we got the Chromecast, which you might have noticed has been pretty well received.
But the Chromecast's reliance on a smartphone is a blessing and a curse – it's clever, but sometimes you just want a proper remote, right? And wouldn't it be nice to have a device with a bit more power and access to more of the apps in the Play Store?
Daydream no longer! For the Nexus Player is upon us. It is, functionally speaking, a Chromecast with a big dollop of Android on top. What could possibly go wrong?
Undercooked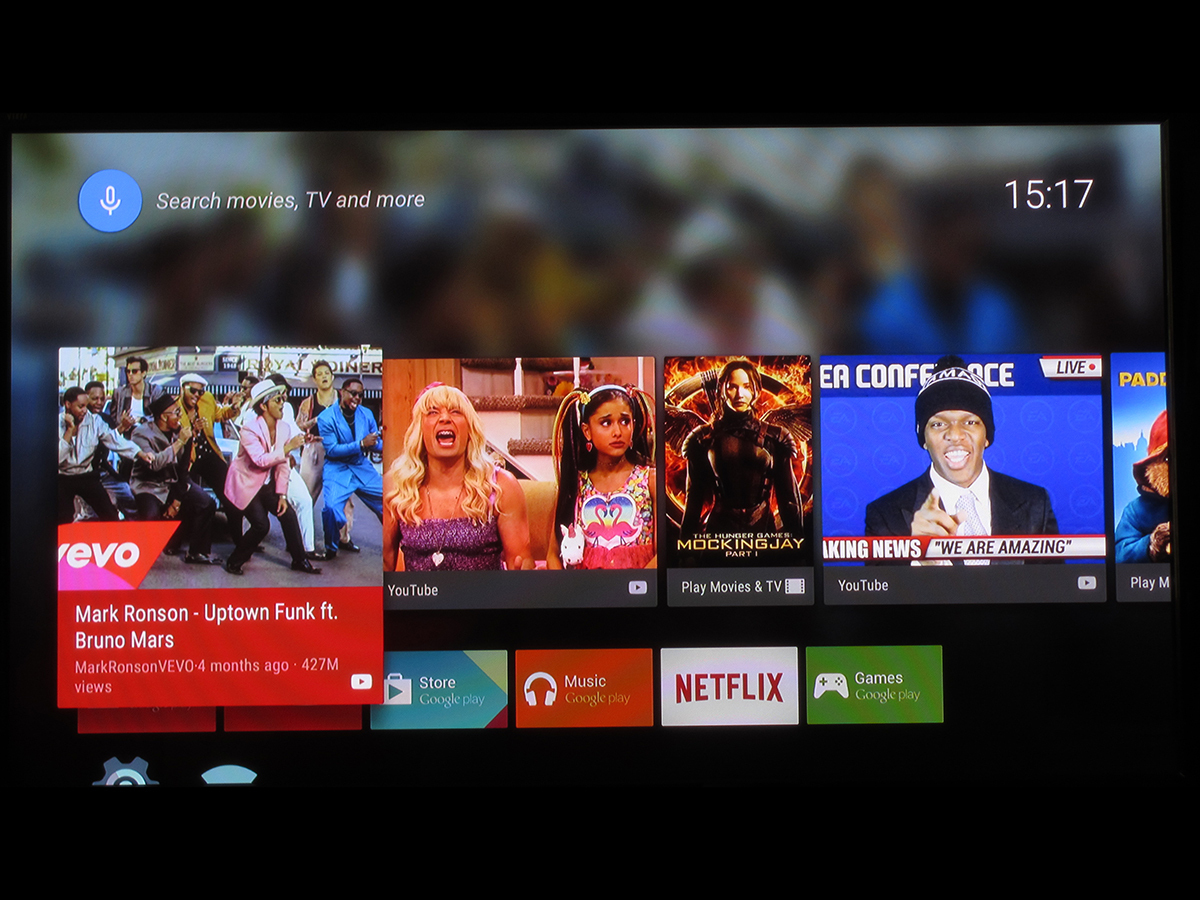 The platform could be premature, that's what. Simply put, Android TV looks like it needs more time in the oven. It starts off well enough, where appearances are concerned. The interface is pretty and slick, as defined by Android 5.0 Lollipop's cleanly colourful design philosophy.
The home screen is dominated by a carousel of suggested content based on which apps you have. It's more exciting than Apple TV's static grid of icons, yet subtler (and less solicitous) than Roku's quarter-page advert banners.
There is a clear emphasis on Google Play Movies/Music/Games and YouTube, but you can't begrudge the Nexus Player that – this is Google's show after all. The same sort of bias applies to Apple and Amazon's boxes too.
The problem is when you try to download more content. "Oh yay," you may say, clicking on the familiar Google Play Store icon. "I can download all those apps I normally use." No such luck: the Play Store on Android TV is embarrassingly sparse. At last count, I found 17 apps.
Virtually none of the big services are available. You get Netflix, but that's about it. No NowTV. No Amazon Instant Video. Worst of all, not a single one of the UK's free catch-up services. These may be in the works but fresh out of the box, the Google Nexus Player is decimated by the competition.
A way around this is to bring your own BBC iPlayer and NowTV by casting them from your phone or tablet. In fact, you could mask a multitude of sins by just treating the Nexus Player as a (£50 more expensive) Chromecast.
But then why not just get a Chromecast?
Get your game on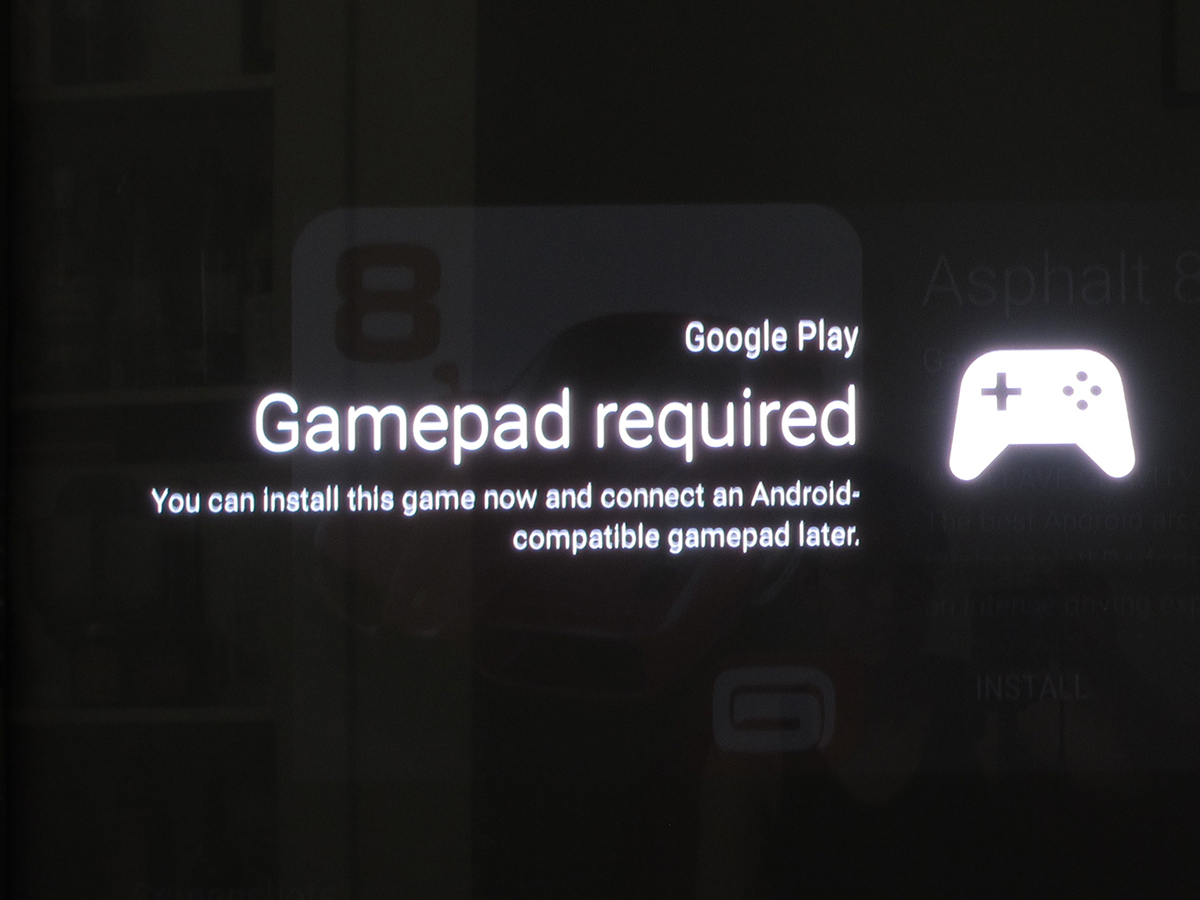 Because games! It's better when it comes to games, but only a portion of the Play Store's titles are available. There are a few big games in there, such as Asphalt 8: Airborne and Star Wars: Knights of the Old Republic.
The selection's divided into simple point-and-click 'remote games', and more complex 'gamepad' titles. Oddly, Asphalt is listed as a remote game but requires a gamepad anyway.
Meanwhile, some of my existing purchases show up but refuse to load because they are not optimised for Android TV. The lack of Android TV optimisation is a recurring theme. Incidentally, the Nexus Player's gamepad isn't in the box – that's a £35 optional extra.It's not unlike an Xbox controller.
Another thing worth noting is that there's just 8GB of internal storage, and only about 5GB of that is usable – that's not much room for games.
'Google, tell me a joke'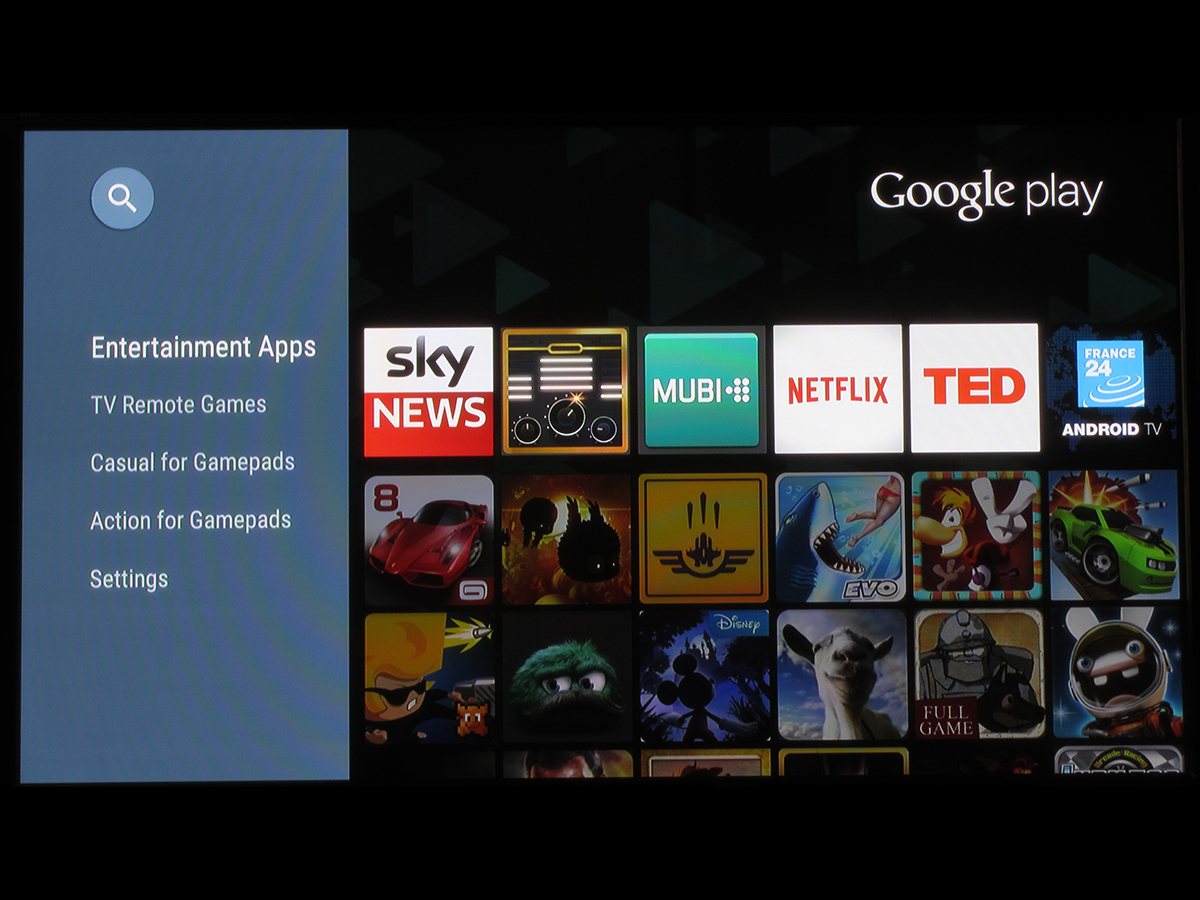 The lack of content is frustrating, because Google has built a neat ecosystem. It's intuitive and attractive, just waiting to be populated. And it's got voice control, too, thanks to a mic in the remote. It's handy if you're too lazy to type, but the results are a bit mixed – and only work across Google Play and Youtube.
Utter the title of a film or TV show: if it's available, the Google Play page will appear, along with cast information. Mention an actor and you'll be furnished with a list of their works. Voice recognition is impressive, only tripping up with spell-check favourite Chiwetel Ejiofor ('do it.org over').
Be a bit clever and Google gets cleverer still. 'Best picture 2012′ was correctly met with The Artist. 'Who is the best James Bond?' brought up Youtube videos debating just that, along with several 007 flicks. Even that one with the invisible car.
What's in the box?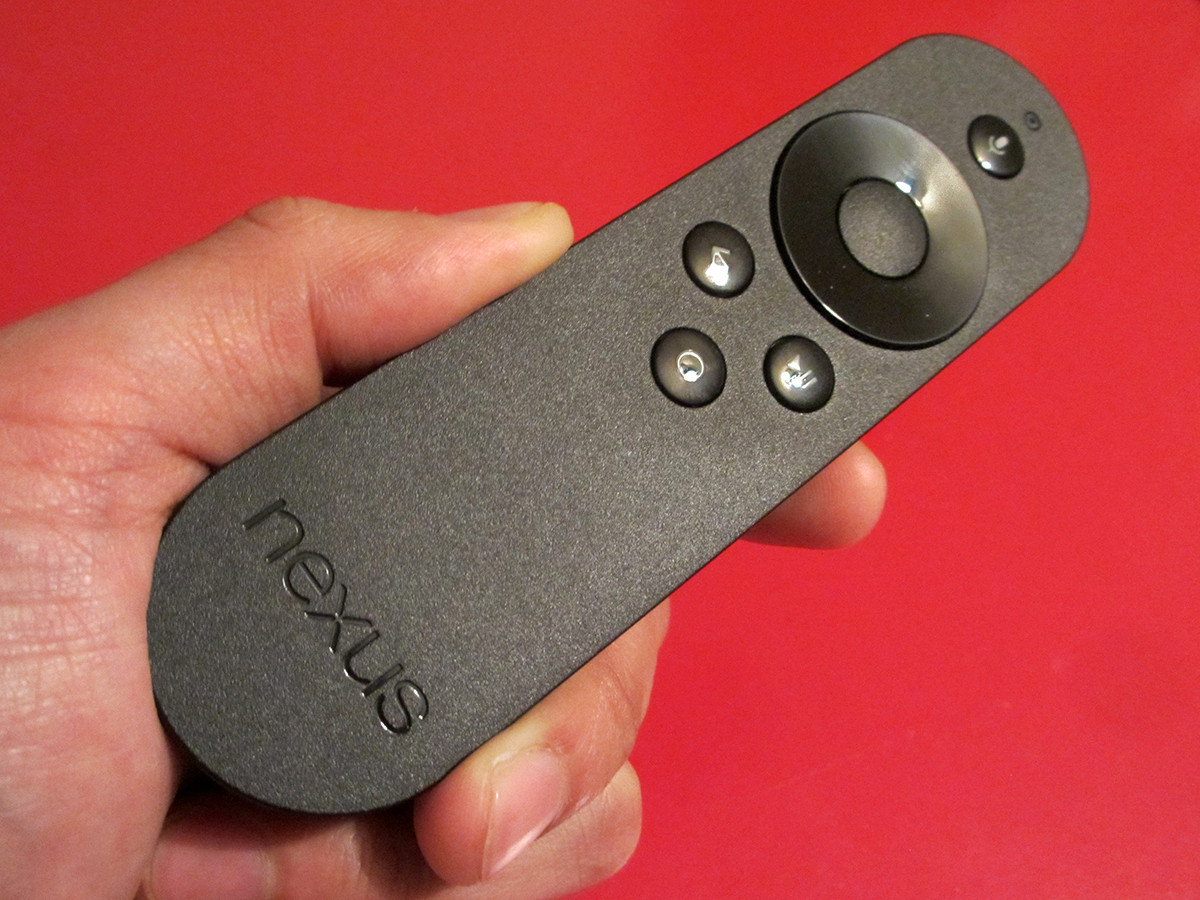 The hardware? It's never been easy to get excited about set-top boxes, but Google hasn't exactly dressed up the Nexus Player. It's neither sexy enough to show off, nor so hideous you'll feel the need to hide in shame.
It's a thick black circle. Imagine a large black cookie, or a stack of Marilyn Manson CDs. There's a lot of plastic, but it's solidly put together, and we don't tend to fondle our set-top boxes anyway.
We do fondle remotes, and this one feels a bit cheap – especially after playing with the Apple TV's gorgeous metal equivalent. The remote communicates via Bluetooth, so a line of sight isn't necessary.
The connection is strong and responsive and button clicks are obeyed instantly.. The snappiness is probably down to the solid 1.8GHz quad-core Intel Atom processor and 1GB RAM.
Picture and sound quality is on par with rival media streamers. Videos quickly load up to a crisp 1080p, with rich colours and a good amount of detail, while very dark scenes have a hint of noise.
Sound is clear, with a good amount of weight, and you get 5.1 if the app and specific video support it, which includes most stuff from Netflix and Play Movies.
Google Nexus Player Verdict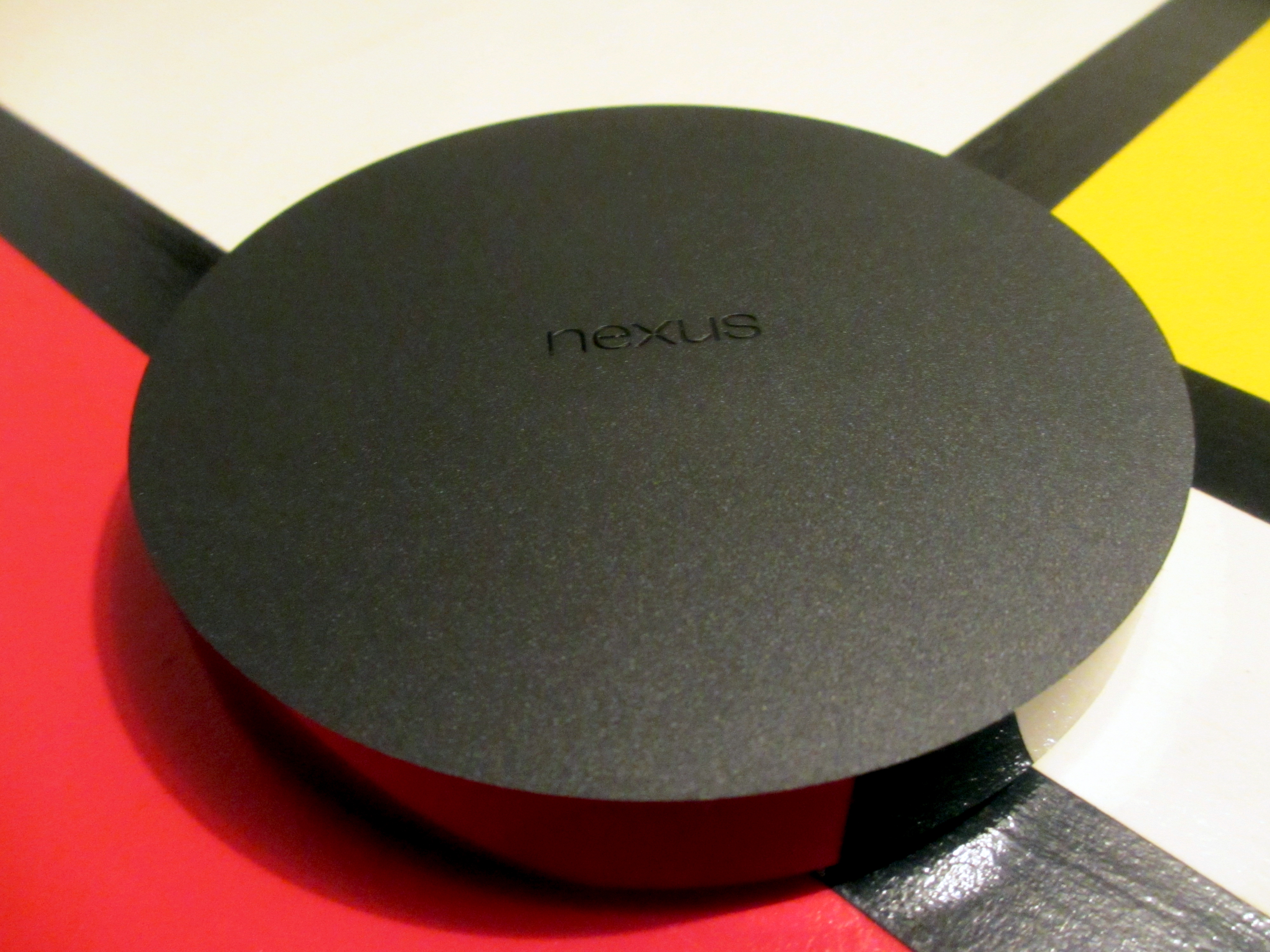 Android TV is going to be big. It's not hard to imagine a future with that slick, colourful interface, especially with big TV companies such as Sony, Philips and Sharp lined up to build it directly into their TVs.
But right now, it's a hollow experience. Right now, the Nexus Player just isn't up there with the likes of the Roku 3, Fire TV, or Apple TV, and it doesn't do enough that the Chromecast doesn't already do for a lot less.
We're excited by the idea of Android TV, but it's just not ready yet. Okay Google, get back in the oven.
Stuff Says…
The Nexus Player's good ideas are outweighed by the current lack of content.
Good Stuff
Slick interface
Speedy operation
It's also a Chromecast
Bad Stuff
Massive lack of apps
Too little storage if you're going to use it for games
Doesn't do enough that the Chromecast doesn't already do