Google Nest Cam and Doorbell (Battery) review
Here's looking at you, kit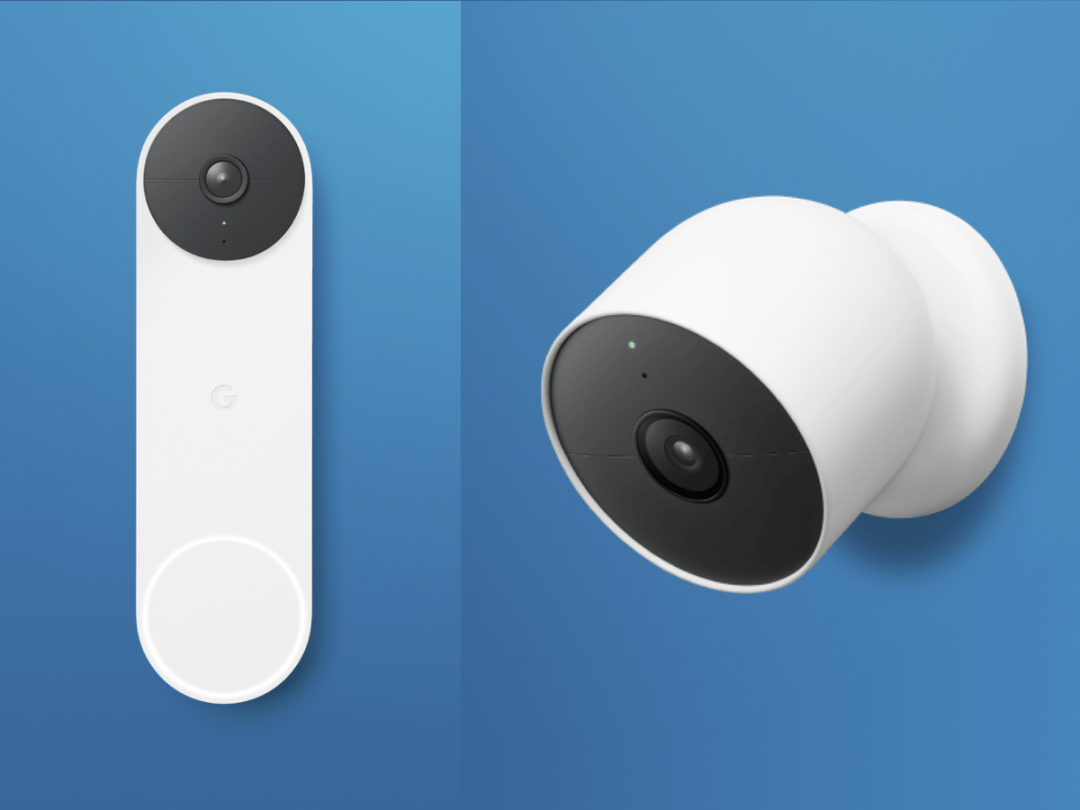 While some people can knock up a fully functioning back-garden trebuchet with little more than a screwdriver and some bits of old wood, there are those among us who aren't so brown-fingered.
That can make some smart home tech a little fiddly to install, but Google's new Nest Cam and Doorbell require nothing more than a mounting plate and a couple of screws to get up and running. Both can run off their built-in batteries too – although if you have the skills, it's possible to wire the latter into your existing doorbell chime and remove the need for recharging.
So are these the perfect security gadgets for renters and commitment-phobes? We dug out our drill to find out. 
Design: fresh & clean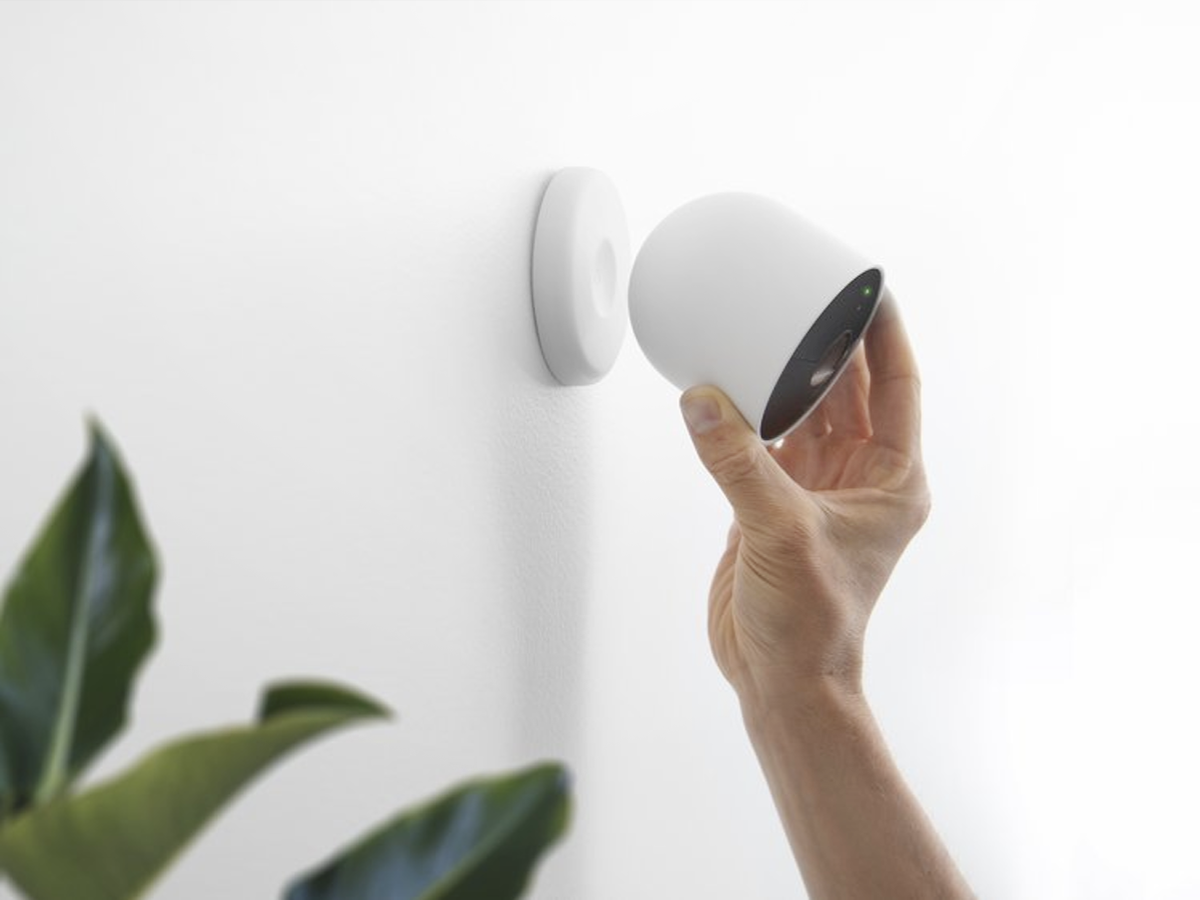 The Nest Cam and Doorbell look like they belong together, with matt white finishes and clean, relatively featureless surfaces set against flat sides and black accents. They're versatile, handsome things. We had the doorbell affixed to wood and the camera set against brushed metal and neither looked out of place.
They're also relatively hardy, with IP54 weatherproofing making both devices suitable for outdoor and indoor use. Handy, because a doorbell you had to put on the inside wouldn't be a lot of use.
The Cam packs some mighty magnets around the back, which adhere it to its mounting plate solidly. Repositioning it and taking it off to charge can be fiddly at first, but once you master the rolling manoeuvre required it peels off quite elegantly. There's a charging port on the base, alongside the speakers and a mounting thread that takes standard tripod fittings. An LED above the camera module lights up when it's active and also to indicate that it's charging.
Mounting the Doorbell is either relatively straightforward or will require a professional, depending on whether you plan on using its 6000mAh battery to power it, or your existing doorbell's power. If you use the battery, you just need to drill the mounting plate into your wall or onto your door and the doorbell latches on. But if you intend on hardwiring it, you'll need somebody with the necessary know-how to help connect everything up.
While the Doorbell charges via a USB-C port located around the back, you power up the Nest Cam with a proprietary charger. The process is simple: line up the pogo pins and let the magnets do their thing as you bring the charger to the camera base.
Interface: quick to pair, easy to use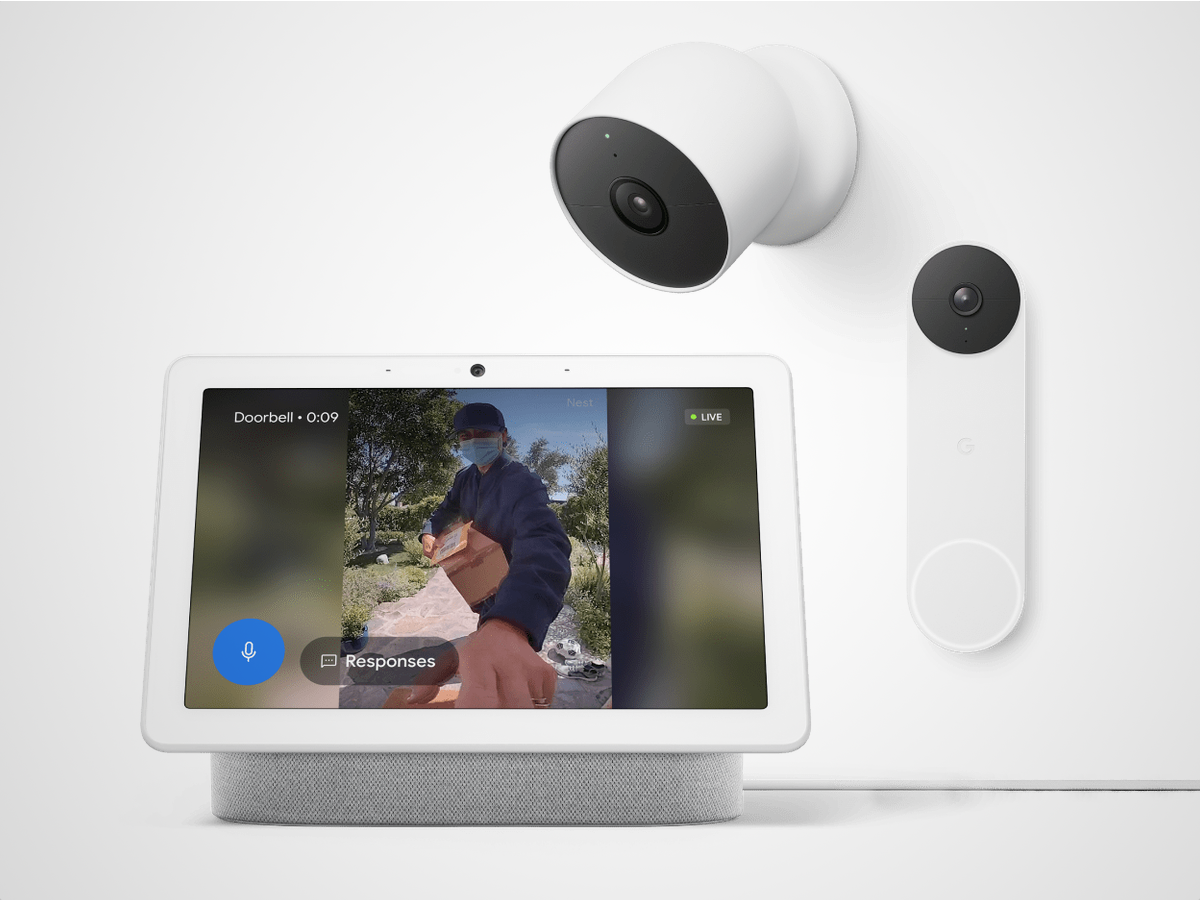 You can set both the Cam and Doorbell up very quickly if you've already got a Google Home environment created. For anyone who owns a Nest Hub, Nest Mini or an older pre-Nest, Google Home-compatible product, getting things off the ground is a breeze.
If either the Cam or the Doorbell are your first Google smart home devices though, you'll need to link your home with your Google account. While on first setup, you need to be at home and on a fixed Wi-Fi network. Once both the Cam and Doorbell are connected and fired up, you can check in and get alerts on your phone via any connection – whether cellular or another Wi-Fi network.
It's also very easy to check into any of the cameras on your device on a whim. Just launch the Google Home app and you'll find both the Cam and Doorbell living under the 'Cameras' tab. Here, you can access settings to easily manage recording and display resolution, set zones to monitor and more.
It's worth pointing out that the Doorbell doesn't come with its own chime module. If you don't already have a Nest Hub, Nest Mini or other speaker that supports Google Assistant, you might want to pick one up so you can actually hear the doorbell ring, rather than relying entirely on your phone.
Performance: similar but different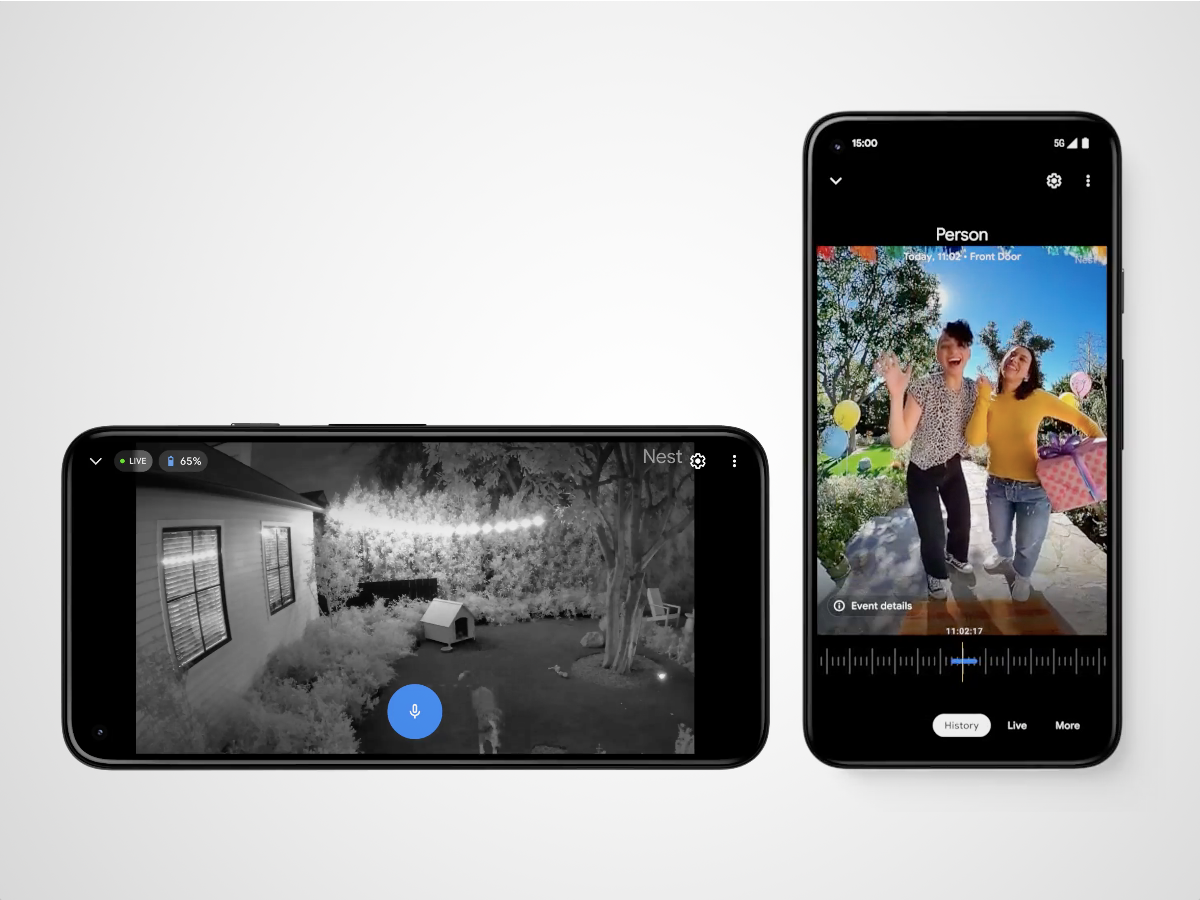 The Nest Cam has a 2MP camera with a 130-degree field of view, which means you can see an entire open-plan space at a glance, and captures video with a resolution of up to 1080p. That's clear enough for an overview of an area, but some of the competition can record significantly sharper footage, so you get less detail when you pinch to zoom in.
This is more of an issue for the Nest Cam than the Doorbell, which has a wider 145-degree lens and 1.3MP camera. It also comes with a wedge that angles it at 20 degrees, helping it face whoever might be on your doorstep. The lower resolution means it captures video at up to 960×1280, but it still has night vision and shoots in HDR. There was also a bit of flickering under artificial light from the cameras, but this didn't impact the clarity of the picture.
One great thing about the Doorbell is how reliable and responsive it is. It never failed us in tests and real-world use, alerting us across all our designated devices every time it was pressed, delivering audible sound and clear video.
The best part of both the Camera and Doorbell has to be the fact that they don't need a subscription. Sure, you can upgrade to Nest Aware (£10 per month) for 'ringer' ID, 60 days of event-based video history and a few other highlights. But if you don't, the Nest Cam and Doorbell still do exactly what they should straight out of the box.
Battery & security: physically insecure, digitally secure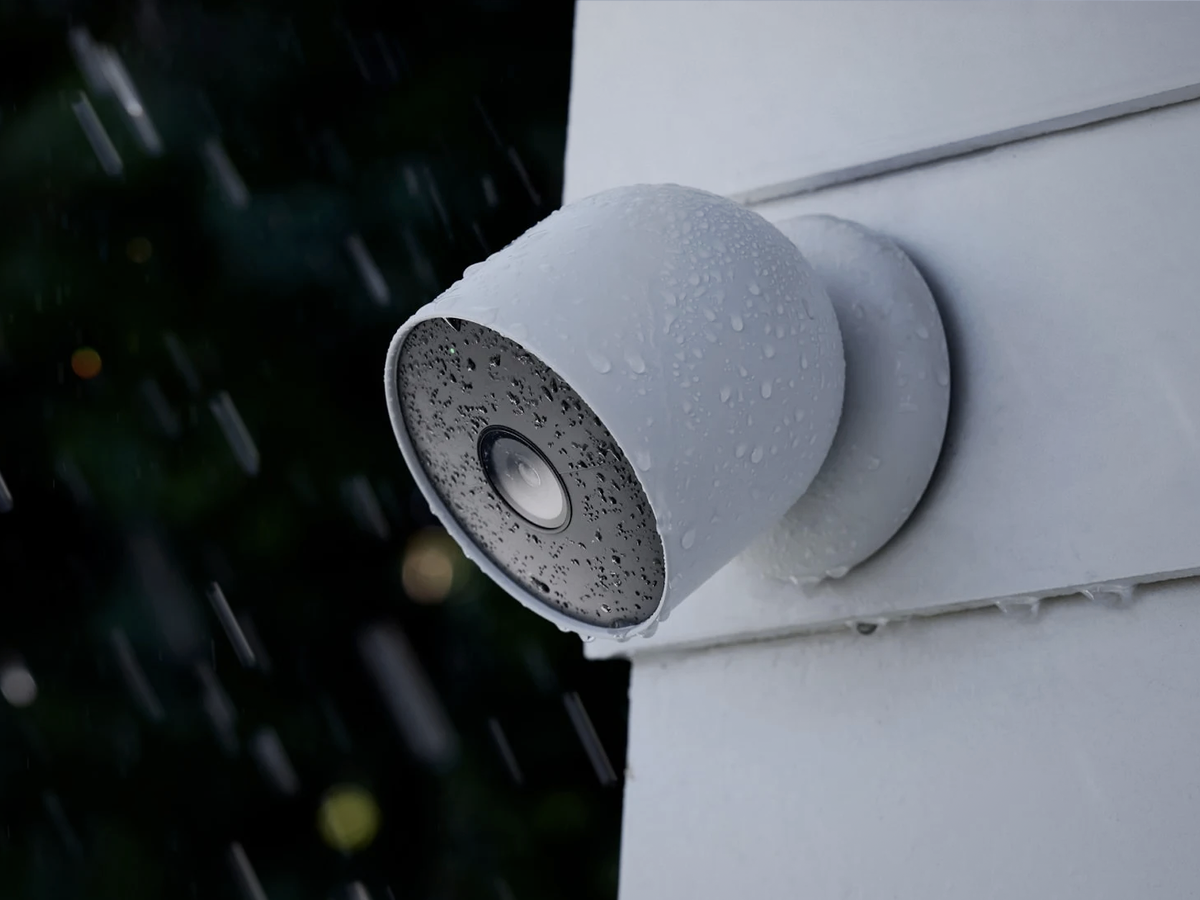 If you're living your best plugged-in life, keeping your Nest Cam hooked up to its charger and hard-wiring the Doorbell to your electrics, then you can skip this section. If not, then the batteries end up being each product's key selling point – and biggest potential drawback.
Google promises between one and six months of life out of the Doorbell, depending on how many visitors your front door gets. In our testing, the Doorbell was still at 20 per cent after three weeks, which checks out with the lower end of Google's estimate.
As for the Nest Cam's battery, Google claims it can last for up to seven months – but this was a total stretch for our living room camera, which saw a lot of action. We checked into ours a couple of times a day when using it and the cam seldom got more than eight days of battery life.
For comparison, we had a second Nest Cam facing a quieter spot that only dropped one per cent in a week. So Google's more lofty claim may be true, but be prepared for more regular charging if yours spends its time watching over a busy space.
Ironically for products that are designed for outdoor use and are meant to help you feel more secure, our biggest bugbear with the Google Nest Cam and Doorbell is how easy they are to steal: you can use the back of a SIM eject tool or paperclip to pop the Doorbell off, while the camera can simply be yanked off its perch.
Of course, this ease of removal makes dismounting the Cam and Doorbell for charging painless, but when you're paying £180 for each bit of kit, you need a lot of faith in humanity to use them. Google does have a free replacement policy in place, provided you share a police report proving the doorbell was stolen – although a quick trawl of Reddit suggests that victims haven't always been able to benefit from the offer.
Nest Cam and Doorbell (Battery) competition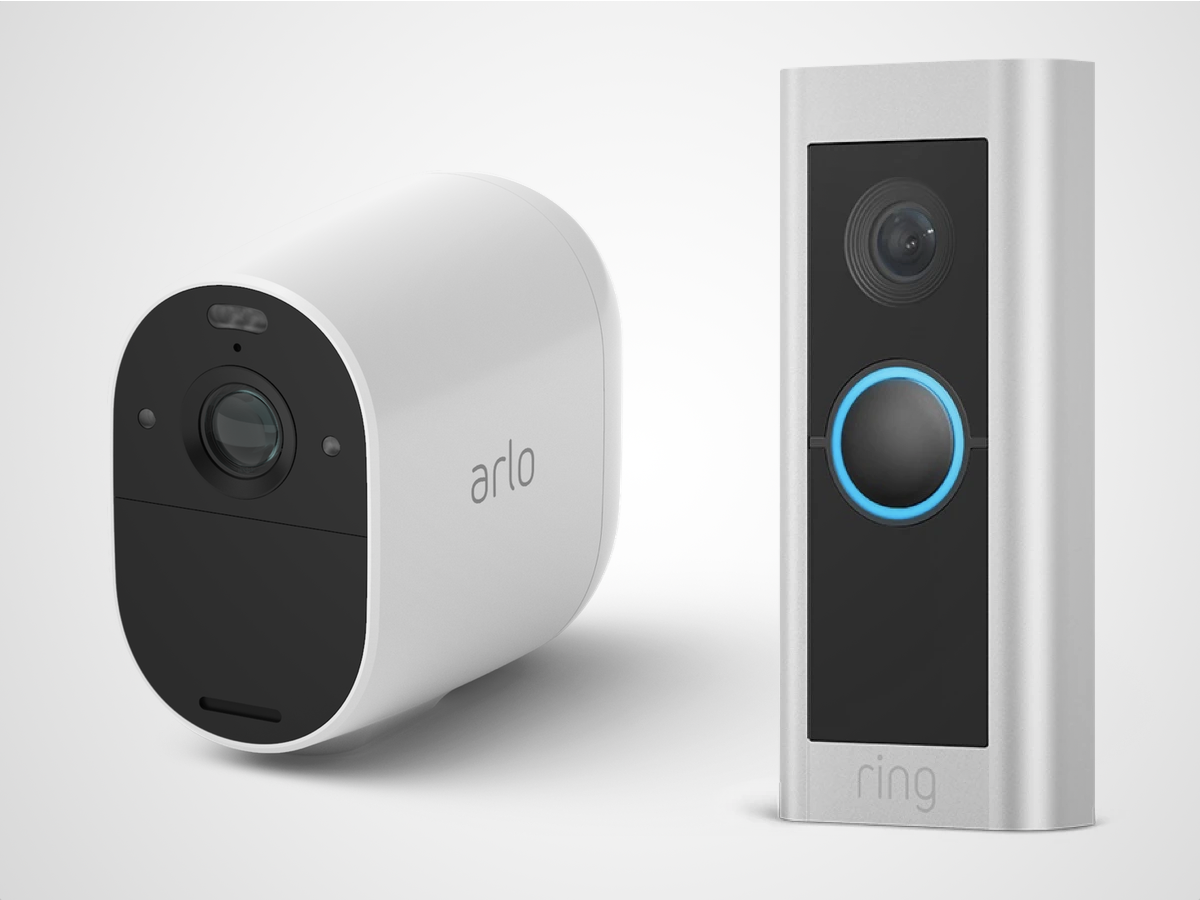 If you're looking at smart doorbells, you've probably considered Amazon's alternative, Ring. We didn't love its Video Doorbell 2, but the range has since been refreshed with the much more polished Ring Pro 2 (£219). If you're not committed to a Google-powered pad, then it could be an Alexa-lent alternative. Alternatively, if you want sharper video, the Eufy Video Doorbell 2K (£179) sacrifices on styling in favour of much crisper 2K video capture.
As for alternatives to the Nest Cam, Netgear has been making Arlos for years – and its latest Arlo Ultra 2 (£240) bumps up the resolution to a Nest-beating 4K, plus it works with Alexa. Or if you want a much cheaper solution (and can handle a clunkier interface and a camera that's wired up), then Xiaomi's Mi Home Security Camera 360 is a great entry-level alternative at £35.
Nest Cam and Doorbell (Battery) verdict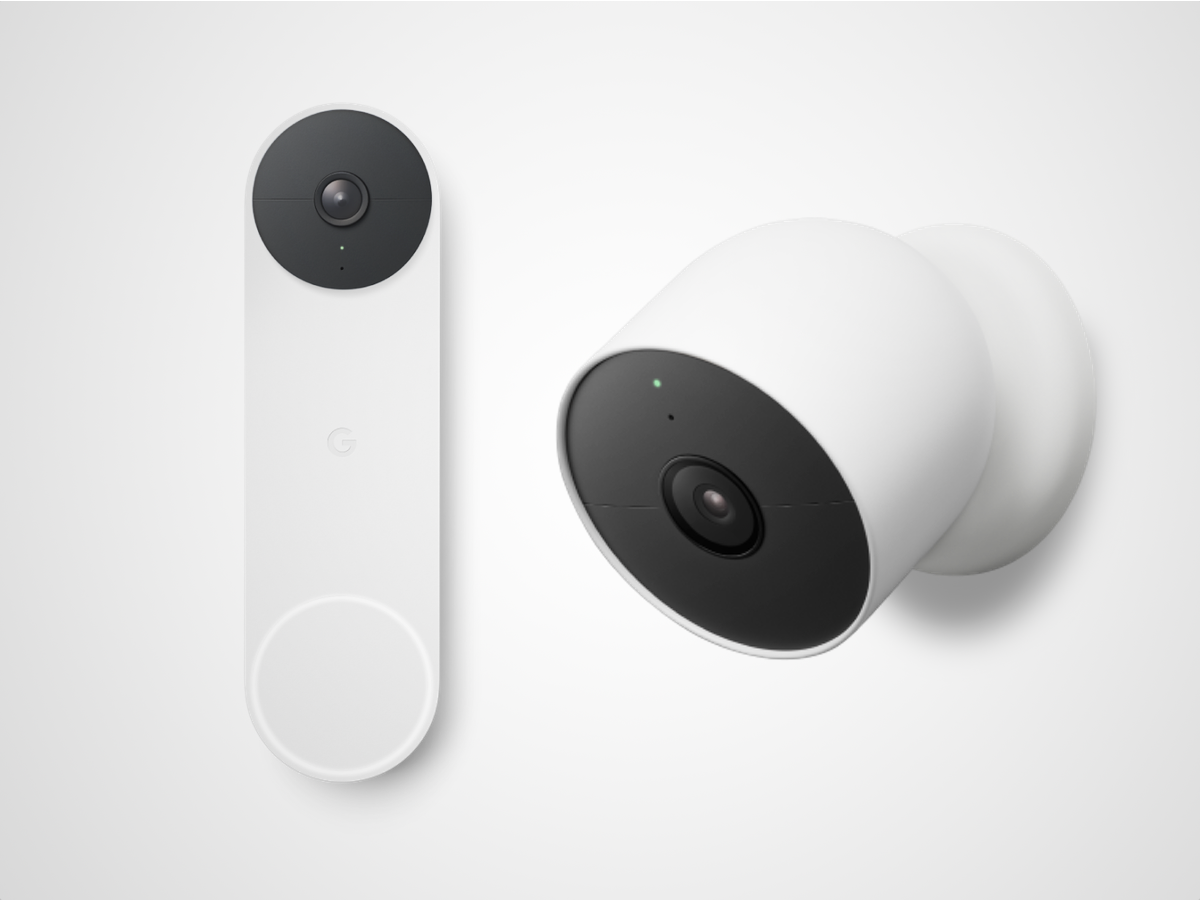 The Nest Cam and Doorbell (battery) are super easy to use, fit seamlessly into your Google life and look great. While their video quality isn't the sharpest – and they certainly aren't the cheapest at what they do – both bits of kit deliver a polished user experience and a rich feature set, without the need for a subscription. Functionality-wise, they're both easy to recommend.
Our main concern, however, is security. If you're using the Cam indoors this won't be an issue. But for outdoor use, both the Cam and Doorbell can be dismounted with relative ease. We'd be hard-pressed to recommend one unless you find a way of securing them in place – or live in a seriously safe neighbourhood.
Tech specs
| | |
| --- | --- |
| Video resolution | Up to 1080p |
| Features | HDR, night vision, three-hour event video history |
| Audio | Speaker & mic for two-way audio |
| Weatherproofing | IP54 |
| Battery power | Yes |
| Weight | 398g (Cam), 206g (Doorbell) |
Stuff Says…
Easy-to-use home security for Google fans that isn't quite a steal, but quite easily could be
Good Stuff
Easy to set up with app
Responsive remote interaction
Great looking hardware
Bad Stuff
Easy to steal
Only works with Google Home
Can require relatively frequent charging