Fujifilm Instax Pal review: a fun-first stubby snapper
Digital alternative to instant film is pocket-friendly, but also quite pricey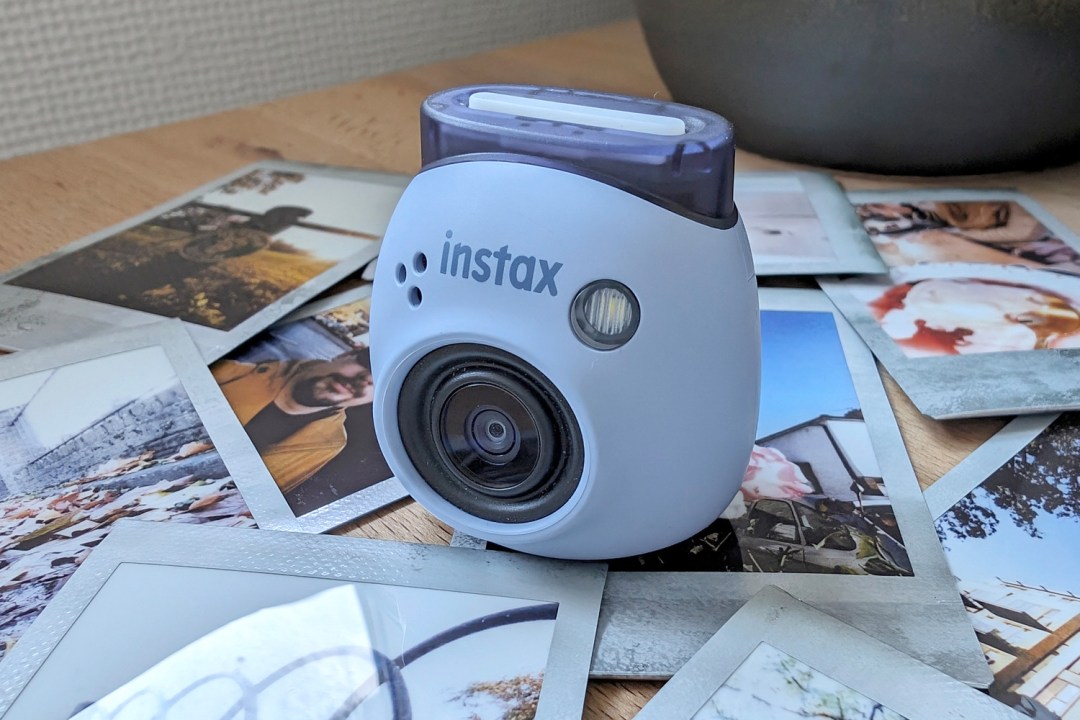 Stuff Verdict
A fun-focused spin on instant photography that makes most sense if you're already invested in the Instax ecosystem. For everyone else it's a niche gadget.
Pros
Fantastically portable
Digital-first format cuts down on print costs
App is fun and easy to use
Cons
Needs an Instax printer to make the most of it
Framing shots can be fiddly
Digital image quality pretty basic
Introduction
They're great fun, but it takes commitment to lug an instant camera around everywhere. Even the most affordable models are too big to slip in my pocket, and the price of film can often be enough to put me off pressing the shutter button. Fujifilm wants the Instax Pal to change those perceptions. That's because it's a digital-first snapper, which pairs to a printer to produce its physical photos.
This palm-sized cam has no film to load, no settings to tweak, and there's not even a viewfinder for framing your shots. It's little more than a lens and a shutter button, meaning you can keep it with you 24/7 – unlike the brilliant but bulky Instax Mini 12, or even a hybrid instant camera like the Instax LiPlay. The aim here is very much spur-of-the-moment shots, rather than carefully composed creations.
That said, the need to supply a separate printer to reach its full potential makes it a pricey alternative to a 'true' instant camera. Is there enough fun factor here to earn a place in your travel bag?
How we test cameras
Every camera reviewed on Stuff is tested in a range of lighting conditions, with a variety of subjects and scenes. We use our years of experience to compare with rivals and assess ergonomics, features and general usability. Manufacturers have no visibility on reviews before they appear online, and we never accept payment to feature products.
Find out more about how we test and rate products.
Design & build: honey I shrunk the Instax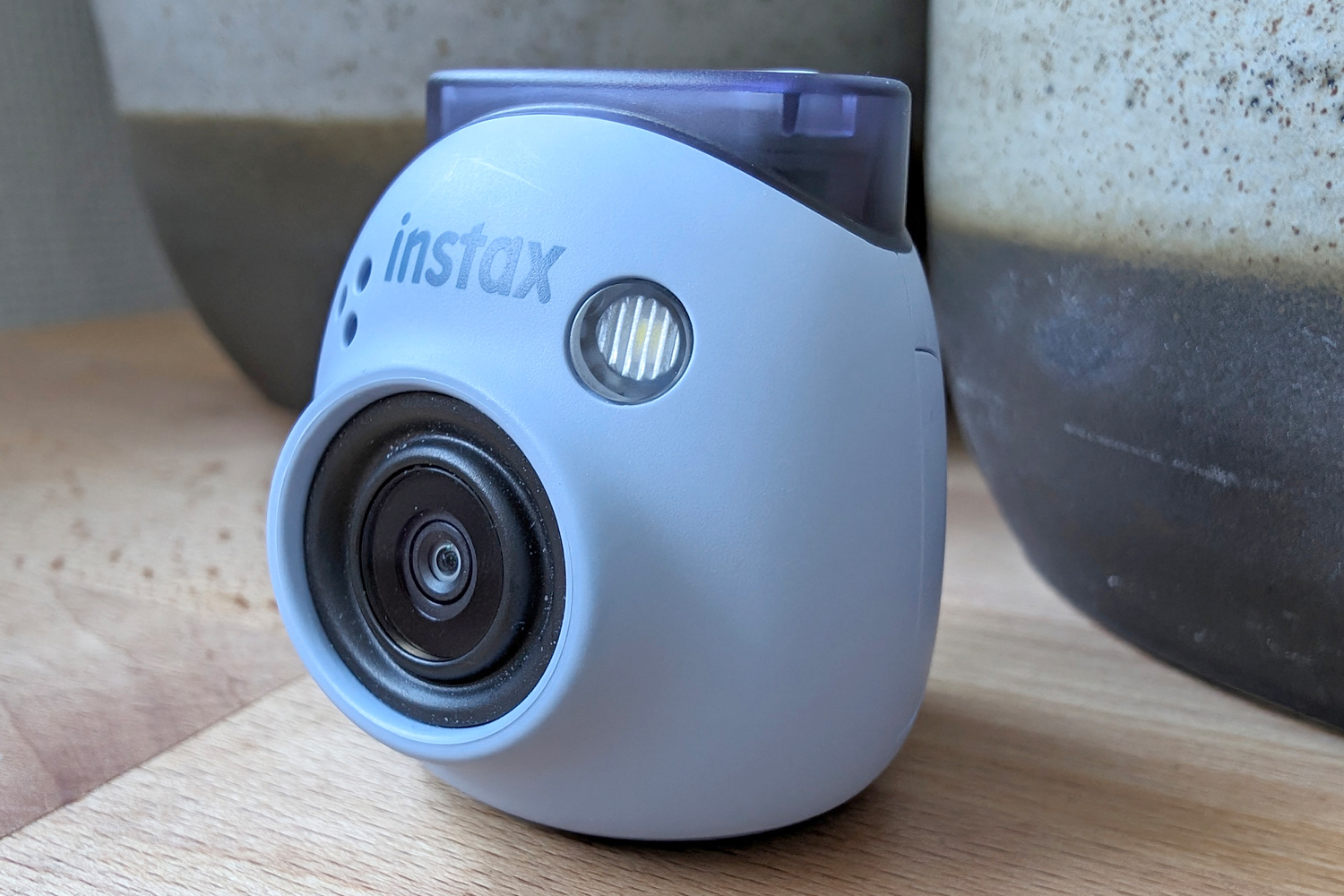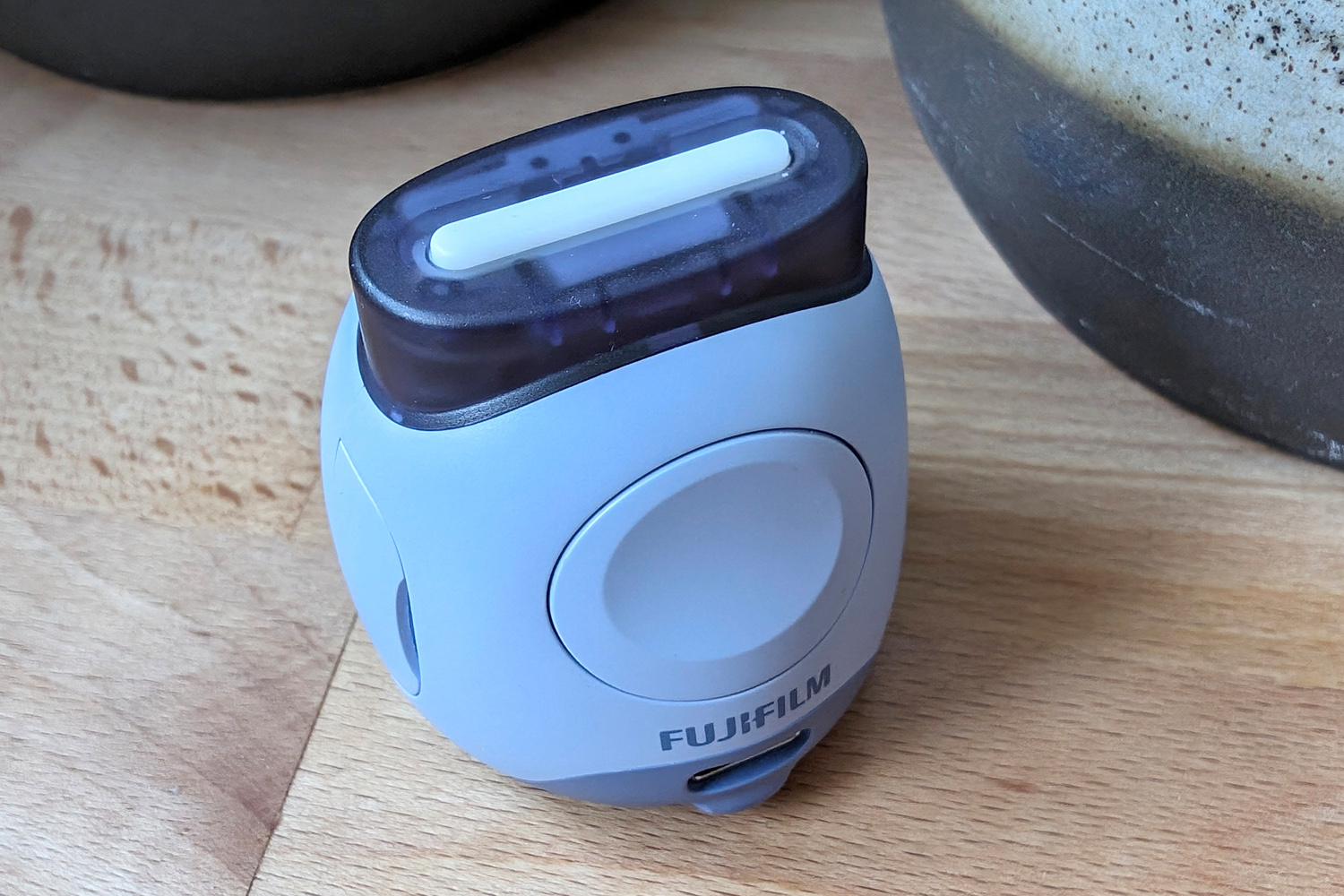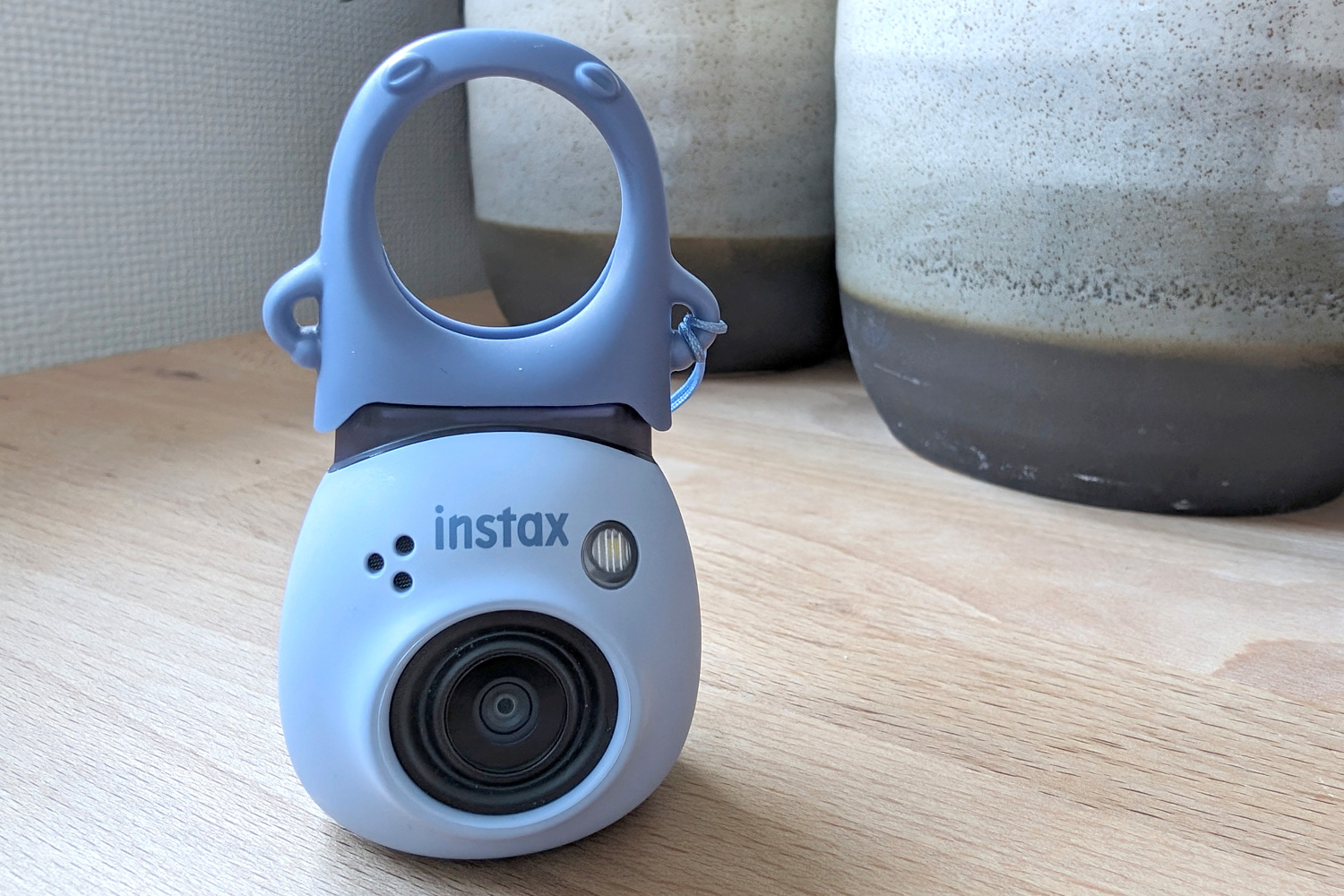 Yes, the Instax Pal really is a digital camera. Those ridiculously compact dimensions and Fuji's five pastel-hued colour options make it look like a toy you'd find in a fast food Happy Meal. There's a more serious, limited-run black model with metal-effect trim, but I think you're better off just embracing the fun with a gadget like this.
The camera itself weighs just 41g, and is so small you could keep it on a keychain along with your house keys. Though if you do, I make no promises as to whether the lens will survive unscratched – there's no lens cap or cover included. Better instead to slide it in a pocket.
A tiny flash and a speaker grille flank the lens at the front; it pipes out cute R2-D2-like noises every time you turn it on or off using the button at the top, which also lights up to show power and pairing. There's no selfie mirror here, but it would have to be so tiny I can see why Fuji didn't bother. The shutter button is at the back, along with a USB-C port for charging, and a tiny door at the side hides a microSD card slot. A tripod thread on the bottom feels a little ambitious, but kudos to Fuji for including it.
There's no viewfinder, which can make taking photos a bit hit-or-miss. Fuji includes a detachable ring in the box that can act like a basic framing tool as well as a handle, but because it sits higher than the lens' eyeline you've got to remember to compensate. You can also use the smartphone companion app for a digital live view, although resolution and general clarity means it's only good for fairly close subjects.
Wondering how something so small is supposed to produce prints almost twice it's size? You've got to supply your own Instax Printer, which can add another £110-£140 to the asking price. In the US you can't even buy one on its lonesome; the camera comes bundled with an Instax Link 2 printer for $199.
Features & battery life: keep it simple, snapper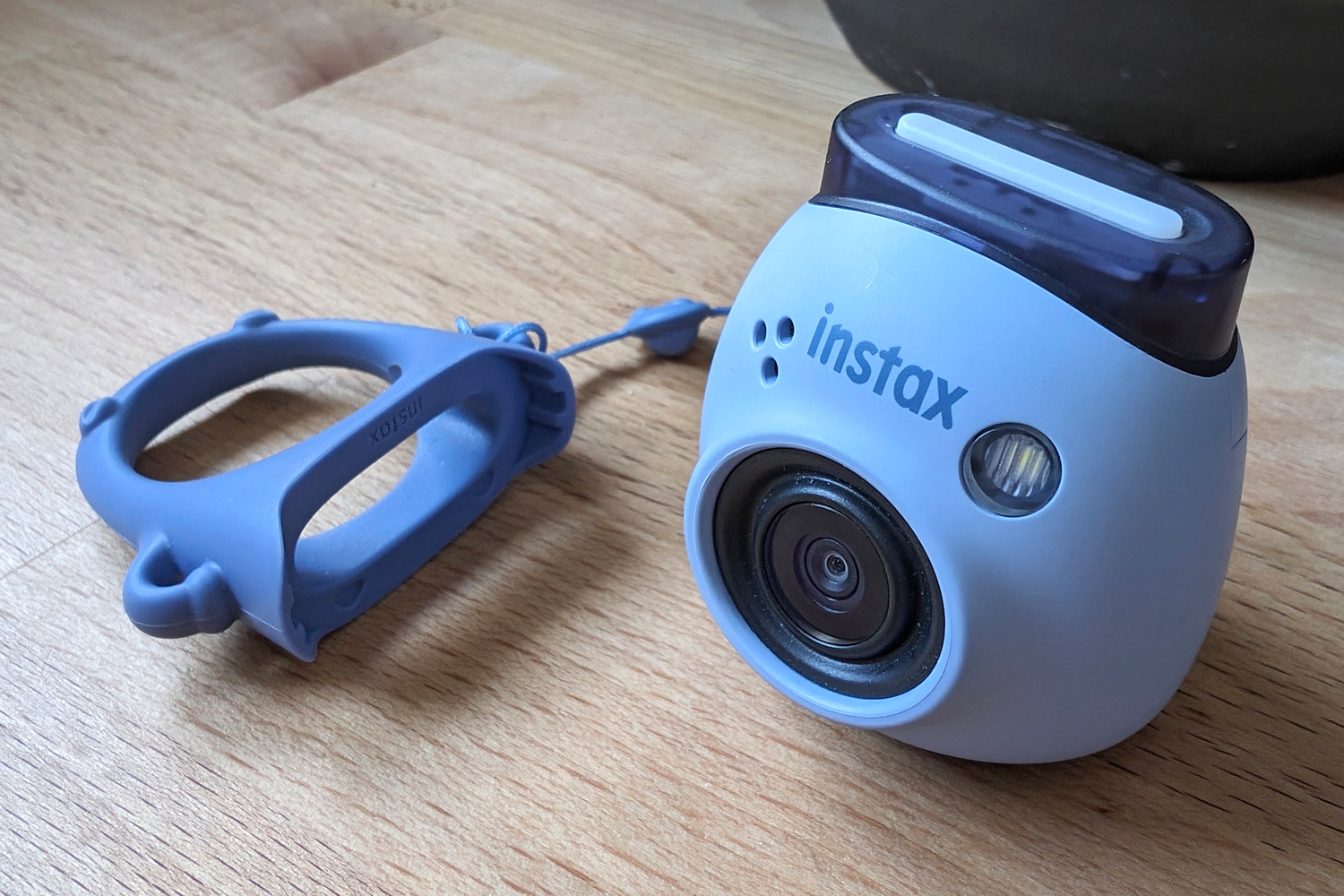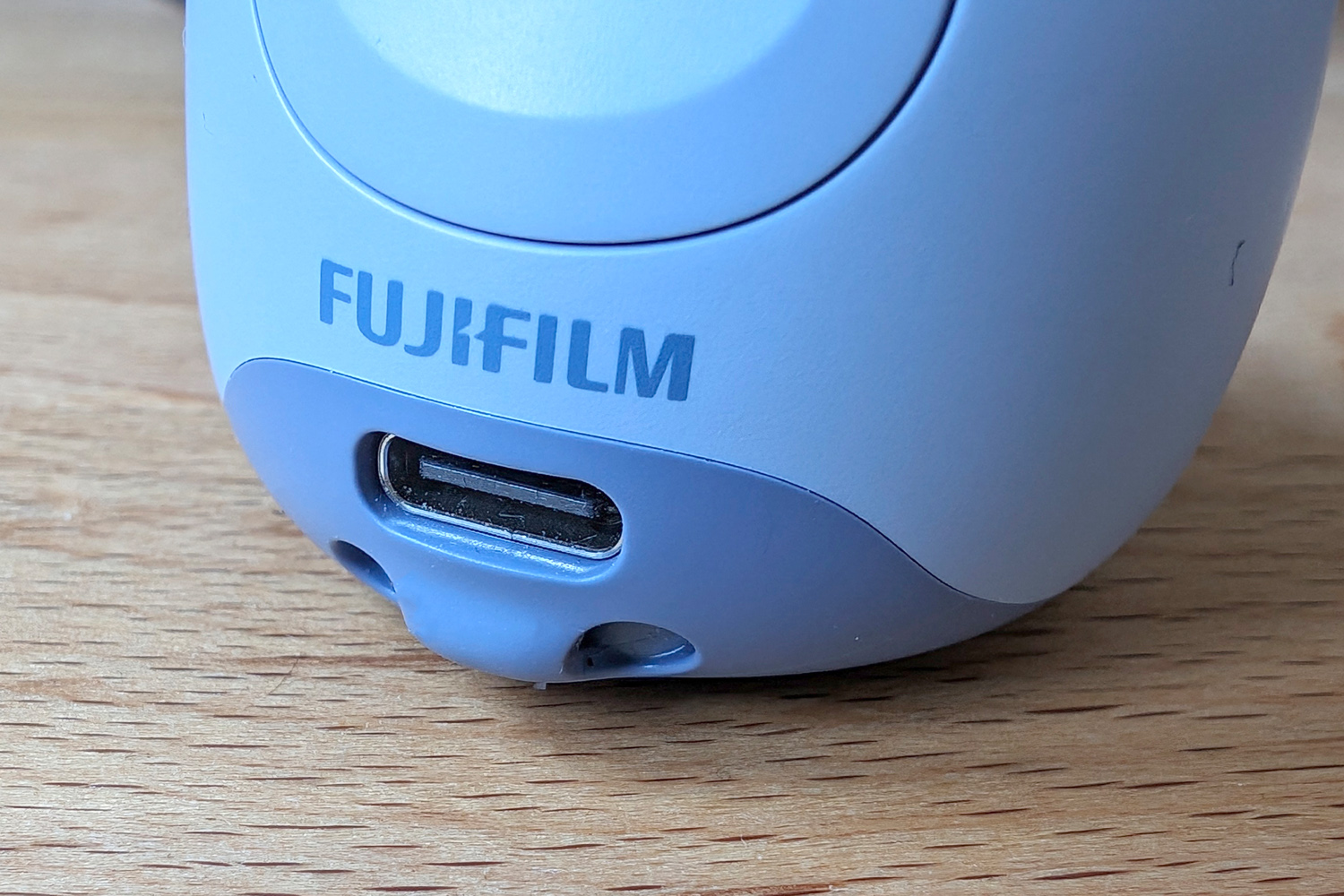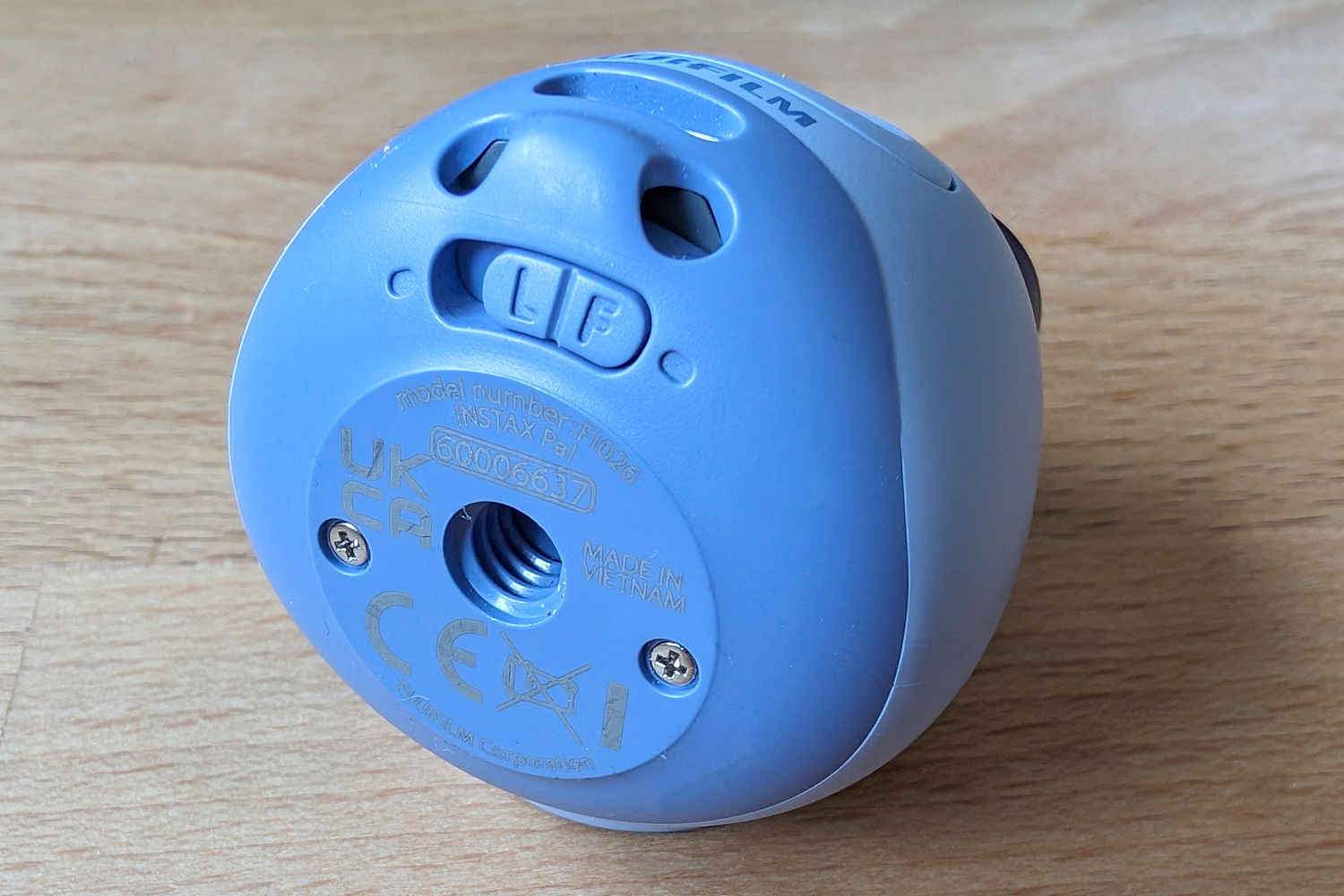 The Instax Pal will play nicely with Fuji's Instax Mini Link 2, Instax Square Link and Instax Link Wide printers, but not the original Mini Link. If you've got one of those you'll need to upgrade, unfortunately. It saves big enough digital images that you don't have to worry about cropping lines or black bars if you print on Instax Wide film.
Flick a switch on the bottom of the camera and it can pair directly to a printer for instant printing every time you press the shutter button, but I'd suggest against it – that's a surefire way to burn through costly film packs with pics that might not deserve a physical version.
Instead, pairing is best handled through the Instax Pal companion app, which also allows self-timer or interval shooting, and the ability to edit your snaps with simple sliders for brightness, contrast, saturation, rotation and cropping. I liked being able to slap a sticker or text on top of my snaps with a few taps, too. Animated collages are another fun touch.
Everything is suitably quirky, with an animated Instax Pal guiding you through the various menus and modes. You can even replace the shutter sound with something you record yourself, if you're so inclined. Actually printing pictures takes you to your printer's app, which feels a little disjointed, but it all worked flawlessly in my testing.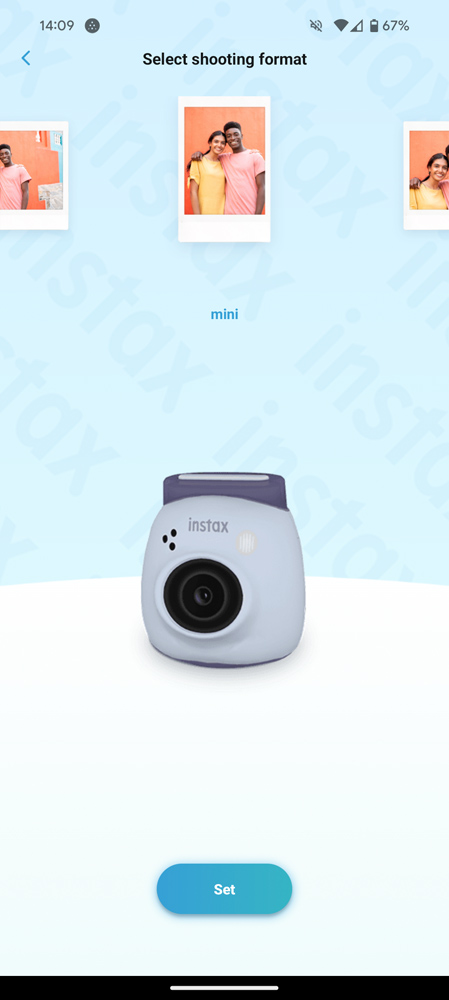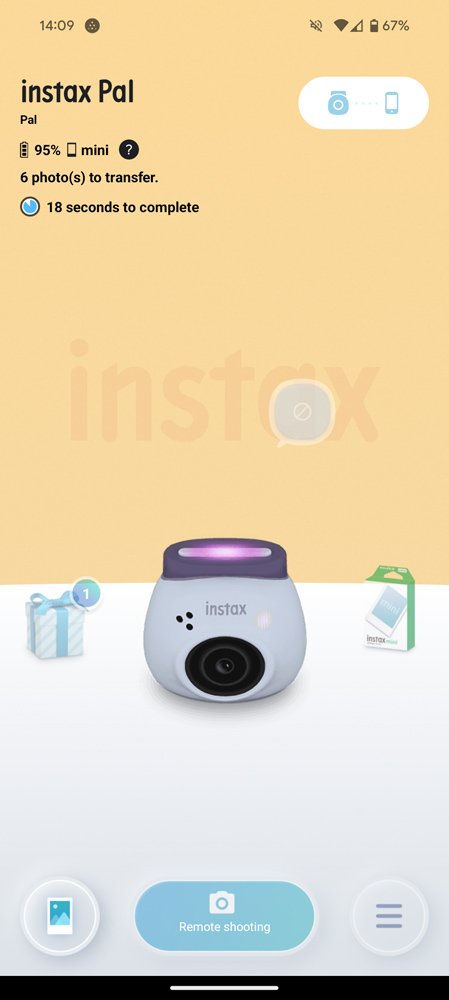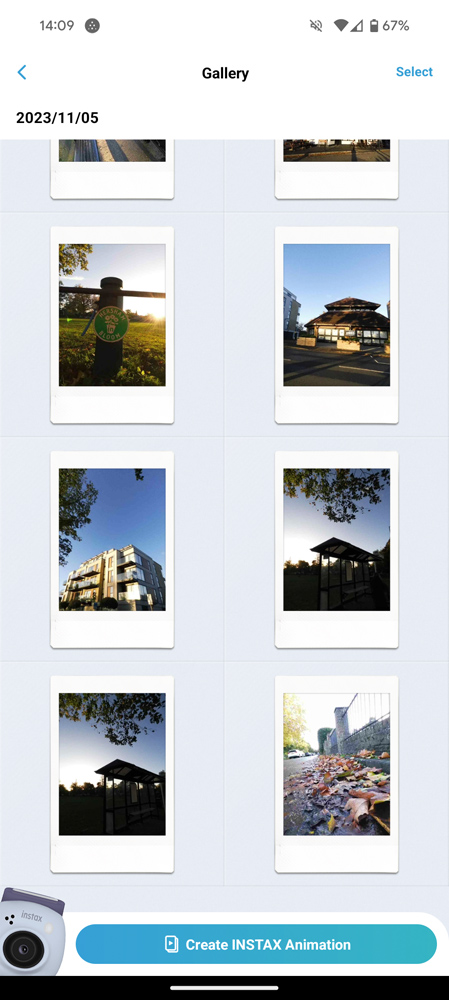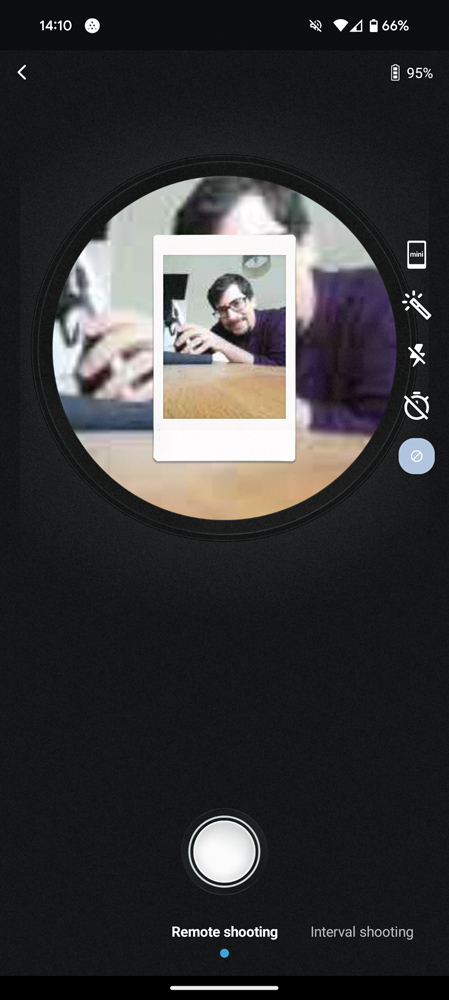 The internal memory is good for about 50 snaps, but the camera automatically purges itself every time you sync through the companion app, so I never worried about running out of space.
Fuji reckons the battery is good for around 240 shots before you'll need to plug in; I found that depended how many snaps I took using the Instax Pal on its lonesome, and how many were shot using my phone for live view composition. Either way you'll comfortably get through an evening event or day trip without running dry.
Performance: undeniably basic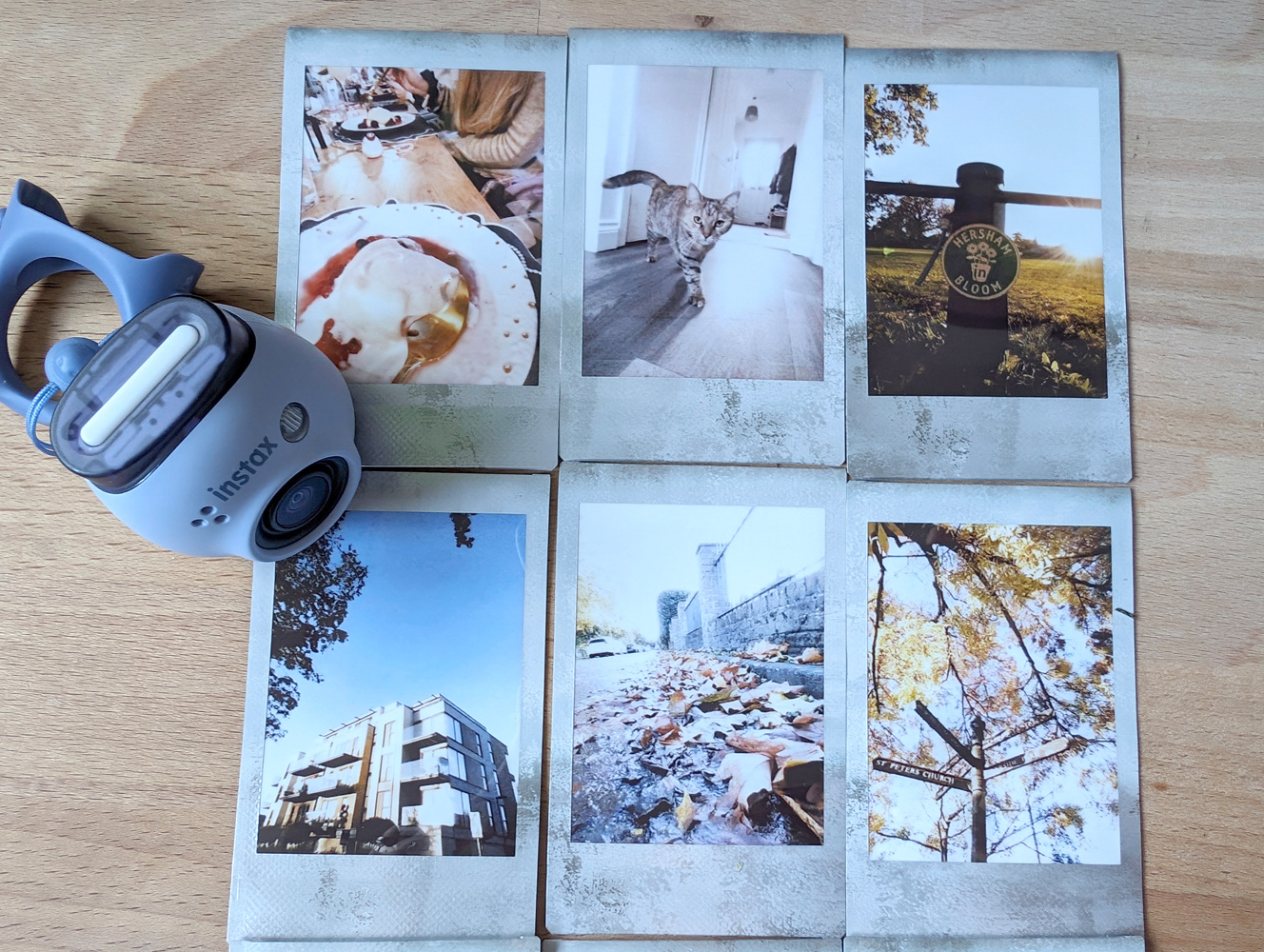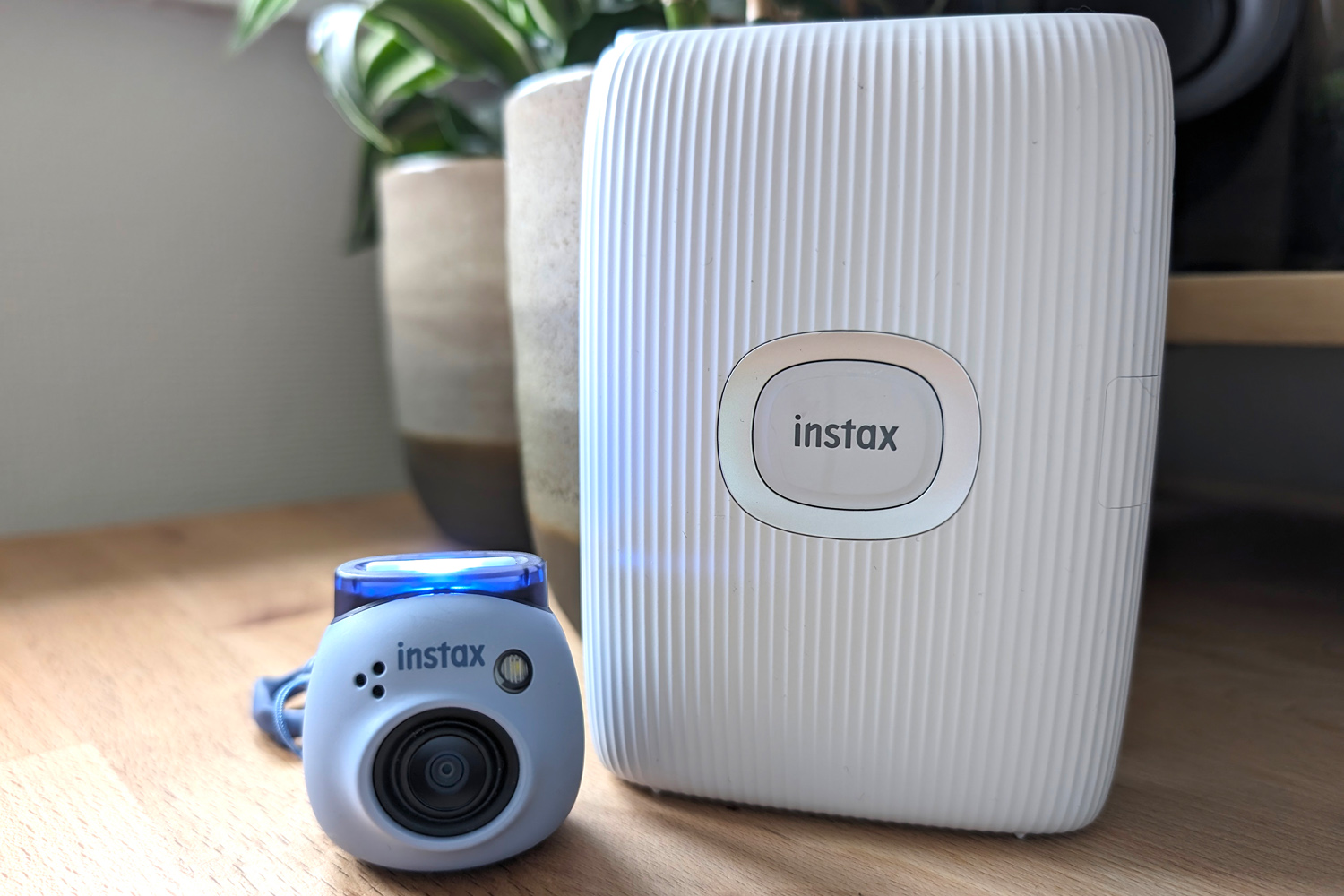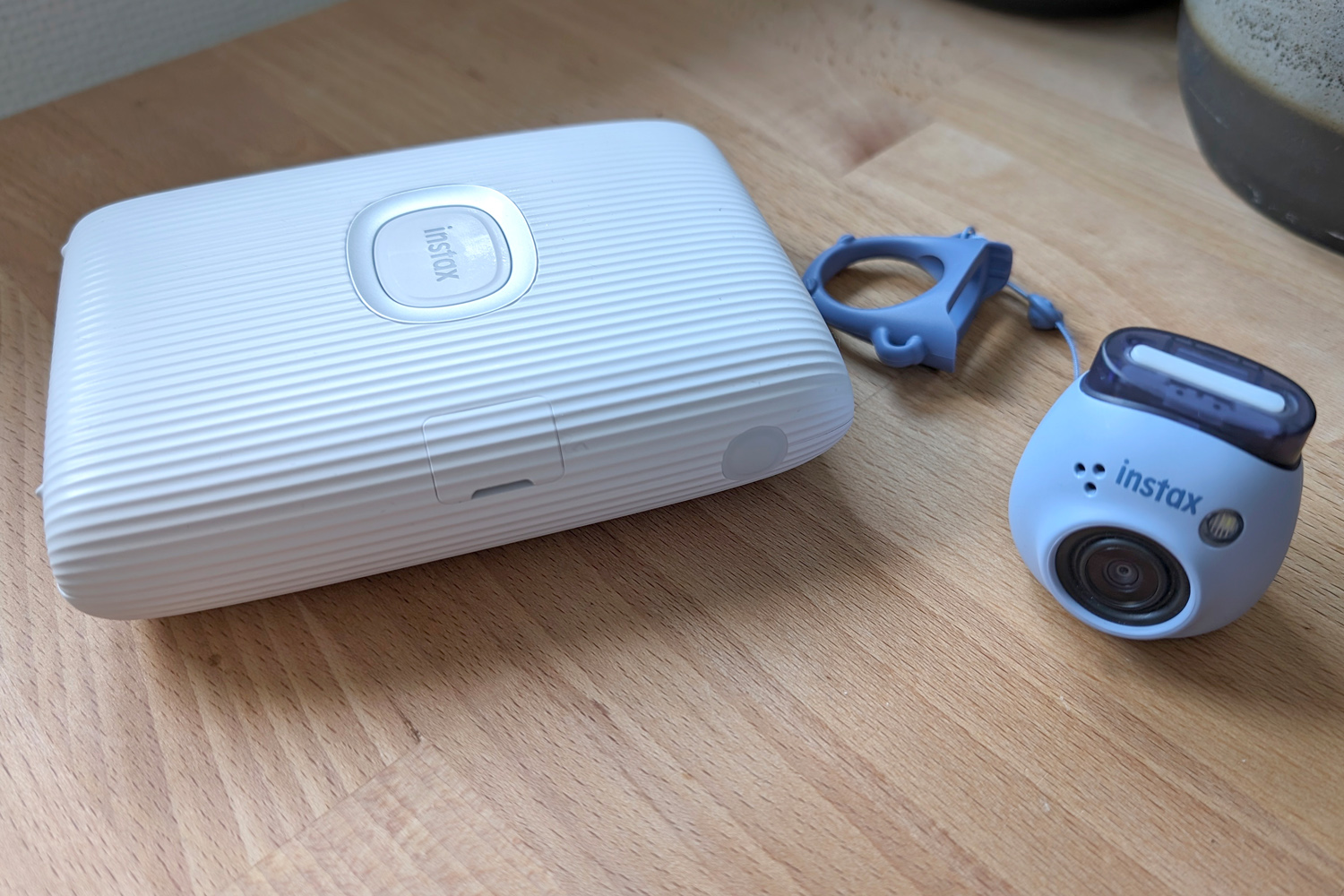 With a relatively tiny 1/5in CMOS sensor good for 2560×1920 stills, the Instax Pal was never going to give the smartphone in your pocket a run for its money on image quality. It copes alright during the day, with the sort of muted colours I expect from instant film stock. There's a blend of surprisingly fine detail and "that's definitely out of focus" within the same frame at times, and it struggles with both highlights and dark shadows – you'll sometimes get one without the other, while other shots blow out the bright areas and also show little shadow detail.
Low light is where things really fall down, with loads of image noise, a very slow shutter speed that can result in blurry snaps if shot handheld, and a general lack of detail. While printing a photo does hide some of these sins (a quirk of instant film), I rarely felt the need to save any of the digital versions to my phone's camera roll.
The Instax Pal's saving grace is how you can be super subtle with a camera of this size; I got candid street snaps that never would have worked with a digital camera or even a smartphone. The quality is 'good enough' given Fuji wants you to print your shots, rather than simply stare at them on a screen. If you don't mind waving your phone in people's faces, though, I'm not sure it quite justifies the price.
Fujifilm Instax Pal verdict
There's no doubt the Fujifilm Instax Pal has size on its side. The delightfully diddy camera can be taken just about anywhere, even places you probably shouldn't be taking photos (shhh!). It puts some fun back into photography, and can save you a bit of cash on instant film packs by keeping the less-than-perfect shots strictly digital.
It's a pricey purchase given the quality of the pictures it produces, though, especially if you have to factor in the cost of an Instax printer as well. Newcomers to instant film might be better served by an Instax Mini Evo hybrid camera; it's a heck of a lot bigger, sure, but does all its digital processing in-camera and can spit out pics directly – no separate printer or smartphone required.
Stuff Says…
A fun-focused spin on instant photography that makes most sense if you're already invested in the Instax ecosystem. For everyone else it's a niche gadget.
Pros
Fantastically portable
Digital-first format cuts down on print costs
App is fun and easy to use
Cons
Needs an Instax printer to make the most of it
Framing shots can be fiddly
Digital image quality pretty basic
Fujifilm Instax Pal technical specifications
| | |
| --- | --- |
| Sensor | 1/5-inch CMOS, 2560×1920 |
| Lens aperture | f/2.2 |
| ISO | ISO100-1600 |
| Shutter speed | 1/4 second-1/8000 second (automatic) |
| Storage | 64MB on-board, microSD expansion |
| Connectivity | Bluetooth |
| Battery life | 240 shots |
| Dimensions | 42x44x43mm, 41g |