DJI Mini 3 Pro review: tiny wonder
The best lightweight drone you can buy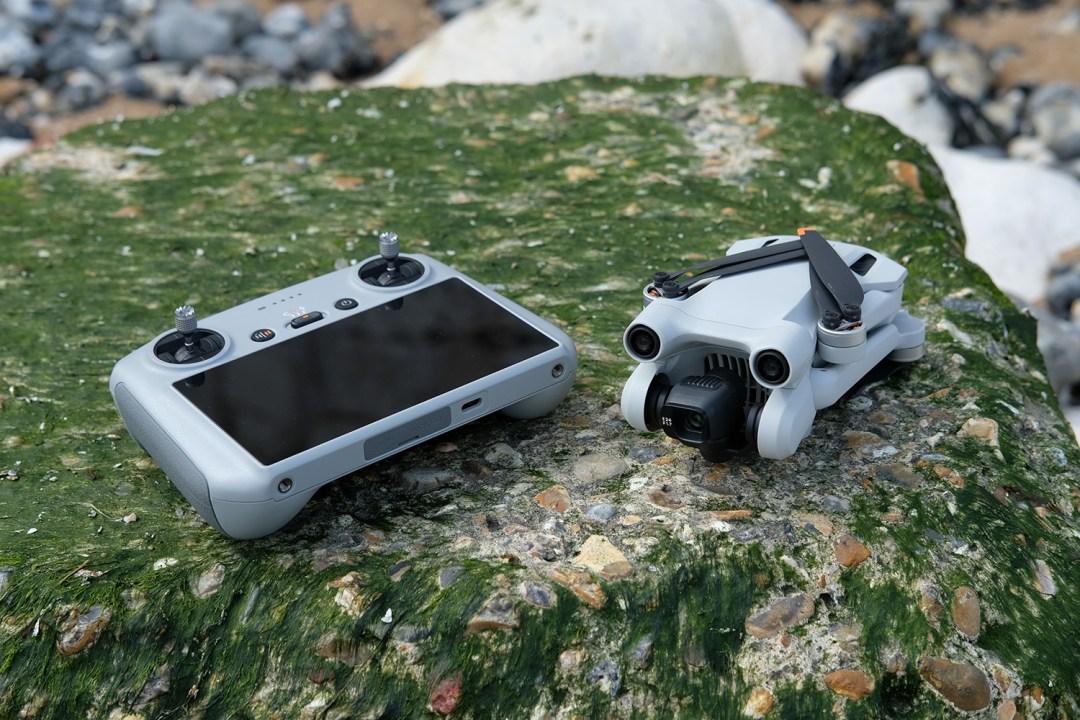 On one hand, there's never been a better time to be an aerial photographer or filmmaker, thanks to the sheer number of affordable camera-toting drones on offer.
On the other, a recent tightening of UK drone laws means you can't legally fly many of them in 'residential, recreational, commercial and industrial areas' – i.e. about 99% of the spots where you might fancy grabbing some aerial footage. Sadly, most of us aren't wealthy landowners with a few hundred acres of private countryside to play pilot in.
The simplest answer to this conundrum? Buy a drone that weighs under 250g. Anything in this category avoids the aforementioned restrictions, which is why DJI's Mini range has proven so appealing to average users. The downside is that these dinky drones aren't anything like as capable in the camera department as DJI's bigger boys like the Air 2S and Mavic 3.
The DJI Mini 3 Pro aims to solve this issue. It's 249g but comes with boosted camera performance and the obstacle-dodging tech only previously seen in larger models. Does it have the chops to become the chopper of choice for choosy pilots? Let's find out.
Design and build quality
The clue's in the name. The DJI Mini 3 Pro is extremely wee: a mere 145 x 90 x 62mm with its rotor arms folded down. That'll fit in larger coat pockets and barely make a dent in the average backpack, even when coupled with a remote control (more on that later), which makes this a drone you can take pretty much anywhere without too much bother.
As well as being portable it weighs 249g with a microSD card and standard Intelligent Flight Battery fitted. DJI makes a larger capacity Intelligent Flight Battery Plus, which gives the drone up to 47 minutes of flight time rather than the standard 34 minutes, but as this pushes the weight well over the 250g line we wouldn't recommend it. It's also not available in Europe, so you likely won't be able to get hold of one anyway.
The drone feels a little plasticky and delicate in your hands, but once it's unfolded and in the air there are no obvious signs of weakness. Crashing it headlong into a lamppost won't do it any favours, of course, but general use and the odd bumpy landing aren't going to see it falling apart like Manchester United's defensive line. When folded up for storage, you can protect the delicate camera and gimbal with a supplied hard plastic cover.
It has a more streamlined design than the Mini SE and Mini 2, with the front prop arms spread out wider. This makes the propeller blades less likely to end up in frame, but may also aid flight stability.
Connectivity is simple, with a USB-C port taking care of charging and data transfer duties. Next to it is a micro SD card slot, with capacities up to 512GB supported. The drone does have a small amount of on-board storage space too, but if you record in 4K or take 48MP photos it'll fill up so quickly as to be almost useless. That said, it does mean you can rattle off a few shots or a quick clip if you forget to pack your microSD card.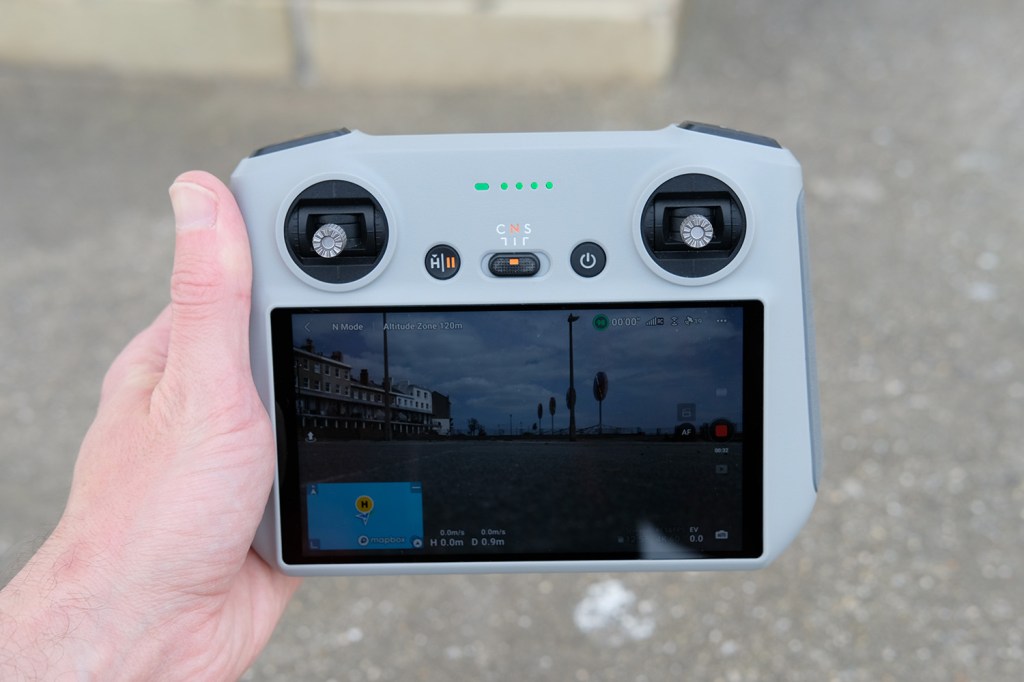 You can buy the Mini 3 Pro alone or with one of two DJI remote controllers: the RC-N1 or RC. The former we've seen before; it's a well-built twin-stick controller that accommodates your smartphone (Lightning, USB-C and micro USB models are supported), which then runs the DJI Fly app. The RC is a new design, and comes with its own built-in 5.5in touchscreen, micro SD slot (for onboard storage – you can transfer files wirelessly from the drone) and preloaded DJI Fly app. It runs on Android, so you can install social media and image editing apps if you want and lasts for about four hours on a full charge. We really liked the brightness of the screen, which far surpasses that of an iPhone on a sunny day.
Flight and app
The DJI Fly app is unchanged here, and works in much the same way as it does with other drones like the Mavic 3 and Air 2S. Once you've turned the drone and controller on and paired the two (this takes a matter of seconds and almost always requires no input from the user), the app's main screen shows you everything you need to get airborne: a location map, battery life indicator (with a calculation of how much time you have left, not just battery percentage), camera controls and more.
Tapping the take-off button, then holding the second button that appears in the centre of the screen will fire up the drone's motors and make it hover a few feet off the ground – from there you're the boss, using the twin stick controls to manoeuvre the quadcopter into position. It's zippy and responsive, and thanks to the addition of anti-collision sensors (facing in a wide frontal arc, backwards and downwards) you can zoom around without too much fear of hitting anything.
This is the first Mini to offer sensors of this type, and they're a huge boost to safety and user-friendliness. They also work with the tracking modes to ensure that, while the drone will follow you autonomously, it'll also veer around obstacles where possible.
ActiveTrack is a fun feature that lets you drag a box around an on-screen object – the drone will then follow it while keeping the camera trained on it. It's not perfect here, sadly: it only works with slower frame rate recording modes, it's quite fussy about what it will and won't lock onto, and it can lose the lock quite easily if something moves quickly or briefly behind a blocking object. Still, when it works it's impressive.
The app also features a wide range of automatic camera moves to play with. These will have the drone perform various manoeuvres while automatically capturing footage; with a modicum of practice you'll be able to pull off these manually though, which is much more enjoyable and often yields better-looking results.
In terms of control range, DJI claims the link between controller and drone can work up to 12km. To test that would be breaking several drone laws (you need to be able to see your drone with the naked eye when in flight), so a few hundred metres is all we could try, but we never once had a single issue with a signal dropping or even stuttering during our review process.
DJI Mini 3 Pro image quality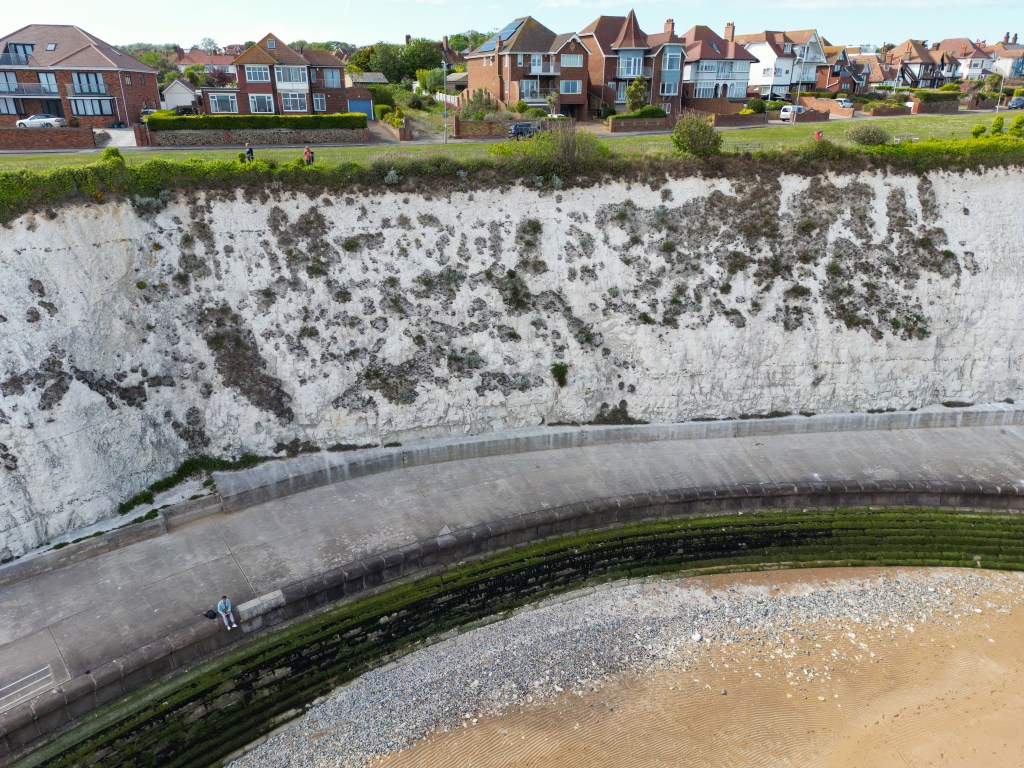 Is the Mini 3 Pro's camera performance a direct challenger to the likes of the Mavic 3 and Air 2S? Not at all – both offer a lot more detail and dynamic range, particularly in low light – but for a lightweight drone it's something special, far above and beyond what you get from the Mini 2.
Despite being the same physical size of 1/1.3in, the sensor offers twice the ISO range of the Mini 2's, a wider f/1.7 aperture and a Quad Bayer array resulting in a 48MP (rather than 12MP) resolution. This boosts detail, with 4K daytime footage and 48MP photos in particular gaining a crispness and richness that we've previously only associated with larger, heavier drones. It can also record 4K video at a smooth 60fps, which is twice the frame rate of the Mini 2's 4K video, as well as Full HD video at 120fps for slow motion playback.
Low light imaging is also much improved, but there's still some softness and smearing evident in the footage due to high ISO noise. Some of this can probably be mitigated in post-production, but you're not going to match what you can get from the Mavic 3 and Air 2S with their much larger Four Thirds and 1in sensors. Still, you probably can't legally get the footage you want with those drones, due to their weight – so perhaps the Mini 3 Pro is a better choice after all?
DJI Mini 3 Pro Verdict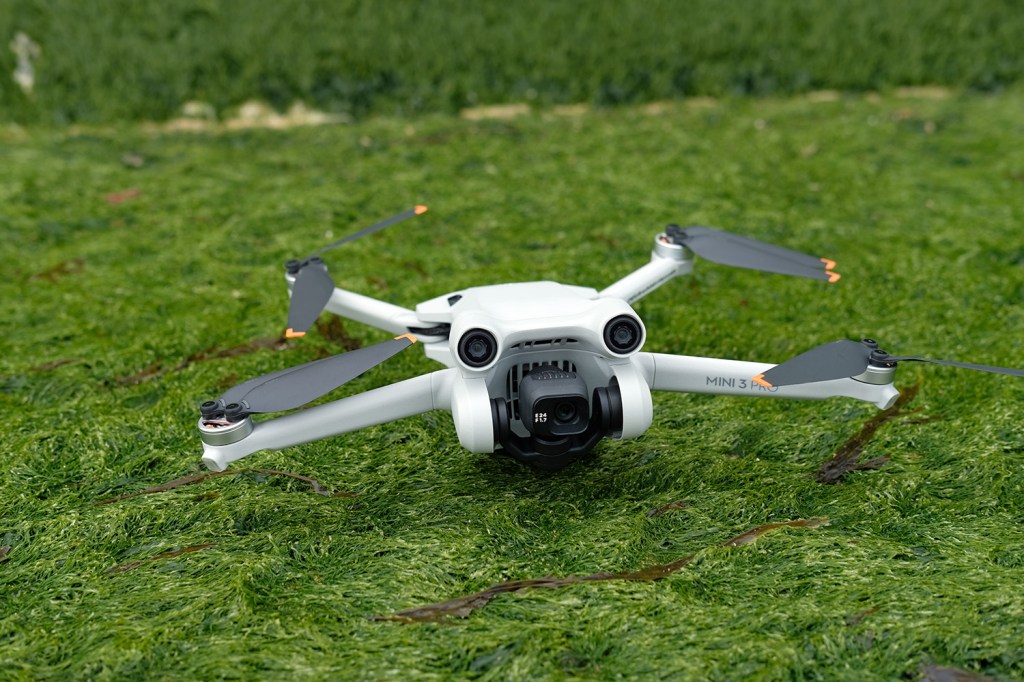 This is easily the best sub-250g drone on the market, and were it not for its slightly high price (and the fact that DJI will continue to sell the cheaper Mini models), it'd also be the best drone for beginners. It's easy and safe to fly, offers great battery life and its camera performance is much better than anything else in its weight class, all while being portable enough to slip into a coat pocket.
There is certainly some room for improvement, and DJI's prior history suggests an even better small drone may be on the horizon, but for now this is the best drone for the average user – particularly if they don't have vast tracts of private land to fly over.
Stuff Says…
A tiny, user-friendly drone that doesn't compromise on the performance front
Good Stuff
Excellent obstacle detection
Can be flown almost anywhere
Great image performance for its size
Bad Stuff
Grainy images at night
Object tracking not always reliable
Tech specs
| | |
| --- | --- |
| Max flight time | 34 minutes |
| Camera sensor | 1/1.3in 48MP Quad Bayer CMOS |
| Video | 4K/60fps; 2.7K/60fps; FHD/120fps |
| Internal storage | 1.2GB |
| Removeable storage | microSD up to 512GB |
| Folded dimensions | 145 x 90 x 62mm |
| Unfolded dimensions | 251 x 362 x 70mm |
| Weight | 249g |