Canon EOS R100 review: back to basics
First-timers may well appreciate this features-light entry-level mirrorless camera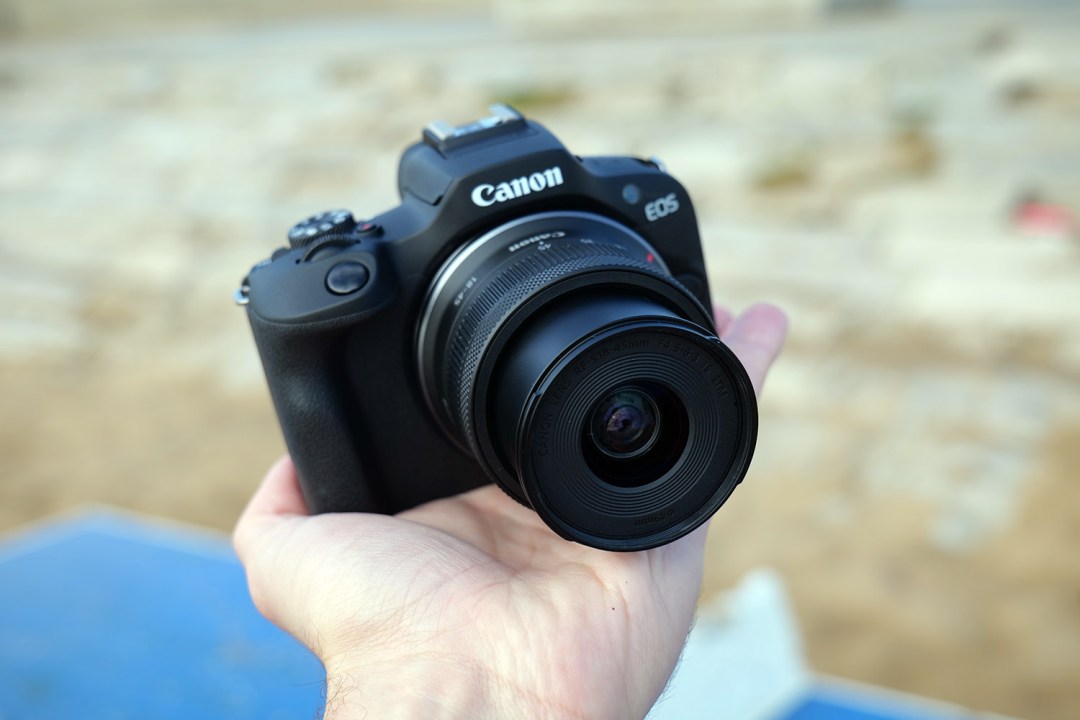 Stuff Verdict
A solid gateway camera, but its simplicity won't satisfy video addicts for long
Pros
Great-looking photos
Portable and well built
Decent autofocus performance
Cons
No USB-C charging
Fixed non-touchscreen
Limited video capabilities
As lovers of all things cutting-edge here at Stuff, we often focus on the most innovative, technically advanced or daringly designed of gadgets. But there's something to be said for covering the simple, affordable things too – and that's the idea behind the Canon EOS R100 mirrorless camera.
This recent release is the lowliest model in Canon's EOS R range of interchangeable lens cameras, and at around $600/£600 including a zoom lens it's a very different beast from its sophisticated, expensive siblings the EOS R7, EOS R6 and EOS R5. Seemingly designed for newbie photographers and videographers with a desire to step up from smartphone imaging to something a bit more involved and considered, it's essentially a cheap entry-level option that offers the basics but eschews advanced features – and, as we'll see, even some not-so-advanced features.
So what is it? A refreshingly stripped-back snapper for the masses, or a throwback snapper for the trash heap? It's time to find out.
Design & build: petite and plastic
The Canon EOS R100 sports a classic DSLR shape but once you get it in your hands it's surprisingly small and lightweight, even for a mirrorless model, thanks to a primarily plastic build. The supplied kit lens is similarly low in weight.
Lightweight isn't always a plus point for mirrorless cameras, as you want them to feel balanced and secure in your hand even with a heavy lens attached. Still, we don't have too many complaints about comfort and ergonomics here – at least when using a suitable lens. We did shoot a few images using Canon's huge and heavy 85mm F1.2 portrait lens (including the one of the cat below, if you're curious), and the balance was awkward to say the least. But if you're using a £3000 specialist lens with a cheap entry-level camera you're definitely in the minority.
The physical control layout is fairly intuitive, but we do have a few criticisms. The single control dial makes it hard to adjust more than one setting quickly, which will frustrate users who want to experiment by tweaking ISO, shutter speed, aperture and more. The video record stop/start button is also tiny and slightly hard to reach, which seems like a poor design choice given the importance most people place on video today.
There's also a total lack of touch controls, with the 3in screen being a display only. While we've never placed grand importance on the role of touchscreens on cameras like this, the ability to set an autofocus point with the tap of a finger is undeniably useful – and completely unavailable here. The screen is also fixed in place, unable to be flipped up or sideways to aid selfie shooters. It feels outdated and old-fashioned.
There's also an OLED viewfinder, which is a godsend on bright days when sun glare can make the screen difficult to use. It's not among the biggest, sharpest or brightest out there, and its low magnification makes the image look quite small, but for an entry-level model it's absolutely fine.
Features & battery life: back to basics
The screen isn't the only thing about the EOS R100 that seems basic and behind the times. The USB-C port here doesn't support power supply or battery charging, making it useful only for data transfer. That means you'll need to bring a separate battery charger and cable along with you on longer shooting sessions.
Thankfully the battery life is superb, with the camera CIPA rated for 430 shots. We didn't need to recharge it once during our multi-day review, despite shooting dozens of RAW and JPEG photos and lots of video footage.
Other than the USB-C, connectivity includes micro HDMI (for external display only, not external recording) and a 3.5mm microphone port. There's no headphone port, which isn't too surprising on a cheap model, but you do get single-band Wi-Fi and Bluetooth for cable-free image transfer, printing and control. Smartphone users can fire up the Canon Camera Connect app and use their phone like a remote control or share images directly from the EOS R100 to social media.
As for storage, the camera accepts a single SD card via a slot next to the battery chamber. It only supports UHS-I speed cards, but we didn't find this affected performance too seriously.
Performance: finding focus
To its credit, the EOS R100 deploys a fast, accurate hybrid autofocus system with the ability to recognise and automatically track human subjects (eyes, faces, heads and body outlines are all shapes it can spot). It does revert to merely contrast detection autofocus when filming 4K videos, which is a shame, and unlike certain other recently released cameras can't recognise other subject types (animals, birds, insects, vehicles etc.), but for basic everyday use, portraits and street photography the AF setup is more than up to the job.
There's no in-body image stabilisation (again, not too surprising given the entry-level nature of the camera), but lenses with optical stabilisation built in will deliver that – and it's present on the 18-45mm kit lens that comes bundled with the camera. Shooting speed isn't bad either, with JPEGs and RAW shots supporting continuous bursts of up to 6.5fps. There isn't a huge buffer for RAW shots captured like this (perhaps the only way the UHS-I write speed does detract from camera performance), but for JPEGs you can capture a fair amount before things slow down.
Image quality: fine photos but mid vids
For us, the biggest reason to pick the EOS R100 over your smartphone is its photo quality. Even with the cheap kit lens attached, its 24.1MP APS-C sensor and DIGIC 8 image processor turn out fantastic looking still images with beautiful colours and sharp detail.
We think there's an analogue film-like quality to the photos that you just won't get from a smartphone without extensive editing and tweaking. All the samples we've posted here were shot in RAW and tweaked in Lightroom, but rest assured that the JPEGs that come straight from the camera look fantastic too.
Video isn't so impressive, sadly. The camera can capture 4K video at 24 or 25fps, but doing so requires the aforementioned downgrade of the AF system as well as a quite severe crop to the frame. 1080p video uses the whole sensor surface, supports full hybrid AF and offers a wide choice of frame rates up to 60fps, but there is a noticeable hit to detail and sharpness.
If you're a video enthusiast who's been using your iPhone to capture 4K clips at a smooth 60fps already, you might be wondering what the EOS R100 has to offer in the way of an upgrade. There's also nothing in the way of 10-bit colour depth, so anyone expecting advanced performance is going to feel short-changed.
That said, video quality is by no means bad – it's just not up to the level of the still photography side of this camera.
Canon EOS R100 verdict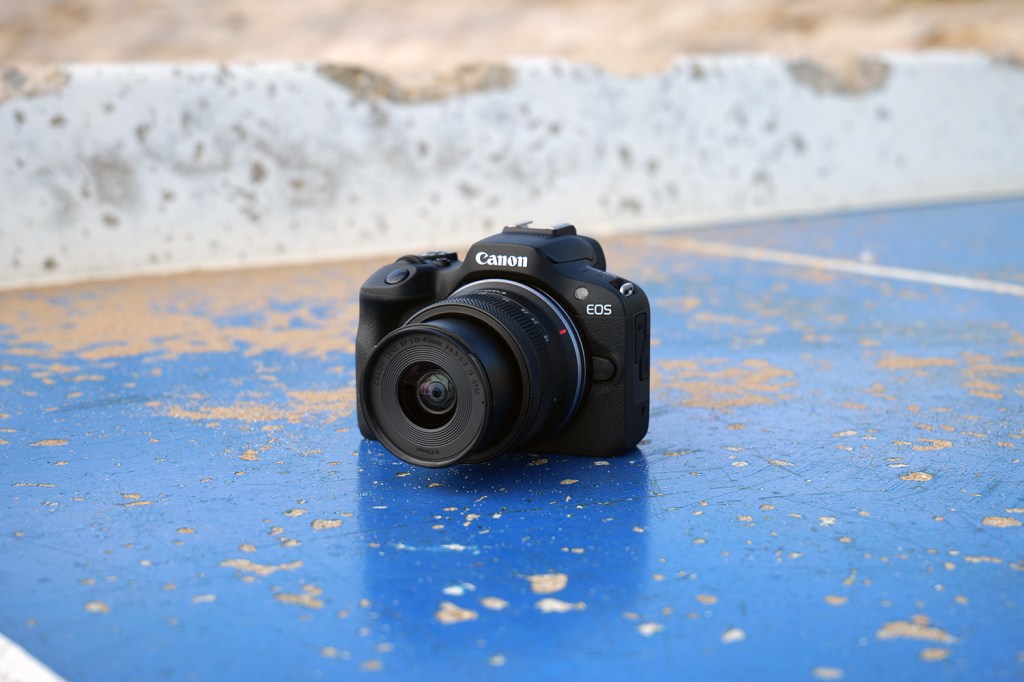 The EOS R100 is a good first interchangeable lens camera due to its price, portability and excellent photo quality. However, the camera's basic (or lacking) features and uninspiring video functionality means users may quickly find themselves frustrated and hemmed in by its limitations.
It might be the ideal camera to spark a new appreciation for photography in users moving up from point-and-shoot smartphones, but anyone who develops a thirst for developing that appreciation into a full-blown hobby will probably want to upgrade to something more advanced before too long.
Stuff Says…
A solid gateway camera, but its simplicity won't satisfy video addicts for long
Pros
Great-looking photos
Portable and well built
Decent autofocus performance
Cons
No USB-C charging
Fixed non-touchscreen
Limited video capabilities
Canon EOS R100 technical specifications
| | |
| --- | --- |
| Sensor | 24.1MP APS-C CMOS |
| Lens mount | Canon RF |
| ISO range | 100-25600 (expanded) |
| Continuous shooting | 6.5fps |
| Video recording | 4K/25, 1080p/60, 720p/120 |
| Screen | 3in 1.04m-dot LCD |
| Viewfinder | 0.39in 2.36m-dot OLED |
| Storage support | SD (UHS-1) |
| Connectivity | USB-C, 3.5mm mic, micro HDMI, Wi-Fi, Bluetooth |
| Dimensions | 116x86x69mm, 356g |