Audeze Sine On-ear review
Top-notch planar on-ears, and the Lightning cable means you're ready for the iPhone 7
Does the humble headphone jack really have its days numbered?
Apple's looking likely to ditch it for the iPhone 7, so if you're iOS through-and-through, it's time to invest in some Lightning-powered cans.
That doesn't mean bolting an adapter to that tangled pair of 'buds you're using right now, either. Why not treat your ears to something a bit more… premium.
Audeze has packed planar magnetic drivers into the Sine – a world's first for a pair of on-ears. Planar Magnetic is audiophile talk for "sounds awesome", in case you were wondering.
That's not the only reason these are worth a listen, either.
A DESIGN FOR LIFE
OK, so on first glance this doesn't look like a £400 pair of headphones. Or on the second or third glance either.
Audeze has kept the styling simple, with just a few subtle logos on a completely black set of cans. That might not earn you any street cred, but I actually prefer basic black over eye-searing colours and patterns.
You can wear 'em in public without drawing too much attention, and they're surprisingly small considering all the sound smarts Audeze has crammed inside each ear cup. They'll easily slip in a bag when you're done listening.
The headband is made from metal and covered with padded leather – tough enough to take a beating, but not so rigid they'll give you a headache before you've finished this week's Spotify Discover playlist. I happily wore them all day and didn't feel any worse for wear.
The ear cups are even softer, with memory foam that completely surrounds your ears. They don't quite mute the outside world completely, but you won't need to blast up the volume just to drown out the sound of your fellow commuters.
RIDE THE LIGHTNING
Of all the things to make the Sine stand out, it's the cable. Or rather, cables.
You get a choice of two in the box: traditional 3.5mm, or iPhone 7-friendly Lightning. Other headphones we've seen with Lightning cables don't let you switch, so you're out of luck if you want to use them with anything other than an iPhone.
Here, you can swap between cables whenever you want; just unplug them from the cans and plug in the other, then start listening. Both are flat and quite stiff, so they don't tangle as badly as regular cables.
The 3.5mm cable doesn't have an in-line remote, so if you use it with an Android phone you'll have to reach into your pocket to change tracks.
It's the Lightning cable that has all the magic, and not just because it's got a 3-button remote and built-in mic, either. It's also a 24-bit DAC, which offloads music decoding duties from the phone to the headphones themselves.
Basically, it can handle higher quality music tracks than the iPhone it's connected to, so you can play Hi-res FLAC files without losing any of the detail.
APP-LY SOME PRESSURE
You can plug and play if you like – the out-of-box sound signature really is very good. Still, if you like to tweak the highs and lows to make your ears really sing, you'll want to install the Audeze app.
It's a pretty barebones affair, with two customisable EQ presets and 10 frequency sliders, but that's really all you need to get a quality custom sound. Don't want to fiddle with frequencies? Don't install the app – it works just fine without it.
Still, you'll need to run the app to update the headphone firmware. One update came through while I was testing the Sine, but it didn't do anything drastic to the sound.
SOUND SUPREMACY
Before I dig down into how these cans sound, a primer on planar magnetic headphones. Because they use an ultrathin membrane to create sound, instead of traditional voice coils, you get more consistent, more precise audio.
It's standard stuff for top-end, listen-at-home headphones costing thousands of pounds, but rare as hen's teeth in a pair of portable on-ears.
Here, they effectively let you whack up the volume without getting a hint of distortion, while always delivering precise audio.
There's a big focus on bass and treble, which leaves the midrange just a little isolated. That's great if you mostly listen to electronic music: The Prodigy's The Day is My Enemy explodes out with every digital drum beat, and Skrillex's signature brand of wub wub is suitably… wub wubby.
Still, vocal-heavy tracks don't have quite the level of impact I'd like. Fleetwood Mac's Rumours, the go-to choice for testing hi-res speakers and headphones, puts the instruments front and centre when it should really be Stevie Nicks' perfect delivery soothing your ears.
Closed-back drivers mean the soundstage isn't as wide as it would be on an open-back pair either, but that doesn't stop the Sine from delivering big, fun sound.
Quality and volume both get a boost when listening through the Lightning cable too. Smartphones might just about be able to drive these cans through the 3.5mm cable, but with Lightning running the show, you can turn the volume down a notch or two and still appreciate all the detail and richness of your tracks.
It's not the last word in critical listening, but if you want your music to have real presence, with no chance of distortion, these really hit the spot.
Audeze Sine verdict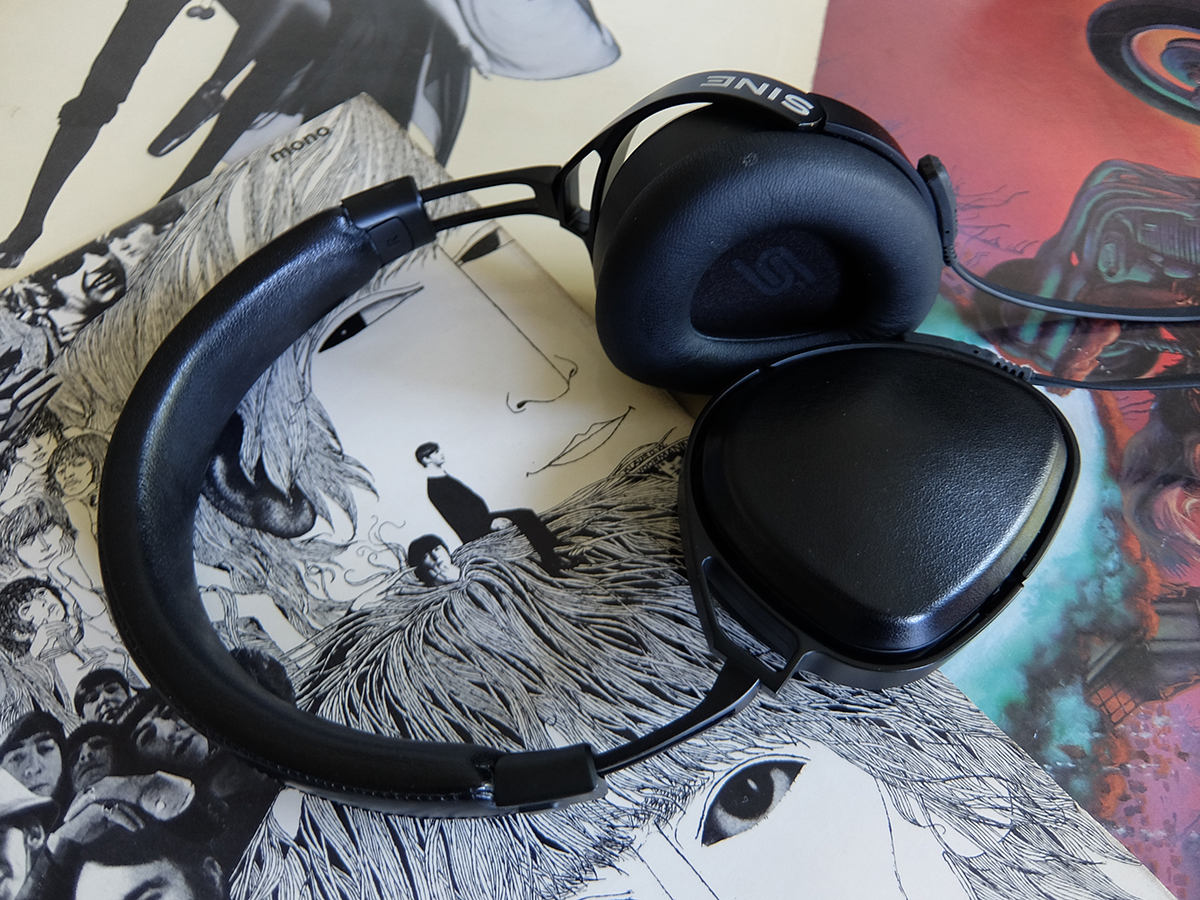 Can you get a better sounding pair of headphones? Sure, if you splash the cash.
What about a better looking pair that still have great audio, and won't leak so you can actually use them outside the house? That narrows the pool of choices right down.
Let's say that Lightning adapter is a must, too – then there's basically nothing else out there that can take on the Audeze.
If you're an iOS addict that wants the best sound around, these are easily the best pair of on-ears you can get without spending a whole lot more money. The fact they work with any kit is a big bonus, and you're covered whatever ends up happening with the next iPhone. Win win.
Tech specs
| | |
| --- | --- |
| Headphones type: | Planar magnetic, closed-back, on-ear |
| Sound pressure level: | >120dB |
| Frequency response: | 10Hz – 50kHz |
| Impedance: | 20 ohms |
| Weight | 230g |
Stuff Says…
Impeccable sound quality, future-proof for iOS owners, and a 3.5mm cable for everyone else. The best wired on-ear cans around for mobile owners.
Good Stuff
Planar magnetic drivers – tech voodoo, but sound fantastic
Lightning DAC means you're ready for the iPhone 7
Interchangeable cables play nice with non-iOS gear
Bad Stuff
Credit cards at the ready – they're expensive
Design is a little basic