Asus 17.3 Strix SCAR II review
It's covered in camo and kevlar, but does the SCAR II have the firepower to match?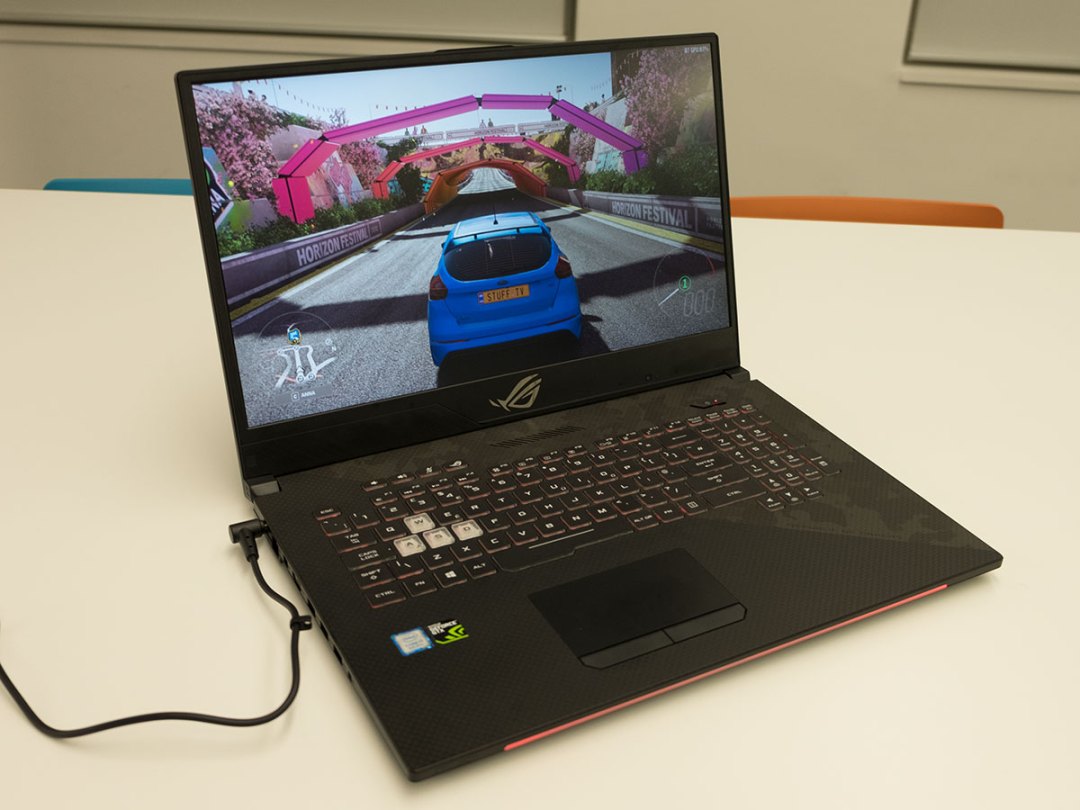 Why do gaming laptops have to look like gaming laptops? Design is subjective, I get that, but I'm yet to meet a gamer that wants their laptop to look like a kevlar vest wrapped in fairy lights.
In fairness, as gaming laptops go, the 17.3-inch Asus ROG Strix Scar II GL704G – catchy – is actually a pretty nice-looking bit of kit – bar a couple of questionable design choices. I'll get to that in a moment.
It's relatively thin, too, and well-packaged for a 17-inch beast.
On the hardware front, it has a decent amount of performance punch with a couple of options from Intel's 8th-gen shelf and a GTX 1060 providing the grunt.
It also features a rather serious cooling system to keep things running as they should. The main attraction, though, is a rather impressive, super-smooth screen.
So is Asus onto winner here?
Design: Bright lights, small bezels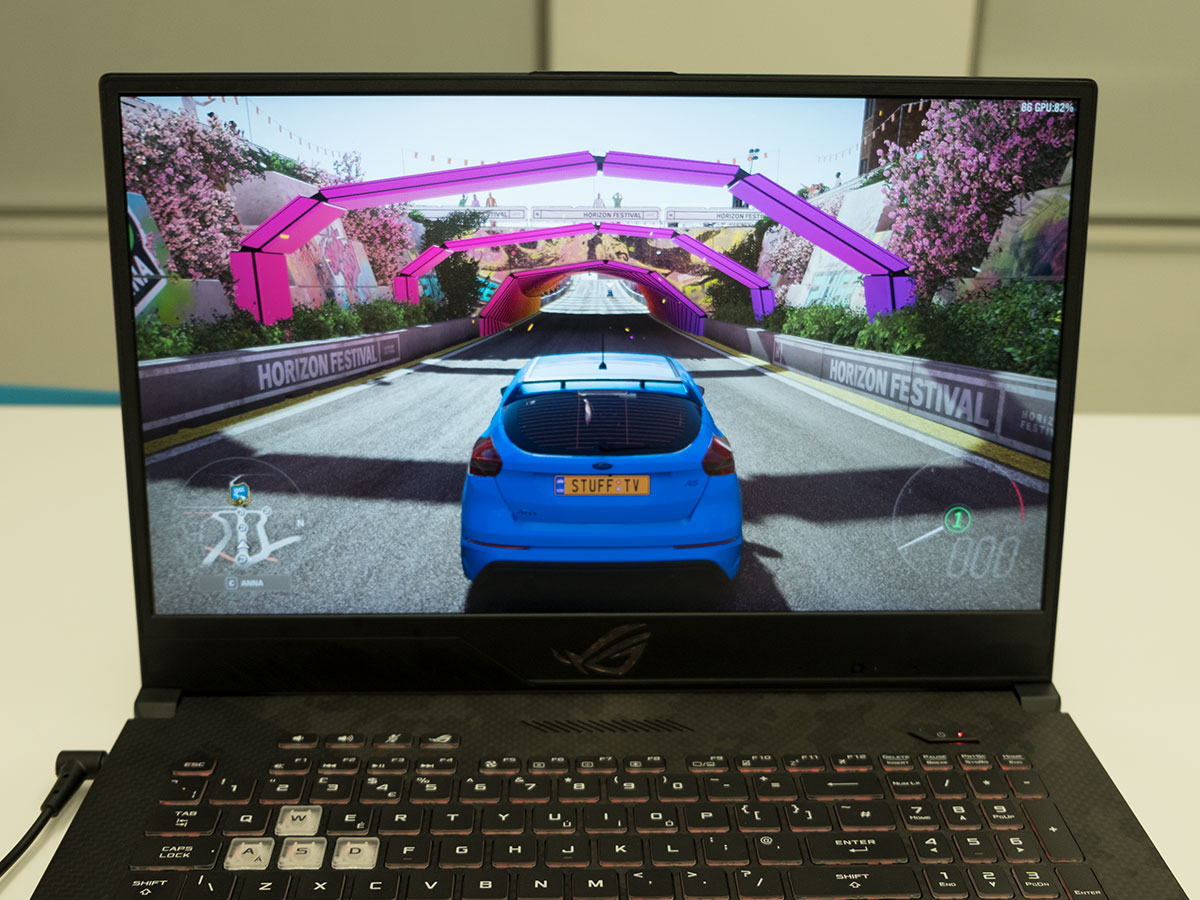 Before you open the 17.3″ Scar II, the first thing you'll notice is the brushed gunmetal lid. It looks and feels relatively premium, but does attract fingerprints – they aren't glaringly obvious, but you can see that they're there.
The Lid also features a rather large, RGB-lit 'Republic of Gamers' (ROG) logo – because people need to know you're a gamer. You can change the colour through the 'Armoury Crate' app or even turn it off altogether if you fancy. So far so good.
Open it up and you'll be greeted by a glorious, slim-bezel 17.3-inch display. 17-inch laptops have a tendency to be a bit chubby, but if we've learned anything in the past couple of years, it's that people go mad for a thin bezel. The bezels are around 7mm thick, which gives it a pretty small footprint for a laptop of this size.
It's a hair's breadth under 400mm wide (39.98 x 27.35 x 2.49~2.64 cm), which Asus reckons is a first for a 17-incher, and I can't find anything to the contrary. In fact, it's smaller – though thicker – than Razer Blade Pro.
There's a caveat though. It has the most almighty chin – Buzz Lightyear-esque. I didn't notice it at first – which sounds absurd – but now it's hard not to look at it.
It also has the worst webcam placement I've come across in a while. It's at the bottom of the screen on chin valley, but it's off-centre, closer to the edge of the laptop than the middle, in fact.
When you first use it, it looks a bit like when you accidentally open the selfie camera on your phone – but if you play around with angles you can get something that works.
Then there's the base and keyboard. Hmmm. There's another RGB-lit strip along the front of the base of the keyboard.
As you'd expect, the keyboard also features RGB lighting which can be customised in all manner of ways – it can even pulse in time with your music. Fine. Then it all gets a bit too… first-person shooter for my liking. The WASD keys are clear/white so stand out a fair bit.
The base is finished in a carbon fiber/kevlar-looking design, which looks nice enough, but there's an odd camo finish that runs diagonally across half of the keyboard area. At a glance from certain angles it looks like fingerprints in dust. A
Asus say the design is FPS-inspired, so in fairness, they've nailed that brief. I'm sure plenty will love it, but it won't be for everyone. Worth noting the palm rest area is great at resisting fingerprints.
Keyboard and trackpad: On the button
The keyboard is a slightly squashed version of a desktop-style layout but the keys are far enough apart that typing is easy. In fact, I actually really enjoyed typing on it and it was impressively quiet.
Asus says the keys fire halfway through the 1.8mm travel – something they refer to as overstroke technology. In truth, I didn't notice a difference but in theory you'll be getting a faster response. There are dedicated volume keys and a mic mute button, which are handy.
The trackpad feels nice – it's smooth and good to use. I can't see many using it for gaming, but it's great for doing everyday stuff. The buttons below the trackpad are oddly satisfying to press, though they seem to travel quite far.
Screen: Refreshingly good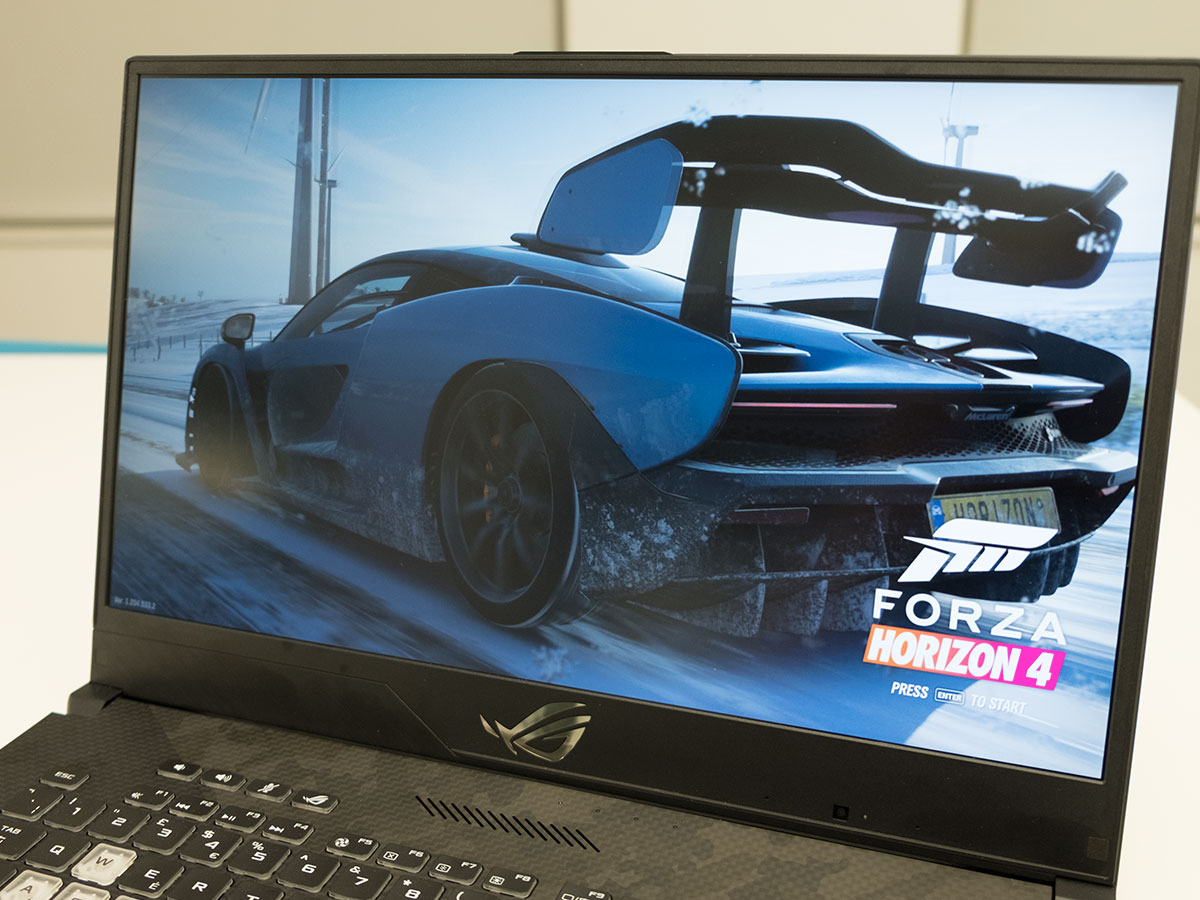 Time for the main attraction. Boy is this screen smooth – like butter on silk. It has a mighty 144Hz refresh rate, so everything looks incredibly fluid. Even moving the mouse around the screen is pretty joyous. There's just no blur. It's decently responsive, too (3ms).
It's a 1920×1080 display, and it's plenty crisp enough at this size. Also, running games at that resolution means you can muster enough frames per second to take advantage of that refresh rate. At the right settings, games look incredibly smooth.
It does a decent job of managing colour, too. Playing Forza Horizon 4, the bright pink and purple festival boards really pop. In some parts, this game is a real explosion of colour, and it does a great job of bringing that to life. The small bezels make it look that bit more spectacular, too, while the matte screen also does a decent job of keeping glare at bay.
Performance: Loud and proud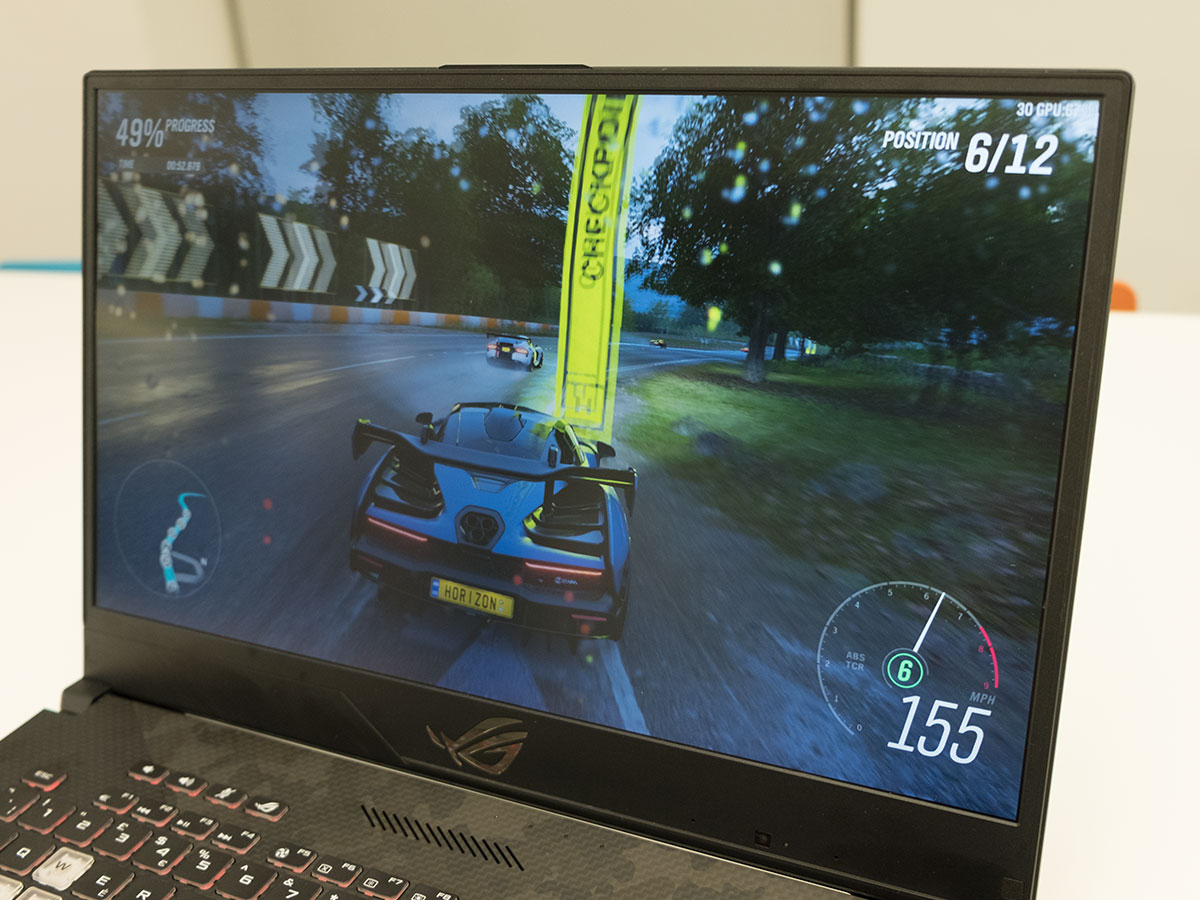 Given its kevlar attire, you'd expect the ROG Strix Scar II to be pretty well-armed. On this version, we have an 8th gen Intel® Core i7-8750H – there will be i5-8300H, too. The i7 here has 6 cores and 12 threads, and when doing normal everyday bits it feels properly quick. You shouldn't be short of processing grunt, so if you're into streaming your gaming this will have you covered.
The processor is paired up with the non-Max Q, 6GB version of Nvidea's GeForce GTX 1060 – the only card available at the moment. Not earth shattering performance, but you should be able to download any game from steam right now and be confident that you can run it at high or ultra settings at 1080p.
On Forza Horizon 4, with the graphics set to high and the dynamic rendering turned off, I was averaging around 77fps. In fact, it could handle ultra and still average near 70fps.
That performance requires some decent cooling, and this where many gaming laptops fall down – most people like to avoid slow-cooked palms and thighs. The SCAR II, though, seems to have a really impressive cooling system.
The palm rest never got warm, let alone hot. The underneath and the area below the screen got warm, but never hot. And performance didn't seem to drop off as it can with some laptops that have inadequate cooling. Asus calls it the HyperCool Pro system. And it uses three heatsinks – one specifically for the GPU– across two fans – again the GPU gets its own. It's pretty damn effective.
It's rather loud though. When the fans first spooled up in anger, they struck me as a bit on the noisy side, but the fans got faster and faster and once they're above 6000rpm they make quite a racket. It's fine if you've got headphones on, but be warned, it does sound like a very small plane taking off. If you're using it in a room with someone else, they may get the hump pretty quickly.
To be clear this only happens when you're gaming. During normal operation, such as web browsing or watching Netflix, it ran silently.
You can also tweak the fan settings in the 'Armoury Crate' app or using the hotkeys. There's a 'silent' profile, that's handy for streaming. 'Balanced' does a pretty good job of managing things and works for most scenarios. 'Turbo' is best for gaming and goes for maximum attack on performance and cooling. You can also choose 'manual' to set your desired fan speed, or even hand over the reins to Windows.
The speakers are fairly loud, and there's some decent depth to the sound. They're good enough to watch tv on, but they're slightly muffled. There's a lack of crisp treble. Almost as though people are talking into a pillow, but still perfectly acceptable, good even. Use a pair of headphones and the sound is better still.
Battery life: With great power comes little longevity
I suspect most people who buy a 17-inch gaming laptop are going to keep it plugged in – they don't exactly lend themselves to serious portability, even if this is more portable than most 17-inch laptops. Still, when streaming Netflix in HD at 50% brightness, I got just shy of 4 hours battery life from a full charge. It's not brilliant, but it's not awful.
Predictably, gaming hammers the battery in no time at all. I could get one hour and 15 minutes worth of Forza Horizon 4 at max brightness on a full charge – and the framerate was half of what it was when plugged in, but still perfectly playable.
During normal use at full brightness, you get around fours hours, but it varies.
ASUS 17.3 Strix SCAR II: verdict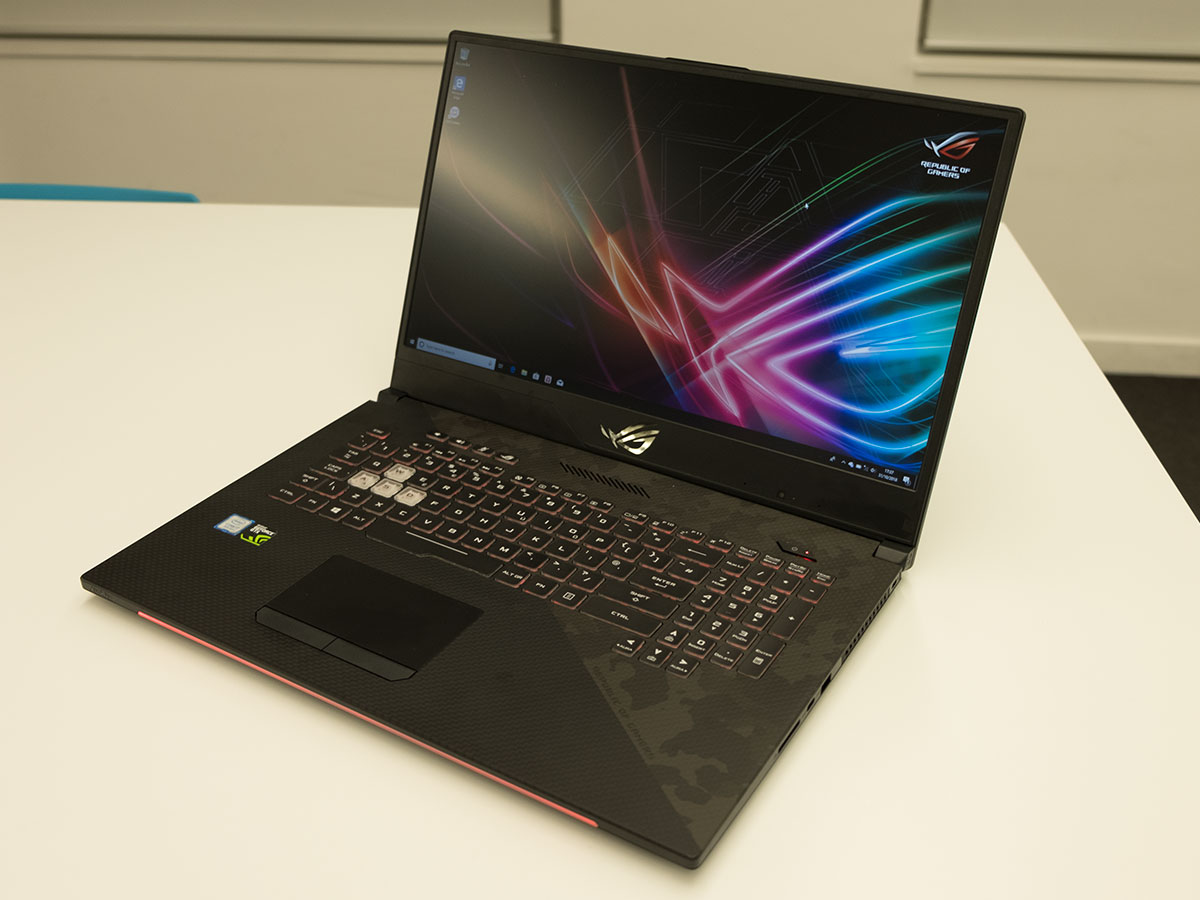 There's a lot to like here. If you need or want a 17-inch laptop, this a very appealing option. Its impressively narrow bezels make other heavyweight laptops, such as the Alienware 17, look pretty old and bloated in comparison. And the overall design, while not for everyone, looks and feels solid.
It also feels like the hardware selection is well judged, in as much as everything works together well, and there's enough power to run games at 1080p and get decent frame rate for that lovely smooth screen. The battery could be better, and the monster cooling, while incredibly effective, is a bit loud.
£1,699 seems a little on the expensive side, but all things considered, Asus have a done a great job here and the price is pretty well justified. If you're in the market for big screen gaming laptop, you could do a lot worse than the ASUS 17.3 Strix SCAR II.
Stuff Says…
Strong gaming performance on a brilliantly smooth screen, with an impressive-but-loud cooling system
Good Stuff
Big, smooth 144Hz screen with slim bezels
Effective cooling system
Compact footprint
Decent 1080p performance
Bad Stuff
Awful webcam placement
Loud cooling
Design won't be for everyone