Apple MacBook Pro 13in (2019) review
The entry-level MacBook Pro grows up, with a revamped screen, a Touch Bar, and more powerful innards
Apple recently took a knife to its notebook range. The MacBook was hurled into the sea, the 2018 MacBook Air got a True Tone display and a wee price cut, and the entry-level MacBook Pro now looks a lot more like its larger siblings. So is this new Pro any good – and is it worth an extra two hundred quid over the Air?
From a visual standpoint, little has changed. This Mac now gains the Touch Bar and Touch ID, replacing the strip of function keys. You still get not enough ports (one for headphones; two Thunderbolt 3/USB-C). And the case no longer looks particularly cutting-edge, but is still a timeless slice of industrial design. But there are bigger changes once you dig a little deeper.
Screen time
The MacBook Pro's screen has long been among the best around, but now the lower end models get to enjoy all of the goodies, including True Tone. At this price point, there's little to touch the 13.3in 2560×1600px (227ppi) Retina display. Colour reproduction is excellent – as is brightness (500 nits; or, in plain English, 'up to eye-searing') – and superior to what you get on Apple's own MacBook Air.
This makes the Pro a good bet for photographers and designers, but also anyone who wants to bathe their peepers in rich, detailed imagery, from games to video. I've seen grumbles about the bezel, but I can't say it unduly bothers me. I like a frame around screen content – it helps with focus. But if you want a display that's fully edge-to-edge, you won't get that here.
Power up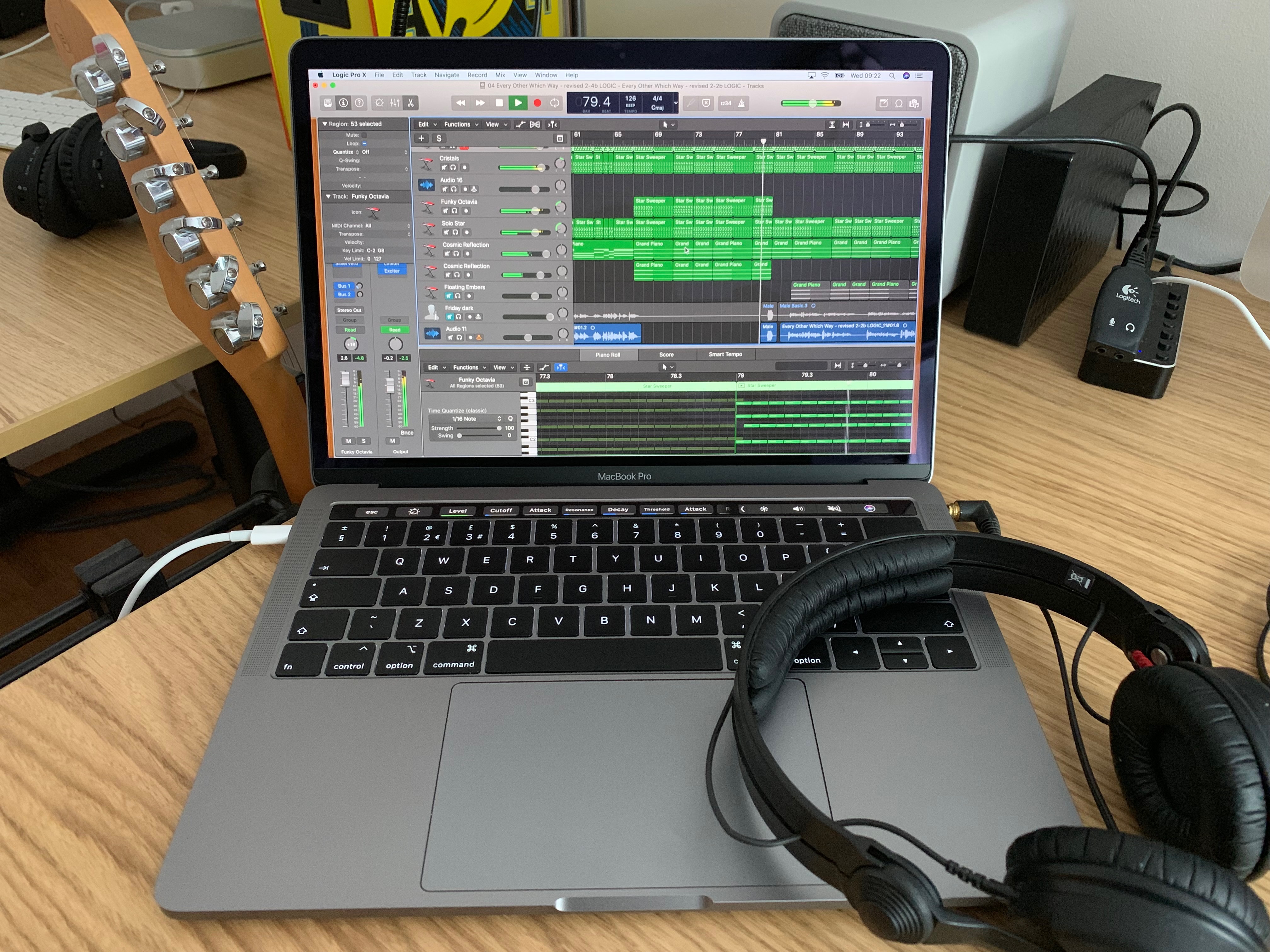 The really big deal for this Mac – also propelling it beyond the Air – is getting a quad-core Intel Core i5. On paper, the clock speed isn't stellar (1.4GHz – albeit with Turbo Boost up to 3.9GHz), and that along with the standard 8GB of RAM might give you concern this Mac is underpowered. It isn't.
During testing, it scythed through Pixelmator Pro fixes faster than my 2015 iMac stuffed with 24GB of RAM, and it was a similar story elsewhere with demanding fare. The machine blazed through Logic Pro multitrack projects running loads of synths. Gaming fared pretty well, with The Witness not blinking when being ramped up to the highest quality settings, and Dirt 3 ran at a solid 30fps.
If you want Geekbech numbers, I got in the high 4400s for single core, and high 15000s for multi-core – the latter more or less doubling the scores of this machine's predecessor. I did, however, hear the fan quite often when the machine was under heavy load.
You've got the touch
Apple's notebook keyboards have come in for heavy criticism – and not without reason. The company's obsession with thin resulted in uncomfortable, loud typing – and durability problems related to dust. This latest revamp still won't appeal to people who demand a lot of key travel, but there have been improvements. It's still all a bit thunkity thunk when smashing words into shape, but the keys feel good to me, and should now be more durable.
There's little to say about the ginormous trackpad other than it's excellent at what trackpads do. The Touch Bar, however, remains an oddity. I'd not actually used one since my month or so with a MacBook Pro last year. Back then, I was in two minds. Although the Touch Bar can surface buried options, the lack of a physical Escape key in particular irks; and using the strip forces you to look at the keyboard, which just feels odd for touch typists.
A year later, nothing much has changed. In apps that fully support the Touch Bar (like Logic Pro) and in macOS itself (with the likes of volume sliders), it can be genuinely useful. But the Touch Bar not being on all Macs means it remains under-supported. Touch ID now being on the low-end MacBook Pro is excellent, however – even if I'd admittedly prefer Face ID.
Apple MacBook Pro 13in (2019) verdict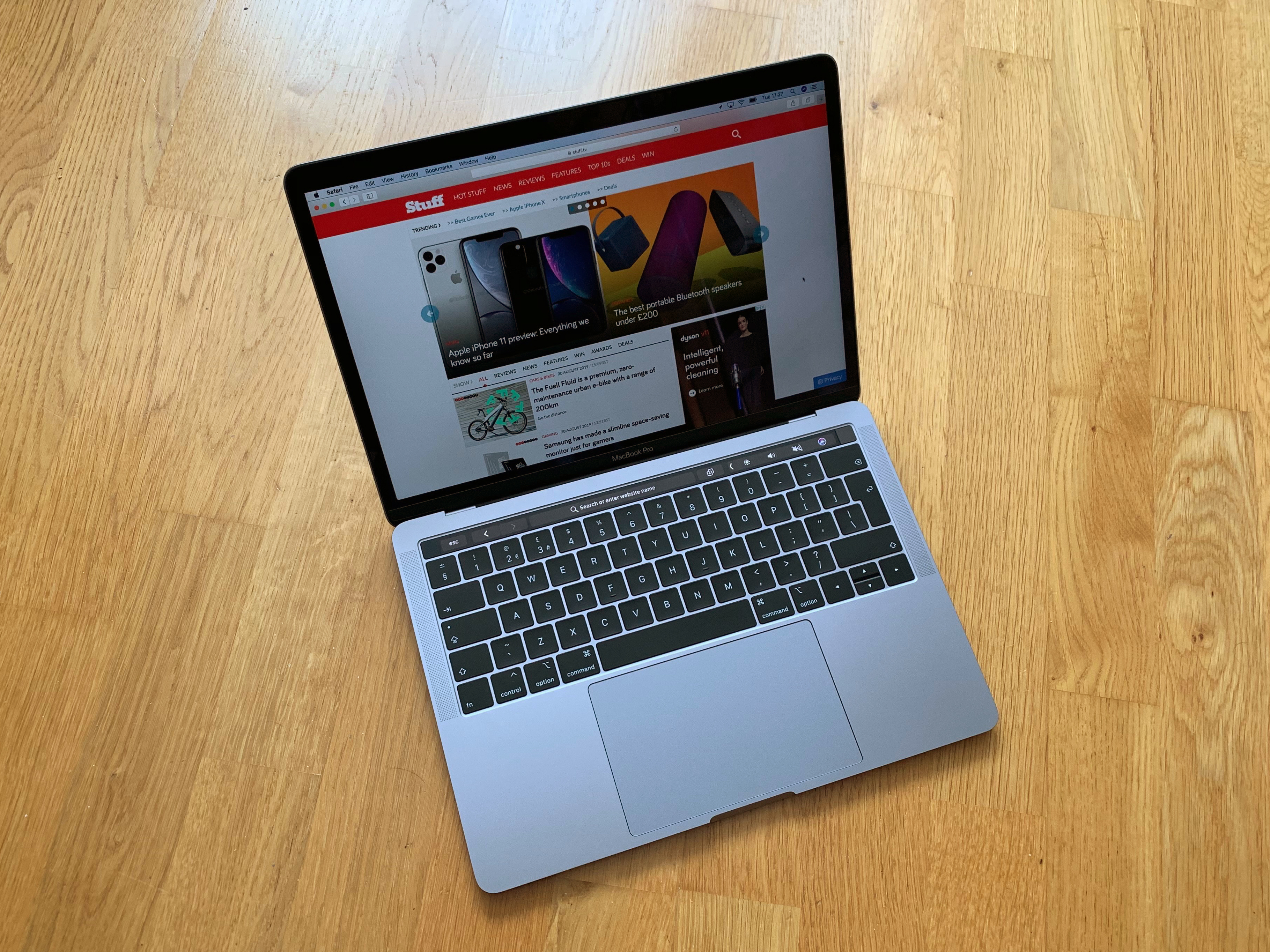 Despite the strong performance of this unit during testing, I'd (for longevity reasons) be reluctant to buy any new Mac without 16GB of RAM, which adds a £180 premium, what with Apple's curious RAM pricing. You may also find the 128GB SSD a bit of a squeeze, and increasing that further adds to the cost. Even so, given the unit's power, build, display, and the fact Macs tend to last a decent amount of time (keyboards possibly excepted…), the value proposition here still isn't too bad.
In fact, in purely Mac terms, this new MacBook Pro now gives you quite the conundrum – should you splash out an extra 200 quid over an equivalent Air? Forget the Touch Bar (the Air has Touch ID), and the weight difference – unless you can genuinely get worked up about 120g, in which case congrats on your new job replacing the scales at Tesco. For that additional outlay, what you're really getting is a superior display, a longer-lasting battery, and that quad-core i5. For undemanding users, none of that matters much, and the Air is the better buy; for everyone else choosing between Apple's two most affordable portable Macs, go for the entry-level Pro.
Tech specs
| | |
| --- | --- |
| Screen | True Tone 13.3in, 2560×1600 LED w/ DCI-P3 wide colour gamut |
| CPU | Quad-core Intel Core i5 @ 1.4GHz; configurable to i7 @ 1.7GHz |
| Memory | 8GB / 16GB |
| Graphics | Intel Iris Plus Graphics 645 |
| Storage | 256GB / 512GB / 1TB / 2TB SSD |
| Connections | 2x Thunderbolt 3 (USB‑C); 3.5mm headphone port |
| Operating system | macOS Mojave |
| Battery life | Up to 10 hours wireless web |
| Dimensions | 30.41×21.24×1.49cm; 1.37kg |
Stuff Says…
Once hard to love, the entry-level MacBook Pro has with this update been transformed into a great buy
Good Stuff
Superb display
Surprisingly powerful
Keyboard seems improved
Bad Stuff
Only two Thunderbolt 3 ports
Touch Bar remains under-supported
Expensive RAM updates