Apple iMac M3 (2023) review: the i stands for incremental
Is a copy-and-paste update with a new chip enough to make the iMac M3 shine?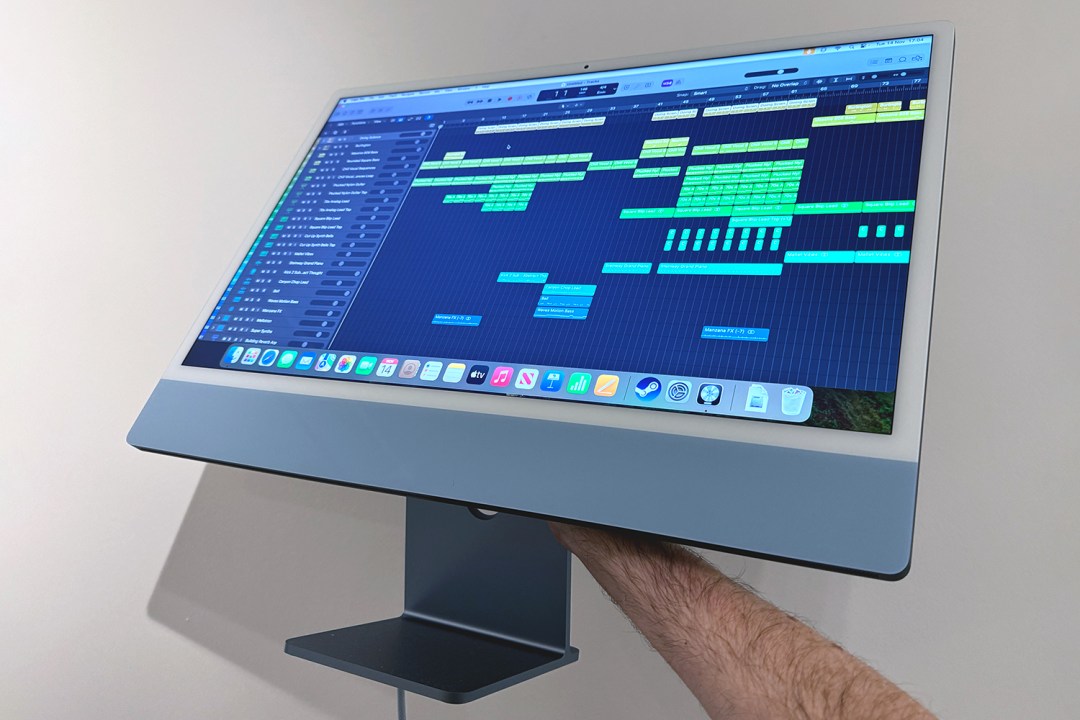 Stuff Verdict
A 'least possible' upgrade, but fortunately the iMac M3 stands on solid foundations. Still the best all-in-one around, and a great Mac for most people.
Pros
Great performance from the new M3 chip
Gorgeous design and mostly whisper quiet
Excellent display and speakers
Straightforward to set up and use
Cons
Entry level specs are too cut back
No screen height adjustment option
Lightning accessories
OK, sure, there's no M3 Pro version
Introduction
Two years ago, we got a daring, dazzling iMac update. With the iMac M3… not so much. This revamp is the definition of 'least possible', upgrading the chip and nothing else.
Does that matter? The iMac M1 I was loaned for testing was so good I ended up buying one. This latest model is the same, but with MOAR POWER. But is that enough in 2023? Let's find out.
Design & build: Copy and paste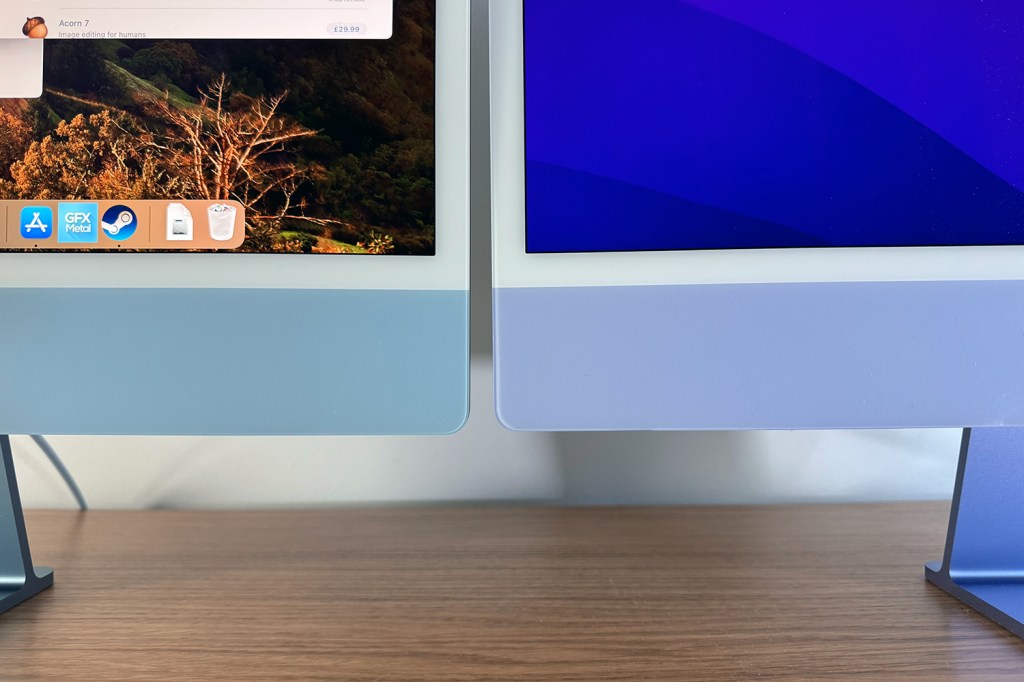 This sleek all-in-one marries the colour explosion from 1999's iMacs with a modern skinny frame. The entry-level machine comes in blue, green and pink – and silver for boring people. The 10-core models also have yellow, orange and purple options. I've seen grumbles these colours weren't revamped, but am happy Apple didn't head down the trajectory of the original iMac, which went dull and then hideous.
Apple sent me a blue unit that's 'sea on a cloudy day' on the chin and more vibrant around back. I like it, if not as much as my own purple unit – and I'm less keen on the warmer iMac hues. However, colours are subjective. You really need to see these computers before you buy. One commonality between the colours, though: they're all friendlier than typically dull 'computery' hues (Another shade of grey? You are spoiling us!) and look good in the home.
Elsewhere, the display and guts of the machine are once again mounted on a sturdy tilting hinge that doesn't budge during use. But also: it's not height adjustable – something that Apple has solved since the iMac M1's release by way of the (admittedly otherwise not-great) Studio Display. The iMac's the perfect height for me, at 173cm (5ft 8in), but taller folks might need to stand it on a book.
Screen & sound: Copy and paste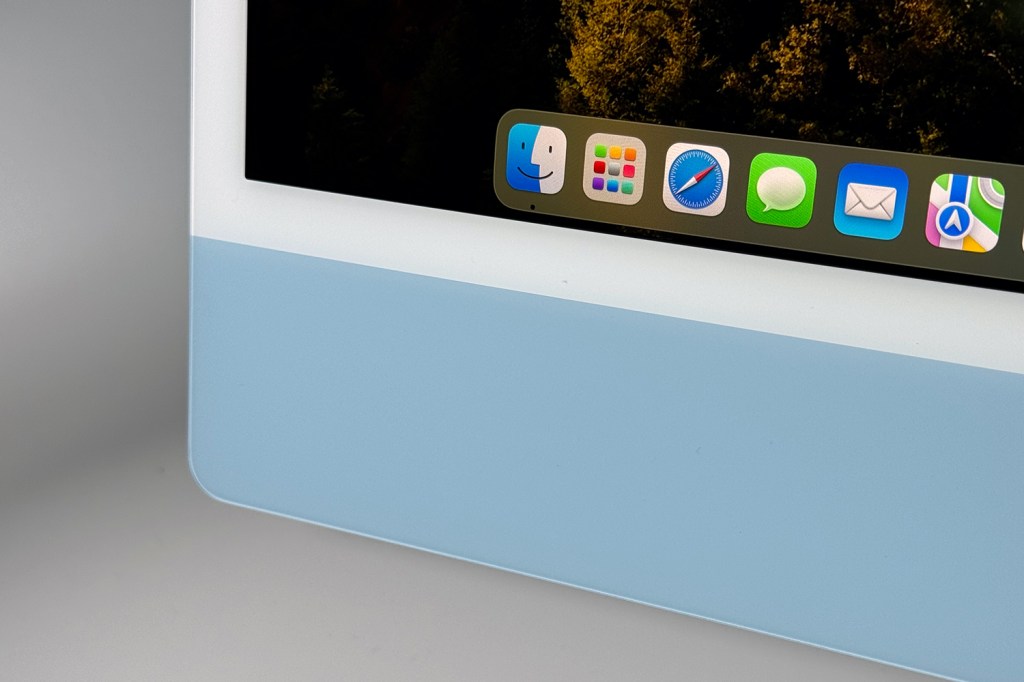 Yes, the display remains the same – a 23.5in panel with 4.5K, 4480×2520 resolution and 60Hz refresh rate. No, there isn't a 27in model – and Apple has said it has no plans to make one.
I'm good with that. 23.5in is plenty for most people. In fact, I myself switched from a 27in Intel iMac in 2022 and have been perfectly happy since, whether writing in Scrivener or composing in Logic. As ever, colour reproduction is very good, and the display is bright – up to 500 nits. I usually have it set to 60%, which is more than enough. I found no issues with glare – but probably don't have the iMac face a window.
Speaking of 'the same', the six-speaker audio system, mic array and camera haven't changed either. But they all hold up. The speakers pack plenty of punch, to the degree most people won't need dedicated desktop speakers. The mics are fine for Zoom, if not recording a chart hit. The 1080p FaceTime camera still shines, although be mindful it doesn't support Centre Stage, and the iMac still annoyingly lacks Face ID.
Performance: Copy and pa— No, hang on, this bit's new
The base iMac M3 is an 8-core CPU/8-core GPU with 8GB RAM. My review unit had a 10-core GPU and 16GB RAM – the modern equivalent of the M1 I use daily.
Given that the iMac was one of the last Mac models to get an M1 chip, it's good to see it leading the M3 rollout. The performance indicates what we'll later see in the MacBook Air and entry-level Mac Mini. What you don't get is anything 'Pro' or 'Max', because the new iMac is vanilla M3 or nothing.
This caused uproar, but anyone who thinks you need an M3 Pro or M3 Max for video, audio and image editing is living in another reality. For most people, the M3 will not disappoint. Apple reckons it's up to twice as fast as the M1, and I never saw the machine struggle during testing, despite doing my best to lob an unnecessary number of virtual instruments at it. And in HandBrake tests, the M3 finished in 75% of the time my M1 took, with times somewhere between an M2 and an M2 Pro. An M3 Max-equipped MacBook Pro was twice as fast again, mind.
I'm less convinced about the default 8GB RAM. Apple argues this is "analogous to 16GB in other systems". But it's made this argument for three years now. I've personally found an 8GB M1 machine capable of running Logic projects – but sometimes choking when loads of Safari tabs are open. And 8GB doesn't give you much headroom for the future. Since the iMac can't be upgraded post-purchase, you'd best be sure about what you buy.
Gaming: 1-ups its predecessor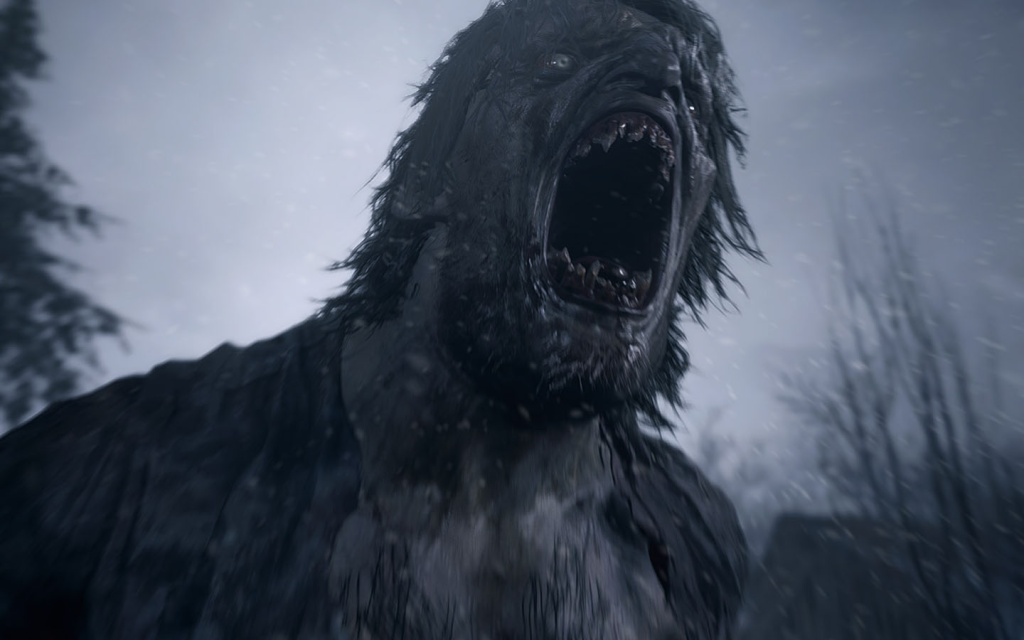 Apple isn't pitching this iMac as a gaming machine – games barely get a mention on the iMac web page. Nonetheless, I found performance respectable across the sections of games I've now played over and over more times than I care to think about. Also, the iMac M3 is less fan-happy than the MacBook Pro with M3 Max I recently reviewed, although performance is obviously way lower – again somewhere between an M2 and M2 Pro.
Across the board, Shadow of the Tomb Raider frame rates were up 40% over my own M1 iMac. When I tried the more demanding Metro Exodus, the machine occasionally struggled. During early scenes setting fire to cobwebs, the frame rate plunged to the low 20s. A more typical average was 35–50fps at medium settings, and 45–60fps at low.
I next fired up Resident Evil Village for my standard walk around the house and snowy woods. At recommended settings, the iMac was locked solid to 30fps. Not eye-popping, but stable and good enough. When I tried the same – much higher – settings I used with the M3 Max, the iMac surprisingly averaged in the high 30s. Way lower than the 80+ I got on the more powerful machine, but playable enough – and as a bonus the iMac didn't sound like a hairdryer.
Connectivity and keyboard: Upsell city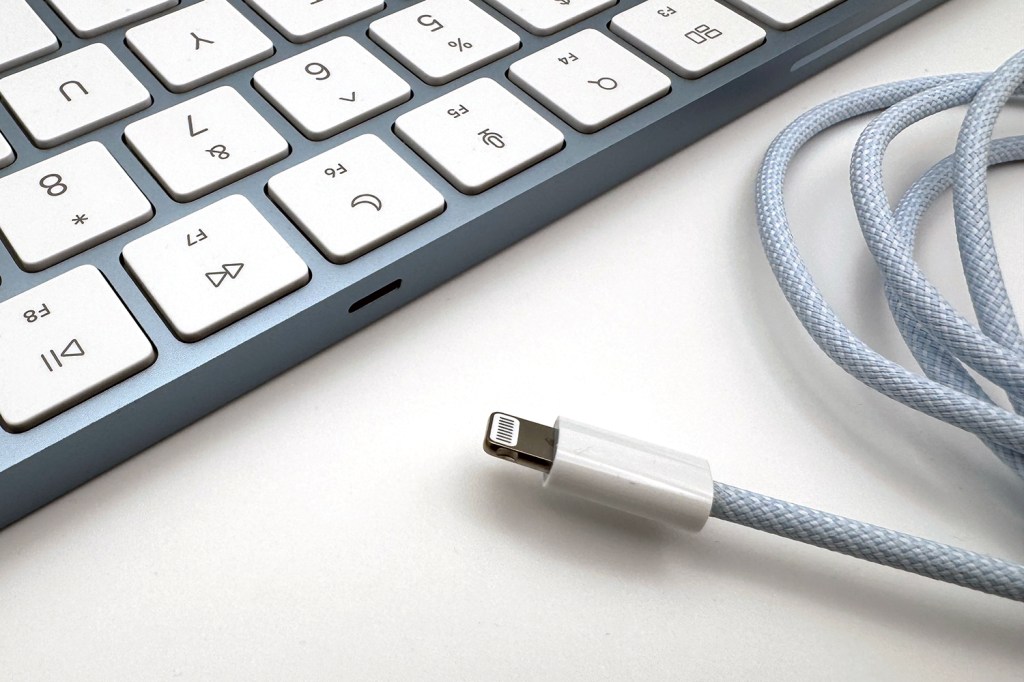 Entry level devices often involve compromise. But I think Apple went too far here. Around back, the 10-core GPU iMac G3 has two Thunderbolt 4 and two USB 3 ports. The cheaper entry level 8-core model loses the two USB 3 ports. And it doesn't get Ethernet on the power brick, unless you pay an extra $30/£30.
A bigger issue is the lack of Touch ID on the keyboard. Again, you can upgrade – this time, for $50/£50 – if you buy online. But this isn't a decision anyone should have to make. Every iMac should have Touch ID by default, to help secure people's computing. Presumably, profits were a more important consideration.
As for those accessories, they're unchanged – in every sense. They colour-match the iMac. The keyboard is great to type on. The trackpad is ace. The mouse is ridiculous, with you having to flip it upside down to charge. And, astonishingly, all these accessories still use the Lightning connector. 
I've also found the Magic Keyboard's durability questionable. My own keyboard after a couple of years has faded key caps, and a cursor key a while ago came loose. You can't buy colour-matched replacements online – just silver – so be mindful of that.
Apple iMac M3 (2023) verdict
It's important to consider the iMac M3 on the basis of what it is, rather than what it's not. It doesn't satisfy people's dreams about a pro-grade 30in iMac. Instead, it doubles down on the iMac returning to its roots as a colourful all-in-one suitable for most people.
On that basis, it succeeds. This is a great-looking, powerful, usable Mac. It is – despite its drawbacks – also my favourite Mac. I love its personality and how much it packs into a smallish form factor.
Those drawbacks, though, rob the iMac of our top score. The base unit's cuts. Lightning. The lack of an option for screen-height adjustment. The spendy nature of upgrades – I would strongly recommend everyone at least get the keyboard with Touch ID and carefully consider upgrading to 16GB RAM.
At that point, though, you might start questioning the broader value proposition. After all, an entry-level Mac mini M2 is $700/£750 cheaper and not that much less powerful. Plus you'd need only a fraction of that money to grab a cheap display and accessories.
But this Mac isn't meant to be cheap. It prizes simplicity, quality and design. It's the full package, with its fantastic form factor, power, superb screen, speakers with oomph and top-notch webcam. There's your value.
Stuff Says…
A 'least possible' upgrade, but fortunately the iMac M3 stands on solid foundations. Still the best all-in-one around, and a great Mac for most people.
Pros
Great performance from the new M3 chip
Gorgeous design and mostly whisper quiet
Excellent display and speakers
Straightforward to set up and use
Cons
Entry level specs are too cut back
No screen height adjustment option
Lightning accessories
OK, sure, there's no M3 Pro version
Apple iMac M3 technical specifications
| | |
| --- | --- |
| Screen | 23.5in Retina 4480x2520px 218ppi at 60Hz with P3 and True Tone |
| Processor | Apple M3 |
| RAM | 8/16/24GB |
| Storage | 256GB/512GB/1TB SSD; 2TB option on 10-core GPU model |
| OS | macOS Sonoma |
| Connectivity | 802.11ax Wi‑Fi 6E; Bluetooth 5.3; 3.5mm headphone; 2x Thunderbolt 4. 10-core GPU model adds Gigabit Ethernet and 2x USB 3 |
| Dimensions | 547x461x147mm (21.5 x 18.1 x 5.8in) |
| Weight | 4.43kg (9.75 pounds) |