Apple MacBook Pro review (14in with M3 Max, 2023): back in black
Apple's flagship laptop gets even flagshippier, with a fancy new finish and a powerful new chip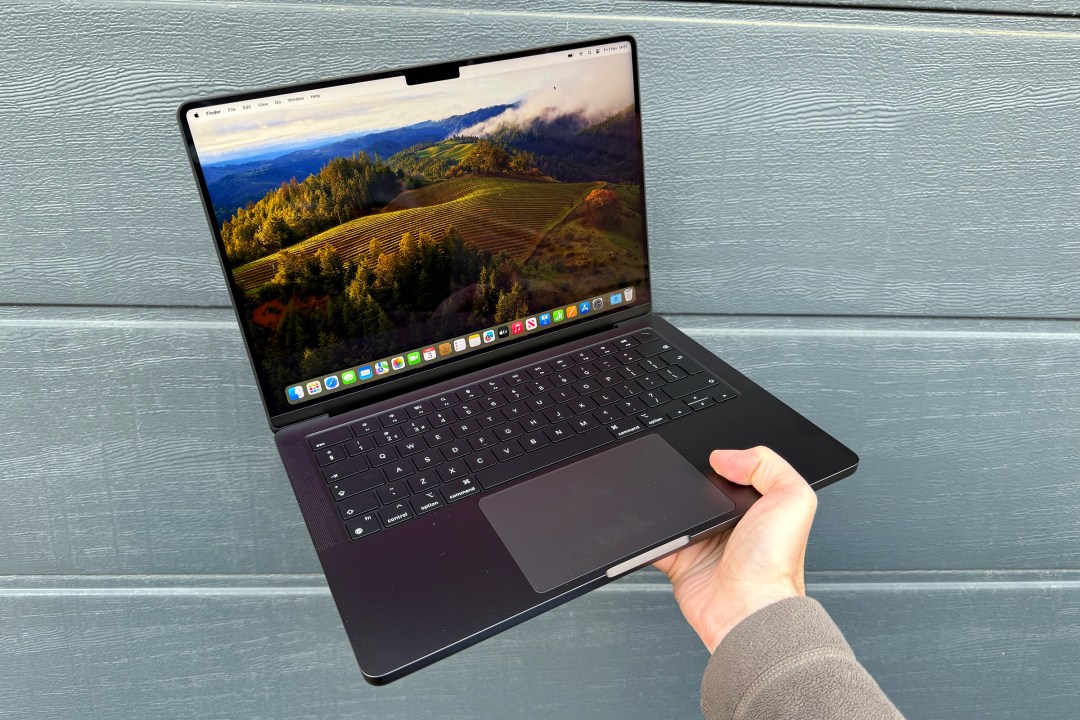 Stuff Verdict
Bar a new finish, little has outwardly changed for Apple's flagship laptop. But the M3 Max keeps the MacBook Pro forging ahead in terms of raw power.
Pros
High-end desktop-grade performance
New finish looks good
Excellent battery life
Slightly brighter SDR content
Cons
Loud fan that quite often spins up
Eye-watering extra RAM/storage pricing
The notch will aggravate some
Still no Face ID
Introduction: to the Max
Scary fast. That was Apple's name for the event introducing its new MacBook Pros and M3 chips. And the unit I got sent for review was the 'scary fastest' – a MacBook Pro M3 Max specced to the point that would make the average bank account faint with shock. But will it make our best laptop list?
After all, how fast is the M3 Max really? And is the new MacBook Pro Space Black finish a case of 'ooh' or 'ARGH'? And do you really need to MacBook Pro to the Max anyway? Let's find out in the Stuff Apple MacBook Pro 14in with M3 Max review.
Design: Back in black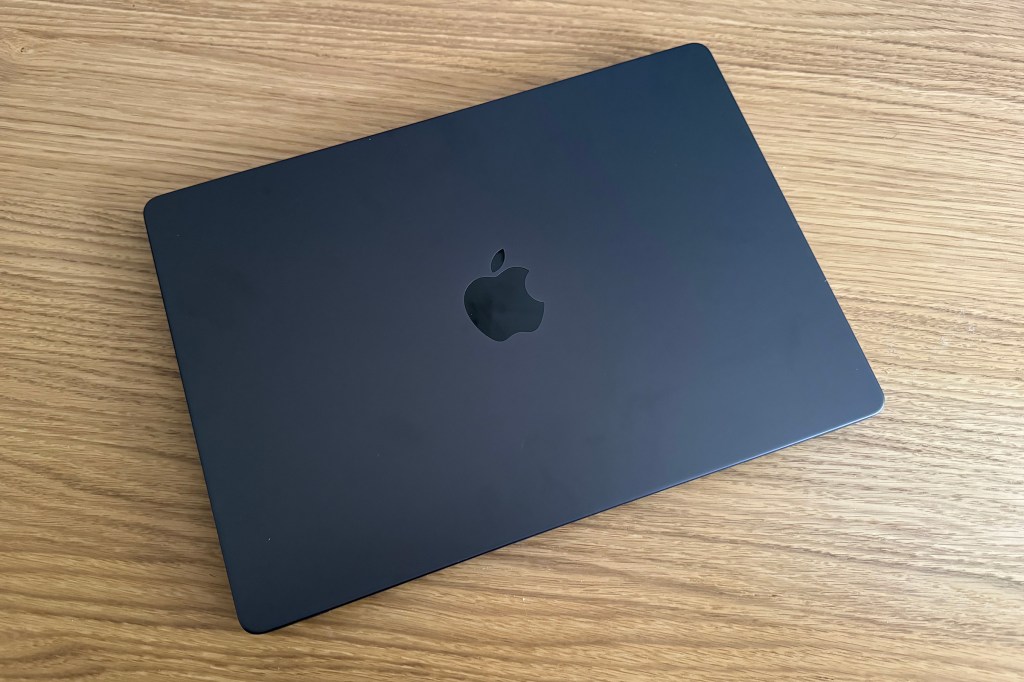 This Mac feels expensive. (Just as well, because it is.) It's chunkier than a MacBook Air, but the curved corners and chamfered edges mean it's not boxy. The hinge is stable. There's a satisfying snap when the laptop is closed – and it's easy to open the lid with a finger.
But what about the Space Black finish that replaces Space Grey on the M3 Pro and M3 Max? It's not 'inky depths of space' black – nor a shade like old-school black Mac laptops, or even this Mac's own keyboard. It's more a very dark grey. I like it. As, I assume, would Lego Batman.
The new finish isn't just about colour though – Apple's done fancy things with the anodisation seal, to help this Mac repel fingerprints. Does it work? Sort of. I found fingerprints less apparent, but that might be down to the finish's darker colour. They seemed easier to remove though. But if you're hoping for 'no fingerprints', prepare to be disappointed. Or wear gloves.
For the bits your fingers should be interacting with, everything's golden. The keyboard is great, with a full-size function key row and built-in Touch ID. The tea-tray-sized trackpad still feels excessive, but it's responsive whether you're going for delicate taps or big performative gestures.
Display, camera and speakers: Lighten up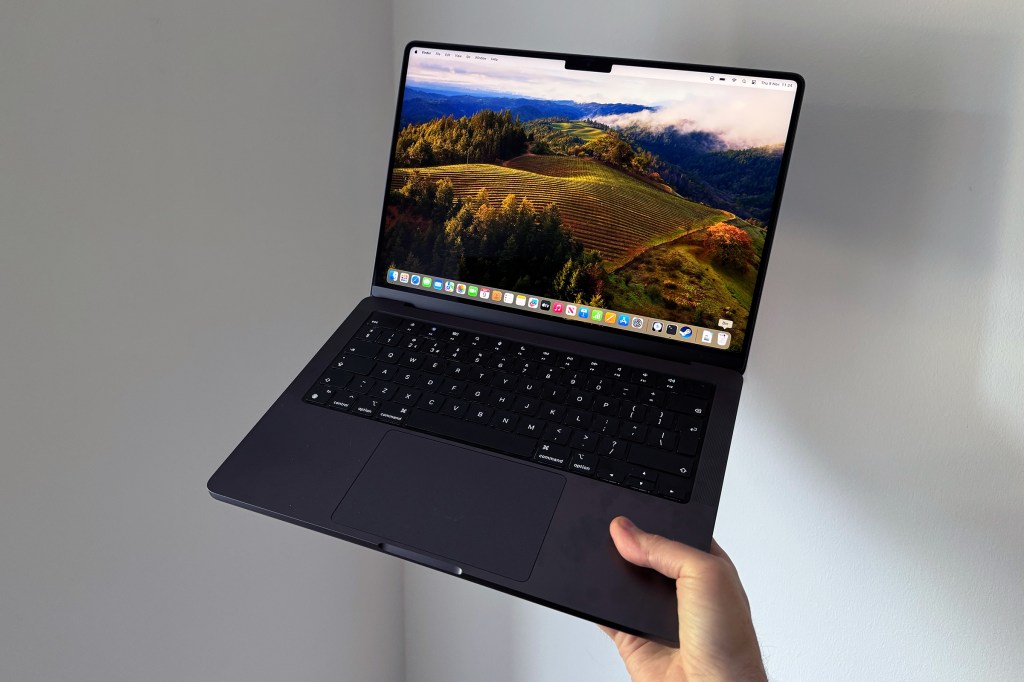 The speakers are top-notch, to the point you might not need external ones. The 120Hz ProMotion screen is gorgeous, with excellent colour for everything from image editing to lean-back movies. SDR content is a touch brighter, now maxing out at 600 nits (up from 500). Not easy to spot, but an improvement is an improvement.
What is easy to spot: the notch. It has two purposes in life: housing the webcam and making people annoyed by its very existence. I don't find it intrusive: the menu bar sits either side of the notch, so it doesn't impact on work space. Plus you can hang furry dice from the thing.
I'm less keen on the ongoing lack of Face ID in Macs, even if Touch ID is fine. At least the webcam remains great – it might lack Centre Stage, but it's so far ahead of the disastrous Studio Display camera that it's embarrassing.
One final niggle: the display is not a touchscreen. Not a dealbreaker. But now trained on iPad Pro, I do find myself occasionally prodding the display before remembering that doesn't do anything, bar add yet more unwanted fingerprints.
Performance: Power up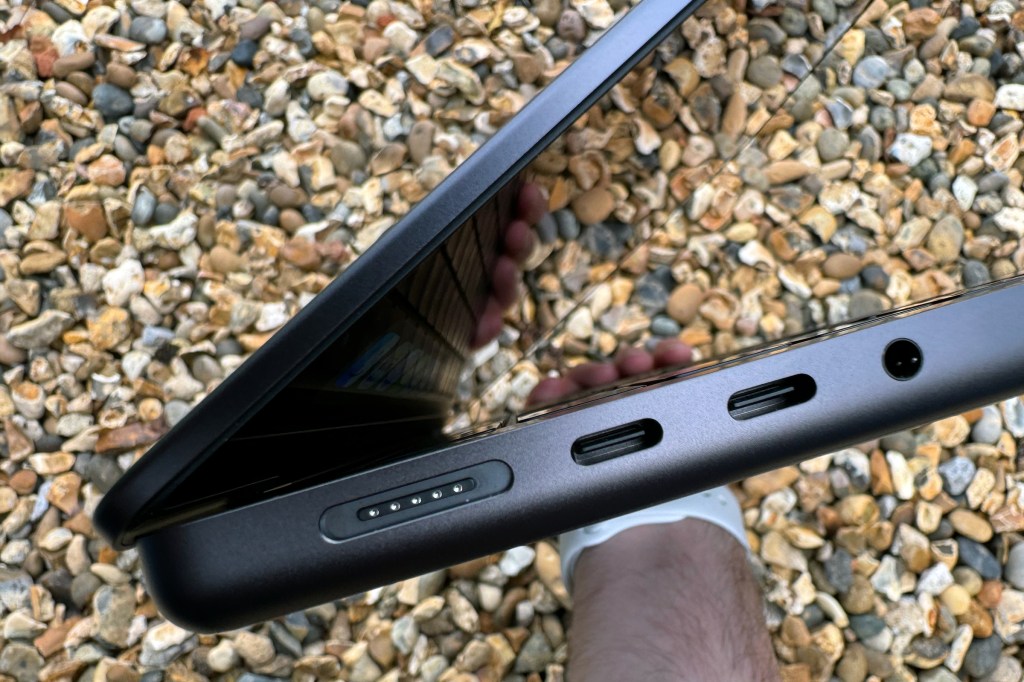 The base spec for the MacBook Pro with M3 Max is 14-core CPU/30-core GPU/36GB RAM/1TB SSD (for $3199/£3299). My review unit: 16-core CPU/40-core GPU/64GB RAM/2TB SSD (for $4299/£4399). That's a lot of computer. And I'm sure it won't shock you to hear it chewed through everything I threw at it.
On paper, the M3 Max looks like a bigger leap from its predecessor than the M3 Pro. Apple reckons it gives you up to 45%/80% faster CPU performance than the M2 Max/M1 Max and 20%/40% faster graphics performance. My benchmarking spreadsheet bore that out, with numbers rivalling high-end desktop PC chips – despite the M3 Max, remember, being stuffed inside a laptop. When comparing Apples with Apples, the numbers I got often outpaced publicly available stats for the M1 Ultra (let alone the Max) and nibbled at the M2 Ultra's heels.
What does this mean for actual work? This Mac barely blinked when I lobbed challenging audio projects at it. It blazed through HandBrake encoding in 60% of the time similar tests took on the Mac Studio I reviewed in June.
Battery life impressed too. I beat Apple's stated 18 hours one day, and often doubled times I'd recorded with equivalent Intel machines.
Game time: Bit of a fan
There's another notable performance change for this 14in M3 Max: it has the High Power mode previously limited to the 16in unit. And it gave me pause, because this Mac is not shy about spinning up its fans when under load.
Often, the Mac remains silent. When it's not, you'll know about it. Like when benchmarking or rendering video. (Who cares? Go for a cuppa!) Or when playing games. (Ah.)
Apple's FPS HUD merrily reported frame rates of up to 120fps on Baldur's Gate 3, occasionally dipping to the high 60s. Metro Exodus was in the 80–160 range, with the odd dip to 50 – all despite being dialled up to high settings. Shadow of the Tomb Raider was inevitably wheeled out, due to its handy built-in benchmarking tool. The numbers I got beat every previous Mac I've used. But half the time, the Mac sounded like a hairdryer.
Two things are worth noting here. First, you can turn off High Power mode. Performance takes a hit, but games remain playable with still solid frame rates and you sometimes live in the blissful land of 'no fan'. Although it does feel odd to manually force a Mac into Low Power mode when playing a AAA game. Secondly, despite Apple's recent efforts in gaming, the platform's hardly drowning in great titles. If you need a seriously powerful Mac and fancy playing the odd high-end game on it, the M3 Max is great. But if you like the idea of a Mac but mostly want to play high-end games on a computer, buy a PC.
Connectivity: plugged in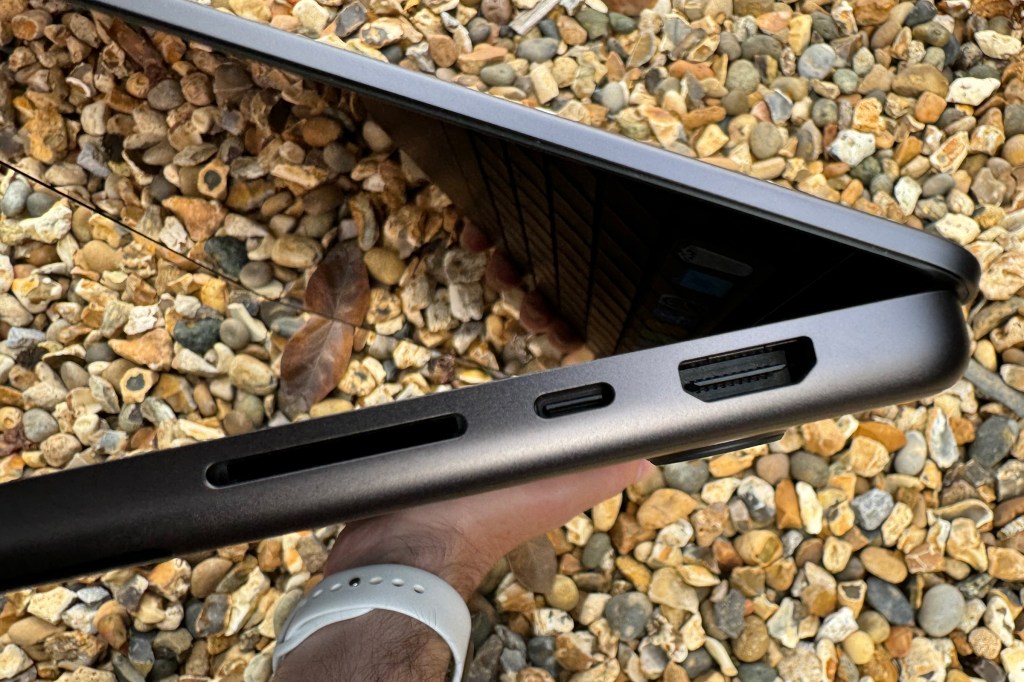 You still get three Thunderbolt 4 ports, HDMI, an SDXC slot, a 3.5mm headphone (courage!) port and MagSafe. Some folks gripe about the last of those, and moan they'd prefer one more Thunderbolt port.
I reckon three's enough, and like the option to charge an expensive laptop via a mechanism that won't see it catapulted across the room should a dog, child or adult human drag a cable with them. Plus you can alternatively use one of the Thunderbolt ports instead and still have two left – as, honestly, I did for much of the review, since I have two cables clipped to my work desk.
Those ports can also be used to drive up to four external displays (3x 6K/60Hz over Thunderbolt and 1x 4K over HDMI), along with the built-in screen. The MacBook Pro with M3 Pro, by contrast, can drive two external displays, and the MacBook Pro with M3 only one. Alas, Apple neglected to send over three Studio Displays so I could test this. Tsk.
Apple MacBook Pro 14in with M3 Max verdict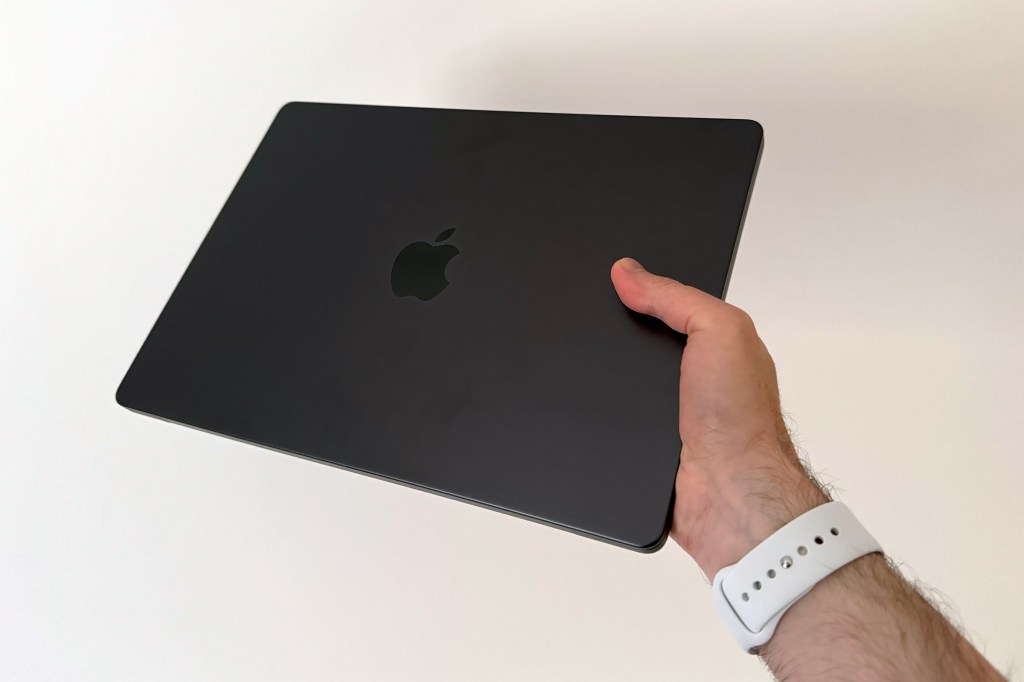 If someone took a Mac Pro and ran it over with a steamroller, it wouldn't work. Obviously. But the MacBook Pro with M3 Max does feel a lot like a flat Mac Pro you can sling in a bag.
For anyone considering upgrading from a powerful Intel unit, they'll be floored by the improvements in raw power – and also by other features, such as the display and design. That decision is less clear cut when upgrading from Apple Silicon machines. Even with an M1 Max, you can probably wait another year, unless you've deep pockets and/or a never-ending desire for the latest and greatest kit.
And if you're still unsure whether this is the Mac for you, ask yourself if you need all that power – or just want to show off. If not, an M3 Pro or even an M3 might be enough. But if so, this is the best Apple has to offer in a portable form factor – and even gives the company's most powerful desktops a run for their money.
Stuff Says…
Bar a new finish, little has outwardly changed for Apple's flagship laptop. But the M3 Max keeps the MacBook Pro forging ahead in terms of raw power.
Pros
High-end desktop-grade performance
New finish looks good
Excellent battery life
Slightly brighter SDR content
Cons
Loud fan that quite often spins up
Eye-watering extra RAM/storage pricing
The notch will aggravate some
Still no Face ID
Apple MacBook Pro 14in with M3 Max tech specs
| | |
| --- | --- |
| Screen | 14.2-inch Liquid Retina XDR 3024×1964 120Hz mini-LED with P3, True Tone and ProMotion |
| Processor | Apple M3 Max |
| RAM | 18/36/48/64/96/128GB |
| Storage | 1/2/4/8TB SSD |
| OS | macOS Sonoma |
| Connectivity | 802.11ax Wi‑Fi 6E; Bluetooth 5.3; 3.5mm headphone; 3x Thunderbolt 4; MagSafe 3; HDMI; SDXC |
| Dimensions | 31.3 x 22.1 x 1.6cm (12.3×8.7×0.6in) |
| Weight | 1.62kg (3.6 pounds) |