Would you pay £1700 for a washing machine? Samsung thinks so
We go hands on with all Sammy's smart home tech at its European Forum in Marbella - read on for first impressions of everything from future TVs to fridges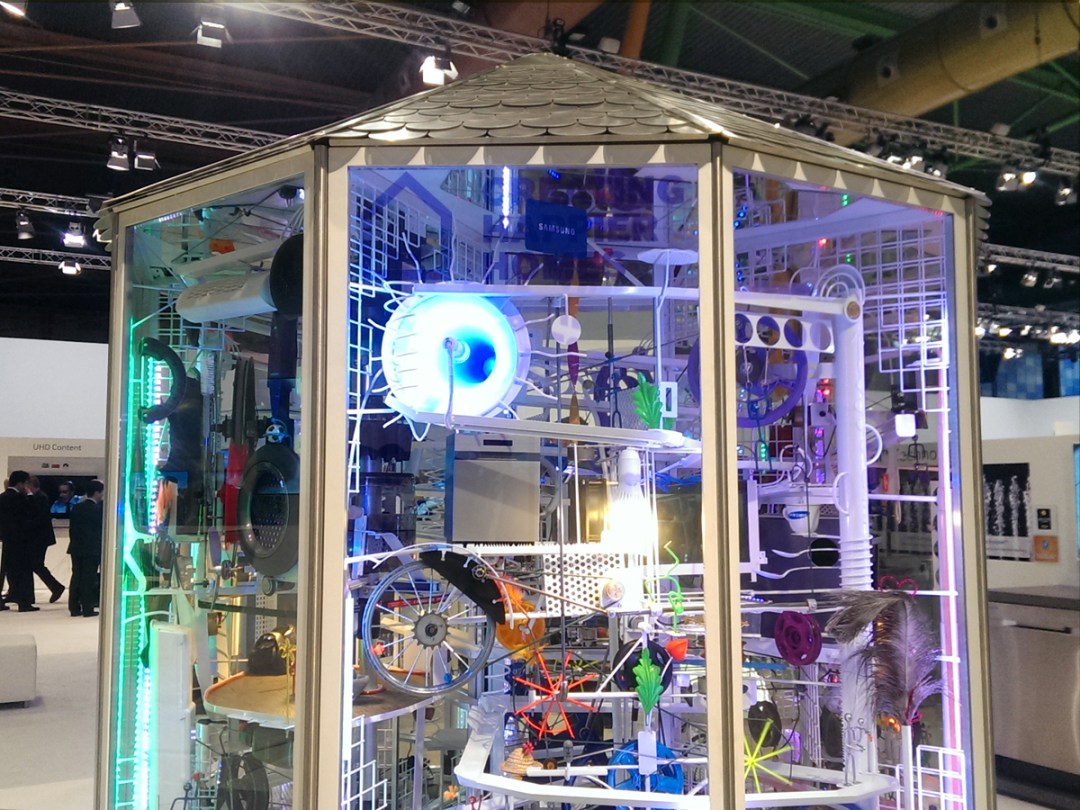 There's nothing that Samsung's brainboxes won't tinker with.
They want four windows running on one 12.2in Android tablet. They want microwaves to grill food and make yoghurt. NFC printers, quirky multi-room sound systems, washing machines that know how dirty you are. But most of all, they want mini plays.
At the Samsung European Forum in Marbella we're treated to energetic mini plays about the Samsung Smart Home, stats on how we're using our gadgets and in depth hands on time with all of Samsung's latest and greatest tech. Here's our first impressions of the most drool-worthy kit on show – sadly minus a surprise appearance from a Galaxy S5.
Curved Ultra HD TVs + 4K Netflix + UHD Video Pack = Pixel Packed Picture
It's pretty obvious what Samsung thinks is the star of the show. As at CES in Vegas, its majestic 105in Curved Ultra HD TV takes pride of place here at the Palacio De Ferias y Congresos venue with all the smugness of a prize pig at the village fair. Nothing else stands a chance and a small troll-like man spends fifteen minutes filming the 105 incher's five minute loop of scenic footage. Maybe he's counting the 11 million pixels on the 5120 x 2160 21:9 screen.
Samsung spends plenty of time telling us how much more immersive curved screens are than flat ones but we'll hold off our full judgement until we've watched a whole movie on one – Samsung recommends a flick with lots of shadows like The Dark Knight. Can't wait.
The 105in model doesn't have a price yet or even confirmation of a release – our stab in the dark is US$15,000. But the curved Ultra HD Samsungs on sale in 2014 start at 50in with sizes up to the flagship 78in. There's no talk of firm prices yet but the range will get some love from Samsung's Evolution Kit which can upgrade tellies with new processors, connections and software every year.
More excitingly, Samsung announces at the Forum that Netflix in 4K is coming to its UHD TV line-up (which includes cheaper non-curved displays) in Europe this March. There's a nod to the Galaxy Note 3's 4K shooting capabilities – playable on your Samsung TV only via MHL for now – but there's more in the way of pixel-packed movies and TV shows.
Samsung's also teasing a mysterious UHD Video Pack that isn't on display and isn't available to see in press pics either. Samsung execs aren't even sure exactly how it will work at this stage except to say that it's a 1TB hard drive that will be pre-loaded with 4K movies like The Life of Pi from Twentieth Century Fox, NBCUniversal and more unconfirmed partner studios.
The Video Pack will be compatible with 4K TVs made by other manufacturers, priced at 299 euros (no UK price yet) and more movies will be made available to download, up to around 50 in total, over the next 12 months.
Galaxy NotePRO and TabPRO up for pre-order
So there's no need to prep the wall mounts for the curved UHD TVs just yet. But the Galaxy NotePRO and TabPRO Android KitKat tablets are now available to pre-order. With the NotePRO 12.2in getting an in depth hands on at CES – not to mention a CES Hot Stuff Award – we take a look at the smaller 8.4in and 10.1 models, both available with or without the S Pen.
Since we've just tested the excellent, hi-res Galaxy Note 10.1 2014 edition – stick with us – we ask what the difference is between this and the NotePRO 10.1. Samsung says it's purely a matter of software with the NotePRO running Android 4.4 out of the box with a much enhanced Magazine interface.
The two smaller TabPRO models don't get four pane multi-tasking but the 8.4in model is lightweight and a very handy size with a unsurprisingly eye-popping 2560×1600 screen. It's not quite as lovely in terms of build quality as the lower-res LG G Pad 8.3 though – and £350 seems a little steep too, no doubt in part because of that resolution.
Since CES there have been a couple of tweaks to the whole range – Samsung has added two regular Android homescreens to the set-up with two Magazine screens of news, email, calendar and social updates to swipe through too.
There's also a bunch of accessories – Bluetooth keyboards, designer cases and covers – confirming the fact that Samsung's second only to Apple in the add-on stakes, though none of the tablets are getting Galaxy Gear compatibility just yet.
We want this S Pen Mouse
Our favourite accessory is Samsung's Bluetooth mouse, which mimics the S Pen's functionality when you have the NotePRO set up on a desk and don't want to reach over a Bluetooth keyboard to prod the screen every two seconds.
Clicking a button on the left hand side brings up Air Command and all the usual options like Sketchbook and Pen Window – it doesn't work so well in our demo, getting a bit stuck opening up multi-tasking instead – but we're sure Samsung's ironing out the kinks in time for shipping. Price and availability isn't confirmed but we'll update this story when we get all the details.
WW9000 knows how dirty you are
We don't spend a lot of our time thinking about appliances – maybe 0.02% on a good day – but Samsung does. It's showcasing a ton of mindboggling home tech including dishwashers with Waterfall spray mechanisms for cleaner pots and this sci-fi washing machine, the WW9000.
Everything about is ridiculous – from the £1700 RRP to the 5in touchscreen and its amazing ability to beam light through your clothes to measure how dirty they are, exactly how much detergent is needed and how they need to be washed with the Optimal Auto Wash function.
And we love it. It's absolutely massive and we don't know where we'd put it, but the huge door with a deep blue crystal finish looks awesome and it can of course be started or paused when you're out and about via Samsung's Smart Control app. All that and Samsung's waging war on what one exec called "superfluous knobs". Quite.
All Hail the Snack Door
Anything that decreases the time between the 'ping!' in our heads that we want a snack and Cookie Dough ice cream being slung down our throats can only be a good thing. Enter the Food Showcase refrigerator which adds a whole extra door full of storage room that sits in front of the main door purely for quick access.
First shown off at CES, this ulti-fridge also rocks a metal cooling door to keep food fresh and a built-in water and ice dispenser.
Another future fridge, the RF24, is getting a sparkling water dispenser powered by SodaStream later this year (which may or may not be a good thing depending on whether you side with Oxfam or Scarlett Johannson). It's enough to make you feel a kind of deep, seething disappointment in the rest of your kitchen gadgets. And no, neither of them tweet.
So that's it. Where's the Galaxy S5? The latest interweb tip-offs point to 23rd February launch, one day before Mobile World Congress starts – so hang tight and read our S5 preview.