The Surface Pro 3 finally makes Microsoft's hybrid cool – hands on review
Third time's the charm - we go hands on with Microsoft's gorgeous reinvention of its tablet-laptop hybrid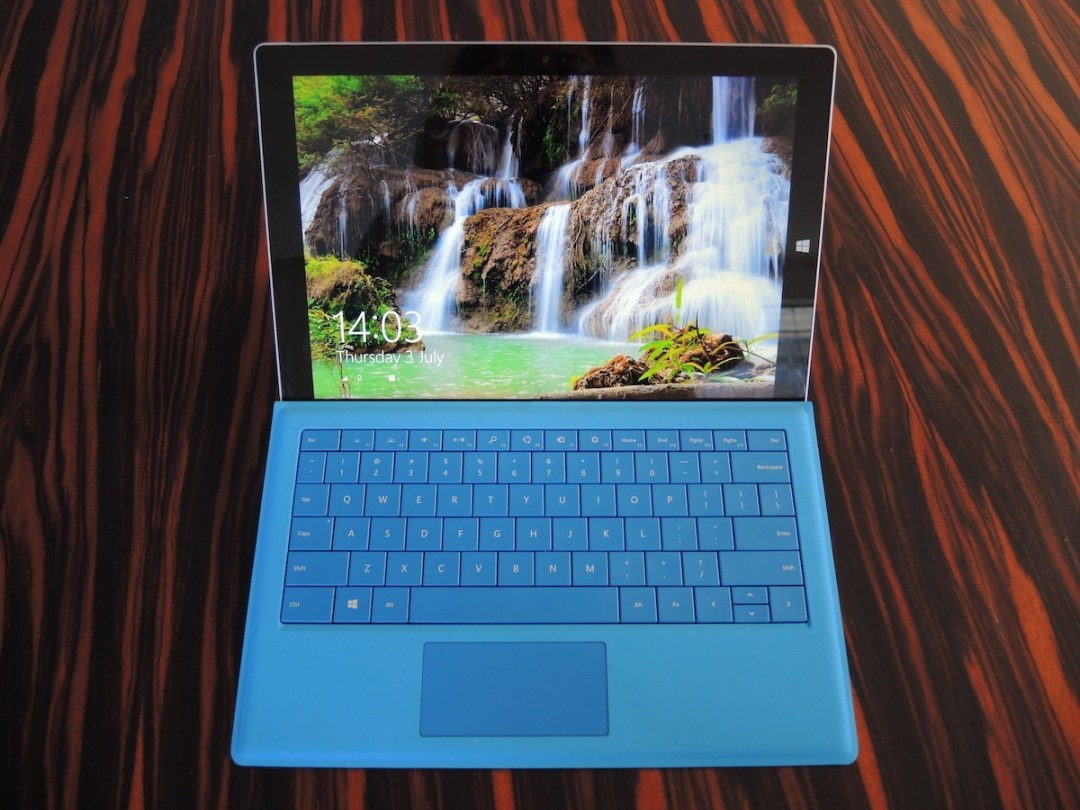 You either crack the tablet-laptop hybrid problem or you don't. 
Either you build a device that works just as well as a touchscreen slab as it does a typetastic machine or you end up with most users sticking to one mode. Now, Microsoft's been edging towards hybrid perfection with the Surface Pro line for a couple of years. 
But having just gone hands on with Surface Pro 3, we can safely say it's the most unique, capable and desirable evidence we've seen yet that Microsoft can really crack it. 
Work that Kickstand
The two biggest design changes to last year's Surface Pro 2 are the gorgeous new 12in 3:2 screen and the improved kickstand.
First up, that screen. The new size and ratio make it feel much more like a laptop than the Surface Pro 2's smaller 10.6in screen that was surrounded by bezel and much lower res.
For yes, Windows has never looked so sharp on a hybrid – the Pro 3's 2160 x 1440 looks very crisp indeed, text on Windows 8.1 tiles, webpages, you name it. Viewing angles are great too – of course movies now have big black bars either side but we can live with that. It's enough to make your Retina display-less 11in MacBook Air close its lid in shame.
Then there's the kickstand. Let's get practical for a minute – we always wished that Surface kickstand was a regular laptop or Asus Transformer-style hinge. Everytime we used one on our lap, there was at least one wobble in which we thought our new £720 toy was a goner.
But Microsoft has gone all out to improve the Surface's "lappability". The kickstand now has not just two options but is continuous up to 150 degrees. And it works – on our lap we felt more comfortable with the kickstand kicked back further than we ever did with a Pro 2.
The best bit though is snapping off the Type Cover and tilting the kickstand back to 150 to use as an angled sketching or writing tablet. That's with the new, improved Surface Pen.
READ MORE: All the Microsoft Surface Pro 3 specs, configurations and prices
The loveliest stylus we've used yet
We'll save a full judgement for when we'd had more than five minutes play with it but the £45 Surface Pen looks to be an essential accessory for the Pro 3.
The aluminium stylus really does feel like a real pen, it's the perfect weight and sits nicely in the hand. It's pressure-sensitive and seems accurate from our quick scrawls.
The idea is to use the Surface Pro 3 and Surface Pen more like a notebook and fountain pen, say, but in use the 800g weight – though incredibly light considering the innards and battery – means after a minute or two holding the tablet in one hand, wrists will ache. Maybe its our puny arms but we felt much more comfortable writing out notes and drawing with the Pro 3 angled on a flat surface.
What is kind of genius is the Surface Pen's top button – turn the Pro 3 on from sleep and click it as you would a pen to unlock the OneNote app for quick notes. To access full Windows, you still need to then enter passwords and the like but another click of the button will save your note to Microsoft's cloud storage OneDrive. In an ideal world the power button step would be lost but for now, it works well and it's neat feature we can actually see ourselves using.
Adobe is working on a version of PhotoShop Touch for Windows 8.1 devices that Microsoft says will launch with the Surface Pro 3 and take advantage, in particular, of the Surface Pen input. So the Surface could well bump the MacBook out of the hearts of creative types if it all works seamlessly.
READ MORE: Surface Pro 3 versus 11in MacBook Air
Slimmer, faster, trackpad-ier
At just 9.1mm thick, it's the skinniest Intel Core-powered machine ever and it's a big part of why a Surface Pro suddenly looks cool. The Pro 3 is sleek where the Pro 2 was squat, eye-catching on a desk where the Pro 2 just looked a bit dowdy.
Of course, the Surface was zippy enough moving around homescreens, OneNote and the web but we won't be able to test out its Core i3, i5 and i7 innards until we get a proper review unit. It's worth noting that Microsoft expects its biggest seller to be the Core i5 with 128GB storage, which comes in at £850, and so that's probably the configuration we'll be testing.
Another update is the Pro Type Cover's trackpad. It's glass now so feels smoother to the touch, is bigger, has clickable buttons and really is more responsive and accurate.
The backlit keyboard cover is, of course, slightly bigger to match the Pro 3's larger size but – odd as it may look, the Covers are interchangeable between this gen and last year's tablet. At £110 it's sturdier now which helps to make it feel stable on the lap, as we said, and there's a new magnet which means the cover can snap back to the tablet for a more comfortable typing angle. After snapping it into place with the new Surface on our laps, we don't think we could go back to a Surface Pro 2 keyboard that's for sure.
READ MORE: Microsoft Surface Pro 2 review
Microsoft Surface Pro 3 Initial Verdict
Could this be the one device to replace our tablet and laptop in our bags? We're not certain yet.
But one thing's for sure, we've suddenly decided we need a Surface Pro 3 in our life. Get your hands on one of these before the release on August 31st and no doubt you will too.
The slimmer form factor, the now-useful kickstand, the bigger screen, the Surface Pen – Microsoft's making all the right choices and well, the Surface Pro is finally cool.
It's covetable, yes, but it's also an expensive item – the entry-level Core i3/64GB tablet with a Type Cover costs £750. Stay tuned for an in depth review, looking at performance versus a MacBook, battery life and that all-important lappability test, on Stuff.tv as soon as we can claw a review unit from Microsoft.
READ MORE: The best tablets you can buy right now – including the Surface Pro 2