This super-smart doorbell lets you answer the door from anywhere
Home is where the smartphone is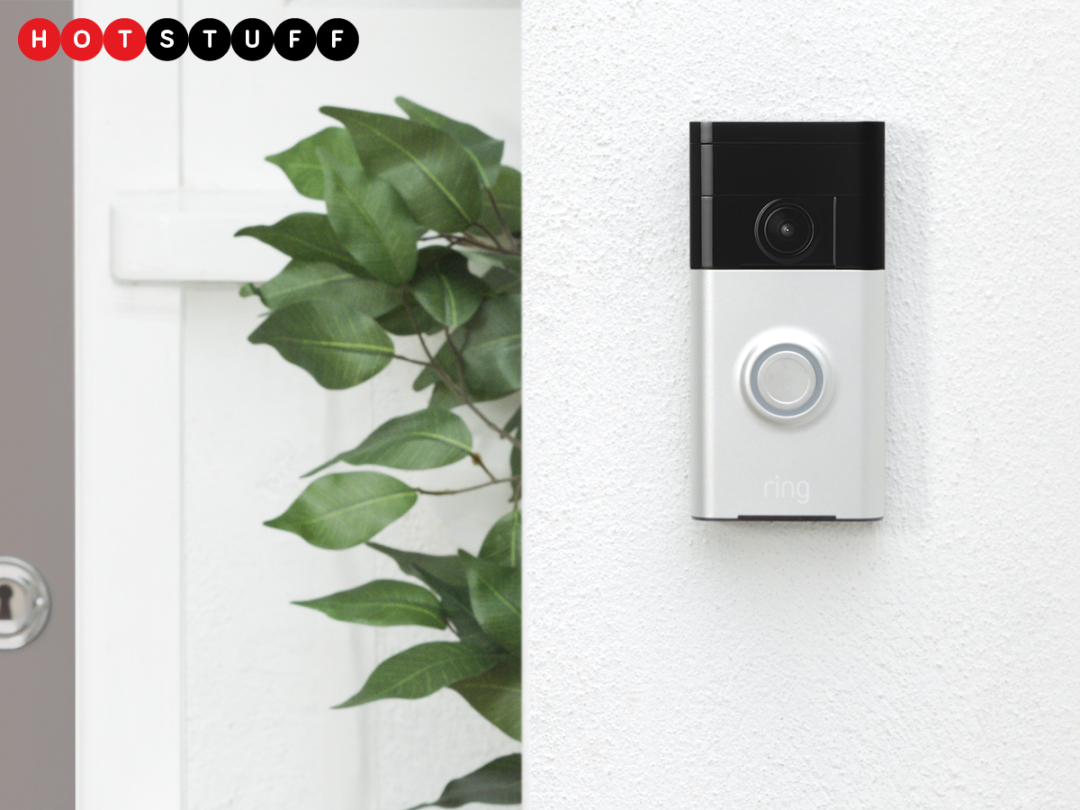 A smart doorbell, eh? Let me guess – it's called the iBell isn't it?
Wrong, wrong, wrong. It's actually called the Ring Video Doorbell.
I saw a film about the Ring once. Does this gadget curse any visitors that dare to look upon it?
Erm, no, that's another Ring I'm afraid. This one lets you talk to visitors on your doorstep remotely, regardless of where you are. So whether you need to tell the Amazon driver to leave a package under the plant pot, or simply want to know whether it's aunt Deidre outside so you can hide behind the sofa, this device wants to put you in control of your front doorstep.
How does it work? Are there holograms? Please say there are holograms.
Unfortunately not, but there's still some pretty cool tech involved. The device itself is a box containing an HD camera and microphone which is then fitted outside your door. When someone comes to call, the kit then streams 720p video to your phone as well as transmitting two-way audio through its proprietary app. This lets you 'be in' even if you're lying on a beach in Barbados. It works on Android, iOS, Mac OSX and Windows 10 and can either be hooked up to your existing doorbell wiring or run off a battery.
So it's essentially a webcam for my front door?
Not quite. The Ring Video Doorbell also sees itself as a security device. Not everyone rings the doorbell and not all visitors have the best intentions, so the Ring also utilises motion-sensor technology to detect any approaching callers, wanted or not. It's possible to configure the Ring to send you alerts in the form of push notifications when someone is approaching your door. Using infra-red LEDs, the device captures motion in a wide arc, giving you ample time to fire up the camera and answer or call the police.
Sounds handy, but as with phone calls I'm not always available. What if I'm on a date or eating a particularly delicious sandwich?
That you equate those two is worrying, but neither is an issue. The device also comes equipped with cloud recording. Any audio and video will be stored externally for you to view later from your phone or laptop. This could be an easy way to catch that neglectful postman red-handed, or provide evidence of unwanted activity happening on your property. Every purchased device will be shipped with a free trial for the cloud-based service, but after that you'll have to pay £2.49 a month (or £24.99 a year) to keep using it. The Ring also features night-vision for low-light or night-time environments, letting you see any nocturnal visitors clearly without the need to fit a bright, obtrusive lamp on the outside of your home.
OK, I'm sold. When I can get my hands on it?
The Ring Video Doorbell will be knocking on doors in the UK in July. It's currently available in the US for US$199, but a European price has yet to be confirmed.