Samsung takes one step away from Android by launching its first Tizen phone
Could this be the start of the Tizen revolution?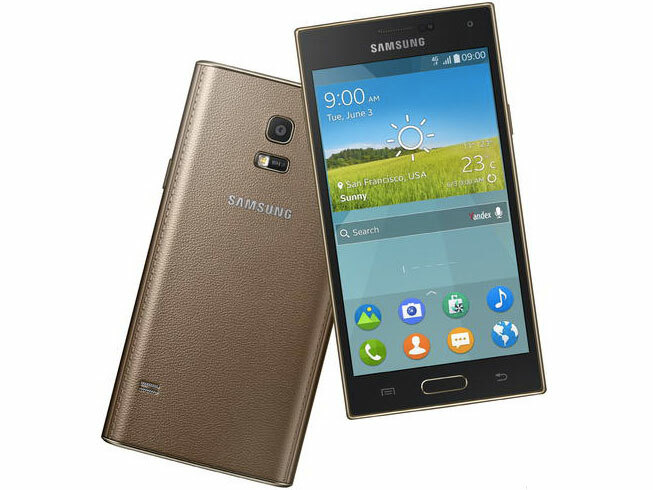 Samsung has revealed the world's first Tizen-powered smartphone, the Samsung Z, and it'll hit shelves in Russia by the end of September with a Note 3-like faux leather back and a much straighter design than the curved Galaxy S5.
Samsung, in collaboration with Intel, has been working on the Linux-based Tizen operating system in a bid to separate itself from Google's Android ecosystem and go it alone in the smartphone arena.
The open source operating system has already made its debut on the Gear 2, Gear 2 Neo and Gear Fit smartwatches, which were all unveiled at Mobile World Congress earlier this year.
Despite having a faster processor and smaller battery than the original Galaxy Gear, the Gear 2 Neo actually lasted longer than its Android-toting predecessor, thanks to the optimisation of Tizen OS with the Gear 2's hardware.
Having Apple-like control over hardware and software should result in more efficiency, but that's not the only reason Samsung's looking to carve its own path.
Tizen OS has its own app store, which means that unlike the Google Play Store, Samsung will be able to generate revenue from app downloads.
The biggest challenge with any new platform, is getting developers to jump onboard to populate the virtual app store shelves with quality offerings – a problem that has plagued both Windows Phone and BlackBerry devices in the past.
Samsung will be offering a special promotional programme to all developers for one year, and is hoping to attract them with HTML5 app support.
Specs-wise, the Samsung Z packs in a 720p 4.9in display, a 2.3GHz quad-core processor (likely to be the Snapdragon 800), 2GB of RAM, 16GB of expandable memory and an 8MP camera. Like its Galaxy S5 brother, it also packs in a fingerprint-reading home button and a heart rate sensor on its rear.
Samsung has also announced that it will release a software development kit for Tizen-based TVs. Coupled with LG's WebOS-powered television sets, we could soon see a whole new living room-based OS war kick off.
There's no word on when (or if) the Tizen-based Samsung Z will arrive in stores outside of Russia, but it can only be a matter of time before Samsung sets its sights on the rest of the world. We'll be sure to keep you posted when it does.
READ MORE: Samsung Gear 2 review