Samsung Smart TV 2012 hands on
Who needs friends when you've got a Samsung Smart TV to chat to? Remember, it can't leave the house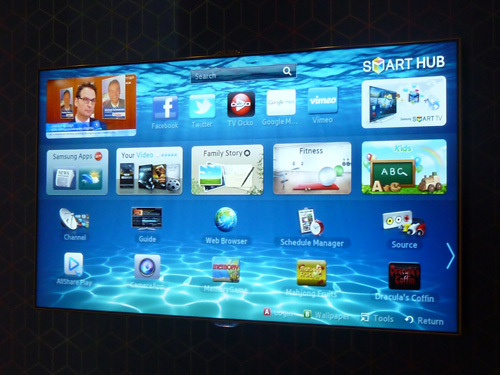 Samsung Smart TV 2012 – Samsung Apps
In full HD for this year, Samsung's Smart TV interface hasn't been overhauled but we're still fans.
Three new pre-loaded Samsung Apps take center stage in the Smart Hub for 2012 with a Kids educational section, the Family Story area for sharing photos and memos and a Fitness app that talks to your smartphone for good measure.
There are also now 1400 third party apps available to download, including Lovefilm and – say it with us – Angry Birds.
Samsung Smart TV 2012 – Face off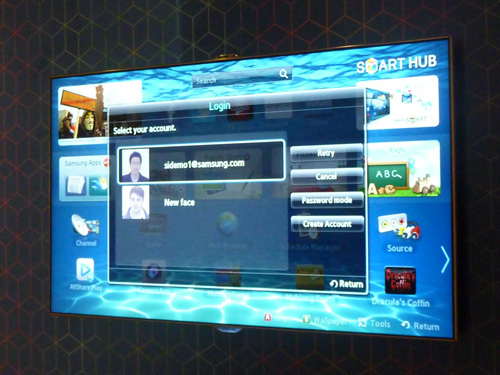 We were impressed when we first saw face recognition log-in on the Ice Cream Sandwich running Galaxy Nexus – and it's even more impressive on the big screen, if a little scary.
The new Samsung TVs will recognise the faces of everyone in your family via the camera on top and log you straight into the relevant Smart TV profile, where you can access your favourite apps.
It's a shame that your Smart TV profile isn't connected to your allshare play content-sharing account but the TVs are still compatible with Samsung's cloud storage set-up.
Samsung Smart TV 2012 – Hi TV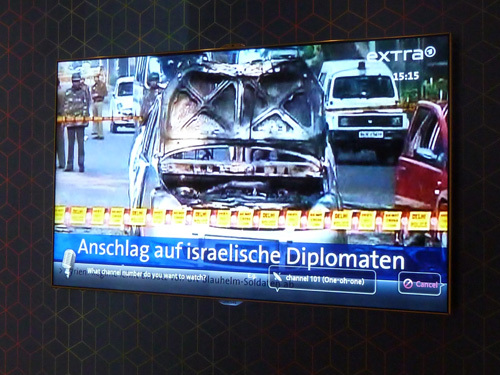 Walking into a room and saying "Hi TV" to turn on your box is pretty damn satisfying. Plus you can set up new trigger words to activate voice control and switch between over 20 supported languages if you feel like it.
You can also activate apps – although the model we were trying out struggled with this – and dictate words to search for in the web browser.
The success of the TV at picking up exact words depends on ambient noise levels in the room, and people chatting next to you will unfortunately affect performance. But for a first try, it's not too shabby.
Samsung Smart TV 2012 – Let's dance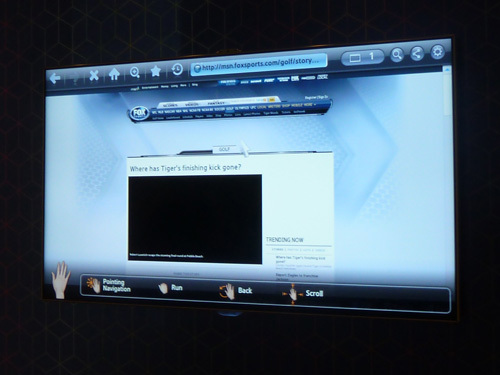 Remember the first time you used Kinect? Samsung's motion control features really made us feel like we were playing around with the future of TV – and all screen-based tech, for that matter.
A wave of the hand kicks motion control into gear and then you can move your hand to control the cursor when web browsing or simply change the channel by scrunching your hand into a fist over the onscreen buttons.
It feels unnatural at first – but before long you're convinced you have Jedi powers. And that's why you need a TV with a camera.
Samsung Smart TV 2012 – Smart Touch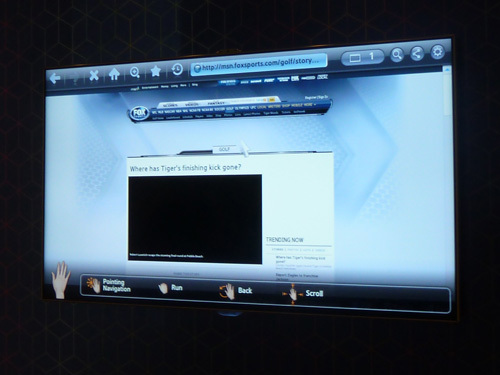 If the room's too noisy, you can talk straight into the mic on top of your Smart Touch remote control by holding down the voice control button.
The sleek, minimalist remote looks a bit confusing at first but the channel up/down button is thoughtfully placed on the remote's side. There are also a few customisable points dotted around the remote's surface too.
Samsung Smart TV 2012 – Verdict
Samsung assures us that the launch of Evolution Kits – which will kick off in 2013 – will make sure anyone who buys a Samsung TV this year will get a "futureproof" set.
Anyone will be able to buy kits including improved 3D capabilities, new processors and new software updates to slot into the back of their TV year on year.
While we might have seen a fair few of the Samsung Interaction features crop up in different guises before, this is the first time we've tried so many in a super slim TV set.
It's slightly annoying that voice and motion control won't work together in tandem on the 2012 TVs as it takes a few seconds to activate each one. Demanding criticisms aside though, the Evolution Kit should make sure that once you've plumped for a big ol' premium Samsung telly you won't get left behind come 2013.
You may also like