RIM CEO shares his vision for BlackBerry's future
RIM head honcho, Thorsten Heins admits it's time for the company to fight back and reclaim a piece of the mobile market pie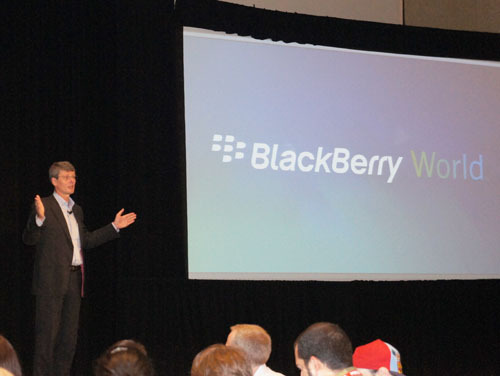 During an exclusive Q&A session with a bunch of journalists, RIM CEO Thorsten Heins, excitedly stated "I want to provide a fantastic mobile computing engine" and essentially told us to hold on to our hats as "we are doing some exciting things with RIM in the next few months."
Heins also confirmed he has established the ultimate management team that has his full trust and commitment and that contrary to earlier reports "RIM is not leaving the consumer business" and that his previous comments had been misconstrued.
Addressing the companies current struggles, Heins admitted that mistakes have indeed been made in the past and the vision has become somewhat "fragmented". He put this down to a lack of focus as the company attempted to cover every possible base in the mobile market, which has left the company "with a bit of fat on the hips".
Despite only being RIM's head honcho for three months, Heins plans to make some big changes across the company, admitting RIM needs to re-focus its efforts and concentrate on key objectives, while turning the company "into a lean, mean, hunting machine" to deliver a more efficient ecosystem that will ensure they are the best in the game.
He went on to stress the importance of partnerships and third party app developers, admitting they can't go it alone and do everything themselves, which is why it needs to work with the best companies and the right partners to provide the ultimate mobile experience. This is also why every developer at BlackBerry World received a Dev Alpha handset and the first BB10 prototype, in order to get to work, engage with the framework and make BB10 the success Heins is hoping it will be.
While Heins is convinced the company has done a near-perfect job with BB7, which has created growth for RIM, it "needs to build a mobile computing platform for the next decade". This is where BB10 comes in and Heins is really proud of what his team has achieved, stating "we're nearing completion of BB10, "quality matters" and that he wants "the BB10 experience to be perfect."
We may have been given an insight as to what to expect from RIM's next-gen BB10 OS, but by the sounds of it, there's so much more to look forward to and "much more to come than what you saw yesterday."
RIM confirms it's not abandoning physical keyboards for BB10
BlackBerry 10 Dev Alpha hands on review
Rimac Concept One goes on sale