Nokia Lumia 800 Dark Knight Rises edition unboxed
One of the rarest mobile phones on the planet, and we've got our mitts on it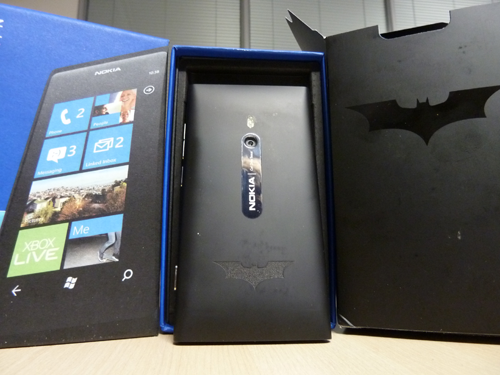 This Nokia Lumia 800 is one of only 40 to be made, so when it was delivered (by Batman himself) to the Stuff Cave, we were rather excited.
The phone has been released as part of the build up to the release of the latest Batman film, The Dark Knight Rises – tying in with a 6 minute preview film that was aired at the IMAX yesterday. So let's get a better look.
As you can see the etched Batman emblem is lovely and subtle on the black chassis of the Lumia 800. This is both a good and bad thing.
Great because it's an understated way of expressing that you're a Bat-fan – but bad because there isn't much else to it.
As you can see the Lumia also has some Dark Knight Rises multimedia on board – there are images of the film's posters stored in the photo gallery (though you could just pop online and download them to your regular Lumia), as well as a Dark Knight Rises live tile on the home screen. Sadly, the 6-minute IMAX prologue isn't stored on there – we'd like to watch it again.
If you're keen to be one of the elite Batman brigade… well, you're out of luck – there are only 40 of the Batman Lumia 800s available worldwide, and you'd have to prise ours from our cold, dead fingers. Probably best to keep your eyes on eBay and hope that one of the lucky recipients isn't a huge Bat-fan. For more details on the handset read our Nokia Lumia 800 review.
You may also like
Nokia reveals limited edition Dark Knight Rises Lumia 800
Sony Tablet S update lets you game with your PS3 controller
iPad 3 to have a 7in version in 2012