Need to know – BlackBerry 10
Now that BB10 is official, here's everything you need to know about RIM's universal OS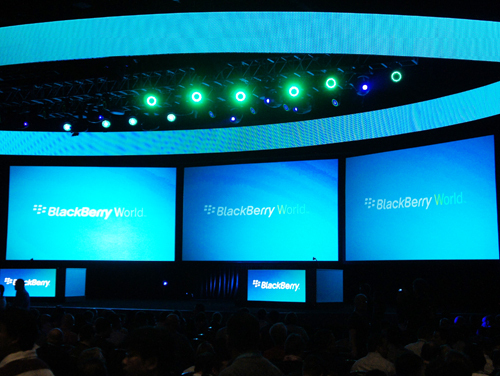 Now that BB10 has been officially outed, CEO Thorsten Heins announced RIM has been "making incredible progress on BB10", as it continues its quest to take BlackBerry smartphones to the next level (and next decade). So not only is it a combination of BB6, 7 and the best of the QNX platform, but it has been built from the ground up to create "a revolutionary mobile computing engine", as opposed to just another smartphone OS.
So what can we expect from RIM's brand spanking, finger-friendly BB10 OS – and could it be the solution to its recent (and heavily publicised) problems? Read on to find out more…
BlackBerry 10 – user interface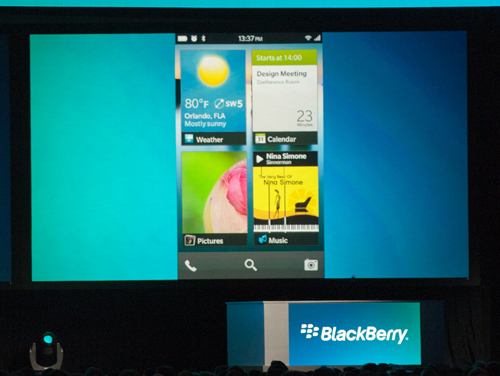 It's obvious – BB10 has undergone a radical transformation, which starts with cosmetic changes on the home screen. Taking a bit of a design cue from Windows Phone 7, the homescreen throws up four customisable widgets for quick access to features like music and pictures.
A new look interface also means a new approach to multitasking, with users able to flit between applications and menus with a simple swipe to reveal other apps running in the background. Dragging your thumb from left to right allows you to browse through your open apps, while swiping back will take you to your previously launched programs. According to RIM, BB10 is all about glancing back and having everything running in real time, so everything "flows" across all applications.
BlackBerry 10 – phone calls and video calls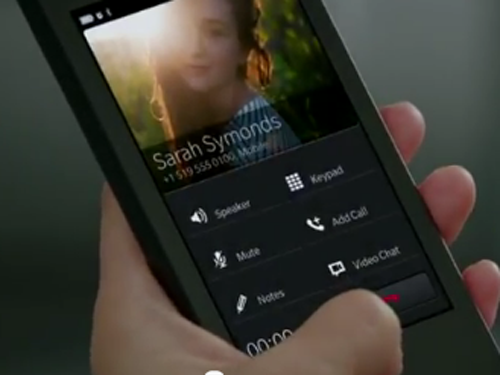 As previously reported, the in-call screen has been subjected to a style change with a large picture of the caller sitting atop a selection of large buttoned options. If you squint really hard, you'll notice an option to make video calls, too. Within BBM there is now a video calling option and an ability to share your screen with others.
BlackBerry 10 – keyboard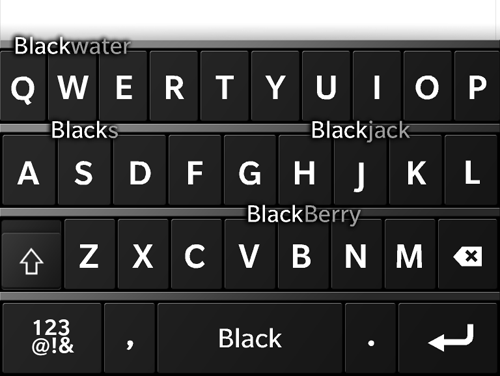 It's fair to say BlackBerry smartphones throw up an unrivalled QWERTY keyboard experience and RIM is looking to do the same with its virtual one. So we can expect a new smart touch keyboard that is said to adapt to your touches and therefore offer a tailored keyboard experience.
Predictive text is also on the menu – as are gestures, which are set to play a major role in your typing experience. For example, swiping up reveals numbers and other characters, swiping up and down rotates the different keyboard layouts and in a similar style to Swiftkey, swiping left deletes entire words. You can flick suggested word into your copy, too. According to RIM, "it's the best way to type. But of course, it would say that.
BlackBerry 10 – camera
How many times have you wished you could turn back time on some of your snaps? Thanks to BB10's TimeShift camera software, you can. So you can essentially take a snap, select the part of the image you want to change and using the dedicated circular slider, cycle back through various frames to a point where you subject is smiling, for example, as opposed to having their eyes closed and looking miserable.
Other features include the ability to touch anywhere on the screen to take a photo and fast opening of the camera from the lock screen.
BlackBerry 10 – apps
RIM introduced us to a few of its app partners, including Pixelmags and its newstand app – a one-stop-shop for magazine content. All BB10 users will also receive ten minutes of free reading per month – after that, you'll need to cough up some cash. But crucial are the 70,000 apps it will launch with – including Angry Birds, Facebook, Reuters and most other big names you'd expect.
Pacemaker demoed its DJ app (below), for the DJ in your pocket experience and app creation platform Mippin announced its BlackBerry App Generator, which lets anyone build an app for free "in less than 10 minutes".
You can also expect popular fitness app Endomondo, the location-based Poynt and a clever 360 panorama app from Occipital, which lets you browse your finished shot using the built-in gyroscope.
BlackBerry 10 – games
RIM is intent on delivering console-quality gaming to the BB10 platform, which is why it has enlisted the help of Gameloft, which will deliver 11 BB10 titles, including Shark Dash and N.O.V.A. 3: Near Orbit Vanguard Alliance. Fishlabs also announced it would be bringing Galaxy on Fire HD to the BB10 table and "the most high-end version of the game so far."
You may also like