Motorola Edge 20 vs Pro vs Lite: Which should you buy?
Here's what you need to know about the less-edgy new Moto trio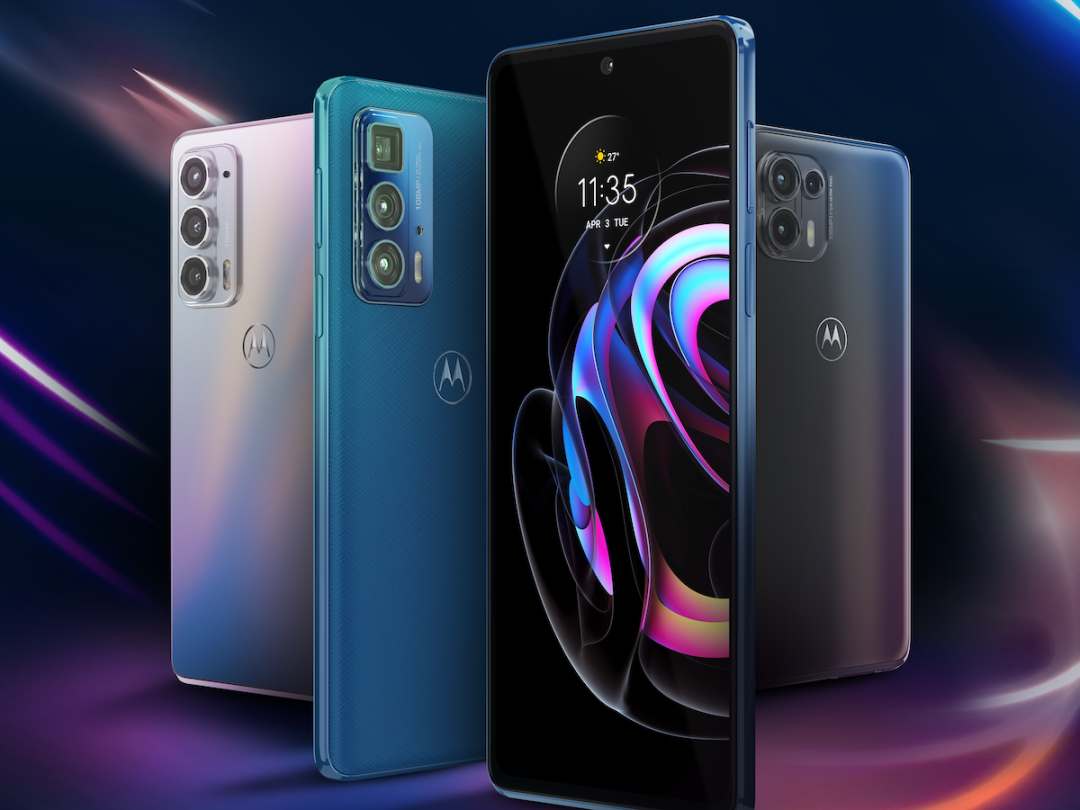 We dug last year's Motorola Edge, a nice return to flagship form for Moto after spending much of its time lately on budget-friendlier fare. So we're pleased to see the sequels arrive.
The Motorola Edge 20 comes in three variants, with a standard mid-range model paired with a flagship Edge 20 Pro and budget Edge 20 Lite. They're similar in a lot of ways, but there are key differences that set them apart. Some you can probably guess, but some you might not.
Thinking about springing for one of these new Moto handsets? Here's what you need to know based on what's been announced so far.
Design: Not so edgy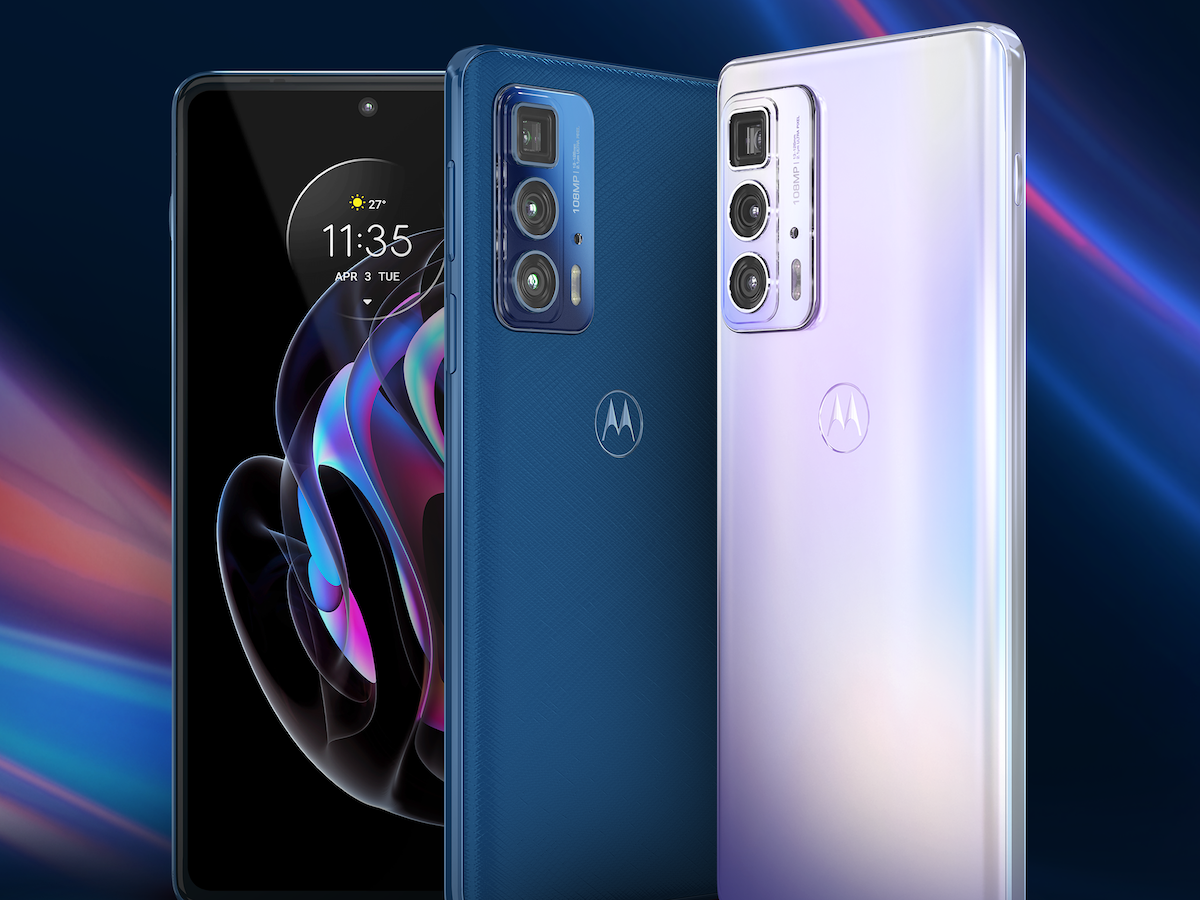 The biggest surprise with the Motorola Edge 20 line is that these phones don't have the waterfall edges that defined the original Edge models. They're still called "Edge" phones, curiously enough, but the screens are flat.
With all of these phones, you get a top-center punch-hole camera cutout on the screen, and while all three have a large 6.7in display, the Edge 20 Lite has a bit more excess bezel. The backing colours and finishes vary by model, but all have a little bit of flash. And in the case of the Pro model (shown), there's a Blue Vegan Leather option if you don't want glass. None of these phones have water resistance, which is a bit underwhelming.
Screen: Super-duper smooth
We saw phones jump up from the standard 60Hz refresh rate to 90Hz, and then quickly up to 120Hz – but the Edge 20 and Edge 20 Pro are among the rare phones on the market to push even further up to 144Hz, just like some PC displays. They'll be wickedly smooth in action, with surely stunning fluidity for animations and transitions.
The Edge 20 Lite sticks to 90Hz, but that'll be just fine for a budget-friendlier model. In any case, you're getting a large 6.7″ OLED screen at Full HD+ resolution with all of these phones, so they're big devices.
Camera: Zoooooom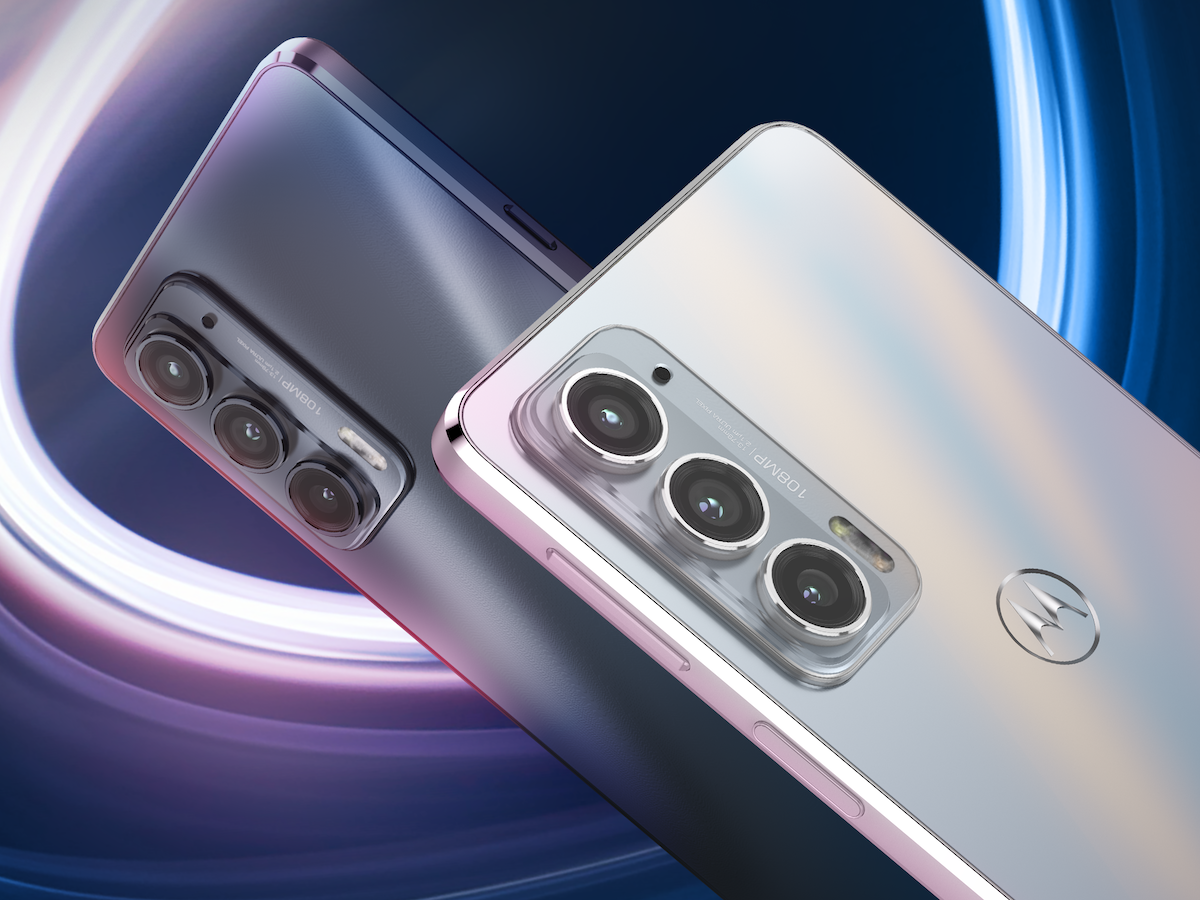 The Edge 20 Pro is Motorola's first-ever phone to feature a periscope zoom lens like the ones we've seen on some other flagships of late, providing a 5x optical zoom effect and up to 50x hybrid zoom. That's an 8-megapixel telephoto sensor, and it's paired with a whopping 108MP main sensor and 16MP wide-angle sensor.
Only the Pro model gets the 'scope, though: the standard Edge 20 (shown) swaps in a standard 3x telephoto shooter, but keeps the rest of the camera stack intact. You lose zooming capabilities with the Lite model, however, which keeps the 108MP main and 16MP ultra-wide cameras but has a lil' 2MP depth sensor alongside. No huge surprise there. All three models have a 32MP selfie camera on the front.
Performance: It's a range
The Motorola Edge 20 Pro isn't going for tippy-top-of-the-line, opting to use Qualcomm's Snapdragon 870 chip instead of the 888 chip used in today's flagship Androids. However, the Snapdragon 870 is slightly more powerful than 2020's Snapdragon 865 flagship processor, so it's really not a huge difference. It'll be plenty powerful.
You drop down to mid-range power with the Edge 20 and its Snapdragon 778G chip, while the Edge 20 Lite drops further down the power scale with a MediaTek Dimensity chip. No doubt, you'll see some variance in overall smoothness and gaming performance between these phones. All of them support 5G connectivity, though.
Battery and perks: Surprising high-Lites
While we don't know just how long these phones will last during daily usage, you might be surprised to learn that the Motorola Edge 20 Lite (shown) has the largest battery pack of the trio at a whopping 5,000mAh. By comparison, the Pro has a 4,500mAh cell and the standard Edge 20 drops down to 4,000mAh. The Lite could be the longest-lasting of the bunch.
It also has some potential upside on the storage front, as the Lite is the only model to list microSD support on the specs sheet alongside its 128GB internal storage. The Edge 20 Pro has a huge 256GB internal storage cache, so you might not even need extra storage, while the Edge 20 comes in 128GB and 256GB variants.
None of these phones support wireless charging, unfortunately, but all of them should charge quickly with 30W wired charging.
Initial verdict: What do you need?
Although there are some commonalities between the models, there are also clear differences between them. The Motorola Edge 20 Pro offers flagship-level power and premium perks, notably the 144Hz display and periscope zoom lens, but it sells for £650. That's cheaper than many of today's top flagships, but won't be for everyone.
The standard Motorola Edge 20 keeps a lot of what makes the Pro model tick, but loses some processing prowess and ditches the periscope lens in the process. It's also just £430, so that might be a worthwhile compromise for some buyers.
On the lower end, the Motorola Edge 20 Lite loses most of the head-turning perks: no 144Hz refresh rate, no zoom lens at all, and probably modest-at-best power. Still, it's a 5G phone with the beefiest battery in the set and microSD support, at a price of just £300. It won't be for power users, but there's potentially still a lot to like there if it runs smoothly enough.
We won't know for sure whether any of these are worth buying until we get in our review units, but with the release coming in a matter of weeks, we're bound to know soon enough. Stay tuned for more definitive verdicts across the Motorola Edge 20 line.
Motorola Edge 20 vs Pro vs Lite: Specs
Motorola Edge 20 Pro
Screen: 6.7in OLED Full HD+ 144Hz
Rear cam: 108MP main, 8MP 5X telephoto, 16MP ultra-wide
Front cam: 32MP
Video: 4K @ 60fps, 8K @ 24fps
Processor: Qualcomm Snapdragon 870
Storage: 256GB
Wireless charging: No
Waterproof: No (IP52)
Battery: 4,500mAh
Colours: Midnight Blue, Iridescent White, Blue Vegan Leather
Dimensions: 163 x 76 x 7.99 mm; 190g
Price: £650

Motorola Edge 20
Screen: 6.7in OLED Full HD+ 144Hz
Rear cam: 108MP main, 8MP 3X telephoto, 16MP ultra-wide
Front cam: 32MP
Video: 4K @ 30fps
Processor: Qualcomm Snapdragon 778G
Storage: 128GB, 256GB
Wireless charging: No
Waterproof: No (IP52)
Battery: 4,000mAh
Colours: Frosted Grey, Frosted White, Frosted Emerald
Dimensions: 163 x 76 x 6.99 mm; 163g
Price: £430

Motorola Edge 20 Lite
Screen: 6.7in OLED Full HD+ 90Hz
Rear cam: 108MP main, 16MP ultra-wide, 2MP depth sensor
Front cam: 32MP
Video: 4K @ 30fps
Processor: MediaTek Dimensity 720 5G-B
Storage: 128GB + microSD slot
Wireless charging: No
Waterproof: No (IP52)
Battery: 5,000mAh
Colours: Electric Graphite, Lagoon Green
Dimensions: 165.9 x 76 x 8.25 mm; 185g
Price: £300