Modern Warfare 3 Survival Spec Ops first play
We've played Survival mode. It was so addictive, we had to be dragged away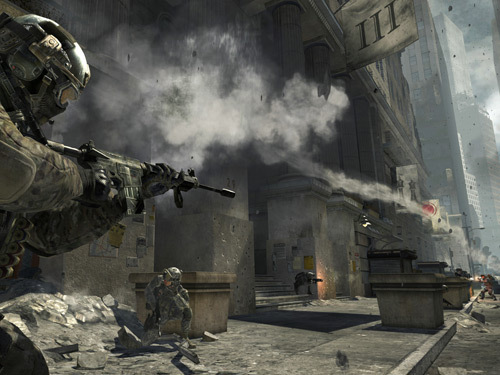 Modern Warfare 3 is the most anticipated release of the year (after the iPhone 4S) and we got to play it. Don't be too jealous though  it was just the Spec Ops Survival mode.
It's essentially a more polished version of the World at War survival mode, Nazi Zombies – which means successive waves of enemies battering away at you ad infinitum. It's either a searing metaphor for the futility of war or a throwback to Pac-Man.  
We started in a co-op with another live player, armed with nothing put a pistol. The first wave of enemies yielded shotgun-bearing buffoons that walked into headshots.
Headshots means money, and money means prizes – as each wave was dispatched, three laptops were unlocked. They enable you to buy guns, armour and explosives, and even friendly support. And by friendly we mean a complete Delta Squad to provide backup.
Each break between the waves (which have never been beaten beyond 35, even by the game developers themselves) affords an opportunity to re-load your guns, upgrade your sights and even set up sentry guns.
Saving up for bigger guns is all well and good, until you find yourself taking on two helicopters on one level or huge juggernauts on the next. We didn't get far enough to see the two together, but we recommend the light machine guns for those that do.
If you're playing alone the game won't add anyone to assist, but you can always play split-screen or online for the – frankly necessary – team-up action. With extra points for ally assists and rage kills (multiple kills without being hurt) you can earn and upgrade constantly, making it even more addictive.
The only downside is having to start over when you die – though this throwback to retro gaming might just be what makes the game so addictive. It was in our case – in the end, we were asked to leave because we'd been playing for too long.
The November 8 release date never felt so far off as in that moment. This video doesn't show us playing – but it gives you an idea of what to expect from Survival mode in Spec Ops.
And the latest trailer for your viewing pleasure is below.
Also
BlackBerry Bold 9900 spotted in white overcoat
Nokia releases FaceLock for face recognition security