Loewe Reference ID decks out your TV in personalised materials
Loewe's taking unique-looking TVs to glorious extremes this year at IFA with its new flagship line Reference ID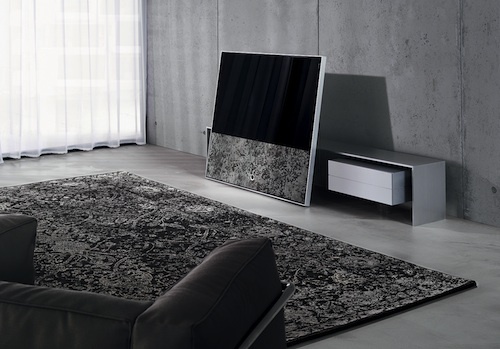 Flat-screen maestros Loewe have really pushed the boat out at IFA this year on TV customisation – the new flagship LCD line Reference ID can be adorned with whatever material Loewe customers want in a quest to banish boring black rectangles from our Interiors magazine-style living rooms.
The Reference ID will be arriving by the end of the year in 40in and 46in models with a 55in model planned for spring 2013. It's a full HD LCD affair with LED backlighting and 3D skills. There's also 1TB of storage and a recorder that can cope with 2D and 3D.
But you can get all that elsewhere, we hear you cry. Loewe is more excited about the personalisation options on offer: as long as the fabric can stretch you can stick it on the lower panel of the TV and even decorate your sound system to match.
Woods, aluminiums and leathers are available for the frames too and it'll take just 8-10 weeks for Loewe to meet your (no doubt ridiculous) demands. At Loewe's stand at IFA we saw a Reference ID complete with a Prince's family crest, a model using materials found on Fazioli pianos and a tartan TV for a German celebrity.
The lower priced Individual ID doesn't miss out on the fun either – there's new colour options (we were strangely drawn in by the bronze model) and with various wall mounts, coloured inlays and speaker set-ups Loewe reckon there's near on 3000 options to choose from.
The Connect ID range also now gets a 55in model and Loewe was also showing off 70in and 80in models of the Individual. That's a lot of luxurious screen for one stand, take it from us.
Since Loewe will make one-off Reference ID TVs we're sure the prices will make our eyes water but there's no word yet on the starting price for the line. Meanwhile we look forward to seeing which designers Loewe get on board in the UK – in Germany it's luxury label Strenesse – and it'll give us time to tear our curtains apart and glue them to our gadgets as a trial.
Exclusive! Smartphones with second E Ink reader displays incoming
HTC Accord Windows Phone 8 handset leaks
iPad Mini appears in iOS developer code logs