Lexus showcases bright ideas at Milan Design Week
Gadgets, gizmos and a dazzling art installation form part of this years' Lexus Design Awards line-up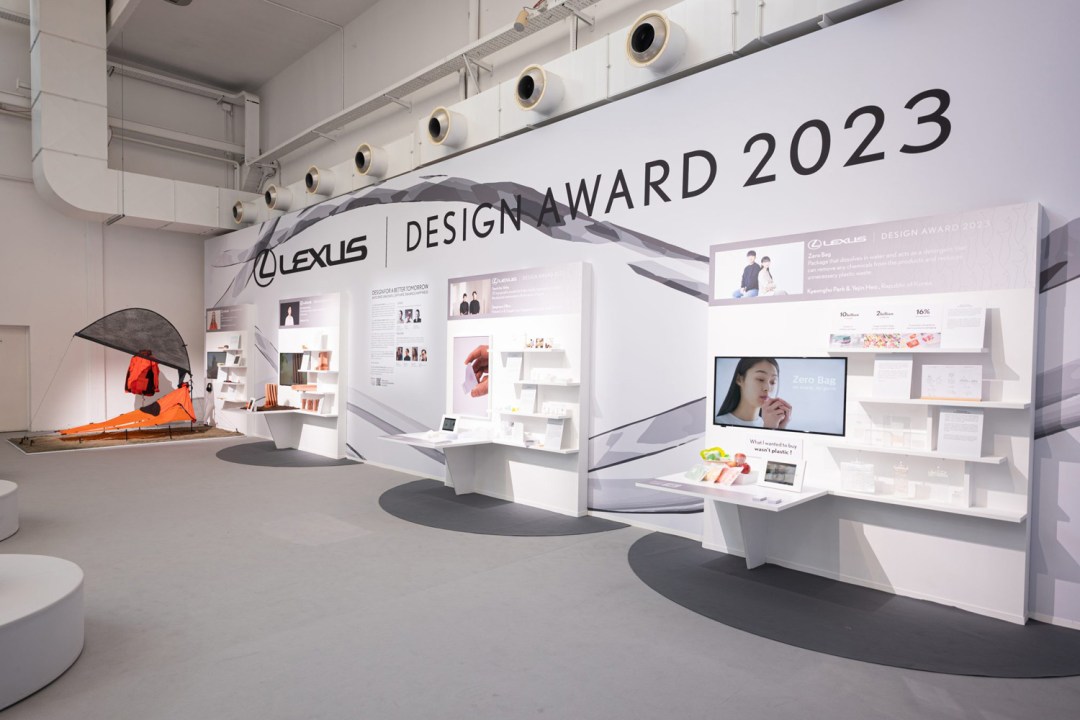 Winners of the Lexus Design Award 2023 are showing off their bright ideas during Milan Design Week and, as usual, it's a mixed bag of the weird and wonderful. The Japanese premium car brand has been running the awards program for eleven years and, during that time, has helped innovators from around the world showcase their creations.
Although they're still only prototypes, all of this years' crop of winning ideas have the potential to become a big deal in their own right. Denmark-based Swede Pavels Hedström came up with Fog-X, a jacket that can be transformed into a tent or lean-to shelter, and also used to catch fog in a large net to be turned into drinking water.
Meanwhile, inventive Korean duo Kyeongho Park and Yejin Heo wowed Lexus Design Award voters with their Zero Bag idea. Aimed at reducing plastic waste, it's a form of packaging that can be dissolved in water thanks to a paper detergent or baking soda film, attached to an alginate water-soluble bag. Despite only being a prototype at this stage, Zero Bag could turn out to be a much greener way to package everything from clothing through to food.
Similarly interesting is the Print Clay Humidifier, a sustainable, 3D-printed concept from Chinese innovator Jiaming Liu. The humidifier is produced entirely from recycled ceramic waste and not only works, but looks suitably quirky too. Using 3D printing and recycled ceramic waste, the seemingly simple-but-effective innovation is a low-tech solution designed to replace an everyday common household gadget and reduce power consumption at the same time.
The fourth winner is from Temporary Office, a design twosome consisting of Vincent Lai and Douglas Lee who've developed Touch the Valley. It's a 3D topographic puzzle that assists visually impaired people with their physical environment through touch. Following a testing period, the concept has been fine-tuned with added-in magnetic feedback, elevational grooves and a much more ergonomic design, making the product a more immersive experience.
The Lexus Design Awards 2023 were honed down to just a handful of possibles by the notable panel of judges; Paola Antonelli, Karim Rashid and Simon Humphries. The latter is actually Toyota's Chief Branding Officer, who is well placed to see the value the Lexus Design Awards offers to its luxury carmaking arm.

"We as designers have a unique responsibility to create answers to challenges, whether that is through innovative ideas, beautiful aesthetics or any other method that could offer a better future," he commented. "From this point of view, the winning ideas were a clear reminder of the 'power of design'."
Alongside the inventions at Superstudio Più in Milan is the impressive Shaped by Air art installation, which has been created by Suchi Reddy and was inspired by the Lexus Electrified Sport concept. The New York-based artist first presented the display outdoors, during Miami Art & Design Week 2022. This time it's indoors and provides a dramatic backdrop to the Lexus Design Awards creations.
Thankfully, the installation was able to be flatpacked in order to get it across the pond. Reddy loves cars too and says she would be more than happy to do more with Lexus if the chance arises. "My practice is architecture, interiors, inside, outside, residential, commercial, everything. What I love about Lexus is their approach to craftsmanship and even this, the Design Awards, I don't know anyone else that does this."
The Lexus Design Awards also helps to give people an all-important push when they need it most. Although Reddy is now in the enviable position of being able to pick and choose the work she does, the creative still thinks more could be done, especially for women. "It is changing," she adds, "But much too slowly."