iPhone 4S hands-on review
The iPhone 4S might look like the iPhone 4, but with Siri it's a far more intelligent breed. We met for a hands-on review and one-to-one chat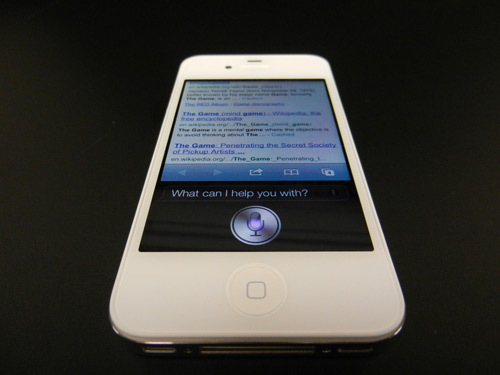 So there was no iPhone 5 announced by Mr Cook, the new King of Apple, but that's not say he hasn't been busy – the iPhone 4S is a very different beast to its less S(iri) filled predecessor. So what's in an S?
For starters the iPhone 4S comes in white and black right from its release on October 14 where it will be available in 16GB (£500 SIM-free), 32GB (£600 SIM-free) and new 64GB (£700 SIM-free) versions. The hardware upgrades include an A5 dual-core chip like in the iPad 2 – meaning seven times faster graphics, an 8MP camera with a larger aperture and auto correction for clearer pictures and 1080p recording for videos, and a new dual antenna that improves call quality and – Apple claims – brings data speeds comparable to America's 4G. And then there's Siri.
Even though it was last, the top feature is Siri, the artificial intelligence living in the iPhone 4S (and not the iPhone 4) that lets you talk to your phone. It not only understands commands like, wake me up at 7am, and then sets an alarm, but also learns your voice and gets more accurate the more you use it. It could be a bit embarrassing on the train, but when mobiles first came out it was embarrassing using them in public – this could be just as revolutionary. Saying that, we can't imagine everyone chatting to their phones in a virtual cloud – just yet.
Siri doesn't stop at commands like, call home, it works out what you're talking about. Press and hold the home button to activate Siri and ask, should I wear a coat, it'll check your location and the weather and give you an answer with the weather report. It's that clever, and actually works.
Quickly noting down a film to watch or a note to remember should be easier. Siri kindly does that for you, just tell it what note you want stored and let it do the work. And if you're out driving with hands-free it will alert you to a text, you can tell Siri to read the message out and then tell it to reply and dictate the message. And it actually works. This could spell the death of the keyboard at last (in places where people can't hear you, anyway).
Other extras include Newsstand, which maintains magazine and newspaper subscriptions that you sign up to within the app. The best bit? It automatically updates so you never miss an issue – expect to find the new Stuff app there soon.
Twitter integration has arrived meaning you can snap a pic and have it all over the web in an instant.
If you're a fan of iMessage and get sick of flitting between that and your SMS inbox, fear not, the two are now combined. The iPhone 4S even manages to work out what your recipient is using and decides which method to send it by, so you don't have to. The only glint of a difference is the colour of the message box.
In a bid to add even more speed to the new super fast 1.1sec camera there is now a quick access button. Double tap the home button and on the menu can be found a one-touch-access icon that immediately opens your camera. So if you spot an iPhone 5 in the wild you won't miss sharing it with the world.
Also
iPhone 4S – reasons to be cheerful
iPod Nano gets updates and watch strap