Get your game on with Stuff's August issue, on sale now!
All the latest kit for console, PC and handheld gaming, plus a whole lot more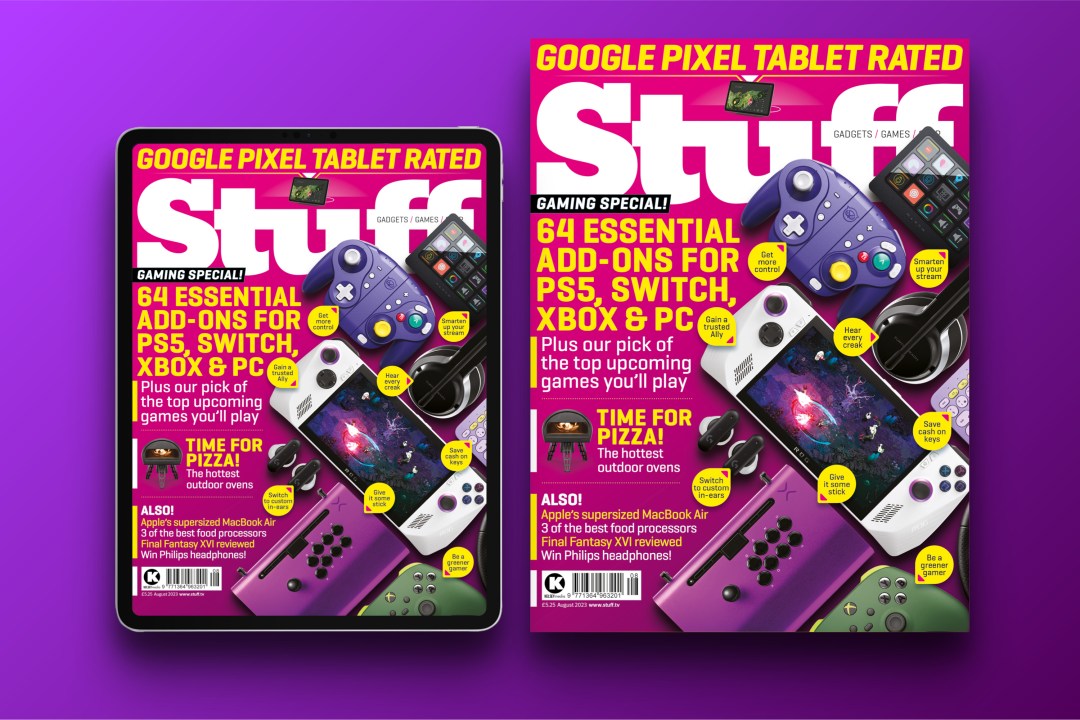 Summer is finally here, which can mean only one thing: pretending the outside world doesn't exist while bingeing on PC or console games. We've got a huge array of top-class accessories in the August 2023 issue of Stuff magazine, to help you get kitted out whatever you play on – be it PC, console or handheld. Our 24-page mega test also shines a spotlight on VR, and rounds up some of the best-looking games due out later this year.
That's just the start: this issue also highlights the best pizza ovens, so you can enjoy a slice of Italy without having to wait for a delivery driver to show up at the front door, and we take a first look at the 2-in-1 Google Pixel Tablet to see if it's more iPad rival or smart display.
Elsewhere we strap on the Mobvoi TicWatch Pro 5, to see if an Android Wear smartwatch is able to impress when it's powered by the latest Snapdragon CPU. Then we check out Apple's large yet lean MacBook Air 15in to see if bigger really is better when it comes to ultraportable laptops.
There are also in-depth tests of the Motorola Razr 40 Ultra clamshell foldable phone, Samsung QN90C neo QLED TV and Amazon Echo Pop smart speaker. Then we risk noise complaints by cranking the Philips Fidelio FB1 soundbar to the max (for testing purposes rather than to annoy the neighbours, honest).
If our cover feature didn't satiate your gaming appetite, there's a trio of big hitters on review this month: gothic loot-fest Diablo IV proves hell is other adventurers, Street Fighter IV takes on the world in hand-to-hand brawling, and Final Fantasy XVI swaps turn-based strategy for all-out action, so there's something to please every palette.
Plus you could win one of ten pairs of Philips Fidelio L3 headphones in our competition!
Stuff Magazine is the world's best selling gadget magazine, covering all the latest and greatest gadgets and gear that money can buy.
Want more? Check out our latest reviews