Fully Charged: First look at Samsung's Gear VR headset, GE's calorie-counting microwave concept, and the art auction based entirely on emotions
Good morning! Here's all the tech news you need to start your day
GE testing calorie-counting microwave
Cooking a meal using traditional means is often a complex, drawn-out process—hence the appeal of the microwave. Likewise, tracking your meals and counting calories with apps is also a tedious process—hence the microwave? That could soon be the case, according to the MIT Technology Review.
General Electric (GE) is currently testing a device that uses low-energy microwaves to estimate the number of calories in your food, and it's possible that the technology could be embedded in future microwave ovens (not seen above; that's just a regular microwave). Right now, it only works with blended foods by analyzing the fat and water content, as well as weight. However, GE says it's working on ways to, say, read the info from an entire plate of food.
Such info could theoretically be automatically synced with a device for easy tracking. Paired with the food replicator in the works at Nestlé, we might be looking at yet another component of the kitchen of the future—emphasis on "future," as it doesn't sound like this calorie-counting tech is all that close to being part of a consumer product.
[Source: MIT Technology Review]
READ MORE: Fully Charged: Nestlé's food replicator plans, Google's move into domain registration, and a different Forza Horizon 2 for each Xbox
Samsung's Gear VR headset image leaks, reveal planned for September?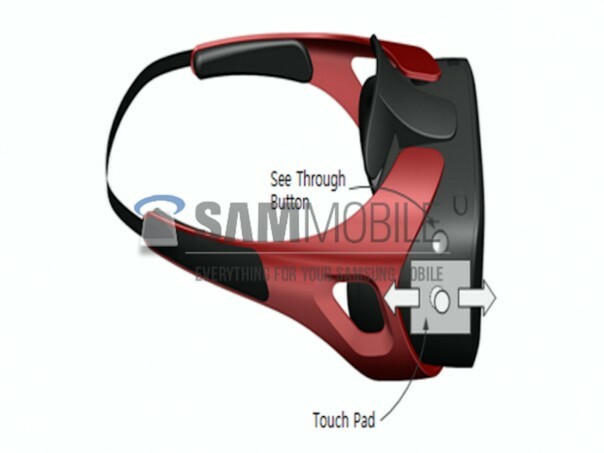 We first heard a few weeks back that Samsung was preparing an entry into the burgeoning virtual reality headset market—one that would allow the company's recent handsets to dock into it and use that display to view content—and now we have our first reported look at the hardware via this leaked render courtesy of SamMobile.
Dubbed the Gear VR, the headset will feature a touch pad on the side—presumably for interacting with menus and perhaps even games—as well as a button that allows you to "see through" the screen via the device's back camera.
The headset uses the phone's gyroscope and accelerometer for head tracking, and it'll fasten onto your head via the elastic strap on the back, with plush pads on either side of your head for comfort. And as leaked earlier, Oculus VR is reportedly developing the software for the Gear VR in a technology swap with Samsung for the benefit of its own Rift headset.
SamMobile says that Samsung will officially unveil the Gear VR at IFA 2014 in early September in Berlin, which is the same trade show that the Note 4 is expected to be shown at. Price and performance will dictate whether it's a worthy way to strap a phone to your face; in the meantime, consider Google's Cardboard, which you can haphazardly assemble right now.
[Source: SamMobile]
READ MORE: How to make Google Cardboard from scratch
Get BioShock and XCOM games cheap in 2K's Humble Bundle
Charity-minded, set-your-own-price game bundles started as an indie sensation, but major publishers have glommed onto the trend—and this Humble Bundle offering from 2K Games is one of the best we've ever seen. You can get BioShock, The Bureau: XCOM Declassified, and The Darkness II for PC (also Mac and/or Linux for certain titles) for as little as a US$0.01.
Pay at least the average price (as of this writing, US$7.04, approximately £4.11) and you'll also get BioShock 2, Mafia II, and Spec Ops: The Line. And spend at least US$20 (£11.67) and the heaviest hitters are added: BioShock Infinite and XCOM: Enemy Unknown. That's one heck of a deal, and you can split how your money is spread between 2K, Humble Bundle, and charities Action Against Hunger and the American Red Cross.
[Source: Humble Bundle]
READ MORE: Red Dead Redemption 2 and more BioShock games on the way, says Take-Two boss