Fully Charged: Facebook at Work launching, Xperia phones do cancer research while you sleep, and the retro-fabulous Macintosh reimagining
Roll out of bed, rub the sleep from your eyes, and load up on hot tech news tidbits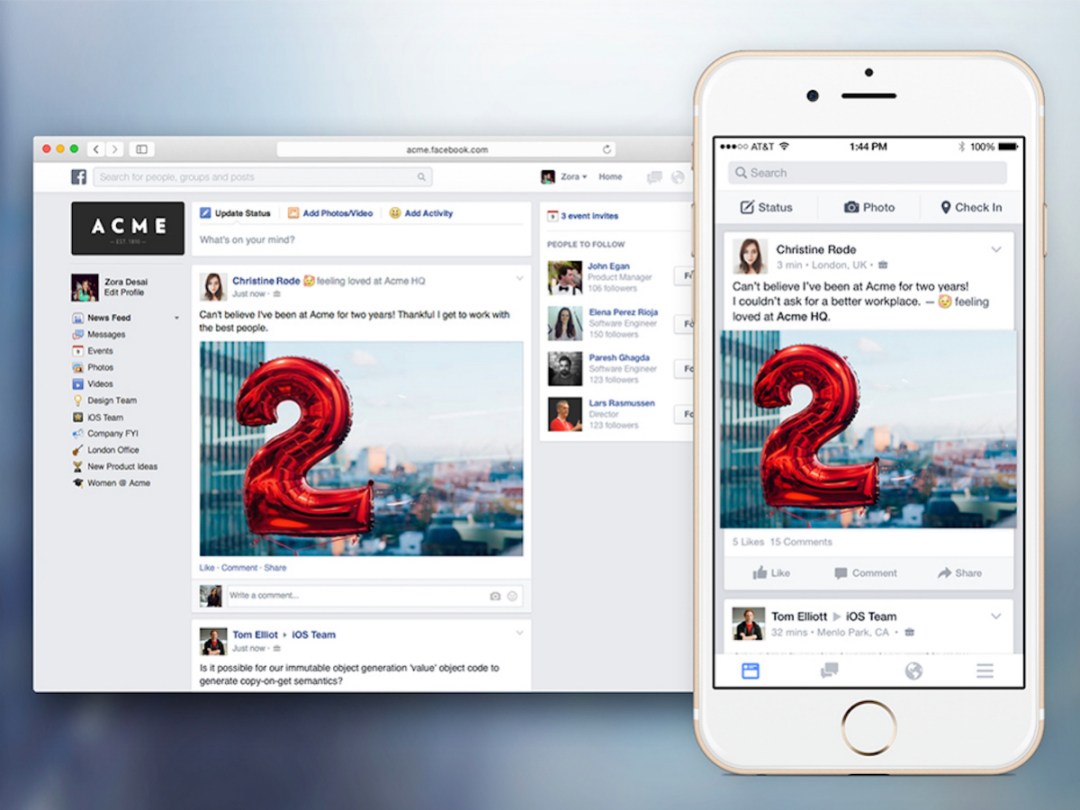 Facebook at Work is Facebook for work
Your boss might not want you twiddling the day away on your News Feed, but you may soon find yourself using Facebook at work in full public view. Because of Facebook at Work. Come again?
Facebook at Work is its new effort to allow companies to create closed social networks for employees to interact with each other and share files, all while using a familiar UI that lacks the usual wealth of distractions. And ads, for that matter.
It's launching on web, with iOS and Android apps also popping up, but right now Facebook at Work is only available to select testers ahead of a proper debut. And while free to use, ad-free, and purportedly also not being mined for social tracking data by Facebook, it seems likely that the company will offer a paid version with more advanced functionality down the line.
[Source: Recode]
READ MORE: Rooms app from Facebook lets you create and share mobile message boards
Sony phones help disease research
Want to be benevolent while you sleep the night away? If you've got a Sony Xperia phone, you can do so now with the new [email protected] app on Google Play, which harnesses the power of your smartphone to help contribute computing power to research on degenerative diseases.
You might be familiar with the app from the PlayStation 3 or on computers: it uses your hardware when you don't need it, and simulates the process of "protein folding" to help Stanford University researchers unravel its mysteries, which could some day lead to treatments for horrific diseases like cancer and Alzheimer's. The clip above is from 2013, but it shares the premise well.
With the Android app, it only works when your phone is plugged in, charged to 100%, and connected to Wi-Fi, and the current beta app works with Xperia Z, T3, T2 Ultra, M2 Aqua, and C3 devices. Once it exits beta, the app will work with all Android smartphones running Android 4.4 or newer.
[Source: Google Play]
READ MORE: Play to Cure – Genes in Space: fly a spaceship to help cure cancer
Impressive modern Mac reimagining
Anyone with a soft spot for Apple's past should check out this modern reimagining of the original Macintosh from 1984. Curved, a German tech site, produced its concept and renders using the current 11.6in MacBook Air display as a basis, but then remixed it with the iPad for a desktop that has both touch and traditional inputs.
And the spot up front that mimics the old disk drive input? It's mostly cosmetic, aside from a small SD card slot within, but it helps complete the illusion of the iconic design brought back to life with a sleek modern touch. Again, this isn't real, and we doubt there'd be a ton of demand for a desktop with a screen that small beyond nostalgic fulfillment, but it's an inspired blend of Apple old and new.
[Source: Curved]
READ MORE: Report: 12in MacBook Air's slimmer redesign will eliminate most ports