Dual camera system could give iPhone 7 photo and video superpowers
Patent filing suggests zooming without losing detail and other big camera perks
Apple patent applications are always a crapshoot: sometimes they hint at future features that we'll see in some form well down the line, while other times they never appear in a consumer device (at least in the form we expect). Well, here's one we hope we get sooner than later.
A new Apple patent filing that the United States Patent and Trademark Office posted yesterday (via Patently Apple) spotlights a dual camera system for iOS devices, but there's more to get excited about here than with HTC's limp Duo Camera system from the HTC One (M8).
For example, it could be possible for one camera to grab an image at a typical smartphone camera depth and another to have a much deeper focal depth, allowing you to effectively zoom into a shot without the usual pixelization that comes with digital zooming. That's one particularly notable possibility.
Another is that the two cameras could capture video in different ways simultaneously, such as having one camera shoot 4K real-time footage while the other captures 1080p slow-motion footage; or one could capture video while the other takes full-resolution photos all the while. A further example suggests that you could produce picture-in-picture videos using the two cameras together.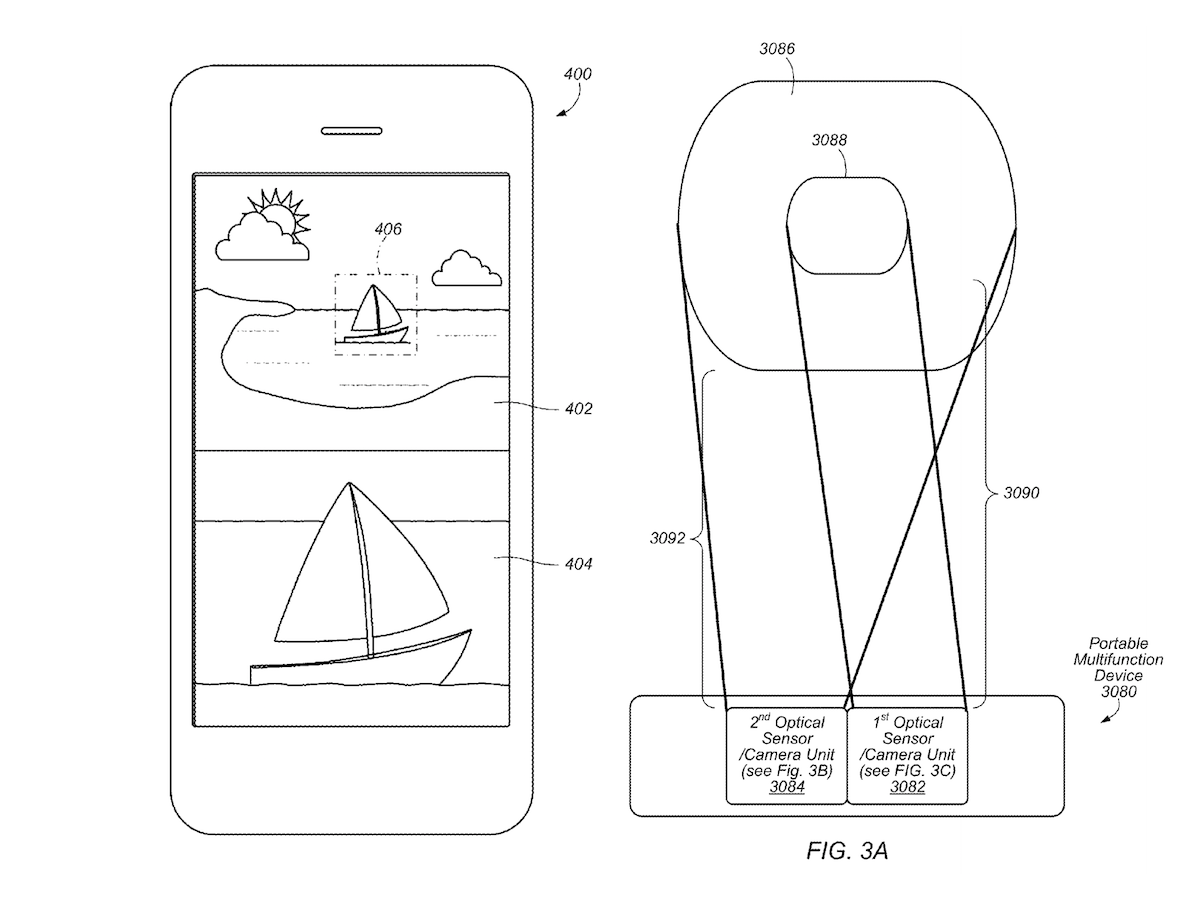 And since they would shoot simultaneously and coexist with each other, it would be possible to seamlessly edit those streams or different media types into one impressive finished product. One example suggested by the patent would be taking different kinds of footage of a child blowing out candles at her birthday party, and then easily editing them together with an app like iMovie.
"Second camera module 3084 can be used as a telephoto camera module to zoom in on the face of the child as she is about to blow out the candles and first camera module 3082 can capture a burst of high resolution still images of her smiling face," reads the application. "In some embodiments, first camera module 3082 is simultaneously capturing standard 1080p 30 frames per second video of the entire group of kids gathered and singing around the cake […] As the two camera modules are synchronized in time, the still images can easily be automatically inserted at the right time in a final video stream."
Last April, Apple acquired Israeli company LinX, and that company's specialty was developing depth-sensing systems that allowed multiple mobile cameras to produce SLR-like photo results on a smartphone. Whether Apple's ambitions in this space began there or LinX's technology was just integrated into this is unclear, but the potential here is really exciting.
As we said, Apple patents don't always result in consumer tech applications – or quickly, for that matter. So while an iPhone 7 debut for the system can't be counted out at this stage, it could well be an iPhone 7s improvement instead… or something else entirely. In any case, we're curious to see it in action, whatever form it takes.
[Source: USPTO via 9to5Mac and Patently Apple]