Artiphon unveils the beautiful iPhone 5 compatible INSTRUMENT 1 – exclusive hands on photos
This multi-instrument iOS accessory has just blown our minds at CES – and we've got the first snaps of it in action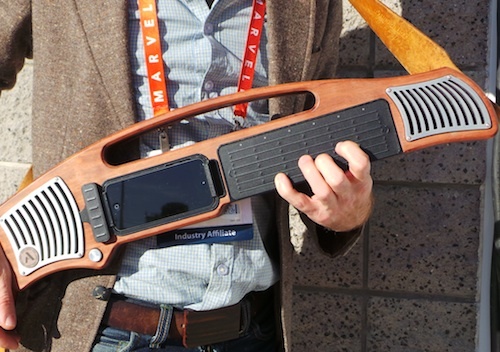 Think iPhone or iPad guitar and truly hideous gadgets spring to mind – tacky toys that never live up to the hype.
Enter the Artiphon INSTRUMENT 1, a musical instrument designed for the iPhone 5 and iPod Touch that makes us want to throw the rest of our iOS accessories out the window and cradle its gorgeous handmade hardwood and bamboo body for hours on end.
So what is it? Alongside the slot for your iPhone there's six virtual force-sensitive frets and strings and a strum section.
It can be played as a guitar, bass, violin (just stick it under your chin), mandolin and lap steel so you'll be tapping out melodies with the INSTRUMENT 1 on your knees as much as strumming it with the guitar strap in place – just switch between modes via the inner side of the device.
Compatible with any CoreMIDI enabled iOS apps, you can record straight to apps like GarageBand, hook up a pair of headphones or a stereo amp to fine-tune your creations and get your PC involved via USB. Talking of apps, Artiphon is also working on its own iOS app for the INSTRUMENT 1 too.
In our demo of the INSTRUMENT 1 with its inventor Dr. Mike Butera, its stereo speakers and 30 watt amp sounded pretty impressive too.
With a rechargeable battery, in theory you could just sling the INSTRUMENT 1 over your shoulder so it will never leave your side but trust us, this thing looks too good to risk it.
We want one. You should want one. So it's music to our ears that Artiphon will start taking pre-orders for the INSTRUMENT 1 in spring 2013 for around the US$800 mark – we reckon it'd be worth cancelling a few Amazon binges for.
Qualcomm's new Snapdragon 800 chip brings 4K video to smartphones
Morphing touchscreen keyboard video blows our minds
Asus Qube Google TV review round up