Apple iPhone 6 vs Samsung Galaxy S5: the weigh-in
It's the day Samsung's premier phone has been waiting for - the chance to square up to the 2014 iPhone. So which wins on paper?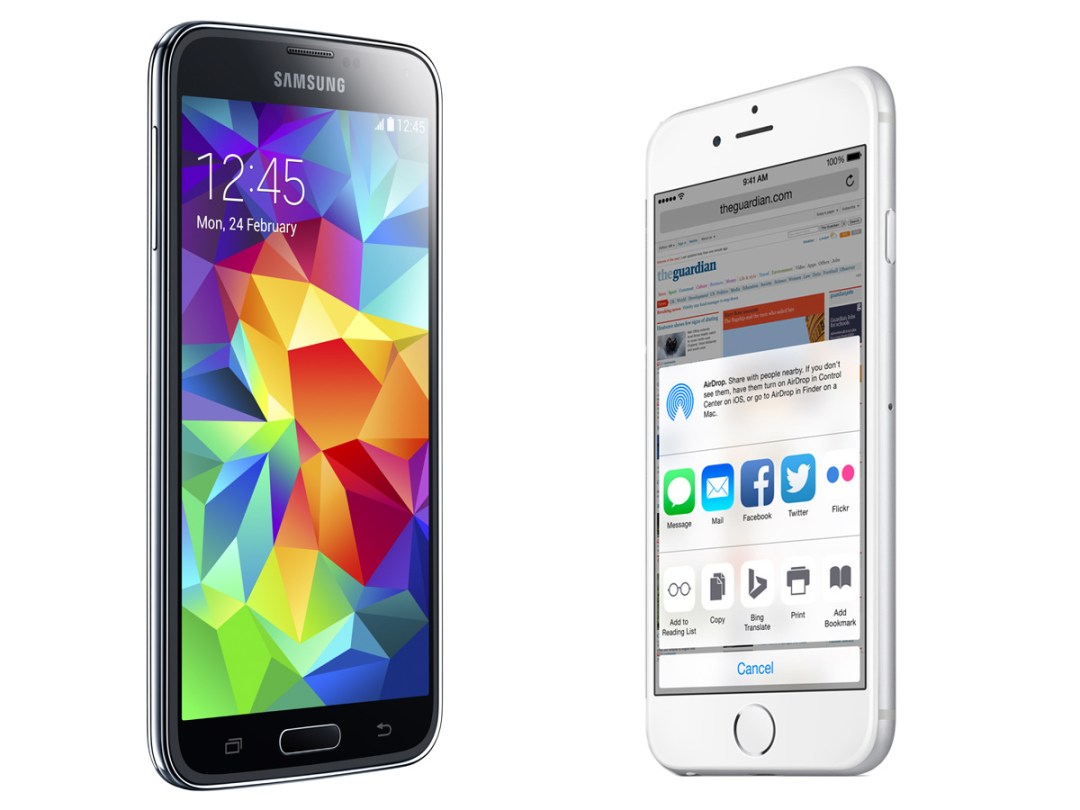 Before Tim Cook got up this morning, before you'd even heard one little detail about the new iPhone, you'd probably already made up your mind on that burning question of our time: iPhone 6 or Galaxy S5?
But in case you want some reassurance that your tech studies have steered you in the direction of pure gadget truths, take a look at our side by side comparison of these two mighty smartphone warriors.
It's early days for the iPhone 6, but we've already seen enough to know that it has the potential to be the best iPhone in years. The Galaxy S5, meanwhile, has sat near the top of our smartphone Top 10 for months.
So, on specs alone, which would we buy?
READ MORE: Samsung Galaxy S5 reviewed in-depth
Design and Build: Metal vs Plastic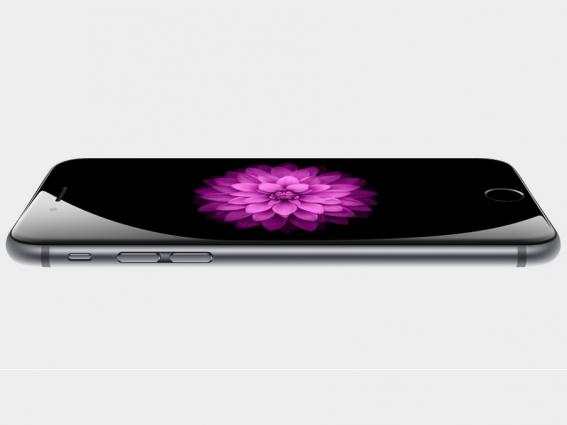 You might think this category would be a shoo-in for the iPhone. But the Galaxy S5's waterproof, durable build might be music to the ears of many ex-iPhone owners who endured cracked screens for half their contracts. Or who dropped it down the loo after a month. The S5's dimpled polycarbonate back works to make this the grippiest, not slippiest Galaxy to date and it's light (for a big 5.1in phone) too at 145g.
Then there's the iPhone 6. With a new 4.7in screen, it's bigger than the 5s but no less lovely. With new rounded edges, a bit like we've just seen on the Sony Xperia Z3, Apple is vying for better ergonomics than the iPhone 5s. And now you'll be able to tell which way the screen is facing when you slide it out of your pocket or bag. A few details have changed, such as the the oblong volume buttons and the camera is now slightly raised above the aluminium on the rear – that's because Cupertino's packed in a lot of glass. Probably the most impressive detail is those slim bezels either side of the Retina HD screen. Plus the new 6.9mm skinniness – the 8.1mm S5 looks fat by comparison.
It comes down to this – the iPhone 6 is prettier, the Samsung more practical. The S5 is less impressively engineered than its predecessor and just doesn't feel like a £500+ device. The iPhone 6 is as expensive-looking and desirable as ever, with no extra durability announced so far. We'd wager it will be the smartphone of choice for everyone from monarchs to muggers with its killer looks.
Winner: iPhone 6
Screen: A bigger, small iPhone screen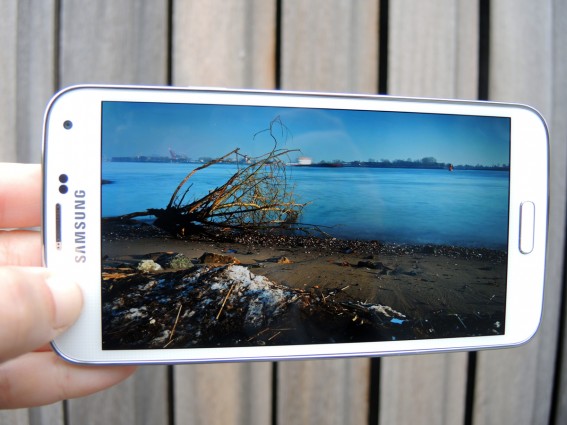 It's all change in the screen department. With two new screen sizes, the iPhone 6 comes in at 4.7in in size – possibly the absolute sweet spot between a bigger screen size and ergonimics for anyone with smaller hands. It's not a sapphire display as expected but Apple did boast that it's covered in ion-toughened glass to help avoid unsightly cracks.
As for the resolution, it's just higher than 720p showing that Apple won't be bullied into the pixel wars by its rivals. That's 1334×750 to be exact and 326ppi – the original benchmark for a Retina display. Only now Apple's calling it Retina HD. It's not just more pixels, we can also look forward to higher contrast, wider viewing angles and more accurate colours thanks to dual-domain pixels.
As for the S5, it's 5.1in Full HD Super AMOLED screen is one of the best we've ever laid eyes on. Its colour reproduction is second to none, especially those inky blacks, and at 432ppi it's still incredibly sharp. It's also the brightest we've used outdoors, making it more useful than most on the go.
Our only complaint? Having to dive into the display settings when movies look too saturated or homescreens look drab in Samsung's modes – adapt display does auto adjust depending on the app but we end up tweaking it anyway.
It's a close one to call but the S5's screen is bigger, sharper and probably brighter – we're not sure how the iPhone could get near its brightness levels. It'll require hours of eyeballing but for now we'll give this one to the Galaxy.
Winner: Samsung Galaxy S5
Camera: Simple vs features?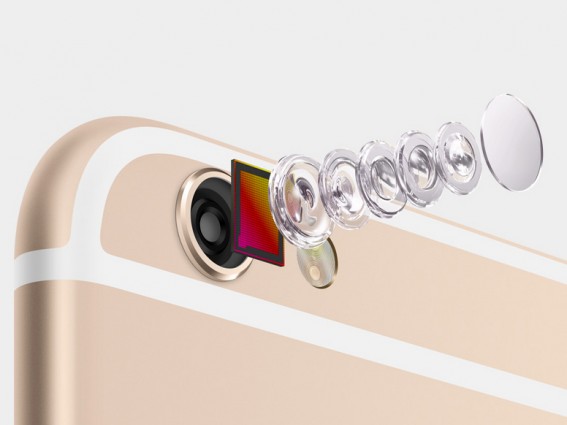 Only 8 megapixels? Calm down, Apple's throwing plenty of improvements into the iPhone 6's camera. A new sensor, for one, with an f/2.2 aperture lens, faster autofocus and software image stabilisation – it's the 5.5in iPhone 6 Plus that gets OIS. The True Tone flash stays plus video gets a boost – new 240fps slow-mo video plus the ability to shoot 1080p footage at both 30 and 60fps. The f/2.2 aperture front FaceTime camera gets a burst mode for selfies and HDR video too.
The S5's 16MP camera offers seriously quick autofocus and masses of detail so you can really zoom in on every shot after you've taken it. In daytime, it's tough to beat. And it's only outclassed by top Androids such as the One (M8) and LG G3 in low light where it's still much better than your average smartphone snapper – just not the best. Features and modes have been trimmed down but there's still lots to play with such as its software powered Selective Focus function. Video, in 1080p or 4K, is crisp and smooth too.
The iPhone has always been one of the most reliable tap-and-go smartphone cameras and with faster AF and a new sensor, we can't wait to test it out. Video, in particular, looks set to be stunning. The proof will be in the pictures.
Winner: draw
OS: iOS 8 vs Android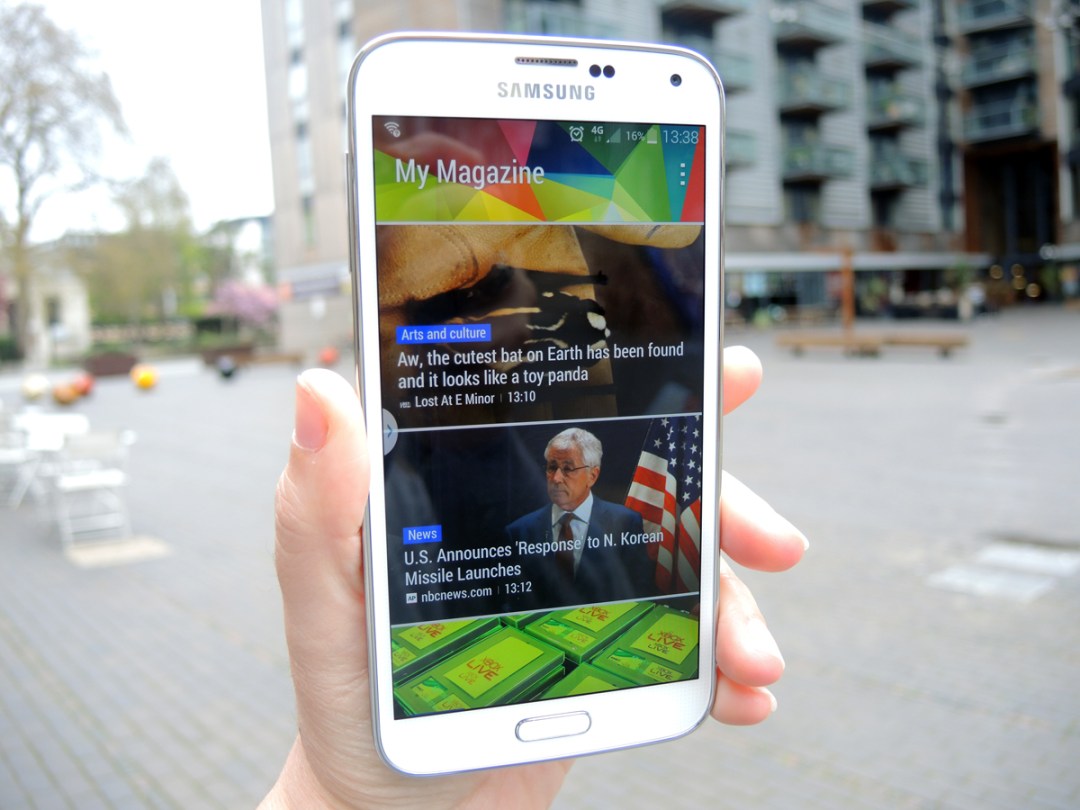 Head on over to our iOS 8 preview for a full rundown of features but for now, it's safe to say that Apple Pay is the star. US only at launch, it lets you use the TouchID fingerprint scanner to tap your phone to pay via NFC, with cards stored in the Passbook app. iOS hasn't changed that much elsewhere – widgets in the notifications pulldown and the new Health app side. The main changes make it easier to work across iOS and Yosemite with features such as Continuity and Handoff syncing everything across both – perfect for MacBook or iMac owners.
With the new bigger screen, Apple has also introduced Reachability – double tap on the home button and the screen moves down so you can reach the top. We're not sure this is the most elegant solution but we'll wait to try it out before criticising it too much.
Samsung's Galaxy phones have always been bursting with new features and the S5 is no exception: heart rate monitor on the back, fingerprint scanner, running two apps side by side with Multi Window and the Flipboard-style My Magazine screen.
But finally Samsung has enforced a bit of order on it all – this version of TouchWiz, running over Android KitKat, is the cleanest yet. We still prefer iOS's aesthetic and simple structure but the S5 is a good compromise between (digital) form and function.
The apps playing field has levelled out a lot though occasionally there are apps such as Vine or Instagram that launch standalones or features on iOS first. Aside from looks and ease of use, Apple's charge into health and payments could make iOS the mobile operating system to beat. If everything works as smoothly as Apple promises..
Winner: iPhone 6
Performance: A8 vs 801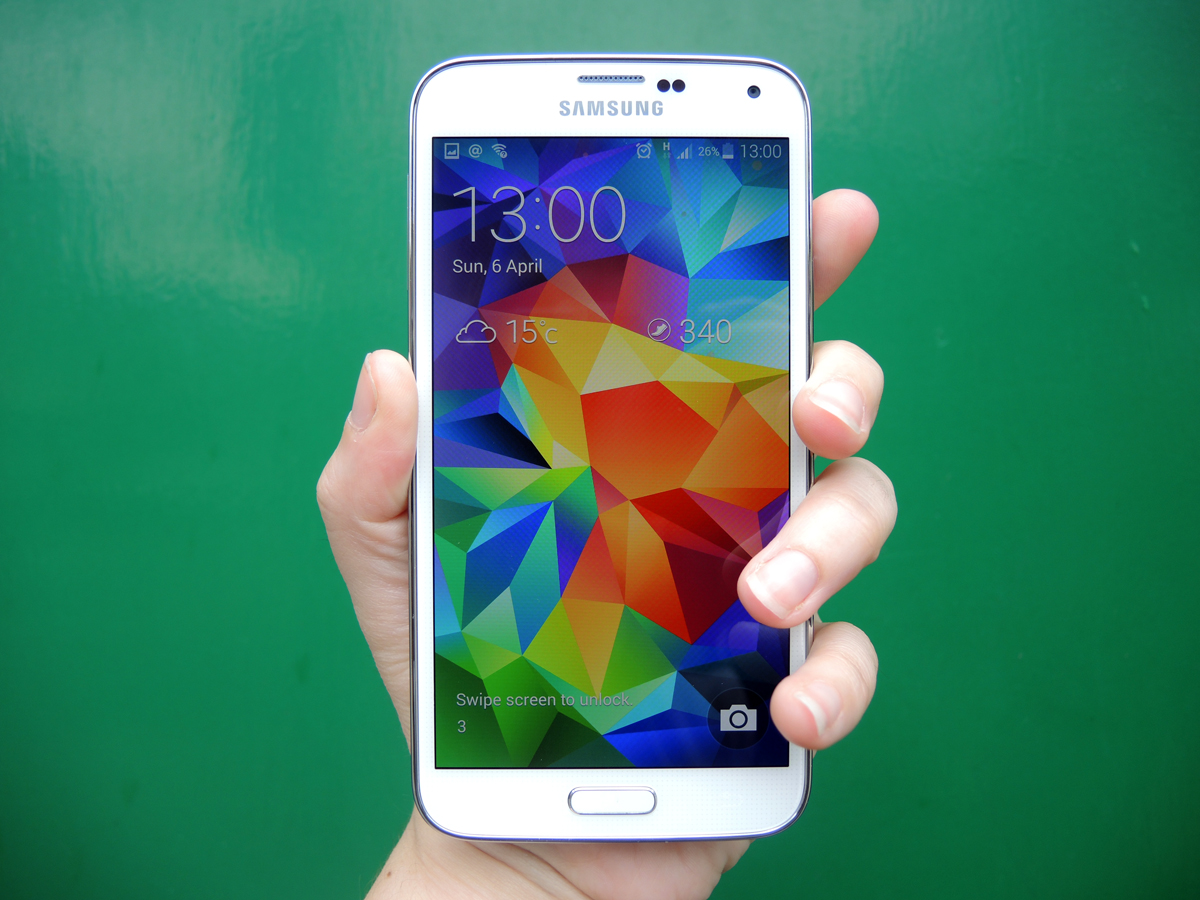 Apple's A8 chip powers the iPhone 6 and it claims performance is 25% faster than the iPhone 5s. Now, the 5s is almost unflappable so our main problem is finding games, apps and benchmarks to really test out these improvements. More excitingly, Apple says the A8 is 50% – yep 50% – more power efficient than its predecessor, the A7. That means higher battery life in both the iPhone 6 and the iPhone 6 Plus – ten hours 4G browsing on the 6 and 11 hours of video. As usual, Apple hasn't actually told us the size of the battery.
Like the S5, the iPhone should have blistering connection speeds – thanks to more 4G bands (with faster download speeds) and fast 802.11ac Wi-Fi. Apple is even introducing Wi-Fi calls, supported by EE in the UK, with hand-off to the network too.
The S5? Samsung's problem was never power, it regularly put the fastest silicon on the planet into its flagships. It was always the little things that tripped it up – still, the S5 is the most lag-free Samsung Galaxy yet down to a Snapdragon 801 processor and tweaks to TouchWiz. Put it this way, you can play 4K video in one window while scrolling around the web in another.
Connectivity is as fast as expected – there's MiMo Wi-Fi and Samsung's Download Booster which combines Wi-Fi and 4G. A browsing, streaming and downloading showdown is in order. These are two of the most powerful mobile devices on the planet, it's no surprise they're both pocket rockets.
Winner: draw
Verdict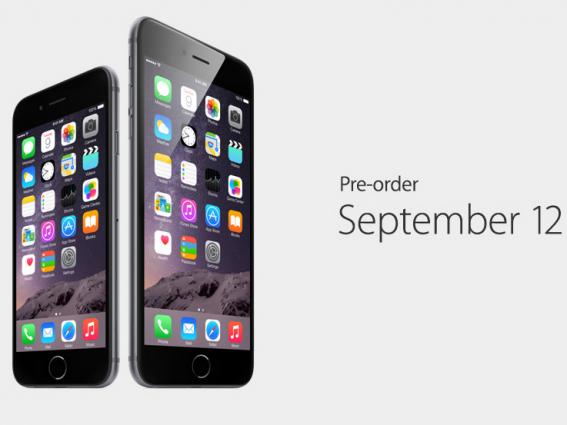 Until we've tested the iPhone 6, it's tough to say how it stacks up against the mightiest of its Android rivals, including the Galaxy S5.
But if Apple can pull of NFC payments (as nobody has managed yet) health and fitness tracking (as nobody has managed yet) and seamless integration of its phones, tablets, laptops and computers then the iPhone 6 will be a formidable device to compete with.
Sure, the screen resolution isn't as high and neither is the megapixel count. But Apple has always succeeded in building phones that work, and work beautifully. With a bigger screen, refined design, new sensor and better battery life, Apple's new smartphone ticks a lot of boxes. So while we may rethink our verdict once we've spent some real time with it, for now the iPhone 6 looks like the winner here.
Winner: iPhone 6