Apple iPad confirmed – shipping worldwide in March
Apple has finally confirmed the Tablet we've all been waiting for, and after all the speculation, it's going to be called the iPad.Looking very much l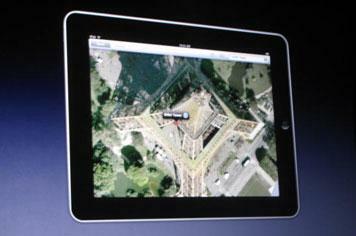 Apple has finally confirmed the Tablet we've all been waiting for, and after all the speculation, it's going to be called the iPad.
Looking very much like a blown up iPhone as rumoured, Steve Jobs took to the stage describing the iPad as being optimised for browsing, email, photos, video, music games and ebooks.
Specwise, it'll be 0.5-inches thick, weigh in at 1.5lbs, have a 9.7-inch screen, a speedy 1GHz specially-designed Apple chip and a choice of 16, 32 or 64GB on-board storage.
There will also be up to 10 hours battery life with over a month on standby, Wifi and Bluetooth connectivity, accelerometer, speakers and microphone.
There will also be a 3G-capable version, but you'll have to fork out more and pay a montly subscription.
Jobs confirmed US pricing as being $499, $599 or $699 for the Wifi-only 16, 32 and 64GB versions. If you want 3G you'll have to add on another $120 to each model – so $629, $729 and $829 respectively.
That will be on top of the monthly subscription confirmed for the US as 250MB/month for $14.99 or unlimited for $29.99. International data prices are not confirmed yet but expected to be firmed up by June.
Looking towards apps, and not only will the iPhone SDK be expanded to allow developers to make apps specifically for the iPad from today, but the iPad will also beable to run iPhone apps directly out of the box.
To make up for the difference in size, you'll be able to double up the pixels if you want to use the app in full screen – or choose to use them in their original size. How this will look in practice, remains to be seen.
Finally, there will be accessories available for the iPad that will make it easier to use in different circumstances.
If you're using it at home a lot, the keyboard dock may prove handy, which will ultimately turn the iPad into a screen to work alongside a physical keyboard.
There will also be a case to protect your iPad on-the-go, but which will fold open to work as a stand for the device, which would be handy for when watching movies and the like.
As for when we can expect it – the Wifi-only version will launch Stateside in March with the 3G version following in April. Considering international data deals are still up in the air we expect we won't see it until a bit later – boo.
The event is still going, so we'll bring you more as we get it.
UPDATE:
We knew we could expect to see the 3G version of the iPad in the UK sometime in June once data deals are done, but TechCrunch has had it confirmed that the Wifi-only version will be shipping worldwide in March. Now we just need that UK pricing…
MORE iPAD STUFF:
Gallery: hands on with the Apple iPad
First impressions of the Apple iPad
Apple iPad – what we wanted, what we got  
5 things you need to know about the Apple iPad
Apple iBooks – Jobs unveils Apple's new ebook store