Acer outs Aspire Switch 10 convertible, £150 Tab 7 and Liquid Jade smartphone
If it's cut-price tablets you want, Acer has you surrounded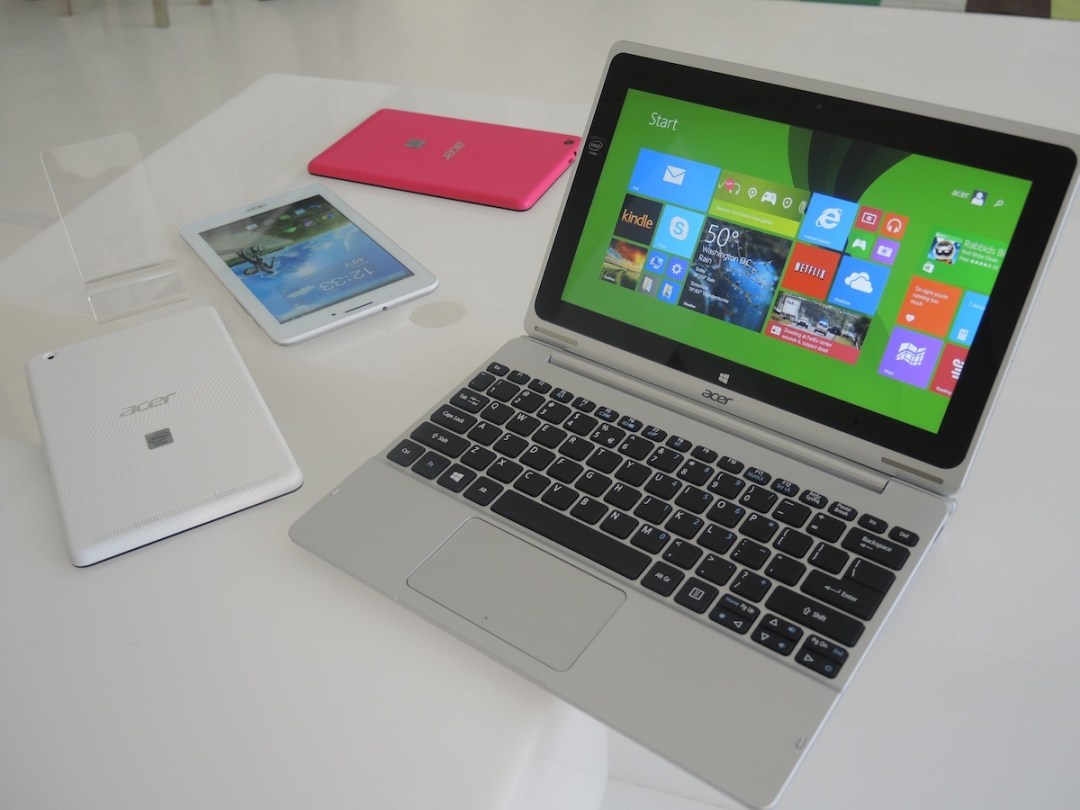 There was plenty of future stuff on show at Acer's 2014 showcase today. Even its Liquid Leap smartband made a cameo. But the focus was on devices you'll actually buy and for Acer that means neat and tidy, good value tablets, laptops and a surprise appearance from its next smartphone the Liquid Jade. 
If we were going to buy one device from Acer's shiny, new line-up it'd be the Aspire Switch 10. OK, that's forgetting the tempting Core i3 C720 Chromebook that was teased but we haven't got specs or a release date for that yet.  The Switch 10 runs full Windows 8.1,  lands at the end of June for a tasty price of £299 and it's taking aim squarely at shape-shifting convertibles from Lenovo and Asus. 
Bang for Buck Tablets
With a 10.1in HD 1366×768 screen, Intel Atom innards, eight hours of battery and a compact, light form factor it could be a winner for anyone who dreams of a MacBook they can pull apart. For under £300. Acer is bigging up the magnetic Snap Hinge and while we've seen something similar from the likes of the Asus Transformer Book T100, it's a big, big step up from Acer's previous mechanisms and fiddly keyboard cases. It can be used as a laptop, tablet or in display or tent modes. Plus the Switch 10 is £50 cheaper than the Asus.
Acer's two other new tablets are both 7in in size and both run Android – Windows 8.1 for work, Android for play apparently.
The grey/silver Iconia Tab 7 will be a tidy £150 when it goes on sale in May plus it offers 3G and even voice calls if you're that way inclined. Two words: Bluetooth headset. There's nothing here to worry the Nexus 7 too much – 720p screen, quad-core processor, 5MP camera, 8.9mm build. But if price is your main consideration, the Tab 7 could be a winner.
Equally, Acer's gone down the Nokia route with the Iconia One 7 – a slightly lower specced, heavier (330g) Android 4.2 tab that runs on Intel Atom and comes in six colours. In the flesh, it's rather nice – the rear panel is textured so doesn't look as cheap as a bright pink, glossy Asus MemoPad HD 7. At a glance, the 720p screen is disappointing but we'll give the full review unit another look when it's ready before the mid-May release.
An Acer smartphone looker
Acer isn't known for its smartphones but here's a bit of a tease – a 5in smartphone due in July with the Liquid Leap smartband companion. Named the Liquid Jade, Acer confirmed it will be coming to the UK and Europe. But we know almost nothing else about it at this stage. The units we got to fondle weren't finished and didn't power on.
Acer says there are no sharp surfaces at all in the Liquid Jade's curvy plastic design and it's slathered in Gorilla Glass. From the model CEO Jason Chen was waving about on stage, we can see onscreen Android buttons plus the smartphone looks set to come in at least two colours: black and white.
Just a glimpse then but the Liquid Jade is likely to mimic Acer's tablets coming in at a mid-range price point. Whether the specs will be mid-range is another question..