The Lenovo Tab P12 is ready for back-to-school season
Keyboard-toting big screen tablet is also doodle-friendly
Students looking to ditch their crusty old laptop ahead of the new school year will be well served by Lenovo's latest multifunctional slate. The Lenovo Tab P12 combines big-screen entertainment with a detachable keyboard and bundled stylus, so should cope with every aspect of education.
With a super-sharp 2944×1840 resolution stretched across 12.7in, the Tab P12 should be on par with a typical ultraportable notebook size-wise, and packs enough pixels to do justice to Full HD streaming videos.  The Atmos-certified, JBL-tuned quad speakers also promise to pack a real sonic punch. At 615g before you hook up the keyboard, it's light enough to lug around just about anywhere.
The keyboard has the same quick key travel and concave shape as Lenovo's ThinkPad laptop line-up, with a bunch of shortcuts to speed up your working. There's also a built-in touchpad to save you reaching over the 'board and tapping the touchscreen. The bundled Lenovo Tab Pen Plus lets you sketch or take notes, detecting pressure for a more pen-like feel. The firm's Freestyle software also lets the Tab P12 double as a wireless drawing pad for Windows.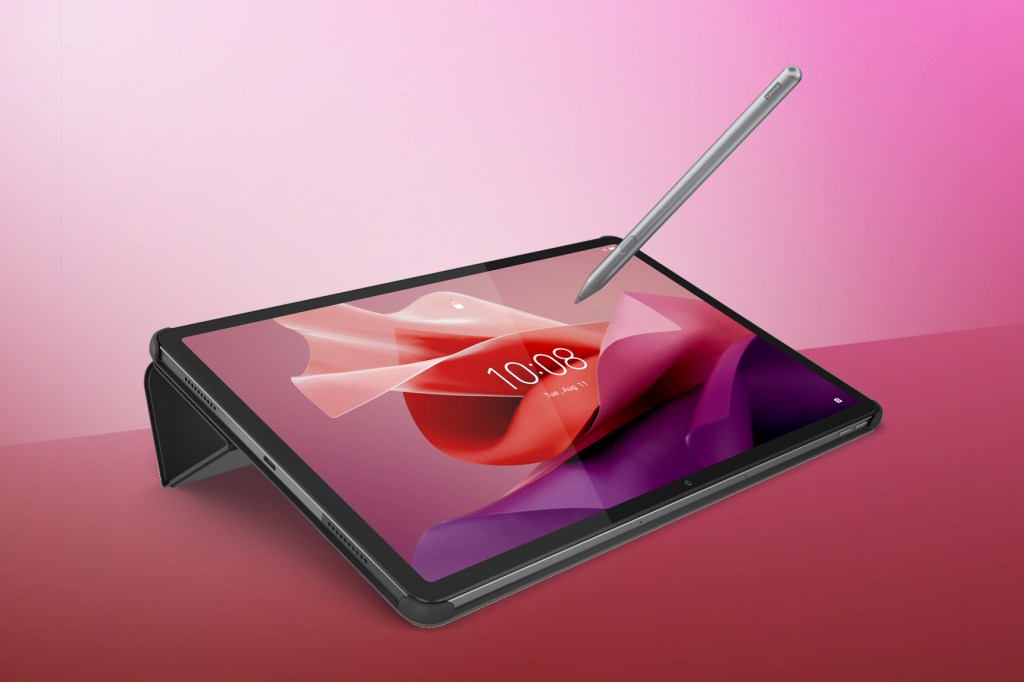 Inside, the Tab P12 is powered by an octa-core MediaTek Dimensity 7050 CPU, paired to either 4GB or 8GB of RAM and 128GB or 256GB of built-in storage. There's also a microSD card slot for adding extra capacity later. Lenovo reckons the 10,200mAh battery is good for ten hours of video playback, so it should comfortably last through a full day of lectures.
The tweaked version of Android 13 it runs has been optimised for top-tier multitasking, with up to four apps in split screen or five floating windows.
You also get an 8MP rear camera with autofocus, plus a 13MP front webcam with a wide field of view for squeezing a lot more into the scene during video calls.
The Lenovo Tab P12 will be hitting Europe later this month, either as a bundle with the keyboard and Pen Plus stylus included for €499 (roughly £430), or a tablet/pen combo for €399 (around £350).