Vertical vinyl, maths scarves and cheese through your letterbox: 7 Kickstarter and Indiegogo must-haves for July
From Cheese Posties to KnitYak, here are this month's crowdfunding passers-by to doff your money cap to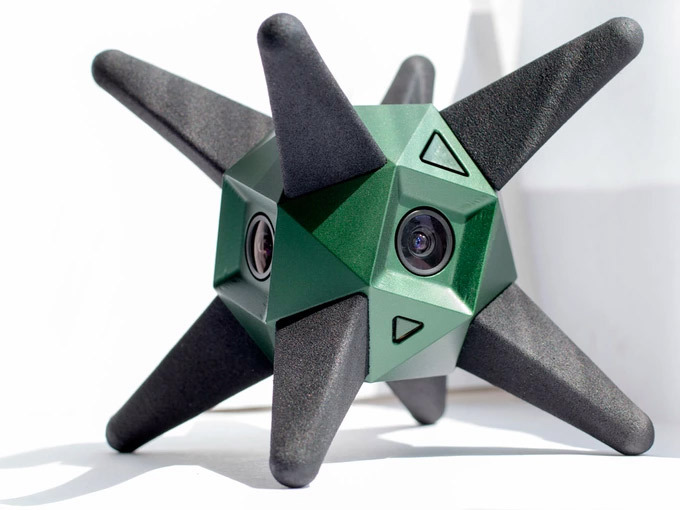 We'd say there must be something in the air, given this month's selection of crowdfunding gems. And that something is the sun, its heat making inventors go a bit funny.
Usually, we're swimming through a sea of me-too tech products — headdesking as we unearth yet another smart lock or phone charger with a billion functions. But July 2015 is a month of masterful crowdfunding strangeness, with floating records, oddball cameras, maths knitting, and a most bizarre kind of personal archiving.
Begin!
1. Floating Record (from US$350)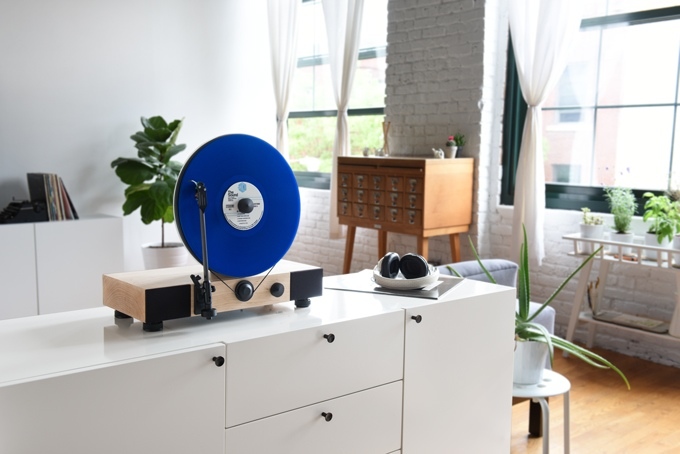 To some extent, infatuation with vinyl is about fetishism — it's as much about the object as any supposed additional 'warmth' that emanates from the recording. On that basis, the Floating Record makes a lot of sense, playing your vinyl vertically, showing it off rather than hiding it away.
Smartly, this attempt to "reimagine vintage audio with modern technology" is an all-in-one solution. The unit includes stereo speakers and an on-board amp; if you don't fancy using the Floating Record's speakers, they can be bypassed to headphones or an external amp via RCA. The result is a beautiful, functional unit that looks like something from a sci-fi future that never happened. And, dammit, it's eroded our cynicism about hipsters and vinyl entirely.
2. Sphericam 2 (from US$1400)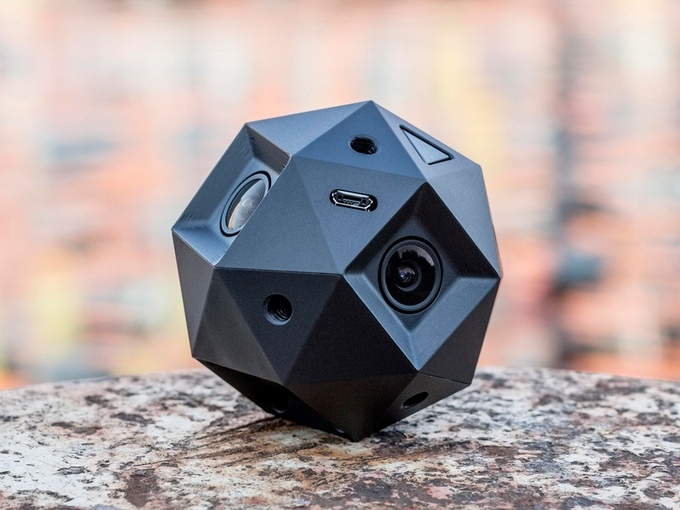 "Be there. Without being there." That's the slogan for this tiny camera that looks a bit like it's about to spew lasers and take over the world. Sinister design aside, the Sphericam packs a punch, with its six lenses, four mics, and auto-stabilisation combining to offer uncompromising 4K spherical videos, whether you hold the unit in your hand, place it on a stick, or use its extended arms (which make it look even more terrifying).
The results are VR-ready and reportedly lack blind spots, making them perfect for your VR headset, tablet or smartphone. (Oddly, the guy in the promo video seemingly enjoys his videos on all of those things, directly after shooting them, in the place he shot them.)
3. Cheese Posties (from £5)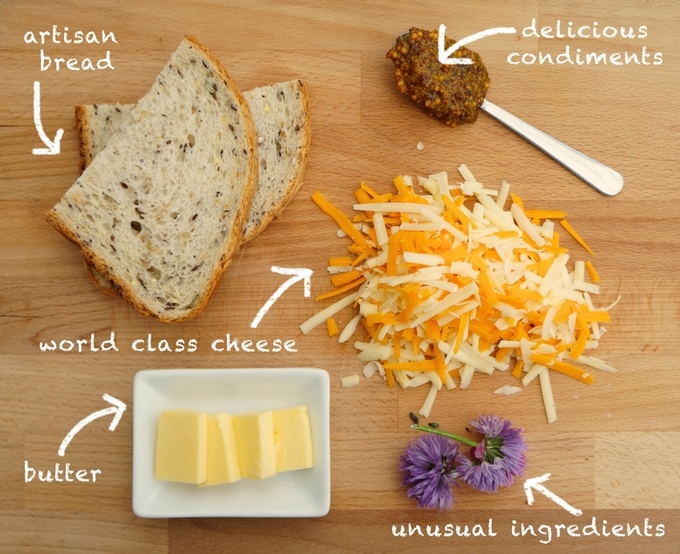 We've had quite a few weird things plop through the Stuff HQ letterbox, but never a grilled cheese sandwich. Thanks to the brains behind Lick My Dip, this dream is now a reality — well, sort of. Because receiving an actual toasted sarnie in the post would be gruesome, you instead get the ingredients, which comprise "artisan breads, fine cheeses and condiments all immortalised on a collectable top trumps card".
Some swift construction later, you pop the bits in the bag provided, bung everything in a toaster, and are then only minutes away from cheese heaven. (Should you want to go much, much further, pledge five grand. You'll be dipped in melted cheese, rolled in breadcrumbs and dipped in sauce, before becoming a big cheese about town, taking in a show and ending up at a hotel with presumably freaked out/very annoyed staff.)
Naturebytes Wildlife Cam Kit (from £30)
According to the RSPB, the majority of kids have very little attachment to nature, but they do like their tech. Naturebytes is a cunning way of using the latter to change the former, by way of a DIY wildlife camera. Its core is the ever-versatile Raspberry Pi, which is placed inside what resembles a tiny green robot that's then clipped to a tree or post.
The camera will then capture images and video by way of motion sensors, and these can be shared with the Naturebytes community. (Of course, there is the possibility the kids will then spend all their time inside, hacking the camera, sharing images, and coding, but at least they'll have been outside once.)
5. BOLD Knot (US$40)
We said earlier that we were getting sick of me-too crowdfunding, yet here we are recommending a charging cable. What gives? Well, BOLD Knot looks pretty fab, given that it's an actual knot of parachute cord. But also it's a smart solution to an everyday problem. Plug a charged Knot into your device and it'll get up to three hours of extra life.
Plug the other end into a power source and it'll feed power through to your device before recharging itself. Neatly, the two ends lock to make the Knot form a single loop, and judging by the video, it's also cat-proof. (Mind you, the video also shows cats driving cars, so there's perhaps a touch of artistic licence.)
6. olloclip Studio (from US$35)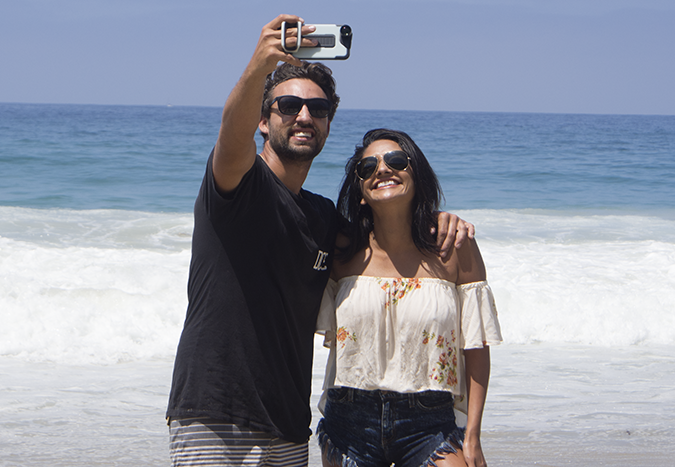 It's been four years since the original olloclip Kickstarter, where a little set of clip-on lenses for iPhone instigated a mini photography revolution. Now, olloclip aims to extend its vision from lenses to a complete mobile photography system.
With Studio, then, you get a case for your iPhone 6 or 6 Plus and a bunch of modular components — grips, adapters, mounts, and a kickstand. "Think of it as a photo studio you can take anywhere," goes the blurb, and if you go for one of the pricier reward tiers, that'll be even more the case, given that you'll get a bunch of lenses thrown in as well.
7. KnitYak ($150)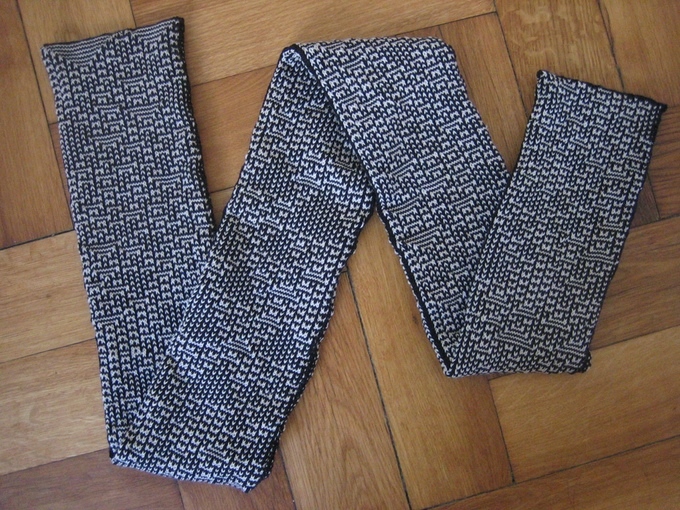 We almost never cover fashion and clothing in this column, because people are generally expecting beeping things with exciting glowing LEDS that potentially fly across the room while taking photos of your startled cat. To anyone who's therefore disappointed we've included knitwear, we have three words for you: algorithmically generated scarves.
That's right, the KnitYak isn't just any old piece of wool you wrap around your neck. These have been designed by Fabienne, whose interests apparently include hand-knitting and hard maths. The result is a truly unique piece of clothing designed using elementary cellular automata, which can only be reordered later by providing KnitYak with its source code. Geekiest scarves ever!
DON'T HIT IT WITH A HAMMER BONUS: Fahrenheit 2451
In a month featuring algorithmic winter wear and 'cheese posties', it takes something special to win the weirdness prize. But that's Fahrenheit 2451. Its creators argue modern memories are fragile, entrusted to flash memory, shiny discs, photographic film, or the cloud. Instead, they should apparently be engraved into a sapphire disk, which is water, acid, light, cold, and heat proof. There are some tiny snags: engraved information must be text or image documents; data retrieval is by way of a powerful magnifying glass or digital microscope; and the disk has a nemesis: hammers.
Still, given that even a one-inch disk (110MP) costs $149, you'll probably not be hitting it with a hammer to test its durability — and you'll know if you drop your disk into lava, retrieve it, and then jauntily fling it into a pot of acid, it should be just fine. Try that with a DVD-R!