The Unbreakables: rugged cameras put to the test
Freezeproof, waterproof and unperturbed by your butter-fingered clumsiness, these snappers are truly mighty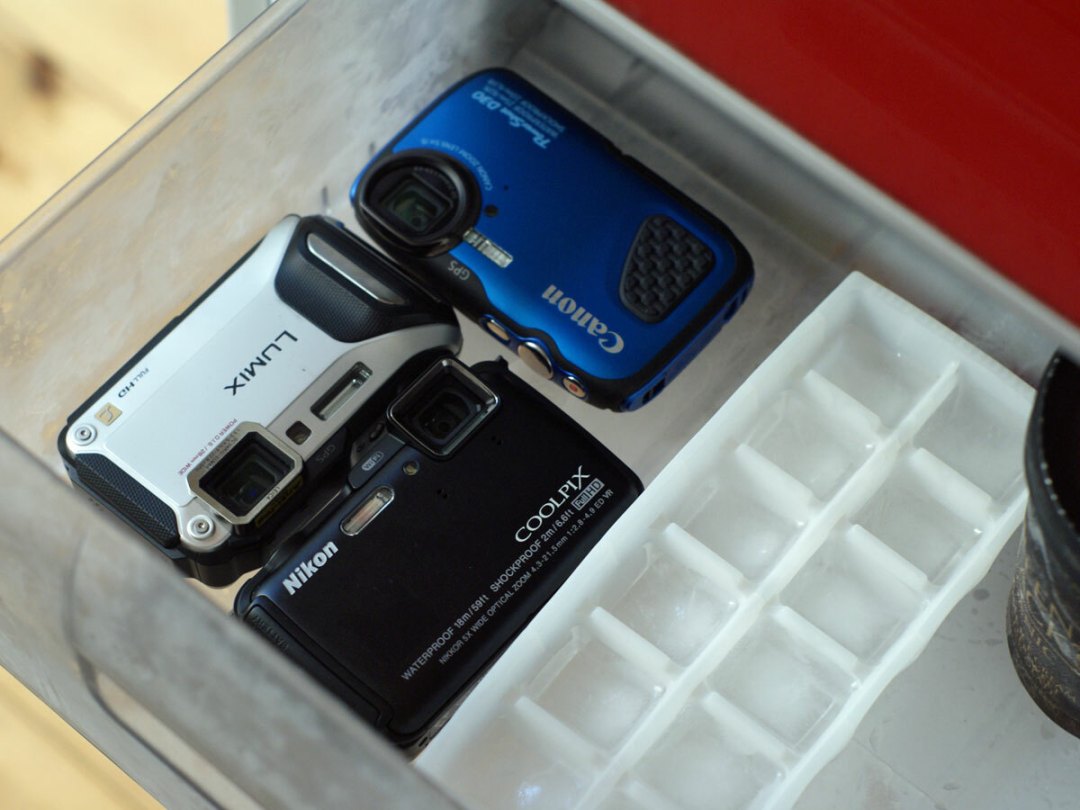 Tough cams deserve a tough test – so that's what we've given them.
These three rugged point-and-shoot snappers are all nigh-on indestructible, according to their makers. In fact, withstanding water, dust, ice and impacts should all be in a day's work for the Canon PowerShot D30, Nikon Coolpix AW120 and Panasonic Lumix FT5.
Well we weren't prepared to take their word for it.
To see if the snappers lived up to their rugged billing, we put them through a series of (almost) Herculean trials: an hour in the freezer; a six-foot drop on to a hardwood floor; and – the pièce de résistance – an eight-minute rinse session in the dishwasher.
You can see the video of the latter below (yep, if you've ever wondered what goes on inside a dishwasher when the door's closed, you're about to find out), along with individual reviews of each of the cameras.
Ladies and gents, it's time for some tough love.
Canon PowerShot D30 (£260)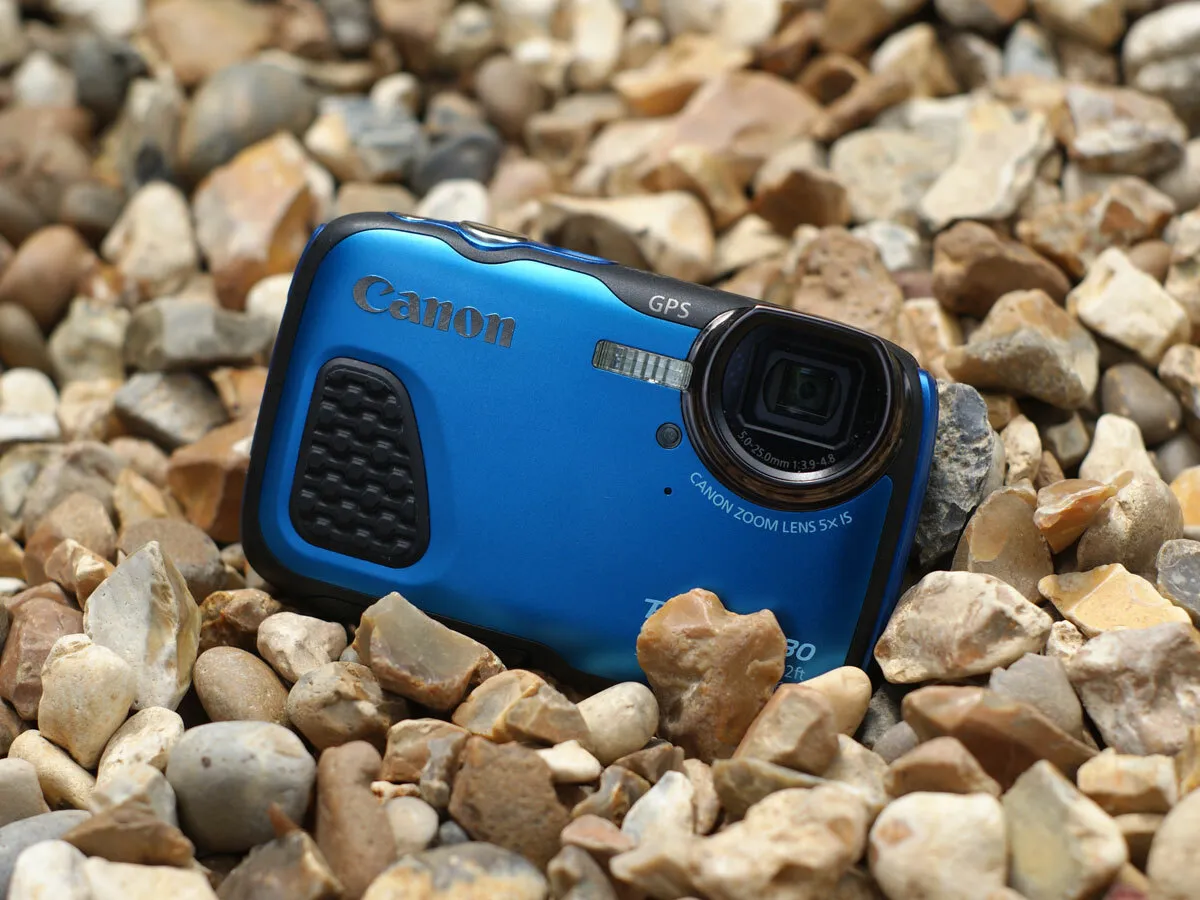 What's the story?
Built to withstand a depth of 25m, a drop of 2m and temperatures as low as -10 degrees celsius, the D30 is Canon's toughest point-and-shoot ever – and performance-wise, the company claims it's a stunner both in low light conditions and underwater.
Tough or guff?
The D30 lives up to Canon's rugged claims: an hour in the freezer drawer, a six-foot drop on to the hallway floor and 10 minutes at the mercy of our dishwasher's rinse programme did nothing to affect its performance or appearance.
Despite having the fewest megapixels of the three cameras, its image quality in good light demonstrates a strong, dependable ability with colour, contrast and detail. There was lots of purple fringing at the edge of shots, however, and low-light performance isn't so hot: expect plenty of grain and ugly noise if you use the D30 indoors without a flash.
Stuff says ✭✭✭✭✩
Divers will appreciate the D30's sub-aqua talents, but its low-light skills are a little lacking.
Canon PowerShot D30 tech specs
Nikon Coolpix AW120 (£270)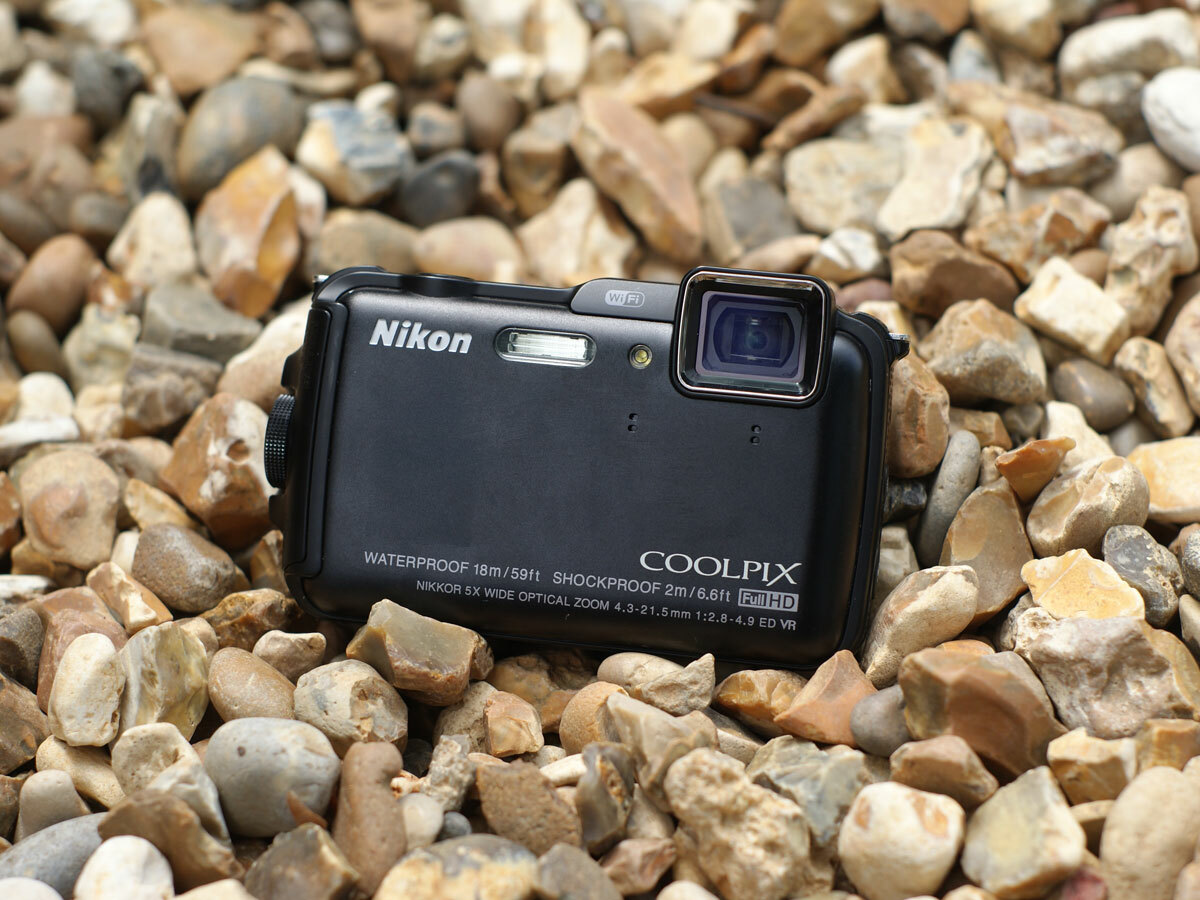 What's the story?
The AW120 is waterproof to 18m, shockproof against drops of up to 2m and freezeproof to -10 degrees celsius. So far, so standard. But it also comes with advanced GPS and GLONASS position tracking, an altimeter and a compass to record precise location data on all your outdoor photos and videos. Oh, and let's not forget the Wi-Fi.
Tough or guff?
The bad news is that, predictably, the Wi-Fi's a complete dog – even after downloading Nikon's dedicated app to our smartphone, we couldn't get the camera to so much as attempt a connection. The good news is that the AW120 survived all the physical torments we'd devised for it unscathed (save a tiny scratch in its metal shell). Better still, it takes lovely pictures in both good lighting and dimmer conditions. We found it offered noticeably cleaner images than the Canon in low light, and slightly less purple fringing in high contrast edge-of-frame areas.
Stuff says ✭✭✭✭✭
It'll document your travels, map them out – and survive anything you chuck at it. A lovely travelling companion.
Nikon Coolpix AW120 tech specs
Panasonic Lumix DMC-FT5 (£300)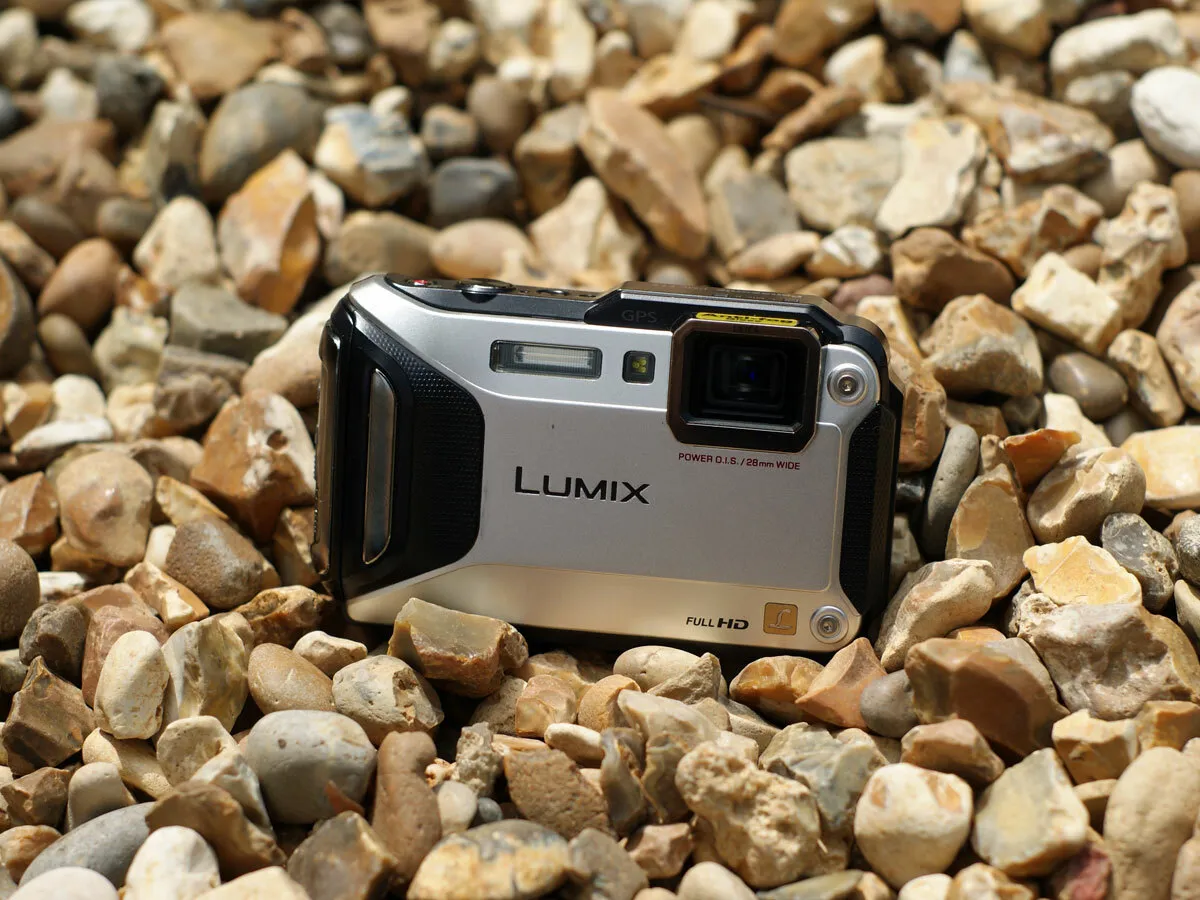 What's the story?
Like the other models, the FT5 can withstand drops of 2m and temperatures of up to -10 degrees celsius. It's waterproof to 13m, which while not as deep as the other two should still be enough for most people, and built to take up to 100kg/f of pressure. GLONASS GPS, Wi-Fi and NFC make it one of the smarter ruggedised models on the market.
Tough or guff?
As with its rivals, the FT5 sailed (or swam, in one case) through all of our trials with ease. Dropping, freezing, soaking – nothing impacted performance or left a mark on the camera's hardy hide. The NFC and Wi-Fi didn't work properly (we've now reviewed around a dozen Wi-Fi cameras and we're honestly more surprised when NFC and Wi-Fi do work), but we managed to manually connect the FT5 and our phone – this allows you to transfer images and control basic camera operations remotely. Image quality-wise, the FT5 sits between the other models: it's a little better than the Canon in low light, but showed slightly less sharpness than the Nikon.
Stuff says ✭✭✭✭✩
A solid performer that excels at video – and at not getting broken.
Panasonic Lumix DMC-FT5 tech specs
Verdict: who is king of the hardnuts?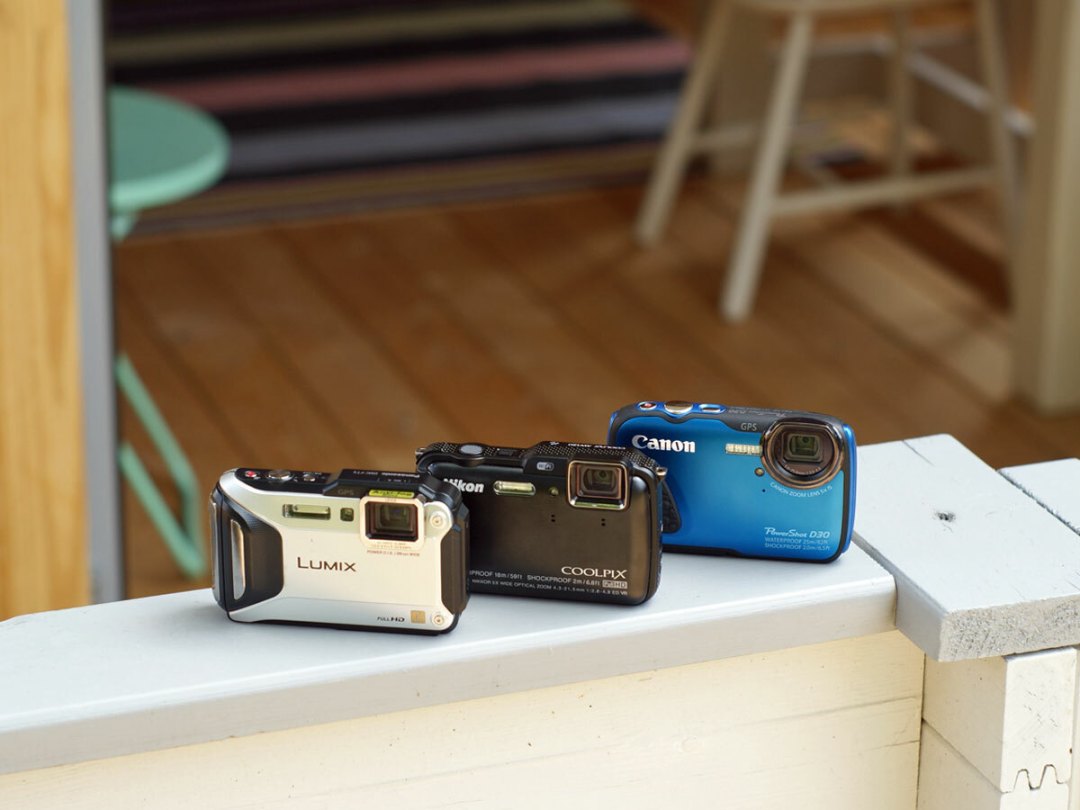 We have to say, we were quite disappointed to find out just how tough these cameras are – we had our fingers crossed for some spectacular breakages.
(Un)fortunately, none of the snappers was going to accommodate us, and they all came across as so hardy that, in our opinion, if you destroy one of these you only have yourself to blame. The cameras are all of a similar weight, size and price, so there was nothing major to separate them in any of these criteria.
There wasn't much between them when it came to performance either: when it comes to both stills and video, none of the trio will let you down horribly in any everyday shooting situation. That said, our time with the cameras suggested that the Panasonic FT5 was the best for video capture and the Nikon AW120 the best for stills. The Nikon also has the most complete suite of sensors and mapping tools, and while this is hardly a deal-breaker for most, it's something that we reckon buyers of tough, outdoorsy cameras may well appreciate.
So it's the Nikon Coolpix AW120 that edges our test of the tough cameras.
READ MORE: The 10 best compact cameras in the world right now