Stuff meets: BoomBocs founder Jonny Williams
Our regular series about the people that make (and use) the tech we use everyday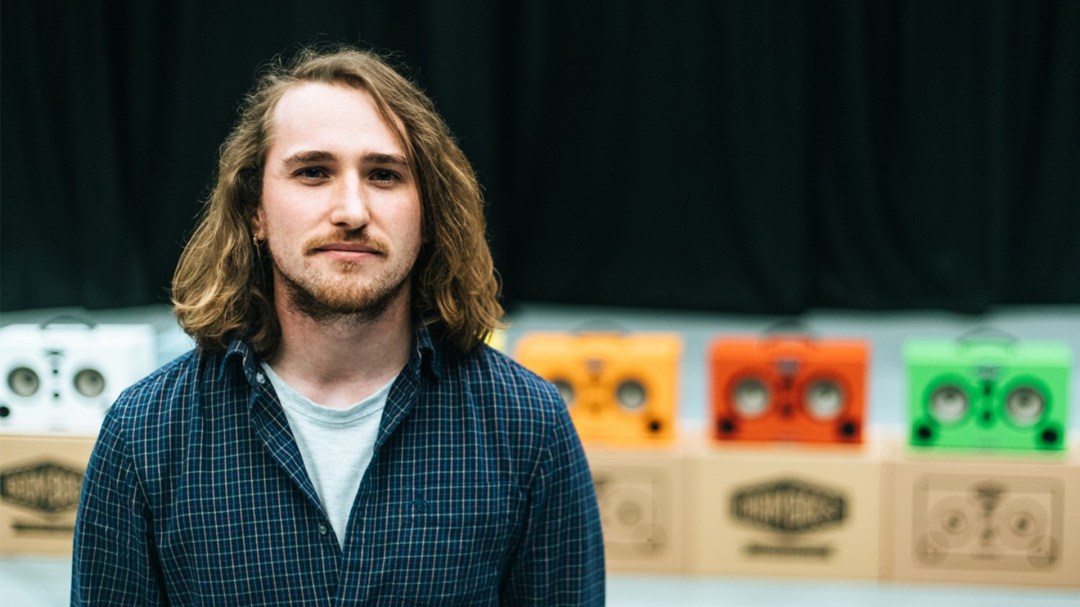 We meet live sound engineer and BoomBocs founder Jonny Williams who talks to us about vans, suitcases and 1980s retro.
I've been a sound engineer for almost 20 years now.
I started off servicing local bands in west Wales with a sound system for their gigs. I learned a lot from messing it up and trying again. Luckily for me, they didn't have much of a choice but to let me have another go the next week.
I worked at a venue in Cardiff while studying for a degree.
From there I went on to touring in a little van and sleeping on motel floors, earning £25 a day. It was an experience I cherished. Since then I've toured the world countless times and worked in some incredible settings, with some amazing people. My experience has led me to mix concerts for some of the biggest names in music, in some of the largest concert venues known to man.
If you don't like AC/DC, don't bother!
I'm a big lover of rock, and my dream is to mix AC/DC. But that's not likely to happen, so instead I mix all of my concerts as if I were mixing AC/DC! It doesn't matter what the music is – the kick drum will be thumping you in the chest and the guitars will be a 'wall of sound' and that's that. If you don't like it, get a different sound engineer.
BoomBocs had humble beginnings as a living-room floor project.
It started off as a hobby, making suitcase speakers on my living-room floor in Brixton. It was just a way of killing time while I wasn't touring and it was the winter months. I would buy vintage suitcases on eBay, get some car speakers and fumble it all together until I got a good result. I only had little hand tools I bought from the DIY shop across the road so it would take me a while. My housemate used to help me stick carpet to the inside of the cases to help dampen the reflections. Our living room was a proper state!
We began developing the Studio speaker last year.
Fast-forward a few years, and with sales to some very famous faces now part of the story, BoomBocs entered a new phase in 2021 as we began developing the Studio. We set out on a mission to create an affordable portable speaker that not only sounded impressive but also had all the modern technology you'd ever want. We did it!
We've gone for a retro look.
Well, everyone loves a bit of nostalgia, right? These days most portable speakers are just boring black boxes and I've had enough of it. BoomBocs aims to bring back some of the vibrant '80s vibes, from when music and fashion were fun and ridiculous. But the sound is what really makes it its own thing. And I should know – I designed it! Describing a sound is incredibly difficult – you really have to listen to it.
A BoomBocs speaker lets you do your own tuning if you fancy it.
I've already tuned the Studio and set options for different genres, but we've also given you the option to do your own tuning and save a preset. And we have the ability to do 'over the air' software updates, so later on down the line, should we decide any of the presets need tweaking, we can do it over your Wi-Fi.
Tom Petty had two custom BoomBocs Mk.1 speakers wrapped in tweed to match his guitar amps.
I received a bit of a cryptic message from a guy via email asking nerdy questions about BoomBocs. I thought it was someone trying to be smart and test my knowledge, so
I replied with some scientific jargon. To my surprise, he came back and seemed to understand what I was talking about. I searched his email address and found it to be linked to Tom Petty's sound engineer. Next thing I know, I'm building two customised BoomBocs Mk.1 speakers wrapped in Fender tweed to match Tom's guitar amps.