Stuff CES Most Wanted Awards 2021
The biggest tech show in the world didn't have a single person in attendance this year, but the hype machine powers on regardless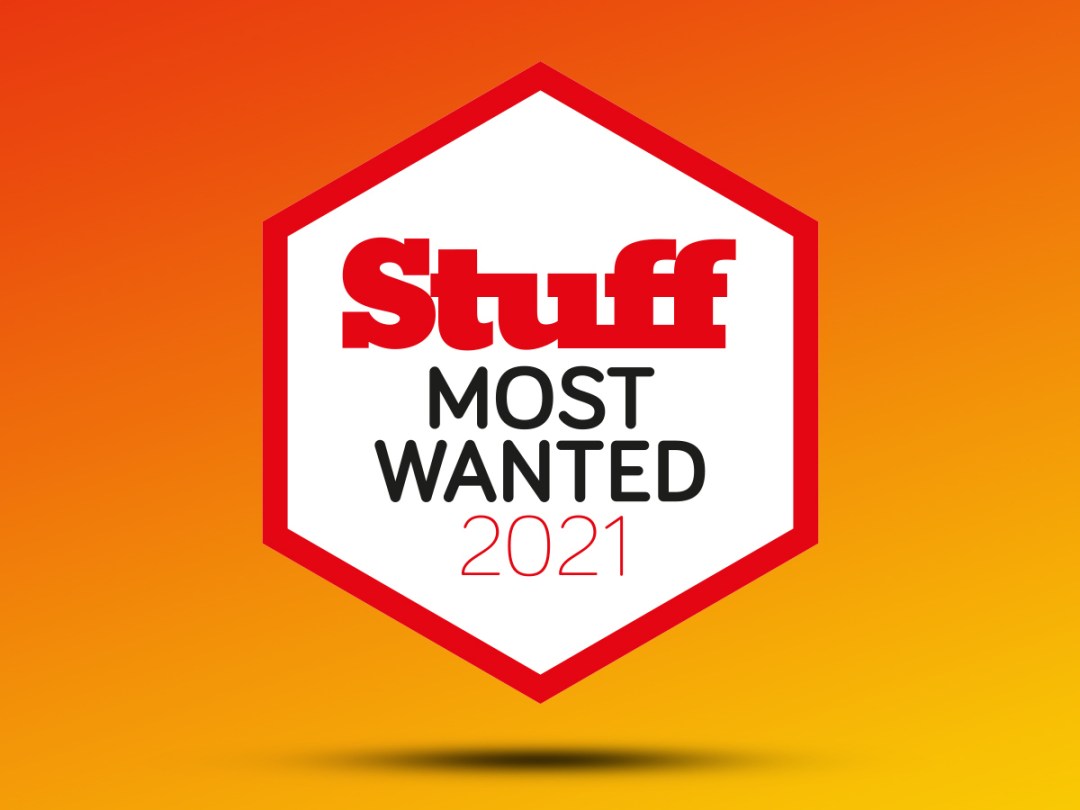 We'd barely had time to recycle the Christmas tree and take the empty 4.5L bottle of Bells to the bank before CES 2021 hit us square in the face with a raft of exciting online announcements (and a swathes of nonsense) this week.
Truth be told, while we desperately miss not being out in Las Vegas, for overtly obvious reasons, the tech world made a pretty good fist of this year's virtual show and so we've picked a carefully curated list of our top 10 gadgets (or would-be gadgets) deserving of a coveted Stuff Most Wanted Award.
From a booze-pouring robot to a rollable phone, an outrageous gaming laptop and a sensibly-sized home cinema setup with its big boy Dolby Atmos and OLED pants on, without further ado, we bring to you Stuff's favourite CES 2021 selection of innovations.
Words: James Day, Natalya Paul, Matt Tate
1. LG QP5 Éclair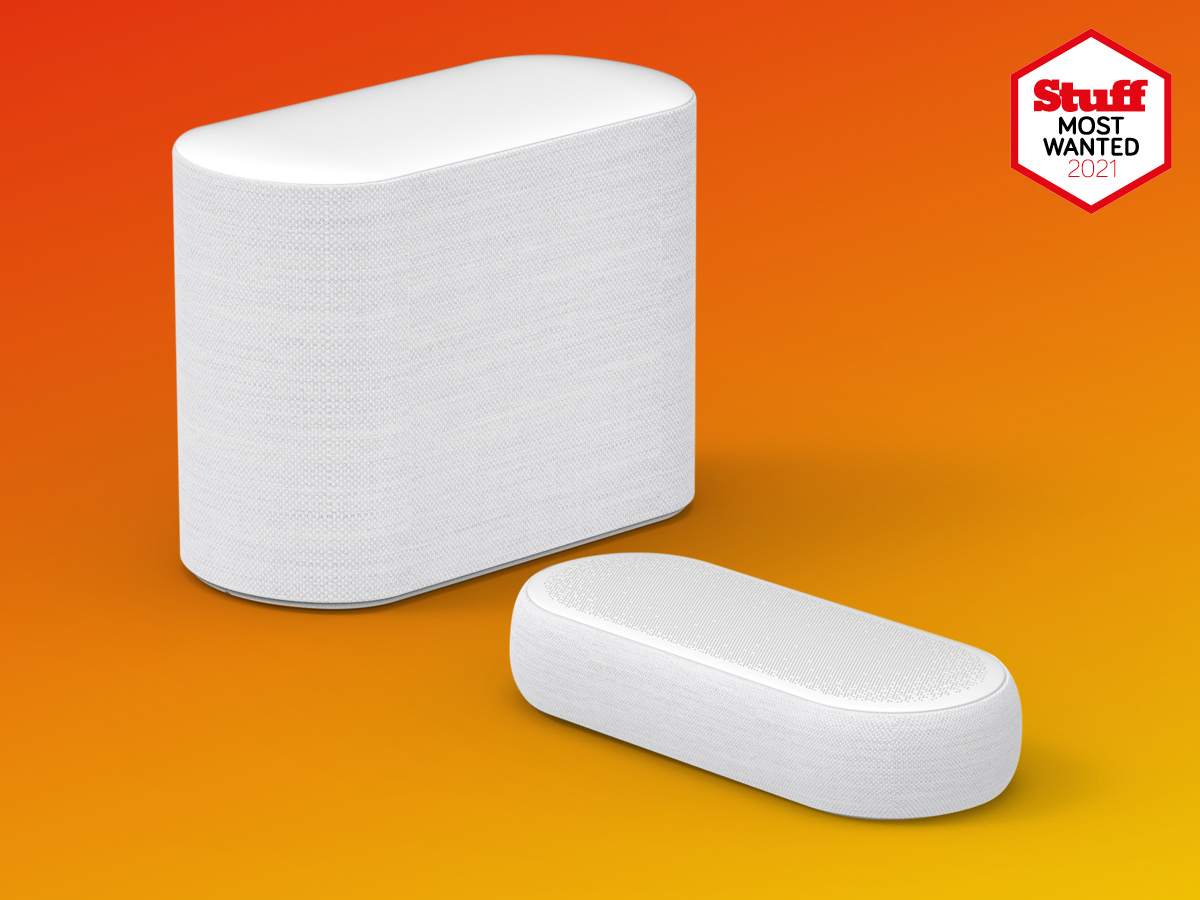 Given we're choosing the cream of CES 2021, it's fitting LG has picked a pâtisserie-esque name for its miniature monster of a soundbar that, to be fair, is all about the filling. What sets it apart from other diminutive soundbars is that two of its five drivers fire upwards, meaning it supports all the height-based audio trickery of Dolby Atmos and DTS:X. A 3.1.2 channel setup and 320 watts of power is a pretty astonishing feat from something measuring 12in long and 2in tall, and if LG can bundle it with an actual eclair of similar proportions we're in.
2. Lenovo Yoga AIO 7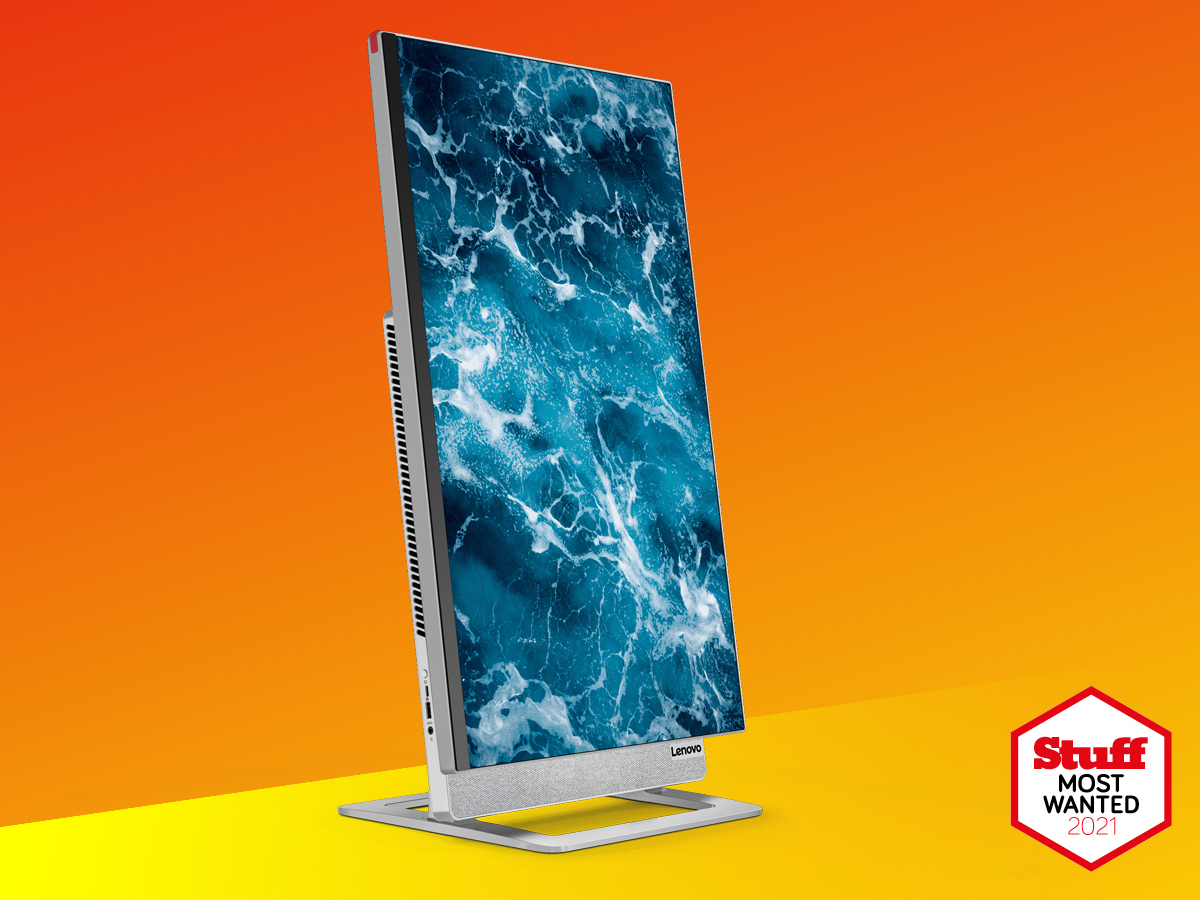 We vaguely scoffed at (but also quite liked) the Sero, Samsung's vertical TV for millennials, last year, but Lenovo's idea of using a similar concept on a desktop PC makes a massive amount of sense whether you're a TikTok fanatic, have an aversion to scrolling, or find yourself regularly navigating very, very long spreadsheets. The all-in-one Yoga AIO 7 doesn't scrimp on specs either. The dominant, rotating 4K display is obviously the smarty pants showpiece, but there's a top spec AMD mobile processor and Nvidia graphics too. Whether this catches on it remains to be seen, but kudos Lenovo, we very much like your orientation workstation.
3. LG Display's 42in OLED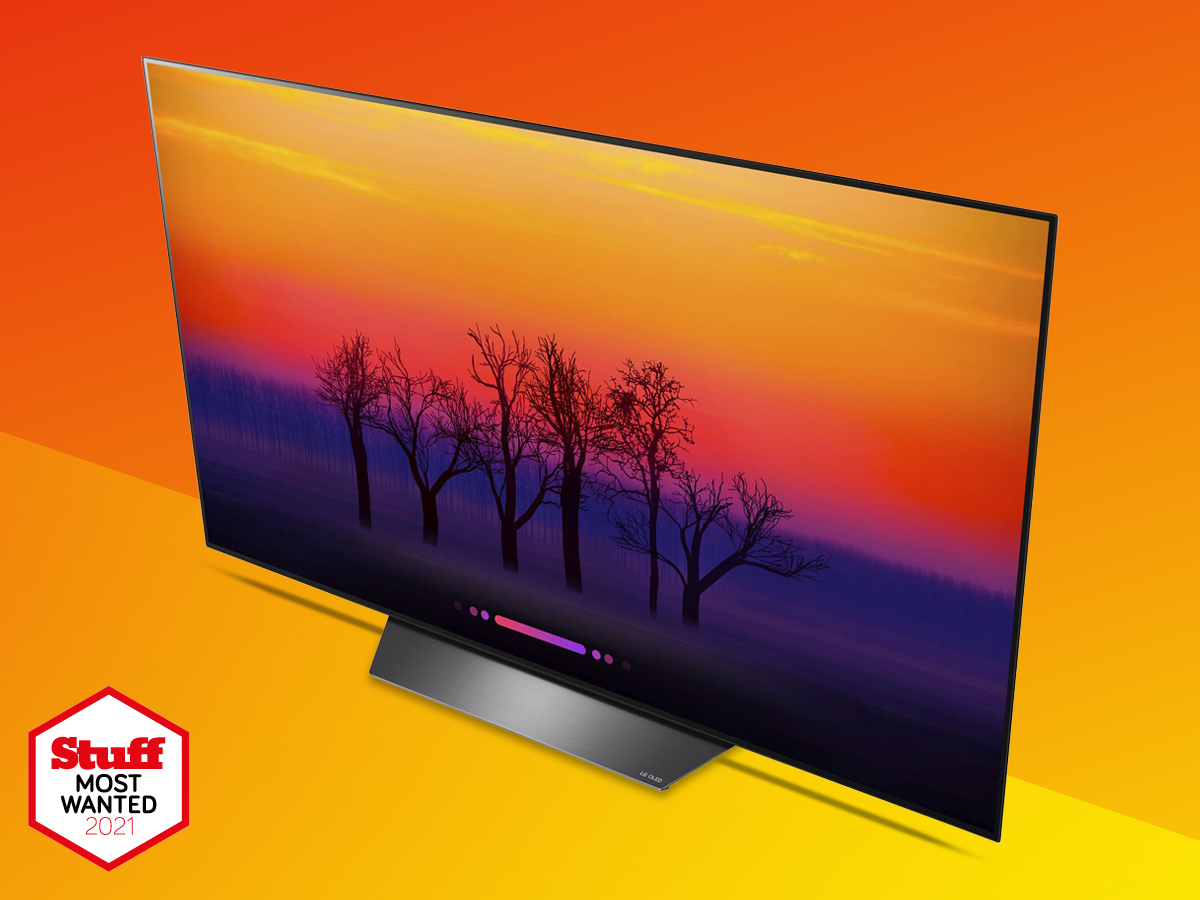 As is tradition, LG had a lot of TV announcements at CES, and as excited as we are by QNED Mini LED (yes, you read that correctly) it was LG Display's confirmation that it now has a 42in OLED in its stable that we can't stop thinking about. For years, the best tellies have just been too big for a lot of bedrooms and smaller living rooms, but the arrival of a 48in LG panel last year signalled that things are changing, and this year it's gone even smaller. At the time of writing (despite what the above picture might imply) LG hasn't yet confirmed that a retail 42in set is coming, nor have any other brands, but you can be pretty confident that it'll happen, and then everyone can enjoy the vivid colours and deeper blacks you get when watching content on an OLED, without worrying about the room being overwhelmed by a giant glowing rectangle.
4. Asus ROG Flow X13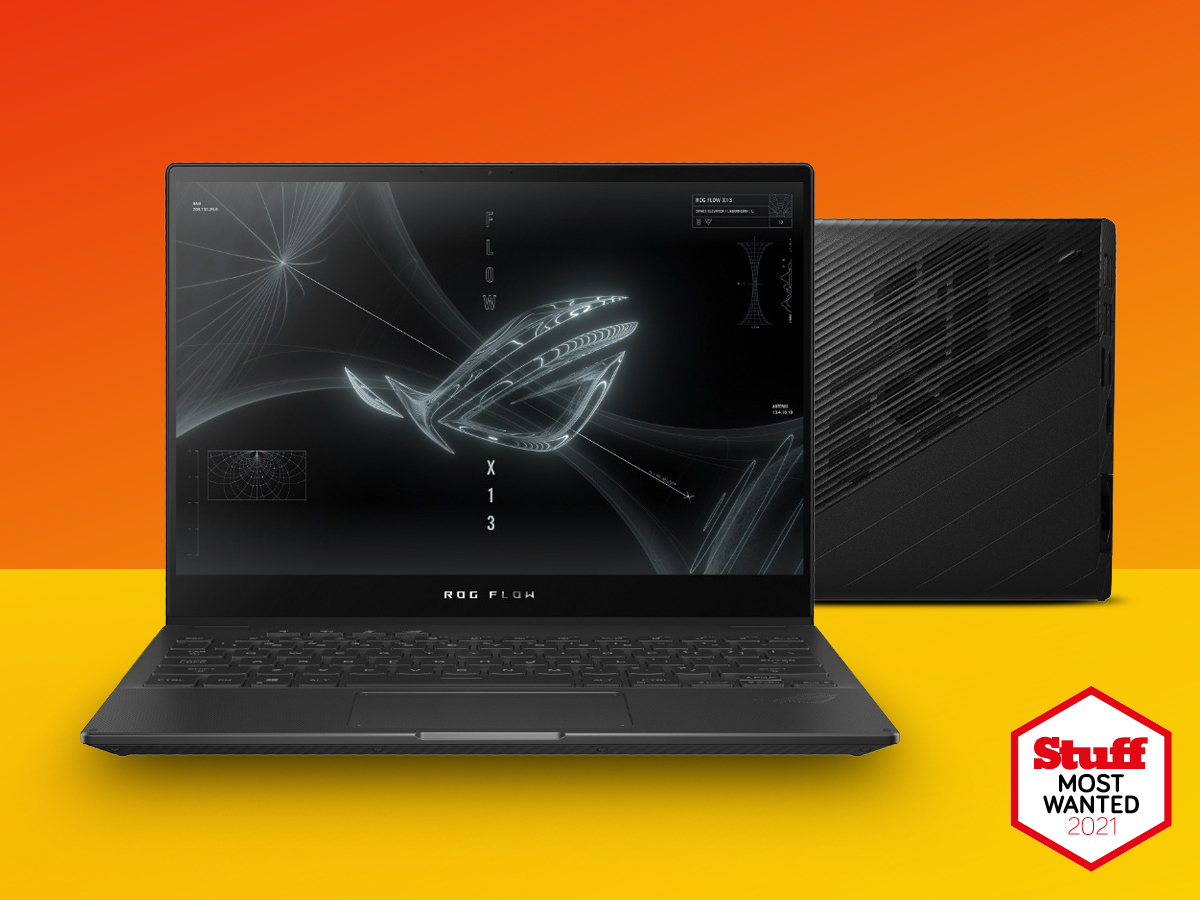 CES is always big for gaming laptops, and the complete absence of people at 2021's virtual event didn't change that. The one that caught our eye the most was ASUS' ROG Flow X13, even if one of its biggest strengths is that it isn't particularly eye-catching. This pretty sleek 13incher arguably looks more business than Battlefield, but it's definitely here for a good time. For one, the ultra-portable is also convertible, with its 360-degree hinge allowing you to flip it into tent mode when you want to watch a film. You can choose between an FHD 120Hz display and a 4K 60Hz panel. But the most interesting feature is its optional eGPU add-on, which gives you a sizeable graphical upgrade on the built-in GTX 1650. Light and portable when needed, but able to transform into a desktop gaming PC rival in an instant, you get the best of both worlds.
5. Voy Tunable Glasses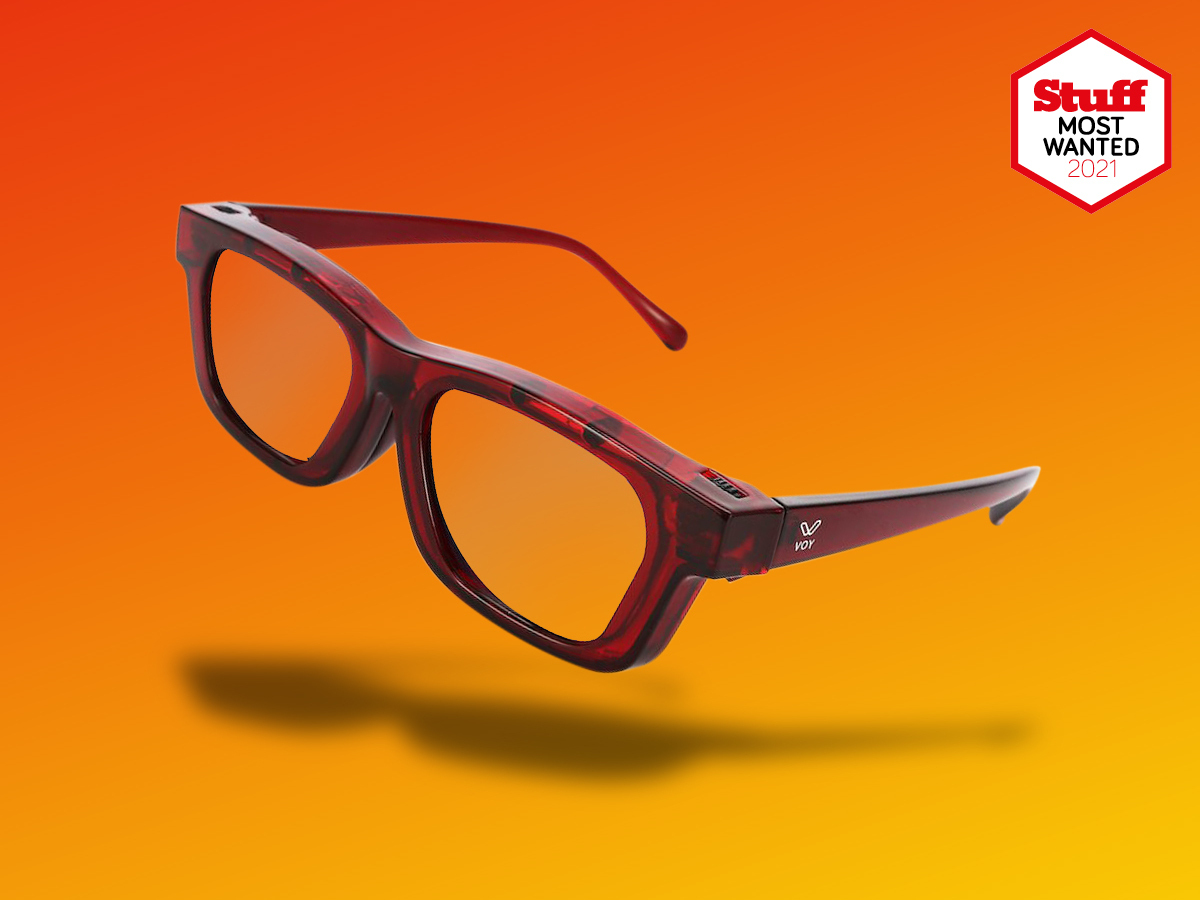 Smart glasses of a different sort, and something of a CES surprise, Voy's Tunable specs can be tweaked to different strengths to suit your prescription and use, be it computer work, reading or driving. Each pair also offers blue light and UV protection, and with any luck (arguably blind) will become standard issue for matchday officials across the entire Football League soon. Available in various colours – we see Mike Dean opting for tortoiseshell opticals – prices are also said to start at a very reasonable $79.
6. LG Rollable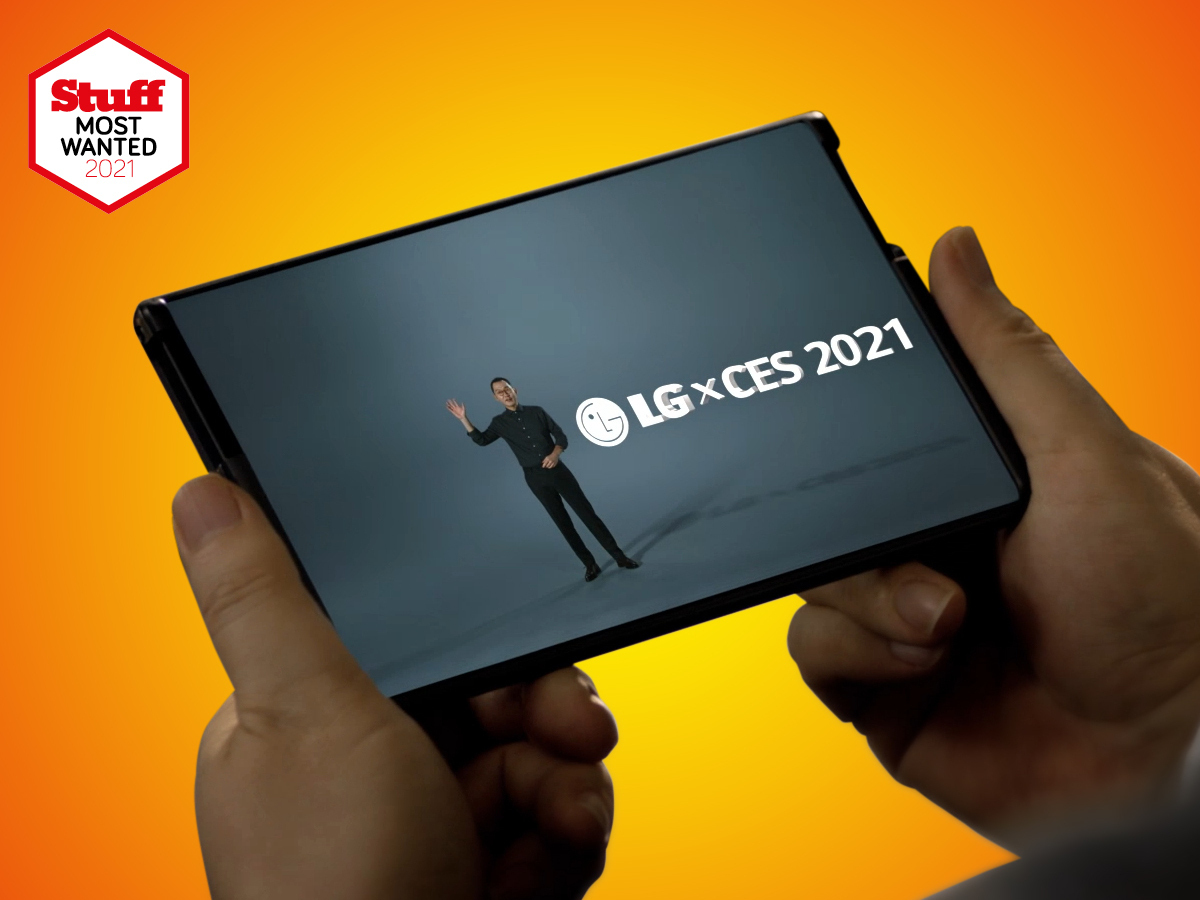 The obsession with shapeshifting technology is only growing stronger with every CES, and after the successful launch of LG's rollable TVs, plus the announcement of the latest Rollable R1 TV, a pocket-friendly version is wildly enticing. The teaser video LG exhibited showed a smartphone with a display that extends to create a tablet-sized device. The almost bezel-less screen seamlessly expands between these forms and it's nothing short of hypnotic. We know it'll be available at some point this year with a heavy price tag, but we'll be waiting on tenterhooks for more specs to be revealed.
7. Gardyn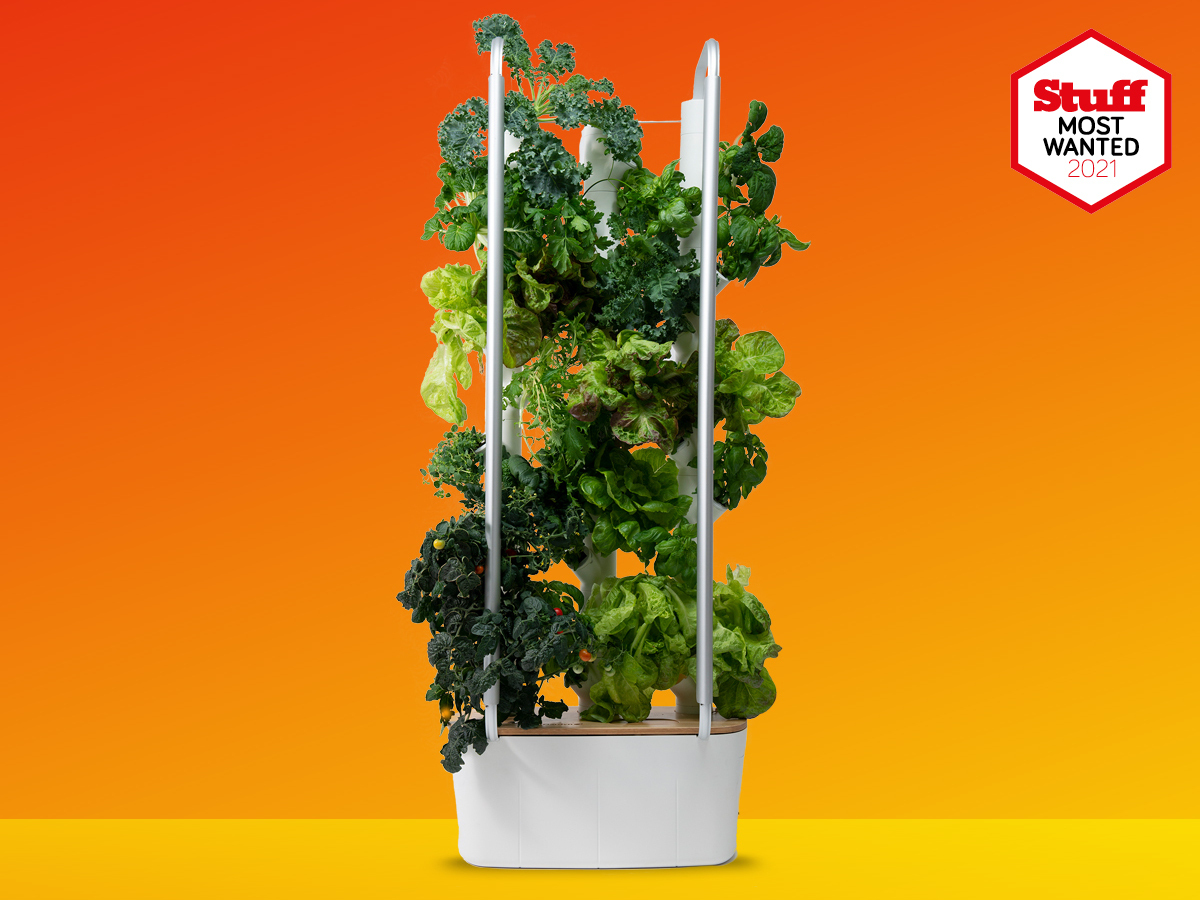 One of the few good things to come out of this pandemic is a renaissance in all things green. Garden centres have never had so much air time, and millennials now aspire to live like Tom and Babrbara in a The Good Life. Imagine the excitement, then, when the indoor smart gardening device, Gardyn, adds a refreshing break from all the screens. It's a vertical planter (150cm tall) and doesn't even require soil, instead using 'yCubes' which contain all the necessary ingredients for healthy veg. The device connects to an app which uses AI to detect if your salad needs more water or light. It ships in February and we think walls of lettuce make for some stylish decor too.
8. Samsung Bot Handy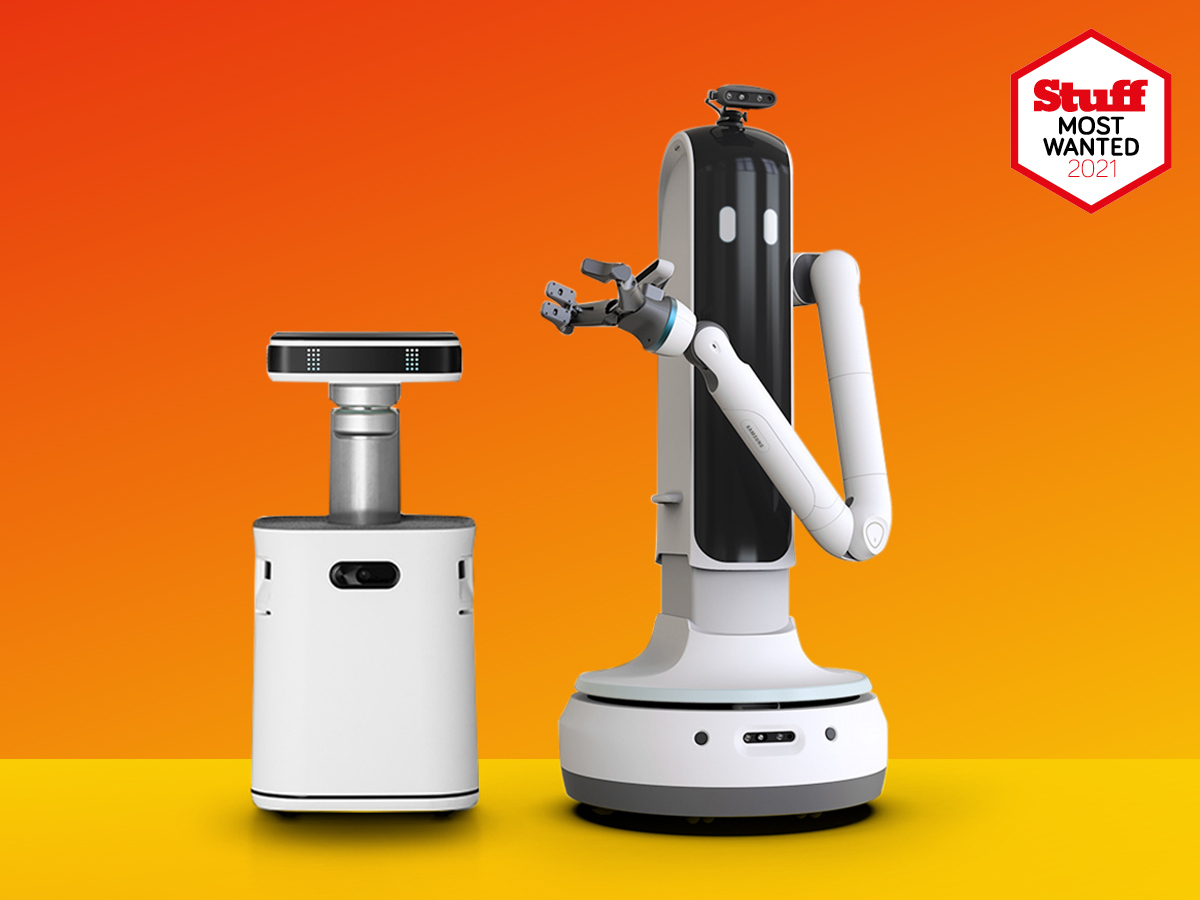 Samsung's concept robot claims to do pretty much everything but wipe your backside, which is unfortunate considering its borderline inappropriate name, but if you like the idea of a physical AI butler pouring you a large WKD Blue after the arduous commute from study to living room, or picking up the dirty laundry accumulated after a week's intense 'wfh' schedule, this bot is actually pretty handy… ohhh, that's why they called it… anyway, using cameras and computer vision algorithms to determine the size of the task before putting its moving parts into action, we urge Samsung to just make the damn thing.
9. Sony SRS-RA5000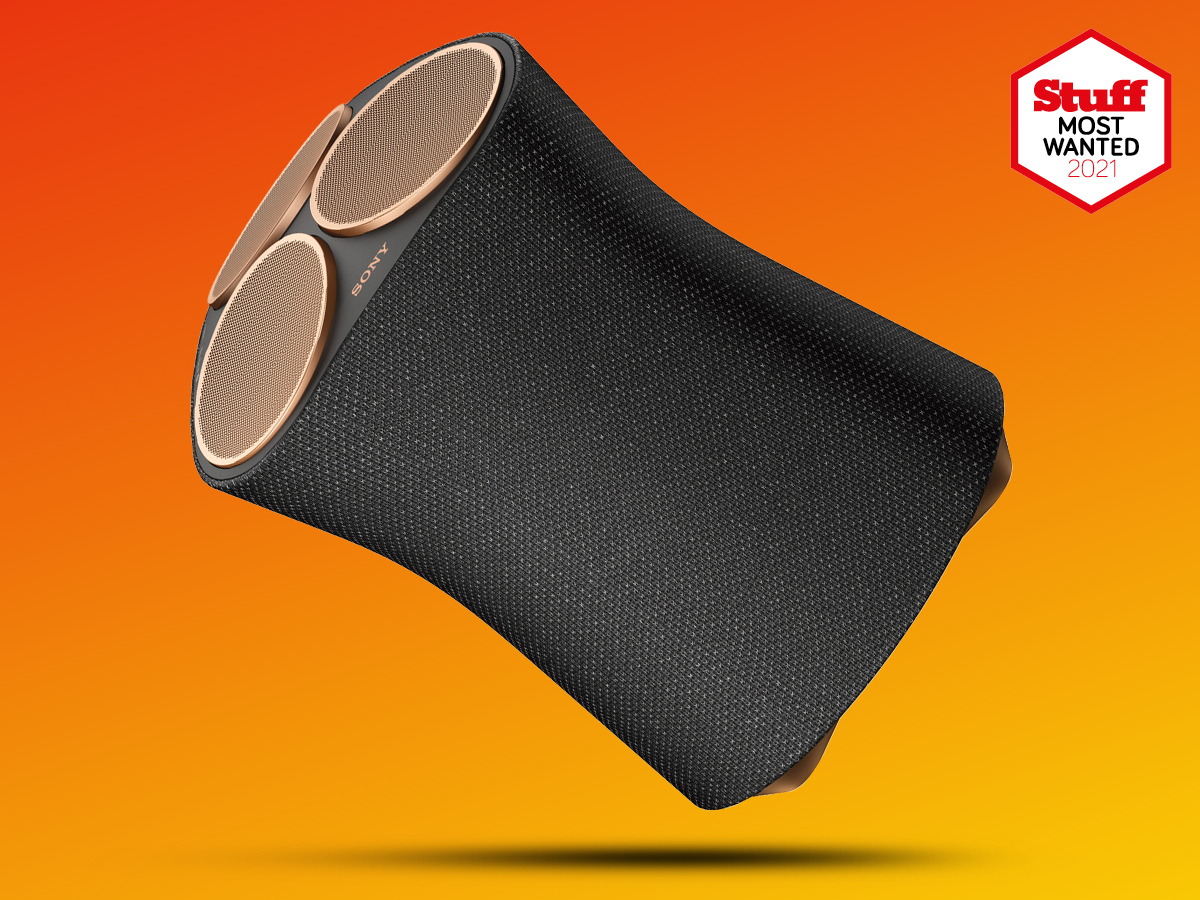 It's fair to say that Sony's 360 Reality Audio is hardly a ubiquitous innovation in the way that, say, Dolby Atmos has become, but now the company is making hardware to pair with the underlying tech, maybe that's about to change. Both the SRS-RA5000 and SRS-RA3000 speakers can deliver 360-degree audio, but perhaps unsurprisingly it's the more expensive model that we're itching to get in the living room. It has three up-firing speakers (which look not unlike a trio of mini bongo drums), three side speakers and a woofer – and is Hi-Res-certified. It can be calibrated to your room for the best spatial audio, and music not supported by the 360 Reality Audio format can be upscaled to give it a more surround sound effect. 360 Reality Audio now supports video streaming too, the idea being (providing the labels and streamers come on board) that you can recreate the feeling of being at a live gig when attending one currently remains very much off the cards.
10. Game streaming services coming to LG TVs (and possibly others)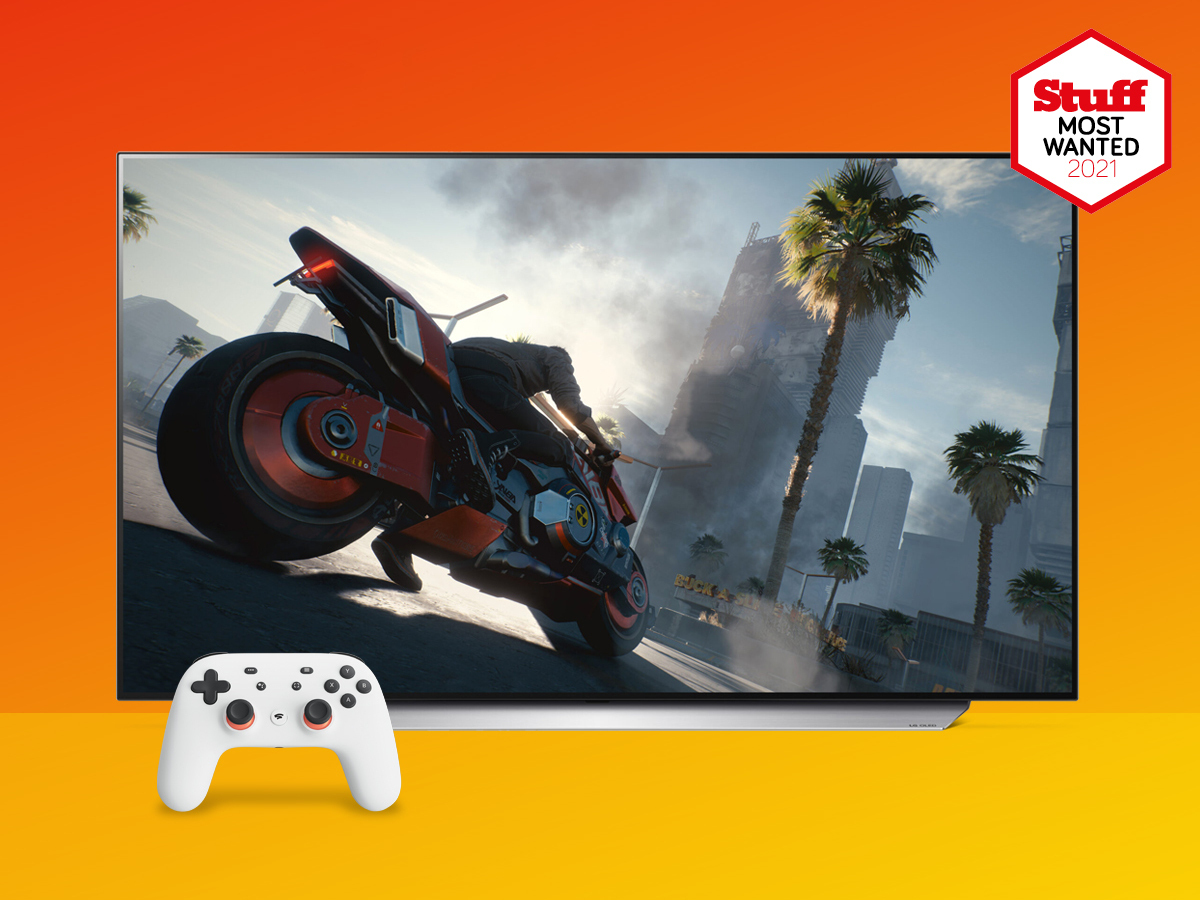 Is game streaming definitely still the future? Depends who you ask, but let's just say that Google Stadia hasn't so far made an irresistible case for this brave new world. Judging by LG's CES press conference, though, it's far too early to write the streaming service off. All 2021 LG smart TVs will have Stadia baked into webOS from the second half of the year, which means those who sign up to Stadia Pro will be able to play some of the biggest next-gen titles around in up to 4K at 60fps with 5.1 surround sound. No console required, and no additional Google-made hardware either. And it's not just Stadia, with support for Nvidia's GeForce Now service also coming. Whether either can rival the new consoles remains to be seen, but provided you've got the network speeds to handle it, high-end gaming has never been so accessible.