Sony Xperia Z2 Tablet vs iPad Air vs Samsung Galaxy Note 10.1 (2014): the weigh-in
Welcome to the 10in tablet showdown. Commencing countdown to the clash of giants in 3, 2, 1...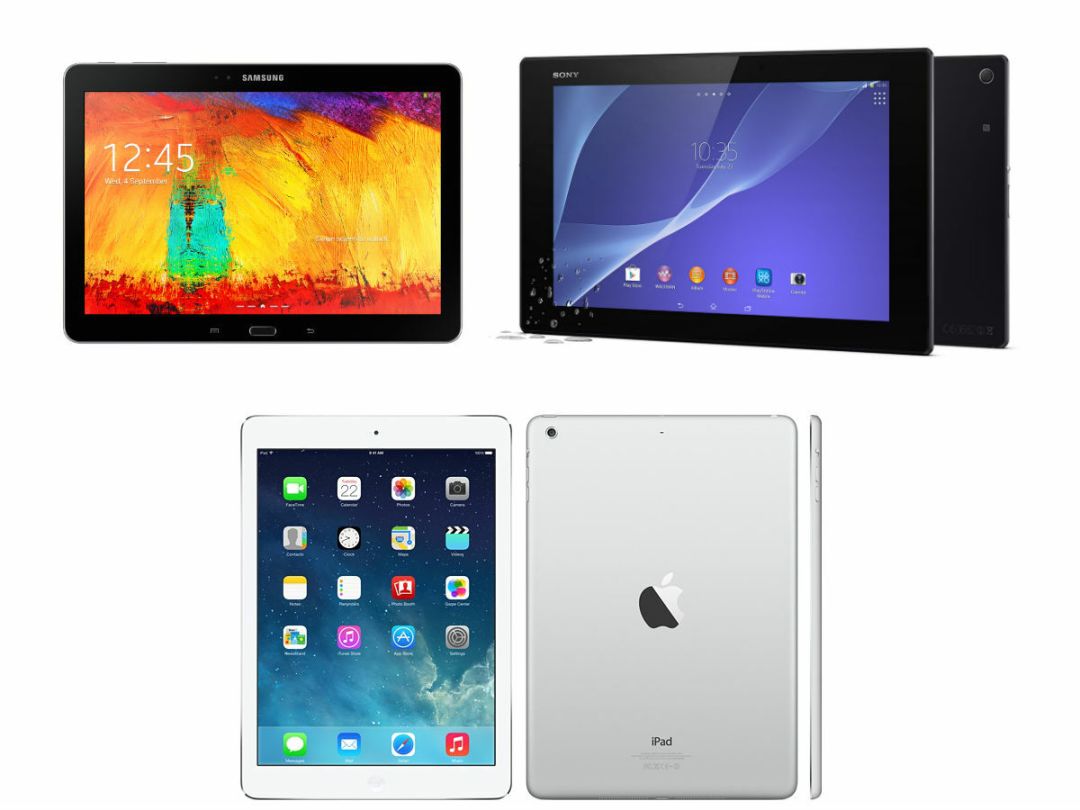 The Sony Xperia Z2 Tablet has been unveiled at MWC 2014, joining the ranks of 10in tablets vying for your hard-earned cash.
We've previously stacked two of our top 10 tablets, the Apple iPad Air and the Samsung Galaxy Note 10.1 (2014) against each other in a showdown, but how does Sony's new contender measure up? We've crunched the numbers and sifted through the specs to find out.
READ MORE: Apple iPad Air vs Samsung Galaxy Note 10.1 (2014)
Build: Slimline slates
Let's talk vital stats. At 6.4mm thin, the svelte Xperia Z2 Tablet makes both the 7.9mm Galaxy Note 10.1 (2014) and even the 7.5mm iPad Air look like chunky monkeys. Argue all you want about volume versus dimensions; the Xperia Z2 Tablet also wins the weightwatchers war at just 439g while the 478g iPad Air and 547g Galaxy Note 10.1 (2014) prove to be heavyweights – in a bad way.
All three tablets are gorgeous in their own right, with their slimmed down bezels, clean lines, and glass-slabbed fronts. But close-up, the differences between them immediately become apparent, and what looks good from afar might not always translate to the best experience in hand. The Galaxy Note 10.1 (2014) immediately loses favour with its plastic and faux-leather clothing combination. Surprisingly, the Note's plastic build does nothing for its weight, even when compared to the iPad and the Xperia's metal-and-glass builds.
READ MORE: Apple iPad Air review
Winner: Sony Xperia Z2 Tablet
Display: packing in the pixels
The Xperia Z2 Tablet's 1920 x 1200 Triluminos Display with IPS technology looks impressive on paper. But our brief hands-on time with the device means that a full test of its skills will have to wait until we have an extended session with a review unit under more varied lighting conditions.
As for the other two, the 9.7in iPad Air packs 2048×1536 resolution and racks up an admirable 264ppi, but it's outdone by the 10.1in Galaxy Note 10.1 (2014)'s 2560×1600 resolution and its resulting 299ppi.
But that's just a numbers game. Unless you have eyes powerful enough to pick out pixels, it's the overall experience that counts. Anyone who's been treated to a view of the iPad Air will be hard-pressed to find fault with its Retina display, and the Note's multiple screen modes, while versatile, don't match up to the all-round experience of the iPad's screen.
Winner: undeclared for now
Camera: In your sights
While we rightly shun anyone who whips out their tablet to take a photo at a concert, we understand that your slate's snapper might come in handy on the rare occasion. Both the Xperia Z2 Tablet and the Galaxy Note 10.1 (2014) sport 8MP rear cameras while the iPad Air stumbles with just a 5MP shooter.
When it comes to tablets, it's the front-facing cameras that matter for all those Skype sessions you're planning. Once again, the iPad Air falls short with its 1.2MP FaceTime HD camera against both the Android tablets' 2MP cameras, while the Xperia Z2 Tablet bests the Galaxy Note 10.1 (2014) with a fractionally more impressive 2.2MP offering.
Winner: Sony Xperia Z2 Tablet
Performance: power crazed
Numbers, numbers and yet more numbers. The Xperia Z2 Tablet easily blazes through to the finish line with its 2.3GHz quad-core processor, leaving the Galaxy Note 10.1 (2014)'s 1.9GHz quad-core processor behind. Where's the iPad Air, you ask? It's trying its best to keep up somewhere in the back thanks to its not-quite-there proprietary dual-core 1.4GHz A7 processor.
While both Android tablets pack 3GB RAM, the numbers point to the Xperia Z2 Tablet comes up tops; it's well-equippedto handle the endless lists of tasks you'll set for it without skipping a beat.
Winner: Sony Xperia Z2 Tablet
Battery: Live long and prosper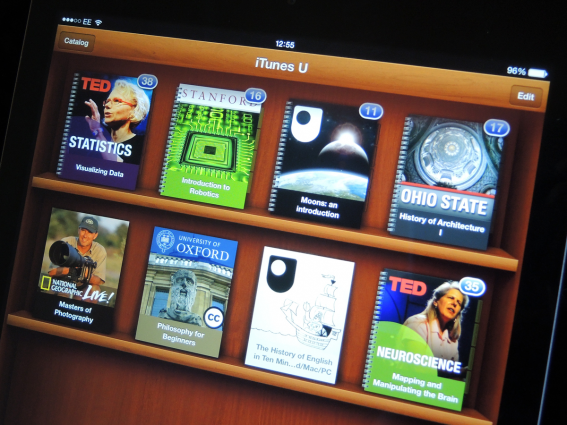 What's the point of being feature-packed if you can only use those features for a couple of hours? In this case, the iPad Air's 8820 mAh juicepack comes just on top of the Galaxy Note 10.1 (2014)'s 8220 mAh, while the Xperia Z2 Tablet is already blinking red, clocking in at just 6000 mAh.
The iPad Air claims to give up to 10 hours of Wi-Fi time while the Galaxy Note 10.1 (2014) professes slightly lower Facebook-usage time of up to 9 hours. Sony's keeping quiet about the specifics of the Z2's battery life on its product page, instead choosing to play up the power-saving opportunities of its Battery Stamina Mode.
READ MORE Samsung Galaxy Note 10.1 (2014) review
Winner: undeclared for now
The OS Wars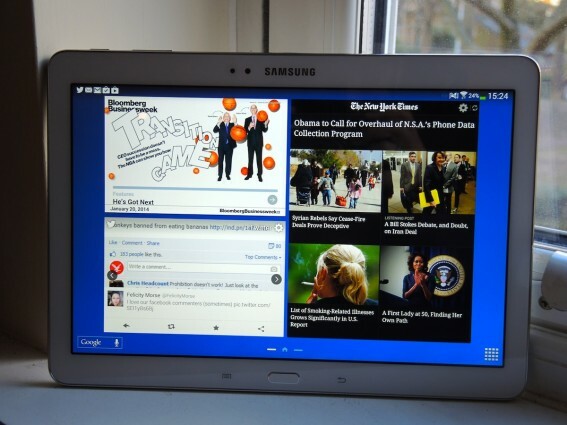 And now we come to the subject that's spawned a thousand angry Facebook posts on our wall: iOS versus Android. Of the two Android slates, the Note 10.1 runs the slightly older Android 4.3 Jelly Bean, while the newer Xperia Z2 Tablet is unsurprisingly fed on a tasty diet of Android 4.4 KitKat.
Although Sammy's Magazine UX is "seriously lovely," with its useful Multi Window function and gorgeous Flipboard app, it suffers from the perennial Samsung problem of proprietary apps that duplicate Google's own services, and needless bloatware. Sony's stripped-back skin wins out here, in our view.
READ MORE: iCheapskate: 25 amazing free games for iPad and iPhone
And then we have the iPad Air's splendid-looking iOS 7. Beautifully-designed, with a host of new features (some of them, yes, nicked from Android), its App Store offers an unrivalled selection of apps – if you're prepared to accept the restrictions of Apple's walled garden. You could go on forever debating the merits of both ecosystems (and you will, in those Facebook comments), but ultimately it comes down to personal preference.
Winner: draw
Verdict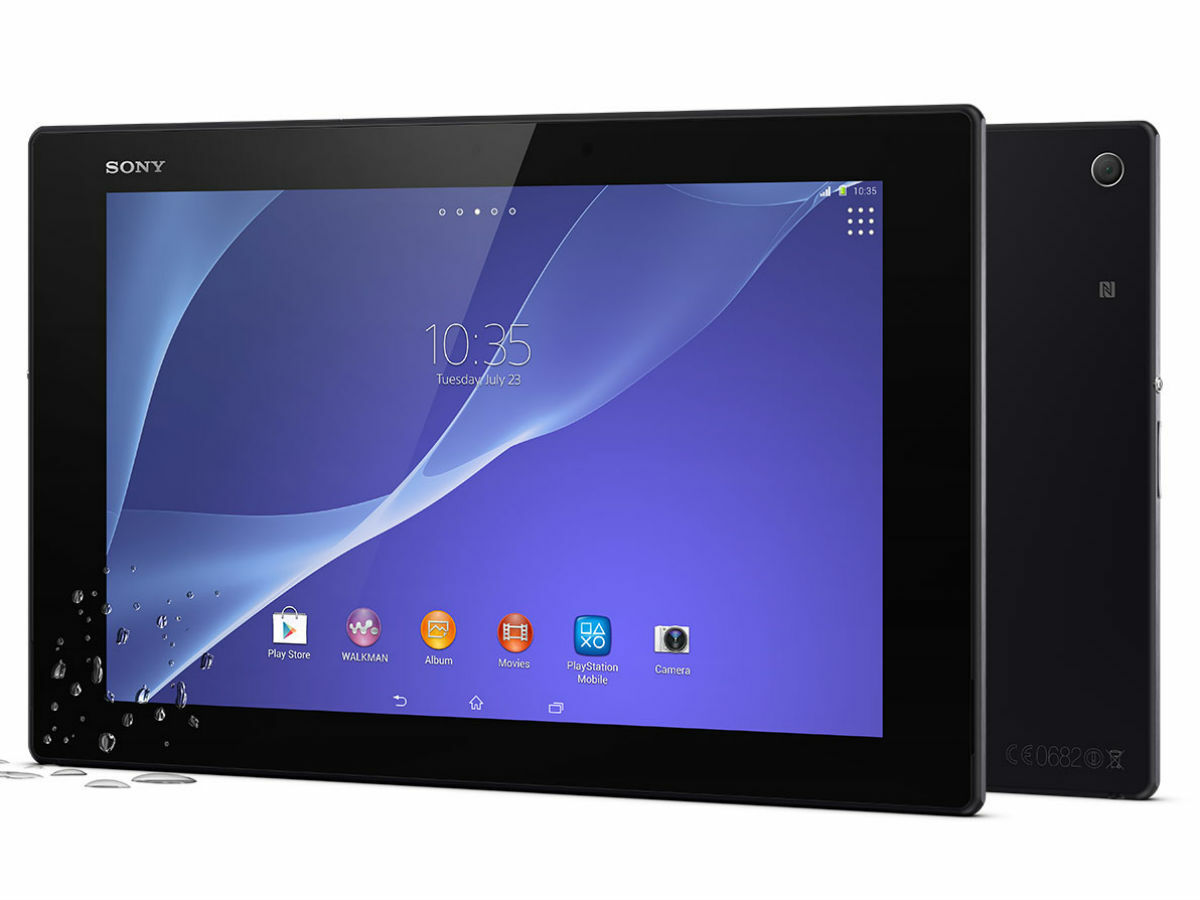 On paper, the Sony Xperia Z2 Tablet beats its rivals across most of our categories, but that battery life is a niggling concern; will it be enough to make best use of its features?
For the time being, Apple's iPad Air is still comfortably ensconced in the top spot on our Top 10 Tablets list. But we foresee the latest Sony tablet giving it a run for its money. Check back for our full review of the Xperia Z2, and our updated showdown.
WATCH NOW: Video: Sony Xperia Z2 Tablet hands-on review